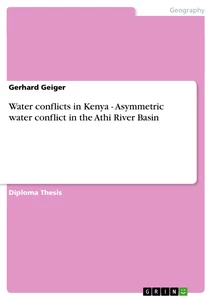 Water conflicts in Kenya - Asymmetric water conflict in the Athi River Basin
Diplomarbeit 2006 112 Seiten
Leseprobe
Overview
1. INTRODUCTION
1.1. PROBLEM DEFINITION
1.1.1.Water conflicts in Kenya
1.1.2.Asymmetric water conflicts in the Athi River Basin
1.1.3.Leading thesis
1.2. CONCEPTUAL FRAMEWORK
2. SOLVING ASYMMETRIC WATER CONFLICTS
2.1. ECOLOGY
2.2. ECONOMICS
2.3. POLITICS
2.3.1.Principles
2.3.2.International Conventions
2.3.2.1. The Helsinki Rules
2.3.2.2. The ILC Rules
2.3.2.3. Constraints in solving asymmetric water conflicts by international law
2.3.3.Application of the Helsinki and ILC Rules to river basins
2.4. PRE-REQUISITES OF SUCCESSFUL MANAGEMENT OF WATER RESOURCES
2.4.1.Cooperation between riparians
2.4.2.Participation of all stakeholder
3. STATUS OF THE ATHI RIVER BASIN: A COMPREHENSIVE LOOK
3.1. GEOGRAPHIC LOCATION AND ADMINISTRATIVE BOUNDARIES
3.2. THE PHYSICAL ENVIRONMENT
3.2.1.Relief
3.2.2.Climate
3.2.3.Land cover and soils
3.3. SOCIO-ECONOMY
3.3.1.Population
3.3.2.Land tenure
3.3.3.Land use
3.3.3.1. Agriculture
3.3.3.2. Tourism
3.3.4.Economy
3.4. WATER SECTOR
3.4.1.Hydrology
3.4.1.1. Water Catchment and Drainage
3.4.1.2. Water Availability
3.4.1.3. Water Quality
3.4.2.Water using sectors
3.4.2.1. Agriculture
3.4.2.2. Domestic and industrial
3.4.2.3. Hydropower
3.4.2.4. Wildlife and fisheries
3.4.3.Institutional and legal framework
3.4.3.1. Water institutions in the Athi River Basin
3.4.3.2. Integrated Water Resources Management in Kenya
3.4.3.3. Water sector economics
4. THE PLANNED 2 nd MZIMA WATER PIPELINE PROJECT
4.1. PROJECT DESCRIPTION
4.2. IMPACTS OF THE WATER PIPELINE PROJECT
4.2.1.Flow changes in Athi/Galana/Sabaki River System
4.2.2.Poverty Reduction in Mombasa District
4.2.3.Marginalization of Malindi District
4.2.4.Scenario building: the potential catastrophe
4.3. PRELIMINARY CONCLUSION: NEED FOR A SOUND WATER ALLOCATION CONCEPT
5. OPTIMAL AND EQUITABLE ALLOCATION AND USE OF WATER RESOURCES IN THE ATHI RIVER BASIN
5.1. COOPERATION AND PARTICIPATION IN MANAGING WATER RESOURCES IN THE ATHI RIVER BASIN
5.2. EQUITABLE SHARING OF WATER OR BENEFITS FROM USE OF WATER RESOURCES
6. SUMMARY AND CONCLUSIONS
ANNEX: Figures (pages see list of figures, tables and boxes)
Literature sources
List of Figures, Tables and Boxes
Figures
Figure 1: Africa Political
Figure 2: Kenya Administration
Figure 3: Kenya Physical .
Figure 4: Kenya Mean Annual Temperature
Figure 5: Kenya Average Annual Rainfall .
Figure 6: Kenya Agro-climatic Zones
(map enclosed in the backside cover)
Figure 7: The Five Major "Water Towers" of Kenya
Figure 8: Major Drainage Basins in Kenya
Figure 9: Kenya Districts and Drainage Basin Boundaries
Figure 10: Aberdare Range Forests ..
Figure 11: Kenya Land Classification
Figure 12: Description of Agro-Ecological Zones in Kenya
Figure 13: Agro-Ecological Zones: Districts Kiambu and Thika
Figure 14: Agro-Ecological Zones: Southeast Kajiado
Figure 15: Agro-Ecological Zones: Districts Machakos and Makueni ..
Figure 16: Agro-Ecological Zones: District Kitui
Figure 17: Agro-Ecological Zones: Districts Malindi, Kilifi, Mombasa ..
Figure 18: Agro-Ecological Zones: District Kwale
Figure 19: Agro-Ecological Zones: District Taita Taveta
Figure 20: Kenya Major Cash Crops .
Figure 21: Kenya Poverty Incidence District Level ..
Figure 22: Kenya Poverty Density .
Figure 23: Beef cattle in Kenya
Figure 24: Dairy cattle in Kenya .
Figure 25: Kenya Industry and Energy
Figure 26: 2ndMzima Water Pipeline Project
Figure 27: General Principles for Costing Water .
Figure 28: Athi River Seasonality (in the year 2004)
Tables
Table 1: Causes of Conflict in the Water Sector ..
Table 2: Provinces and its Districts within the Athi River Basin .
Table 3: Overview on Rainfall in the Athi River Basin on District Level
Table 4: Number of Persons in the Districts of the Athi River Basin .
Table 5: Brief Information on Agriculture in the Athi River Basin ...
Table 6: Gross Domestic Product of the Districts of the Athi River Basin
Table 7: Poverty Incidence in Districts in the Athi River Basin ..
Table 8: Indicators of Poverty for each District in the Athi River Basin
Table 9: Water Availability by Drainage Areas in billion m³ per year .
Table 10: Water Demand in Districts in the Athi River Basin (1990 and 2010) ...
Table 11: Potential Domestic and Industrial Water Demand in 2010
Table 12: Flows taken from Mzima Springs to supply Mombasa District .
Table 13: Present Water Supply to Mombasa District .
Table 14: The factors to be considered when allocating water or benefits from water use (as
adapted from the Helsinki and ILC Rules) .
Boxes
Box 1: Trading Water Rights in Australia ...
Box 2: The Helsinki and ILC Rules in the Jordan-Yarmuk River Basin
Box 3: The South eastern Anatolia Project
Box 4: Sub-basin cooperation in the Nile River Basin .
1 INTRODUCTION
1.1 PROBLEM DEFINITION
1.1.1 Water conflicts in Kenya
The Earth is full of water. It can be in forms of solid, liquid or vapour, in glaciers, in the air, on the surface, and in the ground. But only around three per cent of this water is actually fresh (an estimated volume of 35,029,200 km³), and approximately 97 per cent of the three per cent is either frozen, in the atmosphere, or deep underground and difficult to reach (UN/WWAP 2003: p. 67). An estimated 30 per cent of freshwater is stored in the soil as groundwater. A much larger part, 69 per cent, is frozen in glaciers and permanent snow cover. These 24,064,000 km³ of freshwater provide a small contribution to available water resources through melting water, which nourishes lakes and rivers. Finally, the smallest but most accessible freshwater resources are found in lakes (0.26 per cent), and rivers (0.006 per cent) (UN/WWAP 2003: p. 68)
Access to water is limited by geographical repartition, seasonal fluctuations, and a country's ability to cope with water shortages. In several regions worldwide, water is becoming more and more scarce in terms of both quality and quantity. This scarcity combined with unsuitable ways to deal with water, inadequate or lacking water re-use measures make water even more a high valuable good to the
extent that in many parts of the world water conflicts could arise in the 21stcentury (Ehlers 2002: p. 11-13)
This paper focuses on water conflicts in the Athi River Basin in Kenya. To get a comprehensive picture of the water related problems in the Athi River Basin, this section tries to give an overlook of the multifaceted conflict in the water sector in Kenya. More details on relevant information about the water sector in Kenya will be provided in the 3. chapter (Status of the Athi River Basin in Kenya). The Republic of Kenya is situated on the East African coast on the equator. It is bordered by Ethiopia and Sudan to the north, the Indian Ocean and Somalia to the east, the United Republic of Tanzania to the south, and Uganda and Lake Victoria to the west (see Figure 1). For administrative purposes Kenya is subdivided into eight provinces and, subsequently in 70 districts (see figure 2), where, according to the last population census in 1999, 28,686,607 people lived (CBS 2000: p. 29)
One of the biggest challenges is that water in Kenya is unevenly distributed in both time and space. Distribution of water in Kenya in terms of space is mostly influenced by its climate. The Inter Tropical Convergence Zone (ITCZ) and a wide range of topographic relief (see Figure 3) primarily control climate in Kenya. Air temperature (see Figure 4) varies from 40˚C in the low altitude area to below freezing point on Mt. Kenya. The annual rainfall (see figure 5) over the country ranges from less than 200mm in the northern ASAL area to 2,000mm in the western region. The Republic of Kenya has a land area of 571,416 km², of what more than 85% is classified (in terms of agro-climatic zones) as arid and semi-arid lands (Gerlach 2005: p. 2) (see figure 6)
Kenya receives an annual average rainfall of 621 mm conve]rting to 354 billion m³ of water (WRMA 2005: p. 14). Rainfall patterns in Kenya are extremely variable in time and also in intensities. These variations may be between 35 - 70% from the mean while rainfall intensities may be as high as
200mm per hour over a short time period (15 minutes). Furthermore it is to mention, that extreme weather events including droughts and floods are becoming more frequent and thus, exacerbating the uneven distribution of water in Kenya in terms of time. As a consequence, on the one hand, water shortages due to droughts emerge and allocation conflicts arise, and on the other hand destructive floods put life at risk
Much of the perennial surface water flow in Kenya (19,691 million m³ per year - see 3.4.1.2) originates from five specific mountainous areas. These are Mt. Kenya, Aberdare Range Forests, Mau Complex, Mt. Elgon, and Cherengani Hills, and are commonly known as the "Kenya's Water Towers" (see figure 7). By providing water for domestic and industrial uses, for irrigation purposes and for hydro-energy, these water towers support all the major sectors of the economy. Although gazetted as protected areas, these water towers faces severe degradation, what leads to alterations in water flow, erosion and increased siltation loads in rivers (Akotsi and Gachanja 2004)
From a hydrologic viewpoint, Kenya is subdivided into five main drainage basins (see figure 8). Kenya is classified as a water-scarce country. Globally, a country is categorized as "water stressed" if its annual renewable freshwater supplies are between 1,000 and 1,700 cubic metres per capita and "water scarce", if its renewable freshwater supplies are less than 1,000 cubic metres per capita. Kenya's natural endowment of fresh water is limited by an annual renewable fresh water supply of only 647 cubic metres per capita (WRMA 2005: p. 8)
Water storage facilities are highly inadequate (WRMA 2005: p. 15). Water supply storage per capita has declined in Kenya from 11.4 m³ in 1969 to about 4.3 m3 in 1999 (Republic of Kenya 2004: p. 6), mainly because of population growth (further information on population in section 3.3.1). Currently estimated storage capacity in Kenya's dams is 124 million m³ while the country needs 3.4 billion m³ by 2010 if it is to be assured of a reliable water supply (WRMA 2005: p.62). At the moment, about 40 per cent of people in Kenya do not have access to safe drinking water (UNDP 2005: p. 49)
Officially, all abstractions from ground and surface water in Kenya require a permit. However, many water users illegally abstract water to the detriment of downstream water users. For example, Over 70 per cent of water abstractions in the Upper Ewaso Nyiro basin are illegal (MungaiI 2004: p. 135). Water resources assessment as a prerequisite for sound water allocation has deteriorated during the last years throughout Kenya. River gauging stations are debilitated, making it impossible to carry out profound water resources planning and operations. As a consequence, water allocation decisions are made on the basis of inadequate hydrological information. Currently, the issuing of new permits is not based on any systematic analysis of base flows but on spot gauging measurements. In this regard it is not possible to estimate water balance after allocation has been made (WRMA 2005: p. 17)
Water pollution is a further major problem in the water sector in Kenya. Only 30 percent of the 142 gazetted urban areas in Kenya have sewerage systems. Only 28 per cent of these urban areas are connected to properly maintained sewerage systems. Constant breakage or leakage of the sewerage systems, inadequate capacity to handle peak sewage loads and the discharge of effluents to water bodies are prevalent in Kenya (Mogake et al. 2006: p. 24). Industrial water pollution control in Kenya is ineffective. Currently, most industrial and manufacturing plants near major cities and towns discharge their wastes into open water bodies (Mogaka et al. 2006: p. 24). Agriculture chemicals, like phosphorus and nitrogen from excessive fertilizer applications, are carried into rivers and streams
during storm events and thereby impacts on water quality (Mogaka et al. 2006: p. 60)
For example, the pollution of Lake Victoria waters can be attributed to the discharge of domestic sewage and industrial effluents, agricultural run-off loaded with silt, residual fertilizers, agrochemicals and other pollutants from urban areas. This deterioration is further exacerbated by in-lake pollution activities mostly along the lake littoral zone. (WRMA 2005: p. 25)
Water resources degradation were estimated by Mogaka et al. (2006: p. xiii) to cost the country at least Ksh 3.3 billion annually. These costs are a result of the degradation of water catchments, siltation of water storage facilities, pollution of surface and groundwater, eutrophication of lakes and other water systems, and unauthorized abstractions (Mogaka et al. 2006: p. xiii)
Budgets for water resources management in Kenya declined from Ksh 4,249 million in 1994 to Ksh 1,765 million in 2001 (Mogaka 2006: p. xv). As a consequence, there have been insufficient budgets to allocate water, combat illegal water abstractions, control pollution of water resources and protect water catchments
Debilitated water supply and distribution systems throughout Kenya contribute to high unaccounted for water (UfW) rates. Unaccounted for water is defined as the differences between water produced and water sold as a percentage of water produced (GoK, PriceWaterhouseCoopers 2002: p. 17). This measure captures not only physical losses but also commercial losses due to inefficient billing or illegal connections. Not all of the unaccounted for water is wasted – some is utilized by consumers but not recorded as such or paid for. A high level of unaccounted for water indicates poor system management and poor commercial practices as well as inadequate pipeline maintenance. According to the Coast Water Services Board, the UfW rate in Mombasa District stood in 2005 at approximately 65 per cent. Those in the urban region of Nariobi is about 50 per cent (Gulyani et al. 2004: p. 4). Thus, every day several million litres of high valuable water gets either lost due to leakages on the way to the target areas or is being used by people who do not (cannot) pay the economic value of water as a limited good
1.1.2 Asymmetric water conflicts in the Athi River Basin
In countries like Kenya, where there are water shortages due to uneven distributed rainfall, rivers are of vital importance, since they distribute water even to arid and semi-arid lands. This is especially true for the Athi/Galana/Sabaki river system in the Athi River Basin in Kenya. This river system is the dominant geo-hydrological structure in the Athi River Basin, originating in the humid highlands of the Aberdare Range Forests (see figure 6), flowing through the country's arid and semi-arid lands and draining into the Indian Ocean. This water resource, which is commonly shared by the riparians from the upper to the lower reaches, faces a conflict of distribution, since in times of low flow there is not enough water to meet all the needs of the riparians
The Athi River Basin as one of Kenya's five river basins (see figure 8), covers about 66,837 km2 (JICA 1998: p. 37) and includes (wholly or partly) 11 co-riparian districts, which lay in Coast, Eastern, Central, and Rift Valley Provinces (see figure 2). The upper basin region, which includes the districts Kiambu, Nairobi, and Thika, receives rainfall ranging from 600-2000mm per year. All the other regions in the river basin, that are parts of the districts Machakos, Kitui, Makueni, Kajiado, Taita Taveta, Kwale, Kilifi, and Malindi, receive considerable less rain and thus, most of the river basin lies in arid or semi-arid lands
The Athi/Galana/Sabaki River System as the main surface water resource in the Athi River Basin serves as source of water for several purposes in urban as well as in rural areas. Nairobi District and Mombasa District are the two major towns in the country and both lie in the Athi River Basin. More than 2.8 million people live in these predominantly urban areas (see 3.3.1) and both districts use water of the Athi/Galana/Sabaki River System for mainly domestic and industrial use. Nairobi as one of the most upstream districts is drained by important tributaries to the river system pollutes waters considerably in the rivers and thus, puts health of many riparians at risk. Mombasa District as one of the districts lying most downstream in the river basin is very dependent on the water of the Athi/Galana/Sabaki river system, since a major part of the water used is derived from a wellfield that is fed by the River Sabaki and from the Mzima Springs as one of the main tributaries to the Athi/Galana/Sabaki river system
Malindi District as the most downstream riparian district of the Athi/Galana/Sabaki river system is due to its hydrological position dependent on any modification in water flow occurring further upstream. During the last severe drought 1998-2000, there was inadequate quantity of water to meet the requirements of all the water users in Malindi District. Upstream water users over abstracted water leaving none for users downstream (UNEP et al 2003: p. 21). In the context of such water use competitions, Malindi District is vulnerable to every additional water abstraction further upstream
In last decades, protection of river water users in Malindi District against over-exploitation by co- riparians further upstream was not necessary, since most of the time, there has been enough water for all. Although Athi River as the main tributary to the Sabaki River tends to dry up in times of drought, Sabaki River in Malindi District has never dried up due to permanent flow of the Mzima Springs, that drains its water into Sabaki
A certain part of the clear Mzima Springs water is transferred by the so-called 1stMzima Water
Pipeline to the urban region Mombasa. This water transfer (within the Athi River Basin) reduces water levels in river Sabaki. Due to sufficient amounts of Mzima Springs water, water use conflicts between water users in Mombasa and Malindi District arose only in times of drought, which occur every three to four years
Hence, the planned 2nd Mzima Water Pipeline to Mombasa District may aggravate the conflictive
relationship. Since the early 1990's, the 2ndMzima Water Pipeline has been planned in order to reduce the huge water supply deficit in Mombasa District and to alleviate the complex water related problem. On the other hand, people in Malindi District are on the way to use more water from Sabaki River for irrigation purposes to end up its vulnerability to food insecurity, that is mainly caused by droughts and lack of irrigated agriculture. Ongoing development plans in several co-riparian districts include further use of Athi/Galana/Sabaki river waters for boosting local and national economy. This development in the basin may lead to increasing conflicts among the riparian districts about the rivers' water, since in times of drought, water is not enough to serve all the co-riparians for agricultural, domestic, industrial and other uses. The futurological scenario described in this paper assesses potential impacts of the
2nd Mzima Water Pipeline on the interconnected districts Mombasa and Malindi. If output from the
Mzima Springs returns to lower levels, as it was experienced for example in 1978, the 2nd Mzima Water Pipeline would abstract of more than 60 per cent of the total output and thus, considerably deprive downstream riparians of using the Mzima Springs Water. Since there is no major water
storage facility to capture and save water in times of high flow, increased water abstractions by the 2nd Mzima Pipeline could threat lives of downstream riparians
This scenario shows, that under certain circumstances, an asymmetric water conflict may evolve among different water use groups in the Athi River Basin. At any time there exist at least an asymmetric relationship between them, resulting from different political and economic power. For example: Mombasa as the country's second biggest urban region has both economic and political power to invest in a water supply project to improve lives of urban dwellers. Rural communities in Malindi District have need to invest in irrigation infrastructure to expand food production and thereby, enhance food security. But those communities do not have adequate access to loans and land to properly install efficient and sustainable irrigation schemes
This asymmetric relationship that is conditioned by different interests of the riparians can be aggravated by a so-called asymmetric hydrology. This asymmetry emerge as an upstream downstream problem, when rivers flow across the border of two districts (or provinces/countries). To follow the example of this paper: Communities in Malindi District as the most downstream water user along the Athi/Galana/Sabaki river system suffer in times of drought from increased water abstractions further upstream in the river system, resulting from the specific position on the river
1.1.3 Leading thesis
Increased water abstraction in the Athi River Basin, e.g. by the planned 2ndMzima Water Pipeline, could have detrimental consequences on the lives of downstream riparians and lead to asymmetric water use conflicts. It is the aim of this paper to find an answer to the following question:
How are the conflicts of uses between the multitudes of water users involved in upstream/downstream situations in the Athi River Basin to be resolved?
It was clear from the literature (Rogers et al. 1998, Global Water Partnership 2000, IUCN 2000, Chatterji et al. 2002, Wouters 2000, Falkenmark 2003, Braunmühl and Winterfeld 2003, UN/WWAP 2003, The Millennium Project 2005, Finger et al. 2006) that no single discipline can offer an effective answer to the aforementioned question and that prevention or solution of asymmetric water use conflicts requires an interdisciplinary approach. Striving for optimal allocation and use of water resources by taking an interdisciplinary approach may resolve or even prevent asymmetric water use conflicts in the Athi River Basin. In this sense, it is the author's aim to develop principles for optimal allocation and use of water resources in the Athi River Basin
1.2 CONCEPTUAL FRAMEWORK
The development in the Athi River Basin and, particularly the construction of the 2ndMzima Pipeline calls for a structured approach to the basin's management, that support sustainable socio-economic development in the region. In this regard, this paper recognizes the concept of sustainable
development and its core values in the context of freshwater. The objective of the sustainable development of water resources is that economic and social development should be both equitable and efficient, while protection, preservation and enhancement of natural ecosystems is ensured (Agenda 21, 1992). The core values of the concept of sustainable development, which have been identified and reviewed by Rieu-Clarke (2000: p. 573), are: A Holistic Approach to Freshwater Management, Ecosystem Protection, Water as an Economic Good and Full Cost Recovery, Water Resource Assessment, and Public Participation. Each of these core values will be explicitly described and referred to in the following chapters
The second chapter tries to review elements of "water governance" that are necessary to sustainable development and management of water resources. In order to find a solution for asymmetric water conflicts in the Athi River Basin by achieving an equitable, efficient and environmental sustainable water allocation system, this study uses an interdisciplinary approach, which draws from three disciplines:
1 Ecology is the discipline that proposes to use a river basin approach for the management of water resources. Integrated Water Resources Management strategies (GWP 2000) follow this approach and aim at integrating all water using sectors within a river basin to wisely manage its waters
2 Economics may provide a frame for most efficient use of water resources in the Athi River Basin (GWP 2003)
3 Politics is the context, where scientifically and internationally acknowledged water allocation rules for international transboundary river basins have been developed. The most popular allocation mechanisms for internationally shared water resources are provided by the so- called Helsinki Rules and ILC Rules. Once down-scaled from international to national level and applied to the Athi River Basin, this allocation rules are supposed to guarantee equitable and reasonable sharing of water resources between co-riparian districts - in the best case
Each of the three disciplines provides information on experiences made in river basins worldwide from intents to solve water conflicts
The third chapter describes the status of the Athi River Basin. General information includes the physical environment with topography, climate, soils and land cover. Socio-economic information is provided about population, land tenure and land use patterns. Furthermore, there are data on the economy and poverty situation in the Athi River Basin. These introductory and general informations are necessary to better understand problems in the river basins' water sector. Specific information on the water sector in Kenya and especially the Athi River Basin can also be obtained in chapter three. Both data on water availability and water quality may provide a basis for water sharing negotiations and water allocation decisions. This paper also gives an overview on the main water using sectors in the river basin. To assess how water resources are managed in Kenya, the institutional set-up in the water sector is revealed in this paper. All these general and specific data create a comprehensive picture of the water related problems in the Athi River Basin and points to situations when asymmetric water use conflicts occur. Data limitations and incompatibility of data that on the one hand are provided on the district level and, on the other hand on a river basin level calls for further research
Chapter four contains information on the planned 2nd Mzima Water Pipeline Project, since it may be able to aggravate the already existing water conflicts in the river basin. Positive, as well as negative possible impacts of the planned water pipeline are presented in this paper. The pessimistic scenario just makes even more clear, that there is need of development of efficient and equitable water allocation rules in the Athi River Basin
Chapter five tries to path the way to such allocation rules by using the water governance approach, which is described in chapter two. Taking advantage of international experiences of the three disciplines, namely economics, ecology and politics for developing water allocation mechanisms for the Athi River Basin is the aim of this paper
It is recognized that there could be other alternatives and options available to allocate water in the Athi River Basin. It is also recognized, that acknowledgement and support of any water allocation mechanism by the majority of the water stakeholders is a prerequisite to successfully implement such mechanisms. In this sense the conclusions and recommendations in this paper should not be taken as prescriptive
2 SOLVING ASYMMETRIC WATER CONFLICTS
Asymmetric water conflicts can arise from the use of common water resources (see 1.1.2). In order to better understand such conflicts, one can distinguish between different types, as for instance conflict arising through use, and conflict arising through pollution (Haftendorn 2000: pp. 51-56). A conflict through use, for example, could be caused by the construction of a water storage facility on the upper- course of a river because of fears of water shortages on the lower reaches of the river. The possibility of conflict increases in such cases where this construction has harmful consequences for downstream riparians, for example through polluted waste water
An absolute conflict of distribution would exist when there simply is not enough water to meet the needs of all the riparians. A relative conflict of distribution is prevalent, where a disparity over the use of water exists between upper and lower-lying riparians. Such river systems are characterised by a flow that, although plenteous in the upper basin, is reduced in the lower basin because of the extensive use of the resource by upper riparians. Table 1 provides an overview on causes of water conflicts for different conflict types and gives examples of river basins, where such conflicts occur
Table 1: Causes of Conflict in the Water Sector
illustration not visible in this excerpt
Source: Haftendorn (2000: p. 53)
Overexploitation of water resources with inequitable distribution patterns leads to a relative distribution conflict between concurrent user groups in the Athi River Basin. According to Houdret and Shabafrouz (2006: p. 5 and 31) this kind of problems are a consequence of "profound failures in water governance", which are often caused by the neglect of fundamental, locally specific social and ecologic factors
This chapter tries to review elements of the concept Water Governance as a solution to asymmetric water conflicts in river basins. But, what is the concept of Governance? The term Global Governance is commonly understood as the framework for international relations between various actors, in absence of a world government (UN Millennium Project 2005: p. 55) and was derived from findings of a report of the World Commission on Environment and Development (known as the Brundtland Report) (see United Nations 1987). A political definition of Governance is given by the Club of Rome (a global think tank of scientists, economists, heads of states, etc.) in 1991, applying it to the regional, provincial, local and national level:
"We use the term Governance to denote the command mechanisms of a social system and its actions that endeavours to provide security, prosperity, coherence, order and continuity to the system []. Taken broadly, the concept of Governance should not be restricted to the national and international systems but should be used in relation to regional, provincial and local governments as well as to other social systems such as education and the military, to private enterprises and even to the microcosmos of the family (King and Schneider 1991: pp. 181-182)"
The Commission on Global Governance, which was initiated in 1990 by Willy Brandt, gives following definition:
"Governance is the sum of the many ways individuals and institutions, public and private, manage their common affairs. It is a continuing process through which conflicting or diverse interests may be accommodated and co-operative action may be taken. It includes [] informal arrangements that people and institutions either have agreed to or perceive to be in their interest (Commission on Global Governance 1995: p. 2). "
Good Governance is often understood to constitute transparency and accountability in the management of public affairs, respect for human rights, and the participation of all citizens in the decisions that affect their lives (Hirsch 2006: p. 186). Other variations of the term Governance include Corporate Governance, New Public Management, Economic Governance, Socio-cybernetic Governance, and Participatory Governance (Schlamp 2005: p. 32)
Governance concepts are also applied to water. The Global Water Partnership (2002: p. 2), for example, defines Water Governance as
" [] the range of political, social, economic and administrative systems that are in place to regulate the development and management of water resources and provision of water services at different levels of society"
Throughout the literature it was clear, that Water Governance is primarily concerned with managing water as a scarce resource in accordance with the key dimensions of sustainability - the ecological, the economic and the socio-political
"Far reaching impacts of water management practices on the economic, the socio-political and the ecologic conditions of human development confirm the need for a broader understanding of sustainability in Water Governance, namely as a careful balance between these different dimensions (Houdret and Shabafrouz 2006: p. 32)"
From the author's view, the "function" of governing water has three main determinants or elements, which represent three disciplines, wherein management of common water affairs take place. These disciplines are Ecology, Economics and Politics. The author supports the view to focus on each of the three disciplines to manage water resources in general and particularly in the Athi River Basin in Kenya in an environmental sustainable, efficient and equitable way
Whereas literature on the ecologic and economic disciplines refer to river basins in general, those on politics refer mainly to water conflicts in international river basins. The case of the Athi River Basin will show, that water sharing problems in national river basins have the same underlying cause as in international river basins - inequitable sharing of water resources among the co-riparians due to lack of sound water allocation rules
To avoid or solve asymmetric water conflicts in the Athi River Basin, an equitable, efficient and environmental sustainable allocation system needs to be in place. Lessons can be learned from several cases of river basins facing asymmetric water conflicts. The examples of river basins used in this paper were chosen because there, experiences were made in at least one of the three disciplines (ecology, economics, politics), which could be useful to develop the aforementioned allocation system
2.1 ECOLOGY
Principle 1 of the Dublin Statement on Water and Sustainable Development states that "freshwater is a finite and vulnerable resource, essential to sustain life, development and the environment" (Dublin 1992). In balancing the needs of development and the environment, freshwater management should therefore take an integrated approach as one of the core values of sustainable development (Rieu- Clarke 2000: p. 573). According to this value, interrelated water resources should be managed as a unit with the river basin area as the most appropriate level
The river basin has been found to be the most logical geographical unit for water resources planning since the geologic, topographic, biologic, and land-use characteristics of the basin along with its climate determine the magnitude, timing, and quality of the basin's surface and ground waters (Finger et al. 2006: p. 21, Dingman 2002, quoted by Obeng-Asiedu 2004: p. 11)
A river basin is defined by its watershed area. At the highest elevation are the upper reaches where snowmelt or precipitation feed into streams and rivers. These upper reaches feed into a middle reach creating a 'mainstream' of the river. Below the mainstream is the lower reach, where the river meets the ocean, flow into swamps or even dry up
Human-made activities can also be recognized and co-ordinated within the river basin unit. Physical processes such as flow are governed by natural laws and are also affected by human actions such as irrigation, diversion, drainage, and discharges from industrial and urban areas (Obeng-Asiedu 2004: p. 25)
In order to obtain an integrated "river basin management," the French administration has designed regional agencies, responsible for the general management of each river including investment, research and development, and information. This so-called French Model has been put forward by the World Bank and also by specialized international water organizations, such as the World Water Council or the Global Water Partnership. The European Union, for example, has recently adopted the
Water Framework Directive, where the basin is definitely assumed as the basic territorial entity for elaboration "Management Plans". In other regions of the world, this approach is also being taken by development agencies and by international organizations. (Finger et al. 2006: p. 22). For example, water managers in the UK are now using catchments as the operational water management unit. Furthermore, new water legislation in both South Africa and China has adopted the catchment as the basis for their new water laws (Wallace et al. 2003: p. 2022)
River basin management is analogous to Integrated Water Resources Management (IWRM). Although the concept of IWRM is still under debate, in recent years the key principles of good IWRM have become a matter of international consensus. The Global Water Partnership defines IWRM as follows:
" IWRM is a process which promotes the co-ordinated development and management of water, land and related resources, in order to maximize the resultant economic and social welfare in an equitable manner without compromising the sustainability of vital ecosystems (GWP 2000: p. 22)"
Protection of ecosystems is another core value of sustainable development (Rieu-Clarke 2000: p. 573). Ecosystems provide direct support of humans through natural resources and hydrological functions and they are a fundamental part of the social structure of many rural communities. In order to protect the environment from over development, the aquatic and terrestrial ecosystems should be respected
To protect ecosystems we need to have understanding of the water requirements of species and communities and about the threshold that define critical levels of water supply to maintain ecosystem health (Wallace et al. 2003: 2023). Dyson et al. (2004) for example, give insight to flow requirements in rivers to satisfy all riparian water users including the ecosystem river itself. Regarding sharing of water between society and nature, Wallace et al. (2003: p. 2023) concludes:
" [] we need to work out how best to share water between people and nature. While it is vital that adequate water be reserved for the maintenance of ecological services, the quantities needed for this are not yet fully understood. To incorporate this ecological allocation into water management, new approaches are needed to quantify the effects of non-optimal supply on aquatic ecosystems. When these are better known, along with human requirements and the efficiencies of the different sectors, a more equitable approach to the sharing of water between society and nature should be possible."
To save aquatic ecosystems, as for instance the Athi/Galana/Sabaki river system in the Athi River Basin in Kenya, is not only necessary from an ecologic viewpoint. More over there is a strong link between ecology and economics in managing aquatic ecosystems that serve as water resources for different uses
2.2 ECONOMICS
Since ancient times water is an important element of economic and social development. There are some main reasons for the growing importance of water in economic and social development during the 20th century. The first use of dams for hydropower generation was at the end of the nineteenth century. By 1900, several hundred large dams had been built in different parts of the world (mostly for water supply and irrigation purposes), and by the end of the twentieth century, there were over 45,
large dams in over 140 countries (Finger et al. 2006: p. 24)
From a global perspective, the agricultural sector has always been the largest user of freshwater. The so-called Green Revolution (introduction of high-yielding plants), which began in the 1940s, increased cultivated areas and water use for irrigation purposes (Finger et al. 2006: p. 26). Developments in industrial sectors have increased the economic use of water. Today, industrial uses account for about 20% of global freshwater withdrawals. Of this, 57-69 % is used for hydropower and nuclear power generation, and 30-40% for industrial processes, like production of iron and steel. Since the 1970s to 1980s, there is a tendency toward stabilizing and even decreasing industrial water withdrawal due to energetic measures (Finger et al. 2006: p. 25)
Compared to agricultural and the industrial uses, domestic water use only makes up for a small share of water consumption. However, during the last decades there has been a steady increase in domestic water use. Urbanization is changing water use habits and people consume more and more water in their daily lives. Whereas 30% of the world population lived in urban areas in 1950, the proportion of urban dwellers rose to 47% by 2000. (Finger 2006: p. 26). By 2007 the world's population will be predominantly urban for the first time in human history. UN projections suggest that over the next 30 years, virtually all of the world's population growth will occur in the urban areas of low- and middle-income countries. The world's urban population is projected to grow by more than 2 billion by 2030 (Task Force on improving the lives of slum dwellers 2005: p. 11)
Originally, freshwater was seen as an ubiquity. Hence, water stress is expected to determine the living conditions of two thirds of the world's population by 2025 (Morrison/Gleick 2004: p. 2). Most of these people will be living in Africa, where about 300 million people are already affected by water shortages (European Commission 2002: p. 1). In times of fast growing populations and decreasing freshwater resources (per capita) arises the question, how water should be seen and treated. The question of how water is to be treated - as a public or a private good, as a social or an economic good
- could not, to date, be answered unequivocally (Schlamp 2005: p. 23)
The nature of water as an economic good has been underlined in Principle Four of the Dublin declaration:
"Water has an economic value in all its competing uses and should be recognized as an economic good (ICWE 1992)."
It is further specified:
"Within this principle, it is vital to recognize first the basic right of all human beings to have access to clean water and sanitation at an affordable price."
It is to conclude that the economic use of water has considerably increased since the beginning of the 20th century and has therefore played more and more a critical role in the development of local and national economies. However, these economic developments have given rise to a greater competition between the different users to the extent of asymmetric water conflicts in river basins (see 1.1.2). Furthermore, it is contended that past failure to recognise water as an economic good has lead to
"wasteful and environmentally damaging uses of the resource" (Dublin, 1992)
Treating water as an economic good, when allocating water, the economic target is to maximise its value in use. The economic concept of allocative efficiency relates to the allocation of the available water resources among competing uses such as agriculture, domestic and industrial water supply, and ecosystem use (GWP 2006: p. 3). The allocation is "efficient" when the net benefits gained from the use of water in these various ways are maximized. For example, if water can be used more
productively in the manufacturing sector than for irrigated crop production, it is economically more efficient to reallocate water from agriculture to industry
Allocative efficiency can be achieved through a range of measures that ensure that water is allocated to the highest value uses (Zimconsult 2005: p. 5)
The different instruments which economics recognises for allocation and control of resources generally fall into one of three categories (Zimconsult 2005: p. 4):
- Command and control - systems of regulations, backed by fines or other forms of sanctions, giving more limited access to resources or controlling their use
- Pricing - using prices as a signal to economic actors about the value of resources and allowing the operation of the price system to determine resource allocation
- Rights - granting of legal rights over resources, typically giving exclusive access to the rights holder
The main problem with approaches from the category "command and control" is the lack of flexibility they imply, with the danger of significant social costs arising as conditions change over time (Zimconsult 2005: p. 19). Due to this reason they are not further discussed here
Water pricing is one of the major instruments to be used to ensure efficient utilisation of water. When resources are scarce, there is competition for it. To allocate water most efficiently, a fundamental economic concept in this regard is opportunity cost, which can be defined as the value of the next best alternative or opportunity which has to be foregone in order to achieve a particular objective. Economic theory dictates that prices should be set to reflect opportunity costs, because in doing so the price of a commodity (such as water) will reflect the value of what is forgone by using water for one purpose rather than another (Wallace et al. 2003: p. 2017). However, it is recognized by the author, that water allocation decisions based on opportunity cost cannot be used straightforward. For example, calculation of opportunity cost suggests that the cultivation of higher-value (non-food) crops would lead to a reallocation of water for that purpose. If this were taken to the extreme then water allocation would cause a problem of food security
With regards to water pricing, the Global Water Partnership (2000: p. 20) proposes not only to include opportunity cost in the water price but also economic and environmental externalities (GWP 2000: p. 20) to achieve full cost recovery. It is to mention here, that externalities or external effects are the economic background of asymmetric water use conflicts in a river basin. External effects describe a situation, where the activities of a community influence another community. One has to distinguish between positive and negative external effects. Negative external effects are prevalent, if the activities of one community reduce the benefits of the other community, whereas positive external effects augment the benefits of the other community (Feess 1998: p. 42)
In this sense, the way of treating a river by upper riparians can have far-reaching impacts on lower riparians. Positive external effects occur, when the upper riparian take flow regulation measures for generating hydro-energy, which serves the lower riparian as flood control measure, water storage capacity for guaranteeing water availability during periods of drought and improvement in water quality by reduced sedimentation (Schiessler et al. 2004: p. 13). However, negative external effects are dominant in most of the cases in river basins. For example, the upper riparians are able to change unilaterally the amount of river water flowing to lower riparians. Reduction may cause shortages and
augmentation can cause inundations. Furthermore, upper riparians can influence water quality by pollution and thereby regulate the amount of water that can be used by the lower riparians. Such asymmetries can be balanced out, among other measures, by monetary compensations (Sadoff et al. 2002: p. 49), which need to be reflected in the water price the producer of the negative external effect has to pay
Treating water as an economic good and recognizing the water pricing principle of full cost recovery is one of the core values of the concept of sustainable development (Rieu-Clarke 2000: p. 573). Full cost recovery requires that economic, social, and environmental costs are taken into account, and that all costs should be borne by the user. However, in order to satisfy the needs of poor people (in monetary terms), the obligation of full cost recovery must be restricted in order to supply clean water to domestic users at a reasonable price
Figure 27 shows the full cost price model as proposed by the Global Water Partnership. The full economic cost consists of: the full supply cost due to resource management, operating and maintenance expenditures and capital charges, the opportunity costs from alternative water uses, and the economic externalities arising from changes in economic activities of indirectly affected sectors. Furthermore, it includes the environmental externalities associated with public health and ecosystem maintenance
Figure 26: General Principles for Costing Water
illustration not visible in this excerpt
Source: GWP (2000: p. 20)
Apart from pricing water, granting rights to abstract and use water from public water sources is another allocation mechanism for water (Zimconsult 2005: p. 4). Water rights can be permanent (from inexhaustible sources) or contingent (from surplus water) and can be granted for either consumptive or non-consumptive uses. Granting rights in perpetuity is not desirable, because it is important to have the flexibility to adapt to changing conditions. The rights system has to be flexible enough to allow changes over time in the pattern of water allocation, so that objectives such as equitable access and optimal use of water (from a national economic viewpoint) can be consistently achieved
Tradability of water rights introduces an element of competition into the allocation system. Introducing competition, by allowing potential new rights holders to bid for water rights is likely to produce an efficient result, because the highest value use of the water will be made by the person who
is able to make the highest bid for the rights (Zimconsult 2005: p. 19). Water markets require well- defined, tradable and enforceable water rights, a strong regulatory framework, and the infrastructure necessary to transfer water from one user to another. Water markets tend to function well in water- scarce basins where large-scale users are engaged in high-value activities. California, for example, successfully established water markets that enabled farmers to sell units of water they did not use to cities during drought years. The farmers improved their water efficiency and the cities got the water they needed (GWP 2006: p.6)
Box 1: Trading Water Rights in Australia
In Australia, water is owned by the Crown, and access to water is granted to users based on a licensing system. In New South Wales, water abstraction of regulated rivers is metered and monitored. The volume of water that every user can abstract is specified by a water license. Until recently, water rights in most regions were attached to a specific parcel of land. Buying water rights also meant buying the land to which it belonged. Nowadays, individual users can "purchase, sell, or lease part, or all of their water allocation according to the estimated marginal value of the water to them compared with the ruling market price (Pigram 1999: p. 8). Particularly when there are few new licenses issued, this trade systems allows flexibility to water license allocation. Also, they encourage efficient use of water in the water scarce country. In New South Wales, trading in water licenses was already in practice in the early 1980s. Today, between 200,000 and 700,000 mega litres of licenses allocation (on regulated rivers) are traded annually on a temporary basis. In 1989, permanent transfers were introduced, and also trading on unregulated streams was made possible in 1998. Additionally, a pilot scheme for inter-state trade in water has been introduced. The water market is not yet fully developed in all parts of Australia, because of partly high transaction costs and inadequate information (Pigram 1999)
Many countries lack the preconditions necessary for successful water markets. The idea of tradable water rights in Africa remains controversial because of the large social disparities which exist and the resultant fear that the rich and powerful will appropriate a disproportionate share of the water. However, vulnerable groups which do not have enough resources to take part in bidding for the water rights could be protected through direct allocations (Zimconsult 2005: p. 6)
This chapter shows that economics is concerned - among other issues - with the allocation of water to meet the objective of efficient use of the water. Although, technocratic ways of addressing specific issues can be formulated, there has to be the political will (symbolised by having effective institutional structures in place) to put them into effect. The following chapter and its subsequent sections focus on politics as one of the three disciplines from which this paper draws to solve asymmetric water conflicts in the Athi River Basin. Focus lies on equitable sharing of water resources by co-riparians in river basins
2.3 POLITICS
This chapter seeks for ways to achieve equity in allocation of water resources. In this context it is necessary to find an answer to the question "who is entitled to what water?". A right to water has not yet explicitly entered the Human Rights and there are no concrete national and international legal obligations and responsibilities for such a right. No express mention of water is made in the United Nations Charter (1945). The right to water is often expressed within non-legally binding resolutions and declarations, like the Stockholm Declaration (1972) and the "Mar del Plata Action Plan" (1977). The World Summit on Sustainable Development in Johannesburg (2002) and the World Water Forums (Hague, Bonn, Kyoto) failed to recognise a fundamental human right to water (Wallace et al. 2003: p. 49). In November 2002 the United Nations Committee on Economic, Social and Cultural Rights took the step of agreeing on a "General Comment" on water as a human right:
"Water is a limited natural resource and a public good fundamental for life and health. The human right to water is indispensable for leading a life in human dignity. It is a prerequisite for the realization of other human rights. [] The human right to water entitles everyone to sufficient, safe, acceptable, physically accessible, and affordable water for personal and domestic uses (Committee on Economic, Social and Cultural Rights 2000: p. 1)"
According to a World Health Organisation publication (Howard and Bartram 2003: p. 49), the absolute minimum human requirements for water are 7.5 litres per capita per day. This is based on
"requirements of lactating women who engage in moderate physical activity in above-average temperatures [] and does not account for health and well-being-related demands outside normal domestic use such as water use in health care facilities, food production, economic activity or amenity use"
Worldwide 1.1 billion people lack access to safe drinking water. In sub-saharan Africa about 288 million people do not have access to drinking water (Task Force on Water and Sanitation 2005: pp. 38-40) and in Kenya an estimated 40 per cent of the population face the same problem (UNDP 2005:
p. 49). In the view of these facts, the author do not like to miss the opportunity to stress the importance of legally recognizing and fulfilling the human right to water
However, this paper targets at the "right to water" each state in an international river basin is entitled to according to international water law in order to be able to derive from these findings the "right to water" for each district in the Athi River Basin in Kenya. International water law has developed scientifically and internationally acknowledged water allocation rules for international transboundary river basins on the principle of equity. It is the author's intention to draw from experiences in equitable sharing of water resources in international river basins to find a solution for inequitable sharing of the water resources in the Athi River Basin
For more than 100 years, transboundary water conflicts are focussed by international law. For many years, states have tried to solve water conflicts by bi- and multilateral treaties, acknowledging that politics and management on water can not be limited to national borders (Barandat 2002: p. 34). This chapter tries to reveal principles of international water law concerning the use of transboundary water and, furthermore, most important international and regional water conventions
River basin boundaries seldom correspond with administrative, political, climate or vegetative boundaries. On the contrary, rivers have often been used as a political divide. At least 263 international river basins exist worldwide, covering almost half of the surface of the earth. Some 145 countries are classified as riparians to these transboundary basins, which are home to approximately
40% of the global population and provide about 60% of the total freshwater resources available to humankind (Phillips, Jägerskog 2006: p. 4)
The complex physical, political, and human interactions within international river basins can make the management of these shared water systems especially difficult. Issues of increasing water scarcity, degrading water quality, rapid population growth, unilateral water development, and unequal levels of economic and social development put co-riparian water relations at risk. The combination of these factors has led academics and policy-makers to warn of conflicts over shared water resources
With regards to commonly shared water resources, I agree completely with Phillips and Jägerskog (2006: p. 3) by saying that
"[] attaining a fair agreement is of the utmost importance, since quite apart from mitigating risks of conflict, this would have the potential to affect the process of economic and social equalization between (as well as within) the countries sharing a water body (Phillips, Jägerskog 2006: p. 3)"
Hence, development of water allocation rules was not easy in the water sector, since different countries advocated - dependent on its specific hydrologic positions in the river basin - different principles regarding water allocation conflicts. To better understand water allocation conflicts, these principles are described as follows:
2.3.1 Principles
The principle of absolute territorial sovereignty (Harmon doctrine) allows a state to use - suitable to its interest - all the water resources within its territory, since all water resources constitute integrated parts of the public domain of that state. This doctrine clearly favours upper-basin states (Schiessler 2004: p. 21)
The principle of absolute territorial integrity is the direct opposite of the theory of absolute territorial sovereignty. It says that lower riparian states have the right to continued and uninterrupted (or natural) flow of the water from the territory of the upper riparian (basin) state. This theory favours the lower-basin state (Finger et al. 2006: p. 30)
Both these principles have been criticized due to its extreme positions. Under certain circumstances, these two principles can collide. Actual international negotiations are characterized by the intention to balance these competing principles (Schiessler 2004: 21)
According to the limited territorial sovereignty and integrity, every state is free to use the waters flowing into its territory, on the condition that such utilization does not prejudice the territory or interests of other states. Contrary to the aforementioned principles and due to its acceptance of reciprocal rights and obligations, this theory has been widely acknowledged and serves as a basis for following principles (Schiessler 2004: p. 20)
The principle of equitable utilization proposes that each basin state has a right to utilize the waters of the basin and is entitled to a reasonable and equitable share of the basins' water. This principle takes into account the socio-economic needs of the basin states. It aims at distributing the waters among the basin states to satisfy their needs to the greatest possible extent. And it seeks to distribute the waters to achieve the maximum benefit for each co-basin state with the minimum harm (Finger et al. 2006: p. 31)
Additional to this last mentioned principle there is an other principle, which has been acknowledged
as common law. The prohibition of significant environmental harm is expressed in the no significant harm rule. According to this rule, states are obligated not to allow significant harm to human life and health as well as to objects used by humans in another state. This prohibition is widely acknowledged as a general principle of international law (Ipsen 1999: p. 909)
The principle of prior notification is derived from the principle of limited sovereignty and the no- significant-harm-rule. The principle of prior notification obliges riparian nations to inform other riparian nations before the realization of water projects, which could have consequences on their water uses. This principle is seen as one of the most important ones to avoid international conflicts (Edig et al. 2002: p. 81)
These relevant rules of common law have been identified by international bodies, which guided the international water law and fixed rules of common law
2.3.2 International Conventions
During the last years, international water law developed and more than 150 international conventions and bi- as well as multi-lateral treaties have been signed (Schiessler 2004: p. 27). The following two sections look at internationally most acknowledged conventions concerning transboundary water resources, namely the so-called Helsinki Rules and the ILC Rules
2.3.2.1 The Helsinki Rules
Several legal principles concerning the sovereignty of states over water resources have evolved over the years. The principle of equitable utilization permits use of a river's water to the extent that this does no harm to other riparian countries. This principle has become the most widely advocated by the international legal community, as evidenced by treaties, judicial decisions, academic research and international bodies (Kliot 2001: 5)
The best expression of the principle of equitable utilization can be found in the "Helsinki Rules on the Uses of the Waters of International Rivers" (Helsinki Rules), drawn up by the non-governmental International Law Association (ILA) in 1966, which have become the accepted legal foundation for utilization of international rivers
The Helsinki Rules contain six chapters. The first chapter is a general chapter which defines the term 'international drainage basin'. Chapter 2, which has five articles, deals with the equitable utilization of the waters of international drainage basins; Chapter 3 formulates rules concerning pollution. Chapter 4 deals with navigation in international river basins. The remaining two chapters concern timber floating (Chapter 5) and procedures for the prevention and settlement of disputes (Chapter 6) (ILA 1966)
For the development of water allocation rules for equitable sharing of commonly used water resources, Chapter 2 of the Helsinki Rules is of special importance. Article IV in Chapter 2 states that each basin state is entitled to a reasonable and equitable share of the benefits driving from the use of the waters of an international drainage basin. Article V of the Helsinki Rules contains the following eleven relevant factors involved in the equitable utilization of international river basins:
(a) the geography of the basin including, in particular, the size of the drainage area in the territory of each basin state;
(b) the hydrology of the basin including, in particular, the contribution of water by each state;
(c) the climate affecting the basin;
(d) the past utilization of the waters of the basin including, in particular, existing utilization;
(e) the economic and social needs of each basin state;
(f) the population dependent on the waters of the basin in each state;
(g) the comparative costs of alternative means of satisfying the economic and social needs of each basin state;
(h) the availability of other resources;
(i) the avoidance of unnecessary waste in the utilization of waters of the basin;
(j) the practicability of compensation to one or more of the co-basin states as a means of negotiating settlements over conflicts among users;
(k) the degree to which the needs of a basin state may be satisfied without causing substantial injury to another basin state
In 1986, the ILA adopted three complementary rules to the Helsinki Rules. Article 1 called states to prevent acts or omissions within one's territory that would cause substantial injury to any co-basin states. Article 2 called for coordination in connection with water utilization and Article 3 called for providing notice on any water projects to all the co-riparians (Kliot 2001: p. 10)
In continuation, the 1992 United Nations' Convention on the Protection and Use of Transboundary Watercourses and International Lakes ("Helsinki Convention") (Convention 1992) constitute since 1992 an international law compendium for Europe.The principal standards of this compendium are:
-recognition of interests and rights of other riparians and abandonment of a position of absolute sovereignty and integrity in favour of a principle of limited sovereignty and integrity;
-obligation to compensate in case of impairing interests of other nations;
-cost-benefit-analysis in planning and development of projects to achieve sustainability;
-information duty for riparians and transparent data exchange
-regulation of objections by arbitrary commissions
The Helsinki Rules' criteria and priorities for different uses are not clearly defined. This seems to be reasonable, since every river basin has its own and unique characteristics. However, framework conditions and interests of every riparian are unique as well and, according to Barandat (2002: p. 35), equalization among the riparians is only possible, if different claims with reference to population, share of catchment area, etc. are valued and weighed in direct negotiations by all the co-riparians
Whereas the Helsinki Rules do not have formal legal status they serve as guidelines for state practice in various parts of the world. In Central Europe and North America, all legal treaties concerning the use of transboundary river basins are based on the Helsinki Rules (Berg 1996, quoted by Barandat 2002: p. 35), since societies are interlinked in many ways and thus, aim at acting for mutual benefit
2.3.2.2 The ILC Rules
Another international organization working on a set of rules for sharing international water resources is the International Law Commission (ILC), a UN affiliated body. Since 1971 this organization has been developing the Law of the Non-Navigational Uses of International Watercourses (ILC Rules), and by 1997 some thirty-two articles had been formulated and approved (ILC 1997)
Articles 1-4 are general articles which provide the basic definitions. Article 5 deals with equitable and reasonable utilization of watercourse systems. Article 6 presents the following factors relevant to equitable and reasonable utilization of transboundary water resources
(a) Geographic, hydrographic, hydrological, climatic, ecological and other factors of a natural character;
(b) The social and economic needs of the watercourse states concerned;
(c) The population dependent on the watercourse in each watercourse state;
(d) The effects of the use or uses of the watercourses in one watercourse state on other watercourse states;
(e) Existing and potential uses of the watercourse;
(f) Conservation, protection, development and economy of use of the water resources of the watercourse and the costs of measures taken to that effect;
(g) The availability of alternatives, of comparable value, to a particular planned or existing use
Article 7 specifies the obligation not to cause significant harm. Articles 8 and 9 deal with the general obligation of co-riparians to co-operate and exchange data and information. Articles 10-23 provide framework for cooperation among co-riparians when they plan to develop international watercourses
The Convention has not yet come into force, since it has not been achieved, that a minimum of 35 nations joined the convention. However, the adoption of the UN Convention on the Law of the Non- Navigational Uses of International Watercourses in 1997 indicates that state practice regarding the utilization of transboundary water for non-navigational use aim to follow the doctrine of equitable utilization. Several case studies in Finger et al. (2006: p. 31) show that many governments recognize the usefulness of this concept, but practice over transboundary water resources seems to be governed by other imperatives, especially economic and political ones
2.3.2.3 Constraints in solving asymmetric water conflicts by international law
Although international water law, like the Helsinki Rules or ILC Rules provide for prevention or resolution of water sharing conflicts, such conflicts are still on the agenda. This is for several reasons: The main obstacle in the realization of international law is still the question of national sovereignty. Legal binding supranational conventions either fail or are only weak in its character, because the actors involved see restrictions to their national sovereignty. As a result, most of the mutual obligations not often exceed existing common law. Half of the treaties of water share agreements do not include monitoring rules and not all of the riparians are included as a party of agreement (Wolf 2001: p. 62)
"There is no relative weight to each rule. For example, dependent population and social and economic needs are more important in developing countries than in developed countries. Whereas rules which refer to the cost of alternative usage, the practicality of compensation and the prevention of water wastage are more easily applied to developed societies (Kliot 2001: p. 99)"