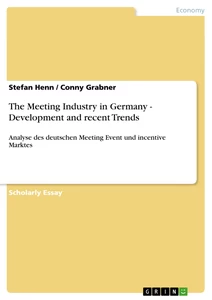 The Meeting Industry in Germany - Development and recent Trends
Analyse des deutschen Meeting Event und incentive Marktes
Wissenschaftlicher Aufsatz 2008 31 Seiten
Leseprobe
Content
List of Tables and Figures
Apprehension
Biographical Notes
1 Introduction
2 Business Travel
3 Corporate Travel
4 Meetings
5 Incentive Travel
6 Exhibitions & Trade fairs
7 Major Players
8 SWOT –Analysis (Germany as meeting site)
9 Conclusion/ Future Trends
Bibliography
Appendix A
Appendix B
List of Tables and Figures
List of Tables
Table 1: Business vs. leisure tourism
Table 2: Meetings – Share after meeting type
Table 3: Positioning of LH within international scheduled flight traffic
List of Figures
Figure 1: Share of capacities on meeting locations
Apprehension
illustration not visible in this excerpt
Biographical Notes
Authors profiles
Conny Grabner
illustration not visible in this excerpt
At the moment, Conny is in the last year of her Tourism Management studies at Heilbronn University. Due to her apprenticeship at the Hotel Management College in Pirna she was able to collect rich experience in different hotels in Ger- many and Austria. Her affection for mountains led her towards Berchtesgadener Land Marketing where she successfully could apply her skills in marketing, incoming and hospitality. Currently, Conny is writing her bachelor thesis for a hotel con- sulting agency in Frankfurt. After graduation she is looking forward to work in the field of Yield and Revenue Management in the hotel industry.
Stefan Henn
illustration not visible in this excerpt
Ever since his apprenticeship as travel agent at Carlson Wagonlit Travel Stefan is tied to tourism. In 2004 he started his studies at Heilbronn University an he is going graduate in 2008. Due to his study abroad in Thailand Stefans´ interest in International Relations, Sustainable Tourism Development and the MICE-Industry deepen. In 2006/2007 he had the chance to gather hands on experiences working in an Event & Management Training Agency in Switzerland. In his free time Stefan is passionate about practicing his favourite sport Kung Fu and is always on the hunt for a good book.
1 Introduction
According to Ernst Hinsken, Commissioner for Tourism of the German govern- ment, Tourism as a whole is going to be one of the key industries. In this paper we are going to take a more narrow perspective on respective elements of Busi- ness Travel, especially the Meeting Industry. The paragraphs 2 and 3 cover the theory and application of business tourism and business travel as well as the key data for overall corporate travel. Within the paragraphs 4 to 8 the MICE-Sector is examined. For each segment there is a short theoretical introduction before the key data is sited. Subsequently, the elaborated SWOT-Analysis of Germany as a meeting destination serves as a kind of summary former findings. Within the SWOT-Analyses it was tried to uncover the needs for improvement and sustain- ing the current position of Germany. Moreover, the factors that characterize Germany as the Number one Meeting destination in Europe were extracted. In the last paragraph an outlook and recent trend is given.
2 Business Travel
Business Travel and Tourism
First of all we are going to approach the term business travel by integrating it into overall tourism. It can be said that like leisure-oriented travel, work-related travel is also characterised by a change of location. Furthermore, business travel contains the same standard services like transport, board and lodgings and will be enquired as a bundle of services. Moreover, most sectors of the tourism in- dustry serve both the business and the leisure market (FREYER, 2006: 12). Nev- ertheless, business travel differs within several points from leisure travel. For instance, the trip normally takes place all year around and the aim of the travel is predetermined e.g. by the employer or the location the business partners (FREYER, 2006: 15). Yet, business tourism also involves considerable leisure elements, such as incentive travel, which may consist completely of leisure, en- tertainment and sports (DAVIDSON, 1994: 3). A common outline of the differ- ences between business and leisure tourism is given in table 1.
Table 1: Business vs. leisure tourism
illustration not visible in this excerpt
Source: Own illustration based on FREYER, (2006): 15; DAVIDSON, (1994): 4; VDR Travel Report (2007): 4; F.U.R. Reiseanalyse (2007): 5.
Common Definitions
In general, terms like `business travel´ and ´business tourism´ will often be used synonymously to describe the different sectors of the business travel indus- try. According to FREYER business travels are work-related short time transloca- tions comprising at least one overnight stay (business tourism) or without an overnight stay (daytime business travel) (FREYER, 2006: 2). Whereas DAVID- SON uses the term ´business tourism´ as umbrella term for the sectors meeting, incentive trips, exhibitions and corporate hospitality. In this paper we will follow the definition of DAVIDSON according to which business travel comprises "[…] all trips whose purpose is linked with the traveller's employment or business inter- ests" (DAVIDSON, 2003: 3). The main categories are general business travel, meetings, incentive travel and exhibitions. However, the different categories merge into one other (e.g. a conference accompanied by an exhibition) and can- not always clearly be categorised. In Germany as well as in the international terminology the acronym MICE stands for meetings, incentive travel, conferences (and conventions) and exhibitions (FREYER, 2006: 17-18). Yet, some German authors stress that the "E" should rather stand for "Events" than for exhibitions.
3 Corporate Travel
Corporate travel marks work-related travels, which will be organised on the basis of "[…] economical relationships within and between enterprises and other asso- ciations with different locations […]" (FREYER, 2006: 19). Therefore, individual business travel implies people working away from their general place of employ- ment for a short period of time, e.g. sales representatives (DAVIDSON, 1994: 1).
According to conservative estimates, half a million jobs in Germany owe their existence to and, above all, subsist on business travel. Moreover, business travel takes a share of 28% of the whole German tourist traffic (BMWI, 2008). In this passage the authors will take a closer look at the recent outcomes of the corpo- rate travel market and therefore referring to the latest studies of the VDR1 and the baseline survey of the GCB and DZT.
Market Data
In 2006, the number of business trips within companies comprising ten or more employees went up 5% in comparison to 2005 resulting in a total of 157.8 mil- lion business trips. Accordingly, the overall business travel activity caused a total turnover of 47.4 billion Euros. However, this increase can partly be traced back to higher fuel and kerosene prices because 54% of all business travel expendi- tures are attributed to transport. Whereas 25% of every Euro spent for a busi- ness trip is connected to accommodation. But, the related hotel turnover slightly decreased due to the rise of one-day trips. In more detail, the average length of stay has dropped from 2.6 in 2005 to 2.2 days in 2006. This illustrates the ongo- ing trend towards shorter business trips since 2003 (VDR TRAVEL REPORT, 2007).
In contrast the GCB figures show 49.4 billion Euros overall turnover. The total amount of business trips is stated with 82.6 million. Adding corporate trips which do not include an overnight stay the total turnover of corporate travel is quanti- fied with 63.3 billion Euros (GCB; BMWI, 2006). To some extend this prosperous development of corporate travel can be traced back to sound economical devel- opment reflected in the growth of GDP of 2.7 % in 2006 (Statistisches Bunde- samt, 2008) as well as in the increasing figure of staff members by +1 % to around 21 million employees (VDR TRAVEL REPORT, 2007).
According to the figures of VDR, German business travellers spent a total of 40.3 million room nights in 2006. Accumulated, this accounts for 8.6 billion Euros turnover for the German hotel industry. Furthermore, the study cites 11.6 million overnight stays spent abroad. As a result German organisations are causing an overall turnover of 2.5 billion Euros in foreign countries.
Business trips out of Europe to Germany increased with 16.3 % to 9.7 million in 2006. The most important country of origin for incoming corporate travel within Europe is Poland with a share of 11% (1.1 million), followed by Switzerland with almost 1 million and the UK with 0.8 million trips. On an international level the GCB-data indicates a total of 1.4 million business trips with overnight stays in the year 2005 overseas. The 626.00 trips out of the U.S.A represent 44% of the overall overseas market and therefore can be considered the No. 1 source mar- ket. Besides, Japan with a part of 15% and China with 12% who rank second and third.
Conclusion
In general it can be said that the cited data delivers a good overview of the im- portance of business travel for the German economy. Out of the company per- spective it can be said that the VDR study lays its clear focus on cutting cost through an effective travel management. Therefore the data is collected inde- pendently from trip duration, trip distance and trip purpose and relates directly to company made journeys and the respective settlement of business trip. It can be supposed that the primary objective is the expenditure oriented registration of business trips and therefore it aims o highlight the huge field of cost cutting op- portunities through services offered by VDR.
However, out of an incoming tourism perspective, the data of GCB makes it pos- sible to determine where business guest come from and therefore might in- creases the effectiveness of marketing activities to promote Germany as a busi- ness destination. Therefore this study is also cited by the BMWI and by politician to point out the importance of corporate travel. A disadvantage of the GCB study is that a direct comparison to preceding years is not yet possible.
All in all a prevailing mood leads companies to optimistic outlook for 2008. Hence, every 5th enterprise states that in future corporate trips will continually go up. Market wide the positive order situation drives companies towards an in- creased need to be with their customers and clients. In addition, companies are likely to send their employees to open up additional market areas and explore new business opportunities (VDR TRAVEL REPORT, 2007).
4 Meetings
According to DAVIDSON a meeting "for the purpose of the business tourism in- dustry, is an organised event which brings people together to discuss a topic of shared interest" (DAVIDSON, 1994: 21). Internationally, the terminology for or- ganised meetings is not very transparent in terms of form and nomenclature, for instance congress, conference, convention, seminar, etc. (DAVIDSON, 1994: 22). In this paper we will follow the latter and use meeting as the generic term. In Germany the term meeting basically comprises four segments (congresses, con- ventions, conferences, seminars) plus one special segment, e.g. assemblages as well as congress-exhibition and exhibition-congress. All in all, these events share the particular interest in a special theme and the exchange of views in a prear- ranged setting. Differences exist between size, duration, form, method, and or- ganisation (FREYER, 2006: 19-20). Table 1 and table 2 in appendix A captures the differences of the German categorization of meetings, as well as a detailed overview of the international definitions.
Market Data
At the moment there are 6.000 meeting sites situated in Germany. Approxi- mately half of these sites are located within business hotels. Around a fourth is covered by congress centres and event locations each (Meeting Barometer, 2007).
According to the Meeting Barometer a total of 2.6 million congresses, conven- tions, presentations, etc. took place in 2006. Throughout the accommodation businesses this emergence distributes as follows: 61% at business hotels, 27% at event locations and only 12% at congress centres.
Furthermore, the Meeting Barometer states that there were 98.4 million dele- gates attending a meeting or congress and about 193.1 million event partici- pants. Around five percent came from foreign countries. This goes along with the findings of ghh consult GmbH for 2005/ 2006 which indicates 5 % of foreign par- ticipation as well. In this case an augmentation of 14 % in comparison to 2002 was detected (ghh consult GmbH, 2005/ 2006).
Moreover, for 2005/2006 the ghh consult GmbH detected the following amounts of meetings (1.85 million), event days (2.9 million) and participants (88 million). Additionally, these figures claim hotels as the primary venue with 88% of the overall amount. (ghh consult, 2005/ 2006).
[...]
Details
Seiten

31

Jahr

2008

ISBN (eBook)

9783640261970

Dateigröße

705 KB

Sprache

Englisch

Katalognummer

v122450

Institution / Hochschule

Hochschule Heilbronn, ehem. Fachhochschule Heilbronn

Note

1,3

Schlagworte