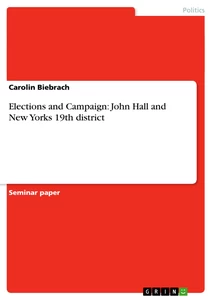 Elections and Campaign: John Hall and New Yorks 19th district
Hausarbeit 2008 16 Seiten
Leseprobe
Contents
1. The candidates
2. The district
3. It's all about relations
3.1 Primaries
3.2 Fundraising
4. The campaign
4.1 Riding on the Anti-Bush-Wave
4.2 Your opponent's past
4.2.1 The vote against gay marriage
4.2.2 The Mark Foley Page Scandal
4.3 Coping with the media
4.3.1 John Hall in the spotlight
4.3.2 Where is Sue Kelly?
4.3.3 Did that influence the campaign?
5. The election and the days after
6. What can be learned?
In 2006, New York's 19th district was facing one of the most competitive races in itshistory. The incumbent Sue Kelly was challenged by Democrat John Hall. She had to learn that, even in new campaigning times, everything is still about relations – relations to the right, andrelations to the wrong people. Her close ties to the Bush administration, her vote against gay marriage, and the relation to the Mark Foley Page Scandal caused some serious problems for Sue Kelly's reelection. In contrast to that, John Hall came from the back. Hardly anyone believed, that he could unseat a twelve-year incumbent. He used his relations to the music industry, and later to strong party leaders, to persuade voters. The Congressional Election in 2006 is also a symbol for the importance of the media. If you know, how to present yourself, the media can boost you; if you don't, the media can destroy you.
Furthermore the national trend showed, that Democrats across the country were likely to gain seats in Congress. But still, both parties, the Republicans and the Democrats didn't expect Sue Kelly's seat to be in danger. The outcome shows, that they were wrong.
1. The candidates
John Hall, a former member of the Band "Orleans" and songwriter of hits like "She's the One" or "Dance with Me", first appeared in the nationwide political scene in 2004, when he told President George W. Bushto quit using his song for his presidential campaign. The 58-year-old Democrat started with his band in Woodstock and is a long term anti-nuclear activist (Daily News, 11/5/2006) and lives now in Dover Plains in Dutchess County. Hall has been politically engaged for decades. He helped organizing the No Nukes concerts in the late 1970's. Furthermore he was a member of the Ulster County Legislature, helped to write the first zoning law in Saugerties and served two terms on the Saugerties Board of Education and was elected its president. In addition to that, John Hall was fighting for many local issues. He joined a citizens' group to protect the Hudson River and to oppose plans for a nuclear plant in the Hudson Valley (NY Times, 10/22/2006).
Republican Sue Kellyhad beenthe incumbent of the19th district for twelve years. "Kelly, a former florist and a botany researcher at Harvard, hasn't faced serious opposition since she was swept into office in the 1994 Republican Revolution" (Daily News, 9/17/2006). The 70-year-old woman is known as a moderate conservative, straying from the party lines on environmental votes. Besides that, she has mostly been a go-along-to get-a-long party member, supporting the Bush administration. "On issues that Congress has bungled, and where independence would have been welcome – immigration, or homeland security, a particularly pressing topic in a district with a nuclear plant in its backyard – Ms. Kelly has not strayed far from the pack" (NY Times, 10/22/2006). Nevertheless, Sue Kelly has long been seen as a good match for the district. She is a moderate Republican who supports tax cuts and has been fighting for abortion rights (Associated Press State & Local Wire, 7/28/2006).
2. The district
The 19th district includes all or parts from five counties: Dutchess, Orange, Putnam, Rockland and Westchester, with more than 654,000 people living in this area. With almost 90 percent of the population, white people constitute the majority of this district. With only five percent African-Americans (http://fastfacts.census.gov), the area was considered to be a Republican stronghold, but registered Republicans edged Democrats by only 18,000. The district still had108,000 independent voters (NY Times, 10/29/2006), and the local Democratic presence wasgrowing. Still solidly Republican, the electorate has experienced an upsurge of Democratic voters in the last years due in large part to the influx of New York City residents looking for more affordable homes and better schools (NY Times, 11/12/2006).
Putnam was the fastest growing county in the whole state of New York. The new population came from lower Westchester and the north of the Bronx. Even when those new voters were not necessarily Democratic, the growing population and the new voters required some work effort to be persuaded – even from a long-term incumbent. The new generation of voters was not as conservative as the native population (News Copy, 5/28/2006).
Additionally, Democrats on the ballot in 2006 were more likely to get a boost from strong Democratic showings by Senator Hillary Rodham Clinton and gubernatorial candidate Eliot Spitzer (Associated Press Online, 7/29/2006).
One of the local issues of the district is the Indian Point Energy Center, a nuclear power plant in Buchanan, New York (NY Times, 2/19/2006). Still, New York's 19th district is seen as a solid Republican district and its Congresswoman was not seen as vulnerable.
3. It's all about relations
3.1 Primaries
Lawyer Judy Aydelott, political consultant Darren Rigger, Legal Aid lawyer and Yorktown councilman James J. Martorano, founder and principal of a Brooklyn high school Benjamin Shuldiner and high school principal Gary Suraci were running against John Hall during the Democratic primaries.
John Hall was hardly assured to be the Democratic candidate. Judy Aydelott, who had 25 years experience as a litigator in medical malpractice lawsuits, was more likely to face Sue Kelly in the Congressional race. She was a 64-year-old attorney, who just switched from the Republican party three years earlier. She went for the Democrats because of disagreements with Bush's policies (Washington Post, 9/14/2006). Aydelott saw her former ties to the governing party as an advantage over her Democratic challengers. "Like it or not, this is still a Republican district, and the person who beats Sue Kelly has got to have crossover appeal […]It's the moderate Republican woman who will cross over, and I believe I have the background and the personality to appeal to them", she announced (Associated Press Online, 7/29/2006). For both, Jude Aydelott and Sue Kelly, John Hall was too liberal for this still Republican district.
Nevertheless Sue Kelly already warned in her fund-raising letters that "Hollywood friends and the music industry" are trying to defeat her. Even before the nomination, party members noted the opportunities for John Hall because of his relations. Hall's celebrity as a musician could draw national attention and aid in fundraising efforts. Good relations can help to persuade more donors to support the candidate (NY Times, 5/28/2006).
Indeed, primaries cost money. Jude Aydelott raised more than $ 634,000; John Hall made good use of his relations and saved $ 421,000 for his fight during the primaries. Those amounts are little, compared to Sue Kelly's 1,4 million dollars, which she can use for the general election. This is only one reason, why Republicans see their candidate well-positioned for the Congressional Election. "The atmosphere is tough out there, but Sue Kelly has done everything right for her district. […] And in terms of campaign resources, the Democrats are going to be coming out of the primary with either a penniless musician or a broke lawyer. That's not a good position to be in six weeks before the general election," said Ed Patru, member of the National Republican Congressional Committee (Associated Press Online, 7/29/2006).
On September 12th people voted for the penniless musician – John Hall – to face Sue Kelly. He will take advantage of his relations to the music industry to finance his campaign through the general election. In the primary election, Jude Aydelott only got one fourth of the votes (Associated Press, 9/13/2006).
The nomination of John Hall as the Democratic challenger for Sue Kelly seemed to be the best choice for the Republicans. He was simply too liberal for the district, so the Republican opinion. "Hall is liberal enough to keep Kelly safe from any new Democrat surge in her home county of Westchester and she should be as safe in Putnam and Dutchess counties" (News Copy, 7/30/2006).
[...]