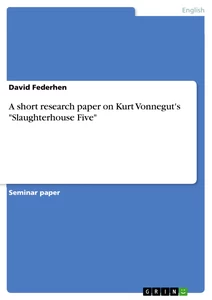 A short research paper on Kurt Vonnegut's "Slaughterhouse Five"
Hausarbeit 2002 10 Seiten
Leseprobe
Table of Contents
1. Introduction
2. Biography
3. Summary of Slaughterhouse-Five
4. The Connection between Vonnegut and Pilgrim
5. Vonnegut's Intentions
Reference List:
Notes List:
1. Introduction
Kurt Vonnegut, Jr. is considered one of the greatest American authors ever. He wrote about 30 novels, an uncounted number of short-stories and a few essays and plays. His most successful novel, Slaughterhouse-Five or The Childrens' Crusade, a Duty Dance with Death, was his sixth book and published in 1969.
This research paper will focus on the connection between Billy Pilgrim, the main character of Slaughterhouse-Five, and the life of Kurt Vonnegut. Furthermore, it will make use of this connection in order to suggest why Kurt Vonnegut wrote this book.
Pilgrim, who is an American World War II veteran and survived the allied air raid on Dresden in early 1945, strikes the reader as a very eccentric person. He believes that he "has come unstuck in time" (Vonnegut, 1991, p.23) and time travels to his childhood, to his wedding, to the Battle of the Bulge and to the air raid. But not only that he has lost control over the temporal aspects of his life, he furthermore believes that he has been kidnapped by aliens from the planet Tralfamadore and taken to their world as an exhibit in a terrarium.
In order to point out the close relationship between the author and the main character I will subdivide this paper into several sections, shortly giving information about the author's biography and providing a quick summary of Slaughterhouse-Five.
This information has to be considered and related in order to understand Vonnegut's motivation for writing this novel. It is vital to realize that Pilgrim is Vonnegut and that whatever Pilgrim feels is what Vonnegut experienced in his life.
2. Biography
Kurt Vonnegut, Jr. was born on November 11th, 1922, in Indianapolis, Indiana, as the third child of Kurt Vonnegut, Sr., a very successful and wealthy architect, and Edith Sophia Vonnegut.
Unfortunately, the Great Depression caused his father to lose his job and shortly after, also his wealth. Due to this financial crisis Kurt Vonnegut, Jr. was sent to a public school, unlike his two older siblings who attended private schools. It was in high school where Vonnegut began to express his writing talents for the first time, as a writer and editor for the Shortridge Daily Echo.
Vonnegut graduated from high-school in 1940, then followed his father's demand for a scientific education and went to Cornell University. While he found himself not talented enough for such an education he excelled in writing columns for the Cornell Daily Sun. He also became a managing editor with that newspaper. When he was asked to leave the university in 1943 due to his poor grades he decided to enlist in the Army.
At this time, Vonnegut's parents had already lost their will to live, mainly due to their abrupt poverty; as result, Edith Vonnegut committed suicide on May 14th, 1944. His father died in 1957.
The death of his mother occurred while he was fighting for the Allied Forces in Northern Europe. On December 14th, 1944, Vonnegut was captured by the German Army in the Battle of the Bulge in eastern Belgium. Accompanied by thousands of American prisoners of war he was taken to Germany by train, heading to Dresden.
Among others he was forced to produce vitamin enriched syrup for pregnant women on the premises of the former Schlachthaus Nr.5, which means Slaughterhouse-Five. There, on February 13th, 1945, Vonnegut and 99 other prisoners of war as well as their six German guards survived the greatest slaughter in European history in an underground meat locker. The Royal Air Force laid wreckage to the whole city, killing an estimated 135,000 civilians and destroying cathedrals, museums, parks and other ancient buildings, although Dresden neither held any important industry nor political institutions. After the bombings had discontinued the prisoners were forced to search the city for the dead and excavate them.
Shortly after the bombing the Soviet Army occupied the city and all American soldiers were flown back to the United States. Soon, Vonnegut was to begin his anthropology studies at the University of Chicago. In 1947, his M.A. thesis 'Fluctuations between Good and Evil in Simple Tales' was rejected. While he was studying he married for the first time. After his studies he moved, together with his wife, to Schenectedy, New York, and started working for General Electric. On February 11th, 1950, his first short-story called Report on the Barnhouse Effect was published by Collier's, a weekly magazine. From there on Vonnegut's career as an author began to develop; he quit his job with General Electric and moved to West Barnstable, Massachusetts, on Cape Cod. In 1952 his first novel Player Piano was published and in the following years he wrote dozens of short stories and worked as an English teacher at a local high-school.
[...]
Details
Seiten

10

Jahr

2002

ISBN (eBook)

9783638187596

Dateigröße

443 KB

Sprache

Englisch

Katalognummer

v12996

Institution / Hochschule

Internationale Universität in Deutschland Bruchsal – Department of Sciences and Liberal Arts

Note

A (deutsch:1)

Schlagworte