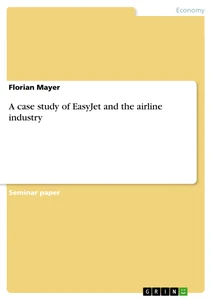 A case study of EasyJet and the airline industry
Hausarbeit (Hauptseminar) 2003 35 Seiten
Leseprobe
CONTENTS
1. EasyJet Corporate History
1.1 The Southwest Model
1.2 EasyJet Mission Statement
2. Competitive Analysis
3. EasyJet Marketing Mix
4. SWOT Analysis for EasyJet
4.1 Internal analysis
4.2 External analysis
5. Competitor Analysis
6. Situational Analysis
7. Marketing Plan - Conclusion
Appendices
1. EasyJet Corporate History
Air travel is one of the world's largest industries having generated over $300 billion in revenues in 2001 alone[1]. Originally, the air travel market was driven by the demand for business travel as companies became increasingly international in their activities, reflected in the rapid growth in world trade and investment. The leisure market subsequently took off as rising living standards and extra leisure time encouraged holidaymakers to travel to destinations increasingly further a field.
A further stimulus to air travel has been privatisation and deregulation of the airline industry, ending the monopolies and protection traditionally enjoyed by state-owned flag carriers and exposing them to the forces of competition. In Europe, With the expansion of the EU, and the breaking down of trade barriers, the airline industry was deregulated in 1992. This meant that any European airline could fly and land anywhere in Europe. This offered airlines the chance to expand routes across the continent and to apply market strategies with greater accuracy. One feature of this changed landscape has been the emergence of the "no frills" airlines, which have achieved rapid growth in market share in the short haul European market.
A successful example of a European no frills airline is EasyJet, brainchild of Stelios Haji-Ioannou, the son of a Greek shipping magnate who founded the company, based on the low-cost, no-frills model of the US carrier Southwest, in 1995. Today, he and his family still hold the majority of the shares. The concept of EasyJet is based on the belief that demand for short haul air transport is price elastic that is that if prices for flights are being reduced, more people will fly. Traditional airline concepts are based on the assumption that airline traffic grows in line with the economy and that cutting prices will only lead to a decrease in revenues. With the introduction of the 'no-nonsense' concept to the European market, after its deregulation, EasyJet has proven this theory wrong and goes from strength to strength by actually increasing the size of the market and more recently by taking away passengers from the majors (see appendix 1, 2 and 3 for passenger figures, financial data and employee statistics). Today, it offers 88 routes from 36 European airports (see appendix 4 for route launch dates), with Luton, Liverpool, Geneva and Amsterdam (Schiphol) as base airports[2] and is operating 64 aircraft (October 2002, Go's fleet not included).
In November 1995, EasyJet starts flights from Luton near London to Glasgow and Edinburgh with two leased Boeing 737-300s with a capacity of 148 seats at a price of £29 one way. At this time the airline acts as a "virtual airline" which contracts in everything from pilots to check-in staff. Seats are being sold over a telephone reservation system only, thereby avoiding travel agents and their high commissions. In 1996 EasyJet takes delivery of its first wholly owned aircraft and goes international with first services to Amsterdam from Luton. One year later EasyJet launches its website, easyjet.com which will from 1998 onwards form an integral part of the business concept (and which provides for some 90% of the bookings today[3] ). In January 1999 the first of five "Airline" series is transmitted on ITV, giving the company nationwide exposure to an audience of around nine million viewers, thereby providing free publicity.
"The Airline Group", a consortium of eight UK airlines (Airtours, Britannia, British Airways, British Midland, EasyJet, JMC, Monarch, and Virgin Atlantic) of which easyJet is a member, is awarded the contract to run the UK's air traffic control system (NATS) under a public private partnership for a 30 year term, in March 2001. EasyJet is investing £6.6 million, which is considered to be a long-term capital item as the development of a safe, reliable, and efficient air traffic system, which ensures that sufficient capacity exists in the air and on the ground, is essential to the future growth of EasyJet.
In July 2001 ten million seats have been sold through the web site, making it the UK's second largest travel site. Autumn 2001 and spring 2002 see a great expansion of EasyJet's network, with the launch of four new routes from London Gatwick, making it the second largest scheduled airline at the airport, and development in Paris with the launch of four routes from Paris Charles de Gaulle and Orly airports.
EasyJet further expands its fleet and routes by acquiring British Airways' low-cost subsidiary Go. The merger deal is complete in August 2002 and creates Europe's biggest low-cost airline, before rival Ryanair (see appendix 5 for figures). From December 2002, EasyJet is selling seats from a single reservation system for both airlines, utilising EasyJet's yield management system. The third and substantial move towards the integration of Go – the full integration of the two airlines and the subsequent dropping of the Go brand – is expected to be completed in mid-2003.
In October 2002, EasyJet purchases an option to acquire Deutsche BA, British Airways' German subsidiary. This move is justified by the significant growth opportunities the German market presents, as it is still poorly served by low-cost airlines in comparison to the UK. The acquisition of Deutsche BA and its transformation into a low-cost carrier are seen to represent the most attractive option for EasyJet to enter the German market, as it will immediately provide EasyJet with a significant network and the personnel, systems and infrastructure to support such an operation.
Also, in October 2002, the airline signs a deal to purchase 120 Airbus, which will facilitate the airline's ongoing growth strategy. Up until now, one of the cornerstones of the EasyJet's low-cost model has been to operate a single aircraft type fleet - which so far has been the Boeing 737 series - because uniformity means efficiencies in training, maintenance and operating costs. However, EasyJet's new deal with Airbus is being viewed by the company as "stunning" as the additional costs, which incur through the new type of aircraft are "far outweighed by the financial benefits of this deal".
EasyJet argues that both Boeing and Airbus aircraft have broadly similar characteristics but that a wider aisle on the A319 will make it quicker to embark and disembark, that it has an extra seat on board (150 on the A319 compared to 149 on the Boeing 737-700) and that overall the A319 will lower costs by about 10% compared to the current mix of aircraft, which will all contribute to lower ticket fares (see appendix 6 for Stelios Haji-Ioannou's other EasyGroup enterprises).
1.1 The Southwest Model
illustration not visible in this excerpt
The US carrier Southwest airlines founded in 1971, by Herb Kelleher and Rollin King, was the role model for EasyJet. Launched to serve three markets in Texas, Southwest today is the fourth largest US Major in passenger boarding[4]. Similar to Stelios' popularity as the founder of EasyJet, the name Herb Kelleher has become synonymous with Southwest Airlines. Both, Southwest and EasyJet, are prime examples of the high-utilisation model which means a simple city-to-city product, sold heavily on the Internet, which cuts out travel agents' commissions and with routes designed to maximise the use of their aircrafts. Furthermore, both use the least congested airports, thereby saving on handling fees and guaranteeing the airline's quick-turn operating style. Each aircraft flies about eight flights or 12 hours each day, which is a very high utilization for short-haul aircraft. Also, the use of a single airplane type was significant for both companies, but has now changed with EasyJet's Airbus deal. Other pioneering advances such as ticketless travel (which helps to reduce the cost of issuing, distributing, processing and reconciling tickets), Internet ticket sales, the reduction of the lunch to a bag of peanuts (at EasyJet "there's no such thing as a free lunch!"), no pre-assigned seats (which again saves time), pilots taking stock options in lieu of pay raises and minimum ground crews were also developed by Southwest and now contribute to EasyJet's success formula. The suit disappeared as normal corporate dress at Southwest long ago, underlining the informal company culture with a very flat management structure, which is also reminiscent for EasyJet. At EasyJet's headquarter "easyLand" at Luton airport, which can be seen as the very embodiment of the EasyJet low-cost ethos, all office-based employees are encouraged to dress casually and ties are banned - except for pilots. Remote working and hot-desking have been characteristics of EasyJet since the beginning and employees are usually put first because they are the ones responsible for customer service which also means that promotion is usually from within. Moreover, since its launch EasyJet has simplified its working practices by embracing the concept of the paperless office. The management and administration of the company is undertaken entirely on IT systems which can be accessed through servers from anywhere in the world enabling flexibility in the running of the airline and contributing to cost saving.
1.2 EasyJet Mission Statement
To provide our customers with safe, good value, point-to-point air services. To effect and to offer a consistent and reliable product and fares appealing to leisure and business markets on a range of European routes. To achieve this we will develop our people and establish lasting relationships with our suppliers.
The basis of an organisation's mission statement should answer the question "What business is the company in?" EasyJet is doing this by stating that it provides 'point to point air services' to its customers. That clearly underlines that EasyJet is not in the people or food business, neither in the service business as such, but in the mass-transportation business, and as such its model is based on cost efficiency of the mass-transportation business. Moreover, it reflects several decisions about what kind of air service EasyJet wants to provide. Evidently, its focus is on 'European routes', targeting business and leisure travellers alike. Furthermore, it aims to offer 'safe, good value' transportation. EasyJet's mission statement also gives information on the 'How to get there?' by putting emphasis on its 'people' and 'suppliers'. What is missing from the statement is the importance of the customer's point of view, which could be expressed by saying, for instance, 'we want to be recognised as …'. Also, as the mission statement is the bedrock for the marketing plan it should be more quantifiable, as to how much market share EasyJet aims to gain in the future, for example.
2. Competitive Analysis
In order to analyse the airline industry in detail, it is useful to apply Porters five competitive forces. These are:
illustration not visible in this excerpt
The threat of new entrants
High capital requirements negate threat to some extent. EasyJet was started with a loan of £5 million, with 2 leased aircraft, but required a £50 million investment raised by debt and equity in year two to speed expansion and buy 4 new planes.
The UK low-cost market is quite mature in comparison to the rest of Europe and EasyJet, as the biggest operator has quite a comfortable position. However, expansion into new European markets might prove more difficult as established, cash strong holiday firms like TUI are setting up their own low-cost operations (see Hapag Lloyd Express in the competitor analysis).
Lack of take-off and landing slots makes it difficult for new carriers to find suitable airports.
Loss leader is required in order to join the low cost market.
The power of suppliers
The price of aviation fuel is directly related to the cost of oil, as an individual company EasyJet does not have the power to alter this.
Airplane manufacturers are concentrated in the industry, with Boeing and Airbus providing the majority of commercial planes and with EasyJet operating one type of aircraft until recently. EasyJet's new deal with Airbus however shows that favourable agreements can still be reached. The dependence on spare parts from one manufacturer could pose a risk.
[...]
---
[1] www.ba.com
[2] www.easyjet.com
[3] The Economist, (2001) "Britains take to the air", 30 June 2001, Vol. 359 Issue 8228, p51, 2p.
[4] Schoneberger, W.A. (2001), "Southwest Airlines 30th Anniversary", June 2001, Air Transport World, Vol. 38 Issue 6, p100.
.