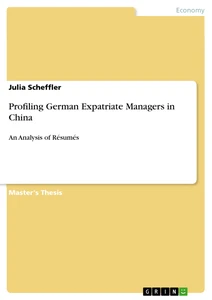 Profiling German Expatriate Managers in China
An Analysis of Résumés
Masterarbeit 2009 85 Seiten
Leseprobe
Table of Content
List of Figures
List of Tables
List of Abbreviations
1 Expatriates in IHRM – an Introduction
1.1 Research on Expatriates
1.2 Demographic studies about managers
2 Data Collection and codification
2.1 Data collection and input
2.2 Codification
2.2.1 Codification of Demographic Variables
2.2.2 Position, Function, Industry and Mobility
2.2.3 Clustering of Countries
3 Results – The Typical Demographic Profile
3.1 Age and Gender
3.2 Marital Status and Children
3.3 Educational Background
3.4 Study Sojourns and Internships abroad
3.5 Foreign Language Abilities
4 Results – the Typical Career Profile
4.1 Position, Function and Industry during the Career Life
4.2 The Expatriate Assignment
4.3 Mobility and other Findings
5 Conclusion
5.1 Summary and Recommendations
5.2 Outlook and Implications for further Research
List of References
List of Figures
Figure 1: Foreign Languages spoken in the German expatriate sample
Figure 2: German Expatriates' Position overall Career by Duration
Figure 3: German Expatriates' Position overall Career by Frequency
Figure 4: German Expatriates' Function overall Career by Duration
Figure 5: German Expatriates' Function overall Career by Frequency
Figure 6: German Expatriates' Industry overall Career by Duration
Figure 7: German Expatriates' Industry overall Career by Frequency
Figure 8: German Expatriates' Position before Assignment by Duration
Figure 9: German Expatriates' Position before Assignment by Frequency
Figure 10: German Expatriates' Function before Assignment by Duration
Figure 11: German Expatriates' Function before Assignment by Frequency
Figure 12: German Expatriates' Industry before Assignment by Duration
Figure 12: German Expatriates' Industry before Assignment by Frequency
Figure 13: German Expatriates' Position on Assignment by Duration
Figure 14: German Expatriates' Position on Assignment by Frequency
Figure 15: German Expatriates' Function on Assignment by Duration
Figure 16: German Expatriates' Function on Assignment by Frequency
Figure 17: German Expatriates' Industries on Assignment by Duration
Figure 18: German Expatriates' Industries on Assignment by Frequency
Figure 19: German Expatriates' current Position
Figure 20: German Expatriates' current Function
Figure 21: German Expatriates' current Industry
Figure 22: German Expatriates' Cultural Clusters overall Career Life
Figure 23: German Expatriates' Career Steps with or without changing Employer
List of Tables
Table 1: Overview of Studies used for Comparison
Table 2: Codification of the German Expatriates' Position
Table 3: Codification of the German Expatriates' Function
Table 4: Overview of Industry Types
Table 5: Overview of Cultural Clusters
Table 6: Overview Age of the Sample and Other Studies
Table 7: Overview Women of the Sample and Other Studies
Table 8: Overview Marital Status and Children of the Sample
and Other Studies
Table 9: Overview Educational Background of the Sample and Other Studies
Table 10: Overview Position, Function and Industry and Other Studies
List of Abbreviations
illustration not visible in this excerpt
1 Expatriates in IHRM – an Introduction
"International business is in a rapid transition where more firms increasingly enter the global workplace. One of the greatest challenges in that development is to find out how to manage human resources on a global scale. That constitutes an extraordinary incentive for further development of the field of expatriate management."
Jan Selmer[1]
This quote of one of the most important authors in the field of expatriate management hints at the fact that in our world of globalization the number of companies operating not only in different countries, but also across different cultures and around the world is increasing. Associated with this trend, international HRM "is becoming increasingly important"[2] because attracting and promoting the right people for the right positions has become a cross-border activity. A "common feature of organizations operating in international arenas is the need for increased mobility of staff."[3] Therefore, the use of expatriates, referring to a "person working in a foreign land"[4] "indicating an employment outside one's own native country",[5] has been an important issue in international management research and is even supposed to grow in importance in the future.[6] Within the pool of expatriates, third-country-nationals, (TCNs) and parent-country-nationals (PCNs) are distinguished. Parent-country-nationals are working as expatriates in a company they share the nationality or the location of headquarter. TCNs refer to "people working and residing in countries other than their native country."[7] PCNs in general preferred by MNCs. However, TCNs are used when special expertise is not available to a company otherwise and no PCNs are available.[8]
What distinguishes an expatriate from short-term assignees, international commuters and frequent flyers in general is that their sojourn is rather medium-term. An expatriate lives abroad for years.[9] In fact, planning and managing the international assignment of expatriates remains a core concern of international HRM.[10] The role of expatriates, who stay on average three to four years in a different country,[11] is seen from different viewpoints. They can represent a type of centralizing control mechanism who may be trusted to implement corporate policies and procedures from an organizational point of view.[12] From a personal point of view, for the expatriates themselves, their assignment represents a "key part of many international managers' careers" and an important step in the career development.[13]
From the perspective of the expatriates, they often find themselves, is staying in the same company, in the same position as before the assignment after returning home.[14] In the meantime their colleagues are promoted.[15] For Stahl and Cerdin this is part of an "apparent paradox" that managers continue to accept offers of international assignments even though they tend to view them as a risky career move.[16] Some authors even state that hardly any person really wants to become a globe-trotting international manager.[17] Indeed, expatriates and also their families, if they are following them need huge psychological strength and resiliency to cope with the personal and professional disruption connected with an assignment abroad.[18] To this day, only some companies "are able and willing to provide a lot of detailed information about existing career options and paths, also along with information about the knowledge, skills, and experiences needed to make career moves."[19] Many studies therefore claim a positive development of IHRM requiring a closer integration between domestic and global HRM strategies and practices, involving careful consideration of the specific nature of their assignment in the particular country."[20]
This paper strives for investigating the phenomena of expatriates focusing on German expatriates in China. There are several reasons for this. Regarding the main destination of expatriates, which are mainly from Western countries, one third of all assignees have Asia as destination.[21] In Asia, there are huge emerging markets to be explored by MNCs such as China where Western countries have spent FDI for decades already. China is at a "stage of dramatic transition towards a more market-oriented economy."[22] Moreover, the human resource management stands high on the agenda not only for foreign but also for Chinese companies expanding abroad. According to a McKinsey study, nearly 90% of Chinese executives think that their globalization efforts are hindered by the scarcity of people with real cross-cultural knowledge or experience in managing foreign talent.[23] According to a survey of the DHK, for over 80% of German companies operating in China, issues of HR represent the greatest challenge, namely attraction and retention of qualified talent.[24]
Moreover, Germany is a country where more than half of the companies think that the importance of expatriates will grow in the future according to a study of Deloitte.[25] Contrasting to this statement, they are admitting that they do not invest enough time and dispose enough resources to provide a high-quality international service for their international assignees.[26] Both countries, Germany and China, are connected by the flow of FDI.[27] Germany is among the 10 countries providing most FDI in China.[28] There are different modes of market entry for German companies, such as IJV which represents with the WFOC the most prominent form in China.[29] A lot of research has been done on IJV in China and it is known that there are many difficulties based on cultural differences. It is expected that of the estimated 40,000 German expatriates assigned around the world, many work and live in China. When assigning expatriate managers, host country nationals in the subsidiaries often feel offended because they receive a lower salary and see the expatriate as a headquarter agent. When sending German expatriates to China, the main problem is to find a balance between loyalty and trust towards the Chinese employees. Concerning the degree of cultural differences in three of the four of the Hofstede´s dimensions, namely power distance, uncertainty avoidance and long-term orientation, Germany and China are far away from each other.[30]
Regarding the conceptual framework it can be seen that much research is done exploratory with surveys and questionnaires, and there are also some case studies. This survey study will also have an exploratory character preparing the ground for following empirical research. However, this thesis concentrates on the evaluation of CVs that have been voluntarily uploaded in the internet. This method of analyzing résumés is seen beneficial particularly until now in the social sciences. Thereby, one can find out what people have in common and what they do not in order to find real paths through their résumés.[31] Because of the limited sample size however, to find paths will be the task of future research. Moreover, this method been already proposed by some recent research papers.[32] This study therefore deals with two important, not yet sufficiently answered research questions:
A) What is the typical demographical profile of a German expatriate in China?
B) What is the typical career profile of a German expatriate in China, respectively what position and function he or she obtains in China?
The sample of the study has special features. It deals with expatriate managers that share the same nationality and had the same destination for their assignment. Chapter 2 deals with the conceptual part of data collection and how the data was processed. In the two chapters thereafter, the results of the study are presented by providing answers to the research questions. Chapter 3 clarifies the typical demographical profile of a German expatriate in China, whereas Chapter 4 highlights the working experience, respectively the typical job profile. Chapter 5 will then summarize the findings and provide outlook as well as recommendations for companies. The next subchapter, however, will start to provide a general outlook on the topic of managing expatriates touching the most important topics.
1.1 Research on Expatriates
Looking at the topic of expatriates in general, there are two viewpoints: the individual perspective of the expatriate versus the organizational perspective of a company. Most research is dealing, however, with the organizational view. Therefore, it is often asked how to integrate the management of the expatriates with company's strategy best. The field of research on expatriates can be divided into different smaller topics. One important part deals with the pre-departure selection and training of expatriates, other deals with the assignment itself, mostly with the adjustment of the expatriate and his or her family. Expatriate success factors are another huge topic, as well as how to retain them after the assignment and how to repatriate them effectively. Though there are even early related studies of the 1960s and 1970s, intensive empirical research started in the 1990s. There are few monographs in this field with the work of Selmer being among the most comprehensive. The studies of the 1990s were based on relatively limited samples and focused more on Western expatriates that have been assigned offshore for longer periods than today.[33] The most important debate in the 1990s concerns the employment of host country nationals versus expatriates. Besides, there is also a wide range of papers dealing with comparative employment conditions, as well as the effectiveness of expatriates, issues of trust and control effects.[34] From the organizational perspective, this involves the relationship of the expatriate with headquarters on the one hand and the affiliated company he or she is assigned to on the other.
In general, many studies cover the topic of insufficient work of HR departments with respect to the use or non-use of expatriates. In the literature the importance that companies give to their HR department abroad is viewed critically. MNCs do not pay much attention to the fact that all functions including HR fit best the companies' strategy. The optimal expatriate is regarded as being very qualified neither lacking foreign language and intercultural skills nor personal attitudes such as tolerance and patience. Despite, in some studies there is an image that people are assigned abroad who are not the high-potentials but rather pulled-in abroad.[35] However, most of the recent papers state that MNCs recognized the importance of assignments for developing their junior management. Anderson found out however that Australian MNCs focuses in their selection process still on functional expertise and technical competence neglecting interpersonal skills. In public Australian companies, however, psychological selection processes are more common.[36] There are many authors recommend better selection mechanisms for expatriates in general, e.g. by using assessment centers testing factors like integrity, tolerance, flexibility and openness.[37] For Griffin and Pustay the most promising candidates are highly managerial competent, gained experience by appropriate training and have a high adaptability to new situations.[38] Studies like that of Speier and Novicevic draw the conclusion that companies did not yet but should put effort in creating HRM systems that are appropriate for varying needs of the company. They recommend institutional expatriate manager candidate pools and proactive steps to improve the staffing.[39] HRM policies concerning expatriates are to be aligned with corporate strategy and HRM should also be involved in decision making at board level. This was also the conclusion of a survey on the manufacturing industry in Taiwan where HR professionals had this desire.[40] German companies tend to transfer policies to their local Asia Pacific HR director, but leave the translation of their orders and values in his or her responsibility. Despite, German headquarters try to standardize global principles, values and policies. However, from their subsidiaries they are often seen unable to adapt the local ways of procedures, which often influences the recruiting of new staff.[41] In the majority of cases the influence of the subsidiary in expatriate staffing decisions is low. Thus in general, the outcome of many studies is that expatriate management practices are not as effective as they could be because of problems with aligning those to the company strategy and inadequate staffing of expatriates.[42]
Furthermore, there are many resources estimating a high failure rate of expatriates with failure meaning an earlier return followed by expatriate's dropout, burnout or turnover upon repatriation.[43] Exact numbers are difficult to find in the literature. For Griffin and Pustay the average failure rate ranges from 20 to 50% for common US firms, with estimate higher rates for European and Japanese companies.[44] Primary cause for this rate is the inability of managers to adjust to the new locale.[45] Another aspect in this debate is that female expatriate managers, who became a special focus in research recently, possibly provide a lower failure rate. In one study of Mayrhofer and Scullion 97% of female expatriate managers reported that their international assignments were successful which indicates a considerably higher success rate than North American male expatriates.[46] Further empirical research is needed to support this finding. Harzing found "miscitation has promoted a firmly entrenched myth of unsubstantiated by any empirical evidence."[47] In many cases, authors all over just referred to the same resource. However, even without the exact failure rate, MNCs have to become aware of the fact that "the average U.S. expatriate costs the employer about $300,000."[48] The cost of expatriate failure is therefore extremely high, estimated to range from $40,000 to $250,000.[49] This leads to the fact that each repatriated executive that is leaving the company "represents a million-dollar investment walking out the door."[50] To discuss the reasons for expatriate failure and different rates however is out of the scope of this paper.
Other empirical studies explain reasons for deploying expatriates in general. Generally speaking, the reasons for accepting the assignment for the expatriate can be career advantage, challenge, income and the interest in foreign countries.[51] The most frequently reasons against an assignment are spouse and children. Other reasons are relatives and friends and a worry of that the assignment is negative for the career.[52] For the company, the reasons to apply expatriate managers instead of local ones are mostly knowledge transfer and better communication with headquarters. Personnel planning and the execution of a coherent company policy and culture are also important motives for MNCs.[53] Furthermore, there are studies that prove that using expatriates also indirectly impacts companies' competitiveness negatively by hampering the ability to attract local managers.[54] The study of Belderbos and Heijltjes focusing on Japanese MNCs investing in China moreover revealed that local managers often feel lower promotion possibilities compared to expatriates and disadvantaged due to a lower salary. Another study of Tharenou and Harvey doing research on Australian MNCs found that they often use HCNs and indeed try to use only short-term assignees in order to reduce costs and problems of relations to the HCNs.[55] However, there is some empirical proof that the use of expatriates instead of HCNs improves subsidiary labor productivity, revealed in a study conducted by Gong in 2003. This effect becomes even stronger as cultural distance increases, but smaller with years of operation.[56] Referring to cultural distance, there is another study that favors the deploying expatriates where a high cultural distance between the headquarter country and its subsidiaries exist. Speier and Novicevic advice deploying expatriates when headquarter and subsidiaries are similar but highly diverging in the cultural aspect. They advocate the use of local natives if the symmetry between parent and subsidiary company is low, but the countries of both share a high degree of cultural symmetry.[57] In contrast to this, there is a strong argument for using expatriates connected with agency theory. According to this principle, expatriate managers are more likely to act in the interest of their principal than HCNs. This is because they are employed by the headquarters and not the subsidiary and they see their career perspectives with them.
Regarding empirical studies in the field of principal-agent-theory, studies reveal that local managers use the presence of expatriates to resist head office practices. Local managers are not unfriendly but critical towards expatriates because they feel that part of the expatriate's role is to act as a control agent for head office.[58] However, expatriates themselves employ their position strategically to negotiate between both parties, headquarter and subsidiary, in their own interest.[59] Referring to the intercultural relations within the company, precisely, the relations of expatriates and locals, tensions are discovered. Not surprisingly, it was revealed that, concerning social relations of expatriates, they are likely to maintain strong expressive ties with other expatriates while locals do with locals.[60] It is even more difficult for the HCNs to get acquainted with the expatriates because of their feeling of being disadvantaged. With respect to another study conducted in China, Chang reveals that Chinese managers feel more strongly than the American expatriates that they have to work harder simply because of language barriers as all business is conducted in English.[61]
In order to improve the relation between the company as an organization and the expatriate, the organizational commitment of managers is to be increased. This is done by the improvement of the perceived value that the MNCs attach to the international assignments and a provision of low role ambiguity for the expatriates.[62] Another measure is to increase the perceived organizational support to career development. Also the participation in decision-making helps commitment of expatriates whereas job dissatisfaction is a negative factor of influence for their job efficiency. MNCs also can increase expatriate performance by appropriate measures in the field of work-family balance which also increases job satisfaction.
Another topic in expatriate research deals with specific problems of companies dealing with expatriates in an individual and personal manner. They often find room for improvement on the company side after doing surveys on expatriates. This involves the right preparation before and after the assignments, language, relations to headquarters, host country contracts, working time and work load, role conflicts, adaptation, quality of life and working content. The optimal moment for expatriates to go abroad the first time referring to their age is found at the end of their 20s moving to the mid-30s[63] due to demographical change. As a growing number of young professionals is mobile and gets married and children later, this is the group of expatriates moving abroad at an early career phase. The other and older group of expatriates of an age of mid-40s has an advanced career status and often takes family with them abroad. The optimal duration of an assignment is estimated to be about four years with the possibility of four additional years. After this period it is recommended to treat the expatriate equal to locals.[64] Empirically, most companies comply with this but are still some planning the sojourn too long with assignments for expatriates of up to six years.[65]
The aspect of the general internationalization of careers is another viewpoint on expatriates where career planning becomes more and more important.[66] A very large survey was conducted by Stahl, Miller and Tung with 494 German expatriates on assignment in 59 countries. They actually detect that over half of the expatriates are missing a career plan and support during their international assignment. About one third thinks that the IRHM policy of their company does not reflect the degree of their internationalization and at least 17% state deficits in implementing a global strategy in their companies.[67] The willingness to change employer is higher for expatriates than the average German employees.[68] Developing clear career paths for expatriates is helpful to maintain expatriates. Expatriate assignments are herewith important in order to develop young international managers. Therefore, MNCs "develop international awareness and competence earlier and try to systematically integrate international assignments into the individual career plans."[69] Today, companies even apply a strategy of sending young managers to certain foreign locations for a short-term period of about a year without a specific job responsibility. They can then use the time to learn the language and become familiar with the culture so that in the future the likelihood of a successful expatriate assignment will increase.[70] Cerdin and Stahl found the reason to accept international assignment in the personal development perspective not the organizational. In general however, expatriates tend to be skeptical about whether the assignment helps them to advance in the company.[71] Referring again to career perspectives and career lines, this together with position abroad is very important to the individual.[72] They see a need to work against the prominent dysfunctional turnover of employees that is very cost intensive.[73] Career motivation scales and job performance factors have to be developed for expatriates because of their special needs.[74] Despite the personal motives it was found that benefits have a pervasive effect on managers' willingness to accept global assignments.[75] Connected with the discussion about personal motives of expatriates for going abroad is the construct of global respectively international manager. According to Sparrow there are many international managers but not global because they have to maintain a global mindset.[76] For Foster, the international manager as such is a myth.[77] This discussion however goes beyond the scope of this paper.
In order to compare the behavior of expatriates and their perceptions in different cultural contexts, the model of Hofstede are applied regularly. In general, culture is viewed to have a significant impact on managerial practices.[78] Moreover, studies show that the tendency of MNCs to employ expatriates increases with cultural distance.[79] In order to cope with situations of being assigned in a different culture, a prior international experience is helpful serving as a moderator effect on cultural distance.[80] Expatriates have to be selected, trained and motivated so that their management style fits the culture they are send into as expatriates.
To apply this to expatriates in China this means that people have to be chosen that can serve as a role model relying more on personal charisma and self-confidence[81] than the participative management style. The "role" model of a manager differs among cultures. There are few comparative studies contrasting the perceptions of local managers or employees versus foreign ones. Despite, Stanford reveals that the participation of managers and employees in US parent-companies and their subsidiaries differs not significantly.[82] Similarly and with a focus on IJV, Chang conducted in the 1980s a questionnaire comparing US and Chinese managers in US companies in Taiwan. He found many similarities in their managerial beliefs and attitudes and a clear convergence on some management issues. Similarly, Chao and Sun revealed that expatriates consider the cultural values that guide Chinese work life different from how the Chinese rate themselves.[83] However, the staffing policy has to be changed in order to provide equal opportunities for both nationalities. This would motivate host-country managers and on the other hand, helps to retain expatriates.[84] Another similar study focusing on Japanese corporations in China found that demographic variables, such as educational level and age, have an effect on the perception of their organizational career progress. Compared to Chinese mainland managers, Western expatriates find individual career development more important.
Another topic deals with methods to improve the expatriate adjustment, e.g. by mentoring, trainings etc. There are different facets of adjustment: adjustment in general living and culture, adjustment at work and in terms of the interaction with people.[85] The expatriate can be well adjusted to one facet but poorly in another.[86] Waxin and Paneccio found that cross-cultural training does indeed have a positive effect on expatriate adjustment.[87] Moreover, expatriate adjustment respectively job satisfaction can be increased by increasing task significance, job autonomy and job authority and teamwork.[88] Experimental training is recommended most appropriate to prepare for expatriate assignment. Another important, but not yet widespread possibility to prepare for an expatriate assignment is to visit the country before taking with them the family and spousal. In a survey of German companies that offer internal qualifications and trainings, most of this training consists of international foreign-language knowledge trainings, followed by expert knowledge training and other qualifications and knowledge training.[89] Not involved are "soft" methods of training employees such as training in intercultural abilities. Thus, there are plenty of different possibilities to prepare the expatriate which are also cost-intensive. MNCs therefore have to check which measures are most suitable and effective to reduce the expatriate failure rate. Despite Another main factor of influence on expatriate adjustment and effectiveness is the reason respectively personal motive for an expatriate assignment.[90] Because of this fact, managers should develop sufficient self estimation.[91] Furthermore, they themselves should have knowledge of cultural dimensions and the phenomena of cross-cultural adjustments. This enables them to get prepared to distinct ways of looking at life and potential problems in advance, so they enhance their capabilities to develop themselves.[92] In order to adapt to the expatriate situation, expatriates need time. A study of Yamazaki and Kayes found that Japanese expatriate assignments should therefore include a minimum of two years.[93] Mentoring is seen to be helpful but an underdeveloped concept in the international context.[94] Nevertheless, the expatriates themselves can be a mentor for local high potentials and given special tasks and offered job rotation in order to become better integrated.[95] Referring to the general employment conditions, the study of Bolino and Feldman shows that underemployment influences the job attitude negatively and thereby, also job effectiveness negatively.[96] To summarize, a perfect expatriate should therefore possess the following qualities: openness for cultures, acceptance of alien behavior, ability to adapt, strong physical conditions and psychological toughness, motivation and a flexible family.[97]
Having reviewed the most important fields in the expatriate literature it is obvious that "research in the area of expatriation has accumulated a substantial amount of knowledge about factors that lead to overseas success and failure."[98] The main focus of research has been placed on the importance given by the MNCs to IHRM in general and expatriates where they found lacking planning and staffing abilities. Especially in the field of career planning, deficits of the HRM practice of MNCs were found. Empirical research concludes that efficiency of the use of expatriates can be increased if the selection and training of expatriates is improved leading to a higher retention of MNCs. However, after some decades of research, there are still fields to cover. It is supposed therefore that further empirical research uses multiple methods such as comprehensive studies including case analysis and survey, longitudinal and cross-sectional design, qualitative and quantitative data as well as quasi-experimental designs.[99] This study gathers information about how a typical expatriate looks according to his or her demographic profile and to have a closer look at his or her positions and functions in order to make more profound recommendations to companies how to improve their HR practices. In the next section the studies serving as point of comparison are presented.
1.2 Demographic studies about managers
This section provides an overview about the 19 studies used as a point of reference when dealing with the typical demographic and job profile of an expatriate. Via looking and comparing the outcomes of these studies and the others, it can be concluded how typical or untypical the results of this study are. The studies selected all deal with at least some of the same variables that are dealt within in this study. For this purpose, not only expatriates but also general surveys on managers are the objective of this study. The three surveys on mangers in general of Menkhoff, Schmidt, Brozynski; Porter and Rees as well as Marta, Singhapadki and Kraft were chosen in order to receive a more comprehensive view. The study of Aycan et al. focuses not only on managers, but on employees, thus having a different research object than this study. However, with a large sample size of over 2,000 this study is chosen as being very fruitful to compare with. The study of Marta and Sighapadki and Kraft is additionally chosen as being the only study providing data on the industry managers are working in.
The studies that are dealing with German expatriates are very important. In the study of Selmer and Leung German expatriates represented with 26 expatriates only a small rate of the overall sample of expatriates assigned to Hong Kong. Breiden, Mohr and Mirza undertook a survey of over 100 German expatriates spread around the world, a similar sample of the study of Stahl, Miller and Tung that even had a sample size of nearly 500 expatriates in 59 countries. A rather small sample of German expatriates is found in the study of Stahl and Cerdin with only 40.
In order to receive an overview of all studies used, Table 1 shows the main information about the papers. This includes author and year of publication, ranging from the study of Chao and Sun from 1997 to rather new studies of Yamazaki and Kayes and Casimir and Waldman from 2007. Additionally, the main research method, the sample itself as well as the main characteristics of the sample is shown. As the results of this paper are divided into two chapters with the demographic and the functional, positional and industry data of the managers for the typical working profile, these two foci are also distinguished in Table 1.
Evidently, with respect to demographical data, most of the studies include data on age, marital status and gender. Some provide mean age of their sample; some are more precise and show the distribution of the sample in different age groups. If the studies are of bigger extent, they are mostly including data on educational level. Other data includes different employment aspects of the managers. Previous international experience, time spent with current employer and in current assignments is also topic of some of the papers and also variables in this thesis. Only 11 out of the 19 papers, thus slightly more than half, incorporated data on functions or positions of the managers. It becomes obvious that all of them use different labeling for functions and positions that facilitates comparisons. In order to draw more practical conclusions for the management of expatriates, data on functions and positions they obtain will be helpful in the future as well as about the industries they work in. This enables further research as well as better recommendations. After providing an introduction to the current research and literature, the next chapter presents the methodology of the paper and how the data is interpreted.
Table 1: Overview of Studies used for Comparison
illustration not visible in this excerpt
[...]
---
[1] Selmer (ed.) (1995), p. 293.
[2] Linehan/Morley/Walsh (2002), p. 40.
[3] Sparrow (2007), p. 129
[4] Wolf (2000), p. 354.
[5] Edström/Galbraith (2003), p. 89.
[6] See Anderson (2005), p. 567.
[7] Griffin/Pustay (2005), p. 581.
[8] See loc cit.
[9] See Sparrow (2007), p. 138.
[10] See Linehan/Morley/Walsh (2002), p. 9.
[11] See Oechseler (1997), p. 771.
[12] See Linehan/Morley/Walsh (2002), p. 39.
[13] Loc. cit., p. 6.
[14] See Briscoe/Schuler/Claus (2009), p. 187 and Moore (2006), p. 406.
[15] See Moore (2006), p. 406.
[16] See Stahl/Cerdin (2004), p. 885.
[17] See Foster (2000), p.138.
[18] See loc. cit.
[19] Dreher/Dougherty (2002), p. 134.
[20] Grainger/Nankervis (2001), p. 77.
[21] See Sparrow (2007), p. 132.
[22] Siu/Darby (1999), p. 87.
[23] See McKinsey &Company (ed.) (2008), p.4.
[24] See Deutsche Handelskammer (ed.) (2009).
[25] See Deloitte (ed.) (2008), p. 15-17.
[26] See loc. cit.
[27] See Montachemi (2006), p. 11.
[28] See Ministry of Commerce (ed.) (2006).
[29] See loc. cit., (2004).
[30] See Hofstede (2001), pp. 500-502.
[31] See Kleining (1998), p. 190.
[32] See Wu (2009), p. 112.
[33] See Grainger/Nankervis (2001), p. 77.
[34] See loc. cit.
[35] See Hummel/Zander (2005), p. 111-112.
[36] See Anderson (2005), p. 567.
[37] See Arthur/Bennett (1995), p. 166.
[38] See Griffin/Pustay (2005), p. 584.
[39] See Speier/Novievic (1998), p. 53.
[40] See Hsu/Leat (2000), p. 413.
[41] See Stehle/Erwee (2007), p. 63.
[42] See Anderson (2005), p. 580.
[43] See Briscoe/Schuler/Claus (2009), p. 179.
[44] See Griffin/Pustay (2005), p.584.
[45] See loc. cit.
[46] See Mayrhofer/ Scullion (2002), p.
[47] Harzing (2002), p. 127.
[48] Grifin/Pustay (2005), p. 587.
[49] See loc. cit., p. 584.
[50] Loc. cit.
[51] See Wirth (1992), p. 136.
[52] See loc. cit., p. 133.
[53] See Wirth (1992), p. 125.
[54] See Belderbos/Heijltjes (2005), p. 350.
[55] See Tharenou/Harvey (2006), pp. 1108-1110.
[56] See Gong (2003), p. 736.
[57] See Speier/Novievic (1998), p. 29.
[58] See Moore (2006), p. 406.
[59] See loc. cit., p. 339.
[60] See Manev/ Stevenson (2001), p. 296.
[61] See Chan (1985), p. 154
[62] See Gelfand/Erez/Aycan (2007), p. 495.
[63] See Wirth (1992), pp. 149.
[64] See Zinzius (2007), p. 145.
[65] See loc. cit., p. 146.
[66] See Stahl/Mayrhofer/Kühlmann (ed.) (2005), p. 217.
[67] See Stahl/Miller/Tung (2001), p. 219.
[68] See loc. cit., p. 223.
[69] Griffin/Pustay (2005), p. 589.
[70] See loc. cit.
[71] See Stahl/Miller/Tung (2001) p. 216.
[72] See Scholl (1983), p. 99.
[73] See Stahl/Miller/Tung (2001), p. 216.
[74] See Arthur/Bennett (2000), p. 106.
[75] See Konopaske/Werner (2005), p. 1170.
[76] See Sparrow (2007), p. 142.
[77] See Forster (2000), p. 138.
[78] See Neelankavil/Mathur/Zhang (2000), p. 136.
[79] See Gong (2003), p. 735.
[80] See Waxin/Panaccio (2005), p. 51.
[81] See Neelankavil/Mathur/Zhang (2000), p. 136.
[82] See Stanford (1995), pp. 100-117.
[83] See Chao/ Sun (1997), p. 221.
[84] See Chang (1985), p. 154.
[85] See Gelfand/Erez/Aycan (2007), p. 495.
[86] See Selmer (ed.) (1995), p. 304.
[87] See Waxin/Panaccio (2005), p. 51.
[88] See Gelfand/Erez/Aycan (2007), p. 495.
[89] See Dybowski/Wigand (2001), pp. 3433.
[90] See Shai/ Baack (2004), p. 230.
[91] See Neelankavil/Mathur/Zhang (2000), p. 136.
[92] See Mezias/Scandura (2005), p. 171.
[93] See Yamzaki/ Kayes (2007), p. 1392.
[94] See Mezias/Scandura (2005), p. 519.
[95] See Pawlik (2000), p 112.
[96] See Bolino/Feldman (2000), p. 889.
[97] See Oechseler (1997), p. 773.
[98] Aycan et al. (ed.) (1997), p. 246.
[99] See Aycan et al. (ed.) (1997), p. 256.
Details
Seiten

85

Jahr

2009

ISBN (eBook)

9783640548064

ISBN (Buch)

9783640550555

Dateigröße

2.2 MB

Sprache

Englisch

Katalognummer

v144335

Institution / Hochschule

Otto-von-Guericke-Universität Magdeburg – International Management

Note

1,0

Schlagworte