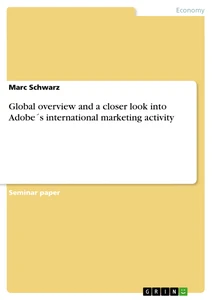 Global overview and a closer look into Adobe´s international marketing activity
Hausarbeit 2010 20 Seiten
Leseprobe
1. Introduction
2. History
3. Adobe Products and their costumers
3.1. Adobe PDF
3.2. Adobe Photoshop
3.3. Adobe Flash
4. The company facts
5. Stock quotation
6. Sales
7. Recent activity
8. Omniture
9. SWOT Analysis
9.1. Strength / competitive advantages
9.2. Weaknesses
9.3. Opportunities
9.4. Threats
10.The Asia-Pacific market
11.The solution
12.References
1. Introduction
In the following I will present the company Adobe. This company is of particularly interest for me, as Adobe's products are used every day, often without realizing it. Adobe has made a high contribution to the way internet is presented to the user. Adobe's annual report of 2009 shows a statistic of comScore stating, that Adobe Flash Player, a software used for playing web based videos, is installed on over 98% of Internet-enabled desktops and approximately 75% of online videos worldwide are viewed using Adobe Flash technology, making Flash the #1 format for video on the web.
2. History
Adobe was founded in 1982, by Chuck Geschke and John Warnock, in order to solve a problem long familiar to creative professionals at the time: getting text and images on a computer screen to translate accurately into print, as stated in the company profile (2010). The software Adobe Photoshop was developed, which is one of the companys' flagships till today. The, with the Internet risen, need to share data was the motivation for developing Adobe's breakthrough, the Portable Document Format, short PDF. The PDF Format has become an ISSO Standard, used to transfer and view files platform and application independent. On those columns Adobe build an international operating company, with almost 10.000 employees and 3 billion Dollars in sales, voted number 42 on the "best companies to work for" list by the Fortune magazine.
3. Adobe Products and their costumers
The product lineup of Adobe is very diversified for a software company, as you can see in a handout to Adobe's stockholder (2010). Their software finds use in the production of movies (Adobe Premiere, Adobe AfterEffects), the work on magazines (Adobe Photoshop, Adobe Illustrator), the creation of websites (Adobe Dreamweaver, Flash), cloud computing (Adobe Buzzword), data transfer (Adobe PDF) and many other fields. Not only Flash and PDF have made their way to the home PCs, also the more complex programs as Photoshop and Premiere are used frequently in the home own collection of photos and movies.
illustration not visible in this excerpt
Adobes Software are known to set standards in their area.
3.1. Adobe PDF
The growing popularity of the world wide web, and the resulting need of sharing documents of growing complexity requires a platform-independent standard, as Thomas (1999) wrote. Today you can convert any text, model, sheet and many other different types of documents into the PDF Format. By then it's possible to view the document on every PC, regardless the operating System or the program the document was created with.
Adobe offers the "view-only" mode of the Adobe PDF for free, called Adobe Reader.
The methods to create a PDF are patented by Adobe. Third party programs, like Microsoft Office or iWork, have to pay fees to Adobe for using a PDF convert function in their programs.
3.2. Adobe Photoshop
Knoll and Knoll (2000) stated, Photoshop is the market leader in the graphic editing software market, and as already mentioned one of the company's flagships Adobe Photoshop is working with the PSD format, a format developed and patented by Adobe. As many print service companies require documents in the PSD format, Photoshop is seen as the industry standard for graphic professionals. Adobe Photoshop Elements, a version with less functions, was developed to reach the households. The Programs, Photoshop and Photoshop Elements, are available on Windows and MacOS in 29 different languages.
3.3. Adobe Flash
Adobe Flash, formerly known as Macromedia Flash, is a multimedia platform, that is used to add videos, audio, advertisement, Internet applications and animations into websites, as Gruber (2009) stated. Once again the "view-only" mode of Adobe Flash, the Adobe Flash Player, is for free. Adobe sells the development kit to create Flash content.
There are a variety of other Adobe programs, but further explanations would go beyond the scope of this assignment.
4. The company facts
The headquarter of Adobe Systems Incorporated is in San Jose, California, with the currently President and Chief Executive Officer Shantanu Narayen, as mentioned in the company profile (2010). She made 2008 a record revenue of 3,58 billion dollars with her nearly 10000 employees in 26 foreign branch offices. The company is divided into three business parts: creative solutions business unit, business productivity business unit and platfrom business unit. The most important Acquisitions of Adobe were Aldus in 1994, Frame Technologie in 1995, GoLive in 1999, Accelio in 2002, Macromedia Inc. 2005 and, just recently, Omniture in 2009.
5. Stock quotation
illustration not visible in this excerpt
from yahoo.com Finance
Adobe's stock is currently worth 35.78, with a volume of 3.38 million, as quoted on yahoo Finance. This is a 52-week high.
6. Sales
illustration not visible in this excerpt
from Adobe Handout to Stockholder (2010)
[...]