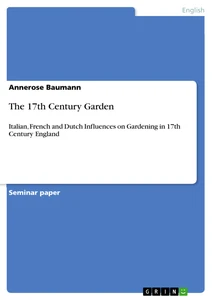 The 17th Century Garden
Italian, French and Dutch Influences on Gardening in 17th Century England
Hausarbeit 2006 13 Seiten
Leseprobe
Contents
1 Introduction
2 Foreign Influences on English Gardening Styles throughout the 17th Century
2.1 Italian influence (Renaissance/Mannerist style)
2.2 French influence (the Baroque garden)
2.3 Dutch influence
3 Conclusion
4 Appendix: Illustrations of 17th Century Gardens in Italy, France, The Netherlands and England
4.1 Mannerism
4.2 French style
4.3 Dutch style
5 Works Cited
6 List of Illustrations
1 Introduction
When people use the term "English garden", what they have in mind is usually a huge park with extensive lawn, curved paths, lots of trees and some small lakes. By looking into the history of gardening we find out that this garden style has been developed in the 18th century when garden designers, among them the famous Capability Brown, were engaged to find new designs for the gardens of wealthy landowners, because the old layouts were considered as old-fashioned.
But surely the tradition of gardening and garden design in England goes far more back than to this time. There must have been gardens before. What were they like?
Sadly enough, there are only few gardens left to show the design of a 17th century garden. In the course of the "face-lifting" English gardens received in the 18th century older gardens were destroyed. In fact, there is no garden left from before the Civil War, and only few from the time after (Strong 1979:11). But written documents, garden plans and paintings like The Garden Of Pierrepoint House, Nottingham by an unknown artist (mentioned in Fearnley-Whittingstall 2004:97) illustrate the different ideas on gardening and gardening styles that dominated not only the gardens of England, but those of all Central European countries.
Although the topic is a quite extensive one, space and time are limited, so this essay shall only draw a brief sketch of the three main styles that influenced English gardeners in the course of the 17th century – the Italian Renaissance and Mannerism, the French Baroque and the Dutch style – describing their features, how they came to England and in which way they were applied there. Furthermore the question of how garden design was influenced by political circumstances shall be discussed briefly.
2 Foreign Influences on English Gardening Styles throughout the 17th Century
2.1 Italian Influence (Renaissance/ Mannerist Style)
The beginning of the 17th century brought a change to England: Elizabeth I died in 1603 and James I, James VI of Scotland, accessed the throne. A time of peace and wealth followed which was to last for almost forty years. And as the situation on the Continent was similar – the Thirty Years War did not start before 1618 – Europe was dominated by an atmosphere of prosperity and calm that supported travelling, the arts, social life and of course, gardening. Strong (1979:73) mentions that there was a "re-creation of court life" which "in every instance [...] was to stem from a renewed acquaintance with the achievements of Renaissance Italy". Of course England had seen Renaissance gardens before.One only has to think of the Tudor gardens like Hampton Court or Nonsuch, or the Elizabethan gardens with their knots and mazes.But the peace in the first decade of the 17th century made it possible to exchange gardening ideas and styles in an easier way than before.
Meanwhile, Italian gardens had undergone a development. From the Humanist garden, which combined a still medieval layout with classical motifs, had emerged the high Renaissance garden with its classical architecture, sculptures, grottoes, fountains, steps and niches (Strong 1979:14–19). In the second half of the 16th century these gardens became larger, terraces and staircases were added, fountains and statuary put up in abundance. Every garden had its own allegorical programme with themes usually taken from Greek or Roman mythology. This style is known as Mannerism and is best shown at the Villa d'Este at Tivoli (Strong 1979:20-22).
The Mannerist style came to England under the reign of Queen Anne, who engaged Salomon de Caus (1576-1626) to design her gardens at Somerset House and Greenwich Palace. De Caus, a Frenchman who had studied in Italy, applied the Mannerist ideas to Queen Anne's gardens, used the monocular perspective in planning, installed hydraulic automata and fountains and aligned house and garden (Jellicoe1986:165). These hydraulics were particularly typical for the Mannerist garden style. According to Jellicoe (1986:165), de Caus' work caused "a garden craze": The gardens at Wimbledon House and Theobalds were expanded, and those at Richmond, Worcester Lodge, Hatfield and Wilton – just to name a few – were created.
Salomon de Caus left England in 1613 and Queen Anne died in 1619, but until the outbreak of the Civil War the English continued planning and creating gardens. According to Strong (1979:138) garden art later was dominated by Salomon de Caus' younger brother Isaac, but we should also mention Inigo Jones, an English painter who had been to Italy with the Earl of Arundel, and André Mollet, a Frenchman brought to England by Charles I's wife, Henrietta Maria. With Isaac de Caus, who redesigned the gardens at Wilton in the 1630s, andAndré Mollet, who worked at Wimbledon in 1642, the first elements of the formal French garden came to England.
2.2 French Influences (The Baroque Garden)
It should not be a surprise that the Baroque style, developed in the second half of the 17th century and soon influencing gardens all over Europe, was "born" in France. The Baroque garden did not only show off the wealth, splendour, and magnificence of the noble world but also stood as a symbol for the absolute power in which monarchs believed at this time (Streminger 2005:2) – and who represented absolutism better than Louis XIV, King of France?
The man who helped to express these ideas was the gardener André Le Nôtre (1613-1700) who first showed his skill at Vaux-le-Vicomte, property of Louis XIV's minister of finances, Nicholas Fouquet. There Le Nôtre created, together with Charles Le Brun and Louis Le Vau, "probably the masterpiece of French classic garden art" (Jellicoe 1986:202). When Louis XIV saw the gardens, he had Fouquet arrested (allegedly because of fraud, but more likely because of lèse-majesté), took parts of Vaux' statuary to his own gardens at Versailles and engaged Le Nôtre as head gardener (Enge 1990:100).
The gardens Le Nôtre created at Versailles between 1662 and 1680 with their symmetrical system of axes, making the palace its center, and the "canals, bosquets, fountains, pavilions and parterres stretch[ing] out for miles from the palace [...]" (Quest-Ritson 2001:80) impressed every visitor. The fame of Le Nôtre and the French style started to spread around Europe and gardeners, architects, painters and noblemen went to Versailles to look at the magnificent gardens and to "express their amazement" (Thacker 1994 :139). Versailles became a model for the formal garden everywhere in Europe (Uerscheln 2006:129).
In England, the difficult political situation during the Civil War and Protectorate (1642-58) did not particularly encourage gardeners to create new estates, as Thacker (1994:123) points out: "It is no coincidence that from 1642 until the Restauration in 1660 garden history in Britain is notably concerned not with 'gardening grandly', but with the quieter, more modest and practical activities of botany, plant collections, the growing of fruit and vegetables, and with writing about these things while living in rural retirement". Fearnley-Whittingstall (2004:73) calls this"a leisured rural life" which was forced "on those who were reluctant to takes sides during the Civil War, on Royalists and Catholics during Cromwell's Protectorate and on Parliamentarians and Puritans immediately after the Restoration". Others, like the diarist and garden designerJohn Evelyn, "a crucial figure in the history of horticulture, science, education and taste" (Quest-Riston 2001:93), preferred to go abroad during the war. But when Charles II returned in 1660 from his French exile to England, he and the returning Royalists brought with them the impressions of Continental and, of course, French baroque gardens (Quest-Ritson 2001:79).
Thacker characterizes Charles II as "a willing and grateful admirer of the French king" (1994:140), therefore it is no surprise that French gardeners were employed to work at St James' Park, Hampton Court (Jellicoe 1986:166) and Greenwich. The French style became fashionable in England, but nevertheless the British preferred to give their gardens their own character by using "plain grass parterres with statues" (Jellicoe 1986:165) or gravel walks which were not so common in the other European countries (Thacker 1994:146 f.).
2.3 Dutch Influences
With the Glorious Revolution of 1688 the Dutch William of Orange and his wife Mary came to England. William had "two particular passions: his army and his gardens; his English Queen Mary was an enthusiastic and knowledgeable botanist, and this Royal pair were largely responsible for the influence of Dutch garden design on England" (Brown 1989:21 f.). Of course, Dutch gardens were also influenced by the French style. But their country did not only differ from France in topography, but also in political situation, society and religion, and the Dutch adjusted the features of the formal garden to their conditions. Traditionally, a Dutch garden had a symmetrical layout, parted into regular squares, rectangles or circles, but always in harmonic proportions (Jellicoe 1986:391). In the marshlands, canals were a most important element, as well as trees and hedges serving as windshields. And due to Calvinist ethics, a Dutch garden did not only contain decorative but also useful parts because man had the duty to "employ the products provided by the Maker" (Jellicoe 1986:391 f.).
With the abrogation of the Edict of Nantes in 1685 and the following persecution of the Protestants in France, many French Huguenots fled to the Netherlands. One of them was Daniel Marot, an engraver and architect, who came to the court of William of Orange where he was employed to design the gardens of Het Loo at Appeldoorn (Mosser/Toyssot 1991:164). Although Het Loo was not as vast as Versailles, it was quite impressive, as we can read in a passage of A Description of the King's Royal Palace and Gardens at Loo (London, 1699) by Walter Harris: "The Gardens are most Sumptuous and Magnificent, adorned with great variety of most noble Fountains, Casacades, Parterres, Gravel walks, and Green Walks, Groves, Statues, Urns, Paintings and pleasant Prospects in the Country... a Work of wonderful Magnificence, most worthy of so Great a Monarch [...]" (cited in: Jellicoe 1986:254). Other gardens like at Zeist Castle, Leeuwenburg, De Voorst or Heemstede Castle also show the French influence, but as the limited space of the landscape did not allow gardens of enormous sizes, Dutch gardens were rather small.
When William III moved to England, he took his gardeners and architects with him and engaged George London and Henry Wise to change the gardens at Hampton Court and Kensington Palace according to his Dutch taste. Hampton Court was considered as "William III's answer to Versailles" (Quest-Ritson 2001:80), but nevertheless it was more private and did not intend to glorify the king as Versailles did (ibid.). Soon the Dutch style, characterized by Quest-Ritson as "self-contained and introspective" and "positively domestic" (ibid.:81), became popular among the British, maybe because it was "more suited to the English temperament and way of life" (Fearnley-Whittingstall 2004:108) than the pompous Versailles style. In fact, the French garden soon was considered as old-fashioned, which was without doubt influenced by the political change that had taken place: Finally, with the signing of the Bill of Rights, England had become a constitutional monarchy with a Protestant king, and a garden representing absolutistic and Catholic France did not seem suitable any longer.
[...]