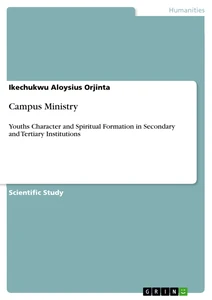 Campus Ministry
Youths Character and Spiritual Formation in Secondary and Tertiary Institutions
Wissenschaftliche Studie 2011 254 Seiten
Leseprobe
TABLE OF CONTENTS
INTRODUCTION
1. SUGGESTED APPROACHES TO CAMPUS MINISTRY
1.1 CHOICE OF UNIVERSITY/TERTIARY INSTITUTION CHAPLAINS/PASTORS
1.2 ENABLING ENVIRONMENT AND MOTIVATION OF CHAPLAINS
1.3 CHAPLAINCY PROGRAMMES AND ACTIVITIES
1.3.1 SPIRITUAL PROGRAMMES
1.3.2 MONTHLY PROGRAMMES
1.3.3 ANNUAL PROGRAMMES
1.3.4. SOCIOCULTURAL PROGRAMMES
1.3.5. N.F.C.S BAND MEETINGS (WEEKDAYS)
1.3.6. MONTHLY/ANNUAL PROGRAMMES
2. THE CONSTITUTION OF THE NATIONAL CONFERENCE OF CATHOLIC CHAPLAINS OF TERTIARY INSTITUTIONS IN NIGERIA
3. CHARACTER AND SPIRITUAL FORMATION OF CAMPUS YOUTHS
3.1 DOES THE BIBLE PERMITS US TO FOUND A CHURCH?
3.2 MORNING PRAYER AT HOME; IS IT ENOUGH?
3.3. HEALING EXERCISE: DO IT YOURSELF
3.3.1. COURT CASES
3.3.2. ENEMIES (VICTORY OVER THEM)
3.3.3. BUSINESS SUCCESS, PROMOTION, GOOD JOB, SUCCESS
3.3.4. SATANIC OPPRESSION, MERMAID AND WATER SPIRIT ATTACKS, DEMONIC DREAMS, WITCHES BULLYING
3.3.5. DISEASE, EPIDEMIC, DISABILITY, PREGNANCY, CHILD LABOUR
3.3.6. CONFLICT RESOLUTION AT ALL LEVELS: LAND DISPUTE, FAMILY, KINDRED, VILLAGE CONFLICTS AND CHIEFTAINCY TUSSLE
3.3.7. JOBLESSNESS
3.3.8 SEARCH FOR A LIFE PARTNER (SEX, DATING, COURTSHIP, FIANCÉESHIP, MARRIAGE, CAREER, VOCATION, TOASTING, CHOOSING, CHOSEN)
3.3.9 EXAM SUCCESS; READING WITH COMPREHENSION; BETTER STUDY TECHNIQUES
3.3.10 WHEN TEMPTATIONS MULTIPLY, WHEN LIFE'S PROBLEMS BECOME UNBEARABLE
3.3.11 LATE DELIVERY; MISCARRIAGES WITHOUT END; INFERTILITY; NO MALE ISSUE
3.3.12 BAD AND STUBBORN CHILDREN (THERE ARE FIVE CHILDREN IN THE FAMILY, BUT THERE IS NO CHILD, I HAVE THREE BROTHERS, BUT I HAVE NO BROTHER. I HAVE FOUR SISTERS BUT I HAVE NO SISTER)
3.4 SATAN VERSUS GOD: DARKNESS VERSUS LIGHT
3.5 DON'T BUILD CHURCHES, BUILD HUMAN BEINGS: DON'T BUILD STRUCTURES, FORM GOOD CHARACTERS
3.6 TRUTH AND SINCERITY VERSUS LIES AND DECEIT
3.7 CLEANLINESS IS NEXT TO GODLINESS: GOOD MANNERS FIRST BEFORE HOLINESS
3.8 SHARP PRACTICES AND SHORT CUTS
3.9 AGGRESSIVE OFFERING
3.10 RELIGION AND LIFE
3.11 AFRICAN INITIATION RITES
3.12 "SMOKING MAKES ME FEEL HIGH AND GOOD": TRUE?
3.13 THE PROBLEM OF EVIL
3.14 THIS MASS IS DULL THAT MASS IS LIVELY
3.15 MIRACLE! MIRACLE!! HEALING, SIGNS, WONDERS: DO THESE SHOW GOD'S SUPPORT AND APPROVAL?
3.16 TREKKABLE DISTANCE
3.17 THE PROBLEM OF A CATHOLIC YOUTH IN CHOOSING A LIFE PARTNER
3.18 COVERING OUR NAKEDNESS (WEARS) DECORATING OUR BODY (MAKE UP)
3.19 AN IDEAL CATHOLIC STUDENT
3.20 DOES THE BIBLE PERMIT US TO FOUND A CHURCH?
3.21 THE CATHOLIC ORDER OF MASS (BIBLICALLY FOUNDED) (WHY WE MUST ATTEND MASS EPH. 6: 14 19) HYMN AFTER THE GOSPEL (HYMN TO THE HOLY SPIRIT) THE HOMILY
3.22. HOLY COMMUNION; HOLY EUCHARIST THE SACRAMENT OF THE EUCHARIST AND THE MASS
3.23. CHRISTIANITY AND ISLAM IN NIGERIA: MUTUAL GRIEVANCES
3.24. ACCEPTING JESUS AS LORD AND PERSONAL SAVIOUR
3.25. ON FOOD AND DRINKS: SAY NO TO FALSE ASCETICISM
3.26. CELIBACY AND FRIENDSHIP
3.27. MARY'S ASSUMPTION INTO HEAVEN
3.28. A PRAYER YOU MUST SAY
3.29. WAS MARY A VIRGIN ALL THROUGH HER LIFE? HAD SHE OTHER CHILDREN? WAS SHE CONCEIVED WITH OR WITHOUT ORIGINAL SIN? DOES SHE DESERVE OUR VENERATION?
3.30. IDOL WORSHIP OF TODAY
3.31 PERSONAL IDENTITY
3.32. PEER MINISTRY
3.33. SQUANDERMANIA AND PRODIGALITY
3.34. DEATH, JUDGEMENT, RESURRECTION, PURGATORY, HEAVEN, HELL, DEATH
3.35. DEATH, JUDGEMENT, RESURRECTION, PURGATORY, HEAVEN, HELL JUDGEMENT AND PURGATORY
3.36. DEATH, JUDGEMENT, RESURRECTION, PURGATORY, HEAVEN, HELL RESURRECTION
3.37. HEAVEN
3.38. DEATH, JUDGEMENT, RESURRECTION, PURGATORY, HEAVEN HELL
3.39. THE MARK OF THE ANTI CHRIST
3.40. BULLYING, INTIMIDATION
3.41. MODERN SLAVE TRADE
3.42. STEREOTYPE & PREJUDICE
3.43. THE ESSENCE OF TRUE RELIGION
3.44. DISTRACTIONS IN LIFE
3.45. SEXUALITY AND BEHAVIOUR ROLE OF SEX IN HUMAN LIFE
3.46. PENITENTIAL EXERCISE/PREPARATION FOR CONFESSION
3.47. WORSHIP OF STANDING, DANCING, AND SHOUTING; IS IT ENOUGH?
3.48. PERPETUAL BABY
3.49. DIGNITY IN LABOUR
3.50. FAMILIARITY BREEDS CONTEMPT
3.51. FOOTPRINTS ON THE SAND OF LIFE
3.52. HOW MUCH ARE YOU BOUGHT?
3.53. OPEN AND SECRET ENEMIES
3.54. RELIGIOUS PROSTITUTION
3.55. SERVICING RELATIONSHIP
3.56. SHIFTING STANDARDS
3.57. SOLIDARITY AND TOTAL SURRENDER
3.58. THE BIOGRAPHY OF MR UNKO
CONCLUSION
ABOUT THE AUTHOR
INTRODUCTION
The Established Churches put in a lot of investment in the youth young ones chiefly at the kindergarten, primary and secondary levels of education. Not so much effort is put in terms of human and material resources at the tertiary academic levels.
The result has been obvious in most countries:
In Nigeria for example, the harvest is being reaped by the Pentecostal Churches. They reap the material resources harvest by their insistence on Aggressive offering of tithes and earnings. Spiritually they offer the youths what they want: Prosperity evangelism. Those who cannot be won over through prosperity evangelism are intimidated to believe that all that their churches are doing are against the bible; that most of their practice are idol worship. Prosperity evangelism is a suitable but deceitful strategy of proselytism in most Third World (developing) nations. In the face of poverty, misery and disillusion, offering the masses the hope of lottery-type evangelism is surely the most attractive tool.
In one of my articles in the Ambassador Magazine Vol. 21, No 1&2 titled Evangelizing through Sports, I developed the method of using sports as a means of youth's evangelization.
Furthermore I tried to group present day generation of Christian youths into four leanings:
- The difficult Group
- The Lukewarm Group
- The active Group
- The fundamentalist Group
The difficult Group are totally anti-Christianity; the only thing Christian about them is their baptism name.
The second batches are the lukewarm group. These have lost all appeal and enthusiasm about the faith. The swift changes in the society and the invasion of African traditional values and culture by the Euro-American culture and tradition have a lot of contribution in this direction.
The third group are those who cannot compromise their Christian belief and faith come rain come sun. These have no excuse to give and they are prepared to watch the Television and listen to every group of pastors but their foundation in the Catholic faith is so solid that they are prepared to die for their faith. If you tell them that their church is worshipping Mary, they tell you that Christianity has venerated her for over 2,000 years. We cannot be better in any way than those past generations who have produced the greatest geniuses and inventors.
You tell them that some of their leaders have made mistakes and committed scandals; they tell you that Jesus insisted that nobody is good, including himself except God. (Matt 7:1-5; Mark 10:19; Rom 3:9-14). We all are like athletes ready for the on-your-marks, get-set- Go. Anybody who does not mind his track is not fit for the trophy.
"All the runners at the stadium are trying to win, but only one of them gets the prize. You must run in the same way meaning to win That is how I run, intent on winning; that is how I fight, not beating the air. I punish my body and bring it under control, to avoid any risk that, having acted as herald for others, I myself may be disqualified" (1Cor 9:24 – 27).
The active Catholics are those who have recognised what I wrote earlier on the Tract:
Does the Bible permit us to found churches?
1 SUGGESTED APPROACHES.
1.1 CHOICE OF UNIVERSITY/TERTIARY INSTITUTION CHAPLAINS/PASTORS
A. Candidates must be highly interested in campus ministry
B. Candidates must have the Charism for campus ministry.
1. Ability to deal with the young with all their discomforts. He must come down to their level, not minding the insults, blackmail, tale-bearing and rumours that must follow.
2. One who must be at home in the tertiary institution environment, and love intellectual life.
3. Appointment of Chaplains must be given top priority by those in-charge.
4. A Chaplain must have had experience in a Nigerian university as a student.
5. On-going formation of Chaplains through seminars, conference, short courses and understudy of tested and experienced Chaplains must be a priority.
6. Candidates must be open to or be interested in faith dialogue and issues.
C. The generation gap between Chaplains and students must be minimal except in situation where a candidate is a charismatic Chaplain or a young-at-heart Chaplain. He must not be too conscious of his position or title.
1.2 ENABLING ENVIRONMENT AND MOTIVATION OF CHAPLAINS
A frustrated Chaplain can only engender an epileptic Chaplaincy. The Chaplain in this context is like the commando who is an hit-squad. No amount of investment put in place to enable him perform and succeed will be too much. He must not be allowed to have excuses for failure. He must simply deliver. The situation of youth's exodus is critical and alarming and needs urgent attention. A school has it that America now sees the Catholic Church as the most formidable institution on her way, after the demise of the Communist Soviet Union.
As a result the United States is pumping in money through covert operation and intelligence to empower Pentecostalism as a destabilizing factor.
No wonder every new 'church' starts her life by attacking the Catholic Church. True or false, time shall tell. In her over 2000 years history the church has seen a lot of oppositions and attacks: Arianism, Donatism, Pelagianism, Priscillianism, macedomianism, Apollinarism,
Nestorianism, Monophysitism and Monothelitism. Today it is Pentecostalism. If however the Chaplain is properly motivated, the church will surely scale through Pentecostalism as she did the earlier oppositions:
- Need for proper training of priests for Chaplaincy.
- Need for stability before transfers.
- Need for proper funding (it should be a full-time business). The Chaplain should not use his time running after money or promotion. So there should be nothing like Chaplain Head of Department, Dean of Faculty except where his towering figure is needed.etc.
- Since most Chaplaincies are run by religious missionaries there should be need for collaborative ministry, dialogue and consultation between bishops and major superiors about putting or pulling out of Chaplains.
- Every tertiary institution should have a Chaplain.
- Residential Chaplain with a reliable mobility is preferable to a visiting Chaplain.
- Proper Chaplaincies budget should be drawn stating recurrent capital expenditures and income as well as distribution.
- One Chaplaincy must not be in abject poverty while another one is very rich and does not assist..
- During this task force period dioceses should not expect Chaplaincies to make the 12% mandatory returns.
- Team ministry is absolutely necessary, but special care should be taken to make sure that egocentric and problematic team- mates are not allowed to make things difficult for a charismatic and tested Chaplain.
- Annual and sabbatical leaves with juicy allowances must be ensured where possible.
- Where necessary a Chaplain may take up teaching jobs to meet up his needs and to be less dependent on the Chaplaincy. Special care must be taken to ensure that this does not impair his duties as a Chaplain.
- According to the Nigeria constitution, and going back to the colonial eras, every University (tertiary institution), military barrack etc. must provide for Accommodation and place of worship for Islam, Catholic Church, and for other protestant groups put together. If I am not mistaken a certain allowance or subsidy ought to be given to each of these three groups. Are they not forming the characters of future Nigerian leaders?
- Chaplaincies should be properly established and equipped and not make – shift or pre-fabricated shelters.
- Every Nigerian is a local government: private hospital, water cooperation, personal power generator etc. The Chaplain must be empowered to offer assistance to students who are far from home, where the parents run their families' local governments.
- Catholic lecturers/staff should be properly organized to serve as a back-up team to the Chaplain.
- Parishes must monitor the educational progress of their youths. They should involve a follow-up strategy and guide those who are leaving the parishes to the tertiary institutions with a view to handing them over to the Chaplaincies for onward moral and spiritual formation.
- Most Universities now are non residential. The church should invest in hostel construction such that catholic students can reside trek able distances to the Chaplaincy.
1.3. CHAPLAINCY PROGRAMMES AND ACTIVITIES
1.3.1. SPIRITUAL PROGRAMMES
- Weekdays: Morning or Evening Masses
- Thursdays: Rosary, Adoration, Benediction
- Fridays: Divine Mercy Prayers, Stations of the Cross
- Fridays Evening: Bible sharing
- Fridays Evening: Catholic Charismatic Renewal (C.C.R.N)
- Weekdays: Pious Societies, Sodalities
- Wednesdays: House fellowship and Basic Christian Community meetings in the Hostels.
- Wednesday, Saturdays: Daily;
Confessions/Counselling/lend-me-your-ear day.
- Sunday: Students forum after Sunday Mass, catechism classes, Evening Benediction.
1.3.2. MONTHLY PROGRAMMES
- Monthly Vigil
- Campus Outreach
- Guest preachers and lecturers.
1.3.3. ANNUAL PROGRAMMES
- Seminars, Worksop
- Pilgrimages
- Crusades
- Carol nights.
1.3.4. SOCIO-CULTURAL PROGRAMMES
1.3.4.1. N.F.C.S BAND MEETINGS
(WEEKDAYS)
- Graphics Band
- Drama Band
- Music Band
- Altar Decorations
- Prayer Band
- Ushers Band
- Altar Servers' Band
- Study Group/Tutorial Band
- Welfare Band
- Instruments/Technical Band
- Lectors Band
- Sports/Games/Recreation Band
- Catechists Band
- Brothers Group
- Sister Group
- Relaxation Day.
1.3.5 MONTHLY/ANNUAL PROGRAMMES
- Fresher Day
- Annual Conventions
- Provincial Conventions
- N.F.C.S. Week
- Semester Music Concert
- Drama/Cultural show
- Picnics
- Induction Day
- Annual Marian Pilgrimage.
2 A MODEL CONSTITUTION OF THE NATIONAL CONFERENCE OF CATHOLIC CHAPLAINS OF TERTIARY INSTITUTIONS IN NIGERIA
PREAMBLE
WE, THE CATHOLIC CHAPLAINS OF TERTIARY INSTITUTIONS IN NIGERIA UNITED IN LOVE AND WILLING TO SERVE OUR STUDENTS AND STAFF ACCORDING TO THE TEACHING OF CHRIST AND HIS CHURCH ENACT THE FOLLOWING AS THE BASIC PRINCIPLES OF OUR CONFERENCE.
ARTICLE I – NAME
The group shall be known and called the National Conference of catholic Chaplains of Tertiary Institutions in Nigeria (NACCCTIN) hereinafter referred to as the Conference.
ARTICLE II – SECRETARIAT
The secretariat of the Conference shall be at the President's institution.
ARTICLE III – MEMBERSHIP
SECTION 1: Membership of the Conference shall be open to all Catholic Chaplains of tertiary Institutions in Nigeria duly appointed by the local ordinary.
SECTION 2: Members shall register with the Conference.
ARTICLE IV- RESPONSIBILITIES OF MEMBERS
SECTION 1: Membership of the Conference implies great responsibility. Accordingly, every member should strive to be of impeachable character and integrity.
SECTION 2: It is the responsibility of every member to attend meetings and actively participate in all the activities of the Conference.
SECTION 3: Members shall carry out their financial obligations correctly and punctually.
ARTICLE V – PATRONS
The following shall be considered patrons of the Conference.
SECTION 1: All Catholic Bishops in Nigeria shall be considered Patrons of the Conference.
SECTION 2: Major superiors of religious
Institute whose members are chaplains.
ARTICLE VI – AIMS
The conference shall:
SECTION 1: Exchange ideas and experiences on how to form students and staff for the promotion of the common good of society and the attainment of their eternal salvation.
SECTION 2: Concern itself with the welfare of its members and
SECTION 3: Foster working relationships with other non-Catholic Chaplaincies in tertiary institutions.
ARTICLE VII – FUNCTIONS
To achieve the above aims the members of the Conference shall:
SECTION 1: Minister to Catholic students and staff of tertiary institutions and catholic students and staff of non-catholic tertiary institutions;
SECTION 2: Plan, organize and execute the moral and religious education of the students and staff;
SECTION 3: Be actively and fully involved in all religious affairs of these institutions;
SECTION 4: Initiate and promote a common programme for all tertiary institutions;
SECTION 5: Identify with members in their individual joys and sorrows.
ARTICLE VIII – STRUCTURE
The Conference shall operate at the following levels: diocesan, provincial and national. At the diocesan level, the structure will include all chaplains within the tertiary institutions in the diocese. The same is true of the province respectively. At the national level the Conference operates through the general meetings and the sub-committees as may be established by the Conference. The sub-committees are arms of the Conference for effective performance and shall render adequate report to the Conference.
ARTICLE IX – EXECUTIVE COMMITTEE
SECTION 1: The Conference shall be governed by an Executive Committee.
SECTION 2: The Executive Committee shall consist of the following:
A The President
B The Vice-President
C The Secretary
D The Assistant Secretary
E The Financial Secretary
F The Treasurer
G And an elected representative from each of the provinces
SECTION 3: And maintain an accurate directory of members of the Conference
(NB. Parts of this model and suggested Constitution has been omitted)
3 THE FINANCIAL SECRETARY The Financial Secretary shall:
SECTION 1: Be the financial officer of the Conference;
SECTION 2: Collect dues and levies of members;
SECTION 3: And report the financial standing of the Conference to members at every General Meeting.
F. THE TREASURER
The Treasure shall:
SECTION 1: Deposit the money of the Conference in its account;
SECTION 2: Provide funds approved by the Executive Committee;
SECTION 3: Keep an imprest to be determined by the Executive Committee.
ARTICLE X ELECTION OF THE EXECUTIVE COMMITTEE
4 MODE OF ELECTION
SECTION 1: Elections shall be held every three (3) years at the general meeting of the election year.
SECTION 2: An Electoral; Commission shall be appointed by the incumbent Executive Committee to conduct the election.
SECTION 3: Elections shall be by secret ballot.
SECTION 4: Candidates vying for offices shall be nominated by a member and seconded by, at least, another member.
SECTION 5: The candidate with a simple majority vote shall be declared the winner of an office.
SECTION 6: In case of a tie, there shall be a run-off election to determine the winner.
SECTION 7: When a run-off election results in a tie, the president shall use his 'casting vote' to determine the winner.
B. BYE-ELECTION
Should any of the offices become vacant during the term, there shall be a bye-election to fill the vacant offices. In the case of the president and/or secretary the new officer shall come from the province of where the secretariat is. Bye-election shall be held for the post of the vice-president or assistant secretary.
C. TERM OF OFFICE
SECTION 1: The Secretariat shall rotate on provincial basis every three (3) years
SECTION 2: Every Executive member shall ordinarily hold an office for three (3) years.
SECTION 3: No Executive shall be eligible for re-election to the same office.
SECTION 4: The tenure of office commences after the election.
ARTICLE XI– MEETINGS
A. EXECUTIVE MEETINGS
The Executive Committee shall meet twice a year.
B. GENERAL/ORDINARY MEETINGS
SECTION 1: There shall be a general meeting once a year.
SECTION 2: General meetings are rotational and based on adequate and convenient facilities.
C. EMERGENCY/EXTRA-ORDINARY MEETINGS
There shall be emergency meetings as at when necessary.
D. ORDER OF MEETING
The Order of meetings shall include the following:
SECTION 1: Every meeting shall start and end with a prayer.
SECTION 2: The minutes of a previous meeting shall be read by the Secretary in his/her absence by a member deputized to do so for acceptance and discussion by the house before the day's agenda are dealt with.
SECTION 3: All necessary announcements at meetings shall be made by the President or his/her Vice or any member permitted by the Executive Committee to do so.
E. QUORUM
SECTION 1: Executive meetings shall begin with a simply majority.
SECTION 2: General meetings shall begin with a simple majority.
SECTION 3: Extra-ordinary meetings shall begin with two-third (2/3) majority.
ARTICLE XII - FINANCE
A. DUES, LEVIES, COLLECTIONS AND GIFTS
SECTION 1: The administration of the Conference shall be funded by dues and levies, donations and gifts.
SECTION 2: Each institution of chaplaincy or individuals shall pay annual dues and levies to be determined periodically by the Conference.
SECTION 3: The Conference shall find other appropriate ways of generating funds for running its affairs.
B. EXPENSES
SECTION 1: The Conference shall bear the expenses of the Secretariat;
SECTION 2: The Conference shall also be responsible for the feeding and accommodation for executive meetings;
SECTION 3: The respective institutions or chaplaincies shall bear the travelling expenses of their Chaplains who attend the meetings of the Conference.
SECTION 4: The Conference shall be responsible for the expenses incurred by the Executive Committee in the execution of its duties.
C. BANKING
The Conference shall open an account at any reputable bank of its choice.
D. SIGNATORIES
SECTION 1: The President, Treasurer and Financial Secretary shall be the Signatories to the Conference's account.
SECTION 2: The President and any two of the above shall sign to effect withdrawals.
ARTICLE XIII- AMENDMENT
SECTION 1: This constitution shall be amended in part of in its entirety by two-thirds (2/3) majority vote at a general meeting.
SECTION 2: Any Article or Section or Sub-section to be amended shall be communicated to the Secretariat in writing at least two weeks before its general meeting.
ARTICLE XIV - PROMULGATION
The provisions of these principles shall come into effect on... , year of Our Lord 200.
We pray the Lord to make us faithful to the Article. Amen.
3. Character and Spiritual Formation of Campus Youths
3.1Does the Bible permit us to found a new church?
After over 2000 years since Christ gave us the mandate to reach out to the whole world converting and baptizing them, Christianity has not made much progress, compared to Islam that kicked-off in the 7th c.A.D. Out of the world population of about Six billion, Christianity has only One third which means that about 4 billion are still left untouched.
Already Islam has got up with the population of the Catholic Church, which is estimated at 18% of the world population. The remaining Groups in Christianity right, from the Anglican Church to the Pentecostals are only 15% of the world population. I suppose that the phenomenon of Protestantism and Pentecostalism is part of the cause of Christianity's retrogression.Every other day new 'churches' are founded by individuals with ulterior and selfish motives. Every new 'Church' instead of going out of Christianity to bring in new converts, prefers to be preaching and luring away Christians from the already existing churches. So, instead of Christianity welcoming new members, she ends up having the same old faces cross-carpeting from one church to the other.
Energy and resources are dissipated in the game of in-fighting, tale-bearing, lies and deceit among 'churches'. Do we say that this is a fulfilment of (2 Tim 3:1- 5; Matt 7:15, 22-23; 25:11- 12; Luke 13:26-27; Rom 2:13; 1 John 3:18; Ps 6:8).
The last Group of Catholic youths are the fanatical or the over-zealous and hyper-active ones. These ones are never satisfied with the ordinary; they go for the extreme, the extra-ordinary. If the normal way is to kneel down, they would prefer to take their siesta lying down on the floor before the Blessed Sacrament. If the normal thing is to frequent the Mass and the Sacrament. They would prefer to virtually take their residence inside the church and abandon all family responsibilities.
There is nothing the church does that is enough. They always want more. They want to see the heavens fall. (1 Cor. 1:17-25); Jesus says that it is an evil generation that seeks for signs and wonders (Lk. 11: 29-32).
Our Pentecostal brethren who are more fundamental in approach have studied the psyche of these groups of our youths, and they have perfected their poaching strategies on them. Their fishing grounds are chiefly among the lukewarm and the fundamentalist.
The Catholic Church is an ocean of members and since these two groups are not usually the visibly useful ones in the church, their departure is not usually noticed. On the youths inclined to fanaticism, the Pentecostals apply MIRACLE-MANIA, VISION-MANIA, BORN AGAINISM, BIBLICISM (Is-it-in-the-bible) and speaking in tongues. (Lk11: 30-31, Matt. 16:14; Isaiah 29:13). To the Lukewarm youths, they offer Praise-Jam (dancing, disco and stepping-to-the-Lord) and Prosperity -Evangelism. Ambassador Dew Mayson once narrated of a pastor who came to him for financial assistance to found a church after a couple of months of training. He asked him: What actually is your priority area, now that you do not yet have even a Kiosk? He responded that his number one need is a set of modern musical instruments; in short a musical band.
A section of the lukewarm youths are those parts of the gargantuan pot of rice that neither water nor condiments have touched. The village women cater only discover this when they are dishing out the cooked rice from the gargantuan pot. These youths are in the church but they are neither recognized, loved, attended to, nor fully apportioned roles in the great crowd. So as soon as they find people who would call them 'brother', 'sister'; or tell them; Jesus said; I will marry you, I should love you; they quickly take their leave of the church.
Fresh out of home where the youths have savoured material and paternal love, they need to fill the vacuum of love on campus. They need companionship, they need someone who must boost their morale, offer them high spirits; they need someone to welcome them into a new family on campus. They need somebody they can open up to. They need someone who can take care of their integral needs. Every other thing is secondary. If you give them the first ones, you have won them over. They would be prepared to squander their youthful energy and exuberance on any venture of the church.
The Pentecostal pastors and sects' leaders who are invading the tertiary institution are not thinking of religion first. They are more interested in their financial investments and how to maximize profits.
Many are not patient enough to wait until after the graduating youth has got a job before expecting their dividends. They start at once to demand for tithes, aggressive offerings. The youths build their fellowship centres, run them and make their returns to their overseers on a regular basis. Using the communist and Machiavellian ideological tactics, they psyche their prey and bring them to perfect submission through an as-you-like-it interpretation of the bible.
In Nigeria and most developing nations, most families make it a priority to have their children in tertiary institutions. The future of these nations will be determined by the products of these tertiary institutions. From the experiences we are witnessing in Islam where a section of the youths have been so indoctrinated by fiery and fanatical clerics that they are prepared to blow themselves up as suicide bombers, car and truck bombers believing that they are fighting for God and Islam, we may have a far worst scenario if we continue to leave the spiritual formation of a great number of our youths in higher institutions in the hands of leaders of all sort of sects, cults, 'churches' and secret societies.
There is urgent need for a massive rescue operation. Extremism, indoctrination, fanaticism do not pay anyone no matter in whose name they are perpetrated.
Unfortunately every group is laying claim to God as her source and goal. What the fanatical and extremist groups in Islam are doing today gives Islam a bad image; It would seem as if the religion is a terrorist and satanic religion. On the contrary there are many Moslems who are normal and civilized gentlemen and women. If Christianity does not act quickly and stop the present indoctrination of her youths; the so called Born-Againism and intoxication with Jesus and the holy Spirit, the future will not only be bleak, inter- denominational and inter-religions relationship will be catastrophic. Christianity will be populated by people who are mentally deranged but who will be claiming that they are seeing visions of divine assignments.
3.2. MORNING PRAYER AT HOME; IS IT ENOUGH?
The spiritual war is so intense that we must not fight alone or in the comfort of our home. We must go out to a lonely place or a place of prayer. Jesus himself would make it a habit to leave the house to go to a quiet place of prayer for recharging of his spiritual power (Luke 4: 42, mark 1: 35). In (Matthew 4:23) we are told that after sending the crowds away he went up into the hills by himself to pray. When evening came, he was there alone. 'In times of spiritual difficulties and decision-making he would make for a place of prayer. Jesus, as he realised they were about to come and take him by force and make him king, fled back to the hills alone' (John 6:15).
St Paul realises that one needs God most in times of spiritual battle for left on our own alone the devil will devour us. As a result he enjoins us thus: 'So stand your ground, with truth as a belt round your waist, and uprightness as a breastplate, wearing for shoes on your feet the eagerness to spread the gospel of peace and always carrying the shield of faith so that you can use it to quench the burning arrows of the Evil one. And then you must take salvation as your helmet and the sword of the spirit, that is, the word of God (Eph. 6: 14-17).
God himself commended us to prayer as our only avenue of telephoning and communicating with him. We should visit our friend and chat with him. We are not good friends if our only intention for befriending someone is just to gain something from him. God's wisdom far surpasses our own, and he knows really when sense of religion is merely profit-oriented.
"Seek ye the Lord while He may be found, call upon Him while He is near" (Isaiah 55:6). "You shall call upon me, and you shall go: and you shall pray to me, and I will hear you - you shall seek me, and I will hear you. You shall seek me and shall find me, when you shall seek me with all your heart" (Jer. 29:12-13).
Do we observe the multiple uses of 'seek and find' in the prophecy of Ezekiel and Isaiah. 'Seeking' 'thirsting for', and 'finding' are the marks of a genuine religious man. For religion is 'a moral virtue which disposes us to give to God the worship that is due to Him as the supreme Lord of all'. The interior and principal Acts of Religion are devotion and prayer. The exterior and secondary Acts of Religion are three.
- Those by which the body is offered to God i.e. adoration.
- Those by which something else is offered or promised to God, and these are sacrifices, oblations, first fruits of our labour, tithes and vows.
- Those by which something Divine e.g. Sacraments or the Name of God is used by man. The Name of God is used by religion to confirm one's words e.g. In Oaths, in moving people to action, in adjuration and invocation … (See St Thomas).
Religion is not of our own making. God has ordained it so that man should be a religious animal. With the advent of the evil one, Religion became corrupted. But we already can distinguish between true religion and false religion. Each moment we refuse to follow true religion fully, we end up trying to fill the vacuum by patronising false religion. In the Pulse publication of Sept 17, 1999 some of such cults and controversial new Religions were listed: (Bahai faith, hare Krishna, Children of God alias 'Family of love', 'Heaven's magic'), Boston Movement, Iglesia ni Cristo (Church of Christ), Luz del Mundo, Jehovah Witnesses, Mormon Church, New Apostolic Church, Transcendental Meditation, Local Church, Living Stream Ministry, Scientology, Unification Church (Moonies). Nigeria is a dumping ground for all these groups. Again people are confused all the more because of change of names of these groups the so -called alias this or that.
In Christianity the one who prays must first prepare to be in the grace of God. In the book of (Lamentations chapter 3, verse 44) we read: "Thou has set a cloud before you, that our prayer may not pass through". Then we ask; for whom has God set a cloud such that their prayers may not get through. (First John 3, 21-22) gives us the answers: "Dearly beloved if our heart do not reprehend us, we have confidence towards God. And whatsoever we shall ask we shall receive of him, because we keep his commandment, and do those things, which are pleasing in his sight". Surely God will not hear those whom Paul refers to as selfish, avaricious, boastful, arrogant and rude; disobedient to parents, ungrateful, irreligious, heartless and intractable: slanderers, profligates, savages and enemies of everything that is good; treacherous, reckless and demented by pride; preferring their own measures to God. Those who keep up the outward appearance of religion but would have rejected the inner power of it'. Paul concluded by saying that we should keep away from people like that (2 Tim. 3:1-5). These are false prophets parading false and satanic religion. Jesus refers to them as "disguised as sheep but underneath are ravenous wolves". One would be able to tell them by their fruits (Matt. 7:15).
Isaiah captures the scenario best: "when you stretch out your hand I turn my eyes away. You may multiply your prayers I shall not be listening. Your hands are covered in blood. Wash make yourselves clean. Take your wrong - doing out of my sight. Cease doing evil. Learn to do good, search for justice, discipline the violent, be just to the orphan, plead for the widow" (Isaiah 1:15-17).
Yes God has decided to turn his eyes away because we approach him with only words, honour him only with lip-service while our hearts are far from him. (Matt 15:8-9; Col. 22:22; Isaiah 29:12-14). It is not that the arm of God is too short to save, his ears, too are not too dull to hear, but our guilty deeds have made a gulf between us and God. Our sins have made him to hide his face from us so as not to hear us since our hands are stained with blood and fingers with guilt; your lips utter lies, your tongue murmur wickedness. None of us makes upright accusation or pleads sincerely. All of us rely on empty words, utter falsehood, conceive trouble and give birth to evil (Isaiah 59:1-4).
We must therefore love God and our neighbour until it hurts us. It is easier and more comfortable to wake up from bed and there and then say some prayers. But when we wake up and take the pains of going to the house of prayer and join other brothers and sisters in worship, it makes a lot of difference. Hence Jesus enjoins us thus: 'where two or three are gathered together in my name, there am I in their midst'. As the Igbo proverb would have it. One man's urine produces no foam. But where many people urinate at a particular spot it surely will produce some foam.
'Let us go with confidence to the Throne of Grace: that we may obtain mercy, and find grace in seasonable aid' (Heb. 4:16).
Instances of morning prayers abound in the scriptures: 'Arise, give praise in the night, in the beginning of the watches: pour out thy heart like water before the face of the Lord, lift up thy hands to him' (Lamentation 2:18-19).
'We ought to prevent the sun to bless thee, and adore thee at the dawning of the light' (Wis. 16:23).
'In the morning I will stand before thee, and will see, because Thou art not a God that willst iniquity' (Psalm 5:5).
'O God, my God, to thee do I watch at break of the day. For thee my soul is thirsting' (Psalm 62:1-2).
'If I have remembered thee upon my bed, I will meditate on thee in the morning, because thou has been my helper'. (Psalm 62:7-8).
'When he (Paul) had said these things, kneeling down he prayed with them all' (Acts 20:36).
'Peter and John went up into the Temple at the ninth hour of prayer' (Acts 3:1).
'Peter went up to the higher parts of the house to pray about the sixth hour' (Acts 10:9).
'Seven times a day I have given praise to thee…' (Psalm 118:164).
'When Daniel knew this, … he went into his house; and opening the windows in his chamber towards Jerusalem, he knelt down three times a day, adored, and gave thanks before his God, as he had been accustomed to do before' (Daniel 6:10).
'These (the early Christian Community) remained faithful to the teaching of the apostles, to the brotherhood, to the breaking of bread, and to the prayers' Acts (2:42).
When we love God as we should, the results are very clear: we should naturally love our neighbour. Hence (Acts 22:44) adds: 'All who shared the faith owned everything in common; they sold their goods and possession and distributed the proceeds among themselves according to what each one needed. 'Then true religion becomes a way of life: 'Each day, with one heart, they regularly went to the Temple, but met in their houses for the breaking of bread, they shared their food gladly and generously; they praised God, and were looked up to by everyone. Day-by-Day the Lord added to their community those destined to be saved' (Acts 2:44-47). We must not forget another fruit of good prayer life: 'And everyone was filled with awe; the apostles worked many signs and miracles' (Acts 2:43). Peter spoke to the people after the event of Pentecost, and that same day about three thousand converts were made (Acts 2:41).
Sincere prayer life and efforts to be holy by a Christian have results that are obvious: a miracle filled life. The Christian apart from saying official prayers must target an entry into the gates of prayers. He should be in a position to discuss with God as though with an intimate friend. He should then be in a position to pray for his neighbours and they will see God's works. A true Christian should not have any other person as pillow as far as prayer is concerned.
'All things whatsoever you ask when you pray believe that you shall receive, and they shall come to you' (Mk. 11:24).
'God is a spirit, and they that adore him, must adore him in spirit and in truth' (John. 4:24).
'So far we have been honouring God with our lips but our hearts are far from him' (Mtt. 15:8).
Let us begin to honour God with our heart. Like Judas Iscariot, Ananias and Saphira, some of us have pocketed money and resources that belong to others or to the common fund. Our religion will remain naught until we make proper restitution. It is after that, that our prayer can yield results.
3.3 HEALING EXERCISE: DO IT YOURSELF
Nigerians have learnt from experience never to trust their governments. The impression created elsewhere so far is that Nigerians are one of the most patients, resilient and docile population in the world as far as Citizens - government relation is concerned. A nation so richly endowed have been looted and mismanaged by successive governments. With every past head of government and relations and cronies becoming billionaires over-night. Yet there has never been any uprising or courageous and spontaneous No by the people. Elsewhere there would have been revolutions.
The reason is not far- fetched. Nigerians especially those from the eastern part are DO-IT-YOURSELF type of people; nobody expects anything any longer from the government: Water (Private bore-holes and wells), Security (Personal guns, machetes, bows and arrows, security outfits, vigilante Groups, Bakassi Boys, O. P. C and Thugs). The police understanding of security is mounting Roadblocks and extorting money. Today, every government agency has joined the police brutalising motorists and extorting money from them. Heath-Care (patronage of chemists' shops, drugs' hawkers, herbalists, flight abroad, healing centres etc); food (Massive importation of virtually every food item and production input and very high cost of getting them); Transportation (Transportation system is in the hands of shylock businessmen; everyone wants to own his own vehicle because of the unreliable and insecure public transportation system), Communication (telephone cost is still out of the reach of the common men; as a result everybody is on the road and the traffic and motor-parks are chaotic); Joblessness: international prostitution, child and women trafficking, visa lottery, touts, thugs, Area- Boys, ethnic militias, Northern religious fanatics (almagyras), Campus cults, secret societies). Roads (personally constructed and privately, maintained as in the East. Light (private generators, rechargeable lamps). From the fore -going Nigerians have mastered the arts of survival and Do - it - yourself in every area of life except spiritual life. In spiritual affairs they run helter skelter from one pastor to the other; one priest to the other; one native doctor or the other, one secret society to the other, one vigil to the other; one revival-center to the other; one pilgrimage to the other. In spiritual matters, they use others as pillows even when they are exploiting and duping them. We want a new generation of Nigerians who can take their destiny in their hand and learn to do it themselves spiritually. Are we sure that this is possible? Yes.
God has said so in the Bible and God can never deceive us.
"They carried to Him all those afflicted with various diseases and racked with pain: the possessed, the lunatics, the paralyzed. He cured them all" (Matt. 4: 24).
"And he healed all who were in need of healing" (Luke 9:11).
"Only prayer can do it, nothing else can" (Mk. 9:29).
"The Father will give you whatever you ask for in my name, ask and you will receive, so that your happiness may be complete" (John 16:23 - 24).
"The blind and the lame came to him inside the temple area and he cured them" (Matt. 21:14).
HOLY WATER
Begin to sanitize and establish yourself in God by making use of the Holy water. Holy Water is a sacramental, and sacramentals are sacred things or actions, which the church uses to obtain favours from God, through her supplications. Other sacramentals are: Blessing given by validly ordained priest; blessed candles, ashes, palms, incense, crucifixes, pictures of our Lord, of the Blessed Virgin Mary, the saints, medals, reading of the Bible prayerfully, rosaries and scapulars. Sacraments when used with solid faith and not superstitiously can attract Helping or actual graces; forgiveness of sins, pardon of temporal punishment, Health of mind and body, protection from evil and other needs. In (John 13, 8-10), "Peter said to Jesus: You shall never wash my feet. Jesus answered him: if I wash you not, you will have no part with me. Simon Peter said to Him; Lord, not only my feet also my hands and my head - Jesus said to him: He that is washed is completely clean…" Water that is blessed is spiritually a symbol of moral and spiritual purity. It is a purifying agent (Ezekiel 16: 4-9, 23, 40, Gen. 18:4, 19:2, Luke 7:44; 1Tim. 5, 10 John 13: 2-15; Psalm 266, Matt. 27:24; Lev. 11:40, Lev. 14:8, Lev. 15).
In the prayer for the blessing of water and salt the priest in the name of the church underlines the fact that only God can help in checking the forces bent on dominating us. And may the Holy Spirit take control of everywhere, every person or everything that the blessed water shall touch. Let Health of mind and Body and divine protection and guidance on the beneficiaries be the ultimate result. The world used to be simpler, more innocent, more religious, more humane, less ambitious, less civilized, less learned, less complicated, less developed and less populous. Today we are deep into the jet age with all its merits and demerits. Life, really, is more cosy, comfortable more swifts and more sophisticated today than before. On the other hand wickedness and the Beast - in - man have assumed alarming dimensions. The result is obvious: curable and incurable sickness, fatherless homes, mother-less homes, lack of job, lack of suitable spouse, job insecurity, business insecurity, imprisonment, injustice, human and satanic oppression, working place conflicts, family upheavals, war, famine, ethnic cleansing, ritual murders, hired assassination, law enforcement officers brutality, state sponsored violence, frustration, alienation, loneliness, despair, poverty, homelessness, betrayal, lack of love and trust, cronism, sectarianism, tribalism, sectionalism, fanaticism, and the deification of money, power and pleasure.
In all these challenges that we face, we are invited to use the intelligence, talents and human and material resources that God has given us as tools. Where however we are still overwhelmed, there is only one option, namely prayer. What does the bible teach us about prayer:
- 'Can a mother forget her infant, be without tenderness for the child of her womb?' (Isaiah 49:15);
- 'O Lord, have pity on me, heal me, though I have sinned against you' (Psalm 41:5);
- 'Though the mountains leave their place and the hills be shaken, my love shall never leave you, nor my covenant of peace be shaken, says the lord, who has mercy on you' (Isaiah 54: 10);
- 'If my people who are called by my name shall humble themselves and pray, and seek my face and turn from their wicked ways, then will I hear from heaven, and will forgive their sins and heal their land' (2 Chron. 7:14);
- 'Prayer and fasting' (2 Cor. 11:27);
- 'Jesus has the habit of leaving the House to a lonely place for prayer and communication with' God (Luke 4: 42; Mark 1:35);
- 'After community prayer, Jesus would always go to the hills for meditation' (Matthew 4:23; John 6:15);
- 'St Paul sees prayer as weapon and protective tools against all evil and vicissitudes of life' (Eph. 6: 14-17);
- 'Seek you the Lord while He may be found, call upon Him while He is near' (Isaiah 55: 6);
- 'You shall call upon me, and you shall go and you shall pray to me, and I will hear you; you shall seek me, and I will hear you. You shall seek me and shall find me, when you shall seek me with all your heart'. (Jer. 29: 12-13);
- 'When you stretch out your ands I turn my eyes away. You may multiply your prayer. I shall not be listening. Your hands are covered with blood. Wash makes yourselves clean; take your wrongdoings out of my sight. Cease doing evil. Learn to do good, search for justice, discipline the violent, be just to the orphan, plead for the widow' (Isaiah 1: 15 -70);
- 'When our prayer appear not to be heard, it may be that we approach him with only words, honour him only with lip-service while our hearts are far from him' (Matthew 15: 8 -12; Col. 2: 22; Isaiah 29: 12 - 14);
- 'Let us go with confidence to the throne of Grace that we may obtain mercy, and find grace in seasonable aid' (Heb. 4: 16).
HEALING EXERCISE: FAITH CLINIC, DO IT YOURSELF:
USE OF THE PSALMS
One must first of all avail oneself of sacraments and the sacramentals. One must have exhausted all the necessary and humanly possible avenues hat God has given us. God tells Paul 'My grace is enough for you' when Paul prayed fervently for divine intervention in his difficulties. Do not search for divine intervention for headache when you know that God has endowed man and nature with talents and resources for curing it. Why look for healing when you can just swallow a couple of panadol tablets. Why look for miracle to pass exams when you do not attend lectures regularly; and you do not read your notes and handouts. Why naively part with your whole salary to a pastor when you have a family to feed as a breadwinner, all in the hope of getting abundance of cash in a month. Prayer and offertory is not a Lottery draw or pool betting.
CONDITIONS FOR AN EFFECTIVE USE OF PSALMS FOR PROBLEM SOLVING
- No Hatred
- No planning of evil or execution of evil against any neighbour
- No Envy or jealousy
- No idleness or laziness
- Solid trust that God is ever merciful and kind
- Forgiving Spirit
- Generosity and love
- No injustice
- No inferiority Complex
- No to bad will
- No to Abortion, injury, bloodshed
- No arrogance and pride
- Hard work and diligence
- Self confidence and resilience
- Go-getter spirit and adventurous spirit
- No to despair or fear of failure
- Openness before God
- Fasting with prudence (not necessarily on food but in those things and habits we love most).
3.3.1.COURT CASES
Psalm 5; 147; 17; 35; 26; 75; 7; 140; 94; Jer 32; 27
1 Kings 3:16
Susana 28-64
Acts 16:16-23
Acts 25:10-23
1 Cor. 6:
Mathew 10:19-20
Prov. 22:22-23
Prov. 19:5-9
* CHORUSES
* Reading the Bible with devotions is in itself a healing exercise.
3.3.2.ENEMIES (VICTORIOUS AGAINST THEM)
Ps. 7; 16; 27; 31; 70; 54; 142; 108; 28; 69
Gen. 14:22; Ex 14:1-29; 1 Sam 17:41-51; Deut. 28:7; 31:6
Sirach 2:10; Isaiah 54:17
Matt 18:15-17; 5:44; Rom 12:14-21
* Take time to study the Bible with deep faith
* Sing the Gloria or any common of the Mass
3.3.3.BUSINESS SUCCESS, PROMOTION, GOOD JOB, SUCCESS
Psalm 8; 127:1; 112; 16; 145; 138; 111; 84; 62; 116; 2:8; 63; 57
Deut. 8:17-21; 20; 21; 11:13-17
Prov. 21:6; 22:1-2; 8:17-21; 20:21; 10:22; 16:1-2
Dan. 3:8-30; Tobit 4:7-9
Matt. 25:14-30; 11:28
John 6:37; 3:27
1 Pet 5:7; Phil. 4:12-13; 1 Cor. 3:6
* Apply to yourself and your condition what you read with faith in the bible.
3.3.4.SATANIC OPPRESSION, MERMAID AND WATER SPIRIT ATTACKS, DEMONIC DREAMS, WITCHES BULLYING
Psalm 11:12; 17; 3; 142; 146; 129; 141; 4; 121; 50:15; 29; 30; 40; 59
1 Sam. 16:14-23, Deut 31:6
Tobit 3: 7-10, 16-17, 11-15
Acts 16:16-18; Eph 6:11-18
Rom. 13:12-13
Luke 8:28-29; Luke 10:19; john 6:37
* THE CREDO (Any version you know)
* See yourself as someone communicating with God as you read the Bible.
3.3.5.DISEASE, EPIDEMIC, DISABILITY, PREGNANCY, CHILD LABOUR
Psalm 13, 15, 49, 50, 52:22, 41:3, 11; 6; 88; 39; 102; 38; 13; 19
Deut. 32: 39
Hosea 6:1; Sirach 38: 9 -12; Sirach 38
Job 5: 18
Isaiah 53: 2 - 10; Isaiah 35: 4 -8; 59: 1 - 12; 57: 18
Ex 15:26; 23:25
1 Pet 2: 24
John 9:7
James 5: 14 - 15
Jer. 17: 14; 30:37
* Lively church hymns
* God does not change: what he has done in the past with others he can do with you.
3.3.6. CONFLICT RESOLUTION AT ALL LEVELS: LAND DISPUTE, FAMILY, KINDRED, VILLAGE CONFLICTS AND
CHIEFTAINCY TUSSLE
Psalm 28, 31, 45, 46, 53, 54, 55, 34, 60:1-5, 85; 69: 1 -13, 90, 133, 122, 14: 2 - 6, 25, 37: 1 - 19; 10; 133; 94:12-23; 112, 106: 1 – 5.
Gen. 33: 1 - 11; 13: 1 - 13; 28:15
Tobit 2: 11 - 14
Lev. 26: 6
Isaiah 32: 17; 26:3
Matt. 5: 23
Acts 12:20
Col. 3: 12 - 17
1 Pet. 3: 10 - 12
Heb. 12: 14
1 Cor. 14: 33
Construct your own prayer, in your own way. Do not try to copy anybody's or any groups wordings, speak to God the way it touches you. God knows you too well and He will understand you.
* Lively hymns or choruses.
3.3.7.JOBLESSNESS
Psalm 57; 65; 1; 86; 114; 90; 106: 1 - 10; 16; 62; 119; 50
Lev. 23:3
Matt. 20: 1 - 6; 11:28
Phil. 4: 19
1 Pet. 5:7
2 Thess. 3:10
Prayer (Use your language or dialect to express your problem)
Thanksgiving (Thank God even when you have not yet seen anything)
* Choruses.
3.3.8.SEARCH FOR A LIFE PARTNER (SEX, DATING, COURTSHIP, FIANCÉESHIP, MARRIAGE, CAREER, VOCATION, TOASTING, CHOOSING, CHOSEN)
Psalm 25:9; 32:8; 25: 1 - 18; 144; 145; 65; 23; 143; 16.
Gen 24:1 - 2, 38: 1 - 6; 18 - 19
Sirach 9:5; 7: 19; 25; 26;
Judges 14:1 - 10; Joshua 24: 15
Tobit 10:8-12
Isaiah 62:4-5; 46:4; 54:13, 17, 49:25
Eph 4: 22 - 42; Matt 7:7 *CHORUSES
- Be certain that God will respond favourably at His own time.
3.3.9.EXAM SUCCESS; READING WITH COMPREHENSION; BETTER STUDY TECHNIQUES
Psalms 111; 119: 65-72, 16; 121; 119: 169- 176; 57
John 14:13
John 15:7
I kgs 3:11 - 12
Wisdom 9: 1 - 6; 10 - 11
Isaiah 41:10
James 1: 5 - 6
Phil 4:6
I pet 5:7
2 chro. 1: 7-12
Mark 9:29
John 16: 23 - 24
John 6:37
* hymns of your choice. construct your own prayer.
3.3.10.WHEN TEMPTATIONS MULTIPLY, WHEN LIFE'S PROBLEMS BECOME UNBEARABLE
Psalms 4,7,8,11,12,13,1,16,17,121,31,77,22,46,126,63
Num 23:24
Isaiah 33:15-16
Sirach 2:3
Job 5: 17-18
I Pet 4: 12-19
Eph 6:10-13; 6: 13; 14
Rom 8:35-39; Rom 8:31, 37
James 4:7
James 1:2-4
I Cor 10:13
Rom 8:31
2 Cor 4: 8-9
Acts 2:21 * Construct your own prayer
* SING AS IT TOUCHES YOU
3.3.11. LATE DELIVERY; MISCARRIAGES WITHOUT END; INFERTILITY; NO MALE ISSUE
Psalms 123, 128, 115, 42, 103, 130, 113, 31:2,
143:7, 102:2, 56:9
Gen 30:1 -2; 18:1 - –5; 9:7; Gen 1:28
Judges 13: 1 - 14; exodus 23:26; Lev 26:9
2 Kings 4:8 - 17; 1 Sam 2: 1 - 10; Isaiah 54: 1, 58:8
Wisdom 3: 13 ff: Job 5:25; Jer 1: 12, 29:11, Mal. 4:2
Mark 10:27; Matt 18:19; 3:10; 1 John 3:8
Luke 8:48; 10:19; 18:8
Rom 4:17; 19; Rom 16:20; 2 Tim 4:18
Gal 4: 27; 3:13 - 24; Col 2: 14 - 25
"… And he will love thee, and bless thee, and multiply thee, he will also bless the fruit of thy land, thy corn, and thy wine … Thou shall be above all people: there shall not be male or female barren among you, away from thee all sickness, and will put none of the evil diseases of Egypt, which thou knowest, upon thee; but will lay them upon all who hate you' (Deut 7:12-15).
* Holy- Spirit filled choruses (Hymns). * Now say your prayer.
3.3.12.BAD AND STUBBORN CHILDREN (THERE ARE FIVE CHILDREN IN THE FAMILY, BUT THERE IS NO CHILD. I HAVE THREE BROTHERS, BUT I HAVE NO BROTHER. I HAVE FOUR SISTERS BUT I HAVE NO SISTER)
Psalm 127, 9, 12, 17, 27, 29, 28, 32, 33, 34, 47, 44, 49, 50, 8:2
Isaiah 8: 10 - 18, 14:2
Deut 28:7, Job 22:28
Jeremiah 1:5
Col 1: 9 - 10
1 Cor 7:14
Gal 1:15
1 John 4:4
Luke 1:37
Rom 16:20
Col 2: 14 -1 5
Isaiah 26:3
Psalm 91:10
* Invoke the source of the problem of the child, brother, sister, husband, wife or relative and expel it in the name of Jesus.
- Lion lifestyle (fierce, aggressive) greed, wild, possessive.
- Bull (bullying, intimidating) bad mouth, vulgar, insulting, abuses.
- Horse (charger, power, stubborn, lack of obedience).
- Sheep (no independence, naïve, peer group, perpetual immaturity, no identity, copying foreign way of speaking, walking, dressing and loathing one's own language or dialect).
- Snake (devilish, incarnation of Satan, rituals, cultism, secret society, green snake in the green grass; cunning, scheming evil, intrigue, rebellion, possessive).
- Wolves: pugnacity, aggressive, lack of respect, hawkish, fanatic.
- Goat: idiotic, mediocre, hates reading and writing, follow - follow, fanatic.
- Parrot: reckless talk, lack control, lacks confidentiality, no secrets: everything he sees or hears or experiences he must talk; memorised names and lyrics of every musician but cannot pass exam.
- Pigs: dirty, nasty, uncleanliness, no sense of hygiene, wild, crude, rustic, home to bacteria, worms, infectious diseases, finds it difficult to wash clothes or brush his teeth, shabby and dishevelled - looking, promotes nasty fashion: bushy hair, plaiting or perming hair (male); nude and indecent dressing, excessive bleaching (female).
- Chameleon: double - face, pharisaic, hypocrite, double agent, double dater, quadruple - dater (has one wife but many wives; has one husband but many husbands); husband snatcher, wife-snatcher.
- Fox: evil, cat - and - mouse - life, insincerity, brutal.
- Kite: thief, robber, pickpocket, harvesting where one has not sown, grabber, kleptomaniac.
- Camel, Donkey: Fool, beast of burden, naïve, the willing horse, every other person's hand - kerchief, can spend fortunes outsides but little or no penny at home, church or sect fanatic.
- Elephant: big, great but empty-brain, forgetfulness, stupidity.
- Cow: stupidly generous; church/religious fundamentalist, drunken or intoxicated with His religion, cult or church to a fault.
- Fish in Water; Slippery, shallow, no principle, not trustworthy, not reliable, and irresponsible.
- Tortoise: cunning, old - mentality even when young, too wise for his age, 1 - too - know, over - sense, holier - than - thou - attitude, sanctimonious.
- Turkey: Shouting and conspicuous character, show - off, seeker of attention, fashion maniac.
- Owl: Evil omen, devil's incarnation
- Dog: Sex maniac, Aristo, sugar mummy.
- Vulture: greed, long - throat, good – time, addiction
* In your language or dialect, say your intention
* Thank God for Hearing your story. Leave the rest to Him in Deep faith.
* Sing those Hymns that you love.
REFLECTION
God is all around you on every side to protect you with his power (Psalm 139:5).
Sandwich your prayer sessions with Mass Intentions, visit to the Blessed Sacrament, Use of the Sacraments and Sacramentals. Faith without good works is dead. So be an active member of the church. Do not wait to be invited by anybody. Invite yourself to serve God in the church. Charity covers a multitude of sins. Since love is the summary of the commandments, try and practise love. Above all submit yourself to the Church Authorities in everything except what is sin. If you have any suggestions or objections make it prudently and respectfully. Even when things are not done as you would wish continue still to serve within the fold. God has his own time.
'No weapon that is formed against me shall proper' (Isaiah 54:17).
'Only God can pronounce when "enough is enough" not you' (Isaiah 40:1-2).
'No magic, no charm, no witchcraft can be effective against a child of God' (Num 23:23).
'When God sends me good things I welcome it, how can I murmur when something unpleasant comes?' (Job 2:10).
'I am the one who heals you' say the Lord' (Ex 15:26).
- NEVER, NEVER, use anybody as pillow or run from one church to the other; one revival to the other. Do it yourself. TRY AND SEE.
'If only you recognized God's gift…' (John 4:10)
'My GRACE IS ENOUGH FOR YOU' says the Lord.
3.4. SATAN VERSUS GOD: DARKNESS VERSUS LIGHT
All we hear about Water Spirits. Witchcrafts, Cultism, Secret Societies, ritual sacrifice and killings are moves by our people to solve certain real and imaginary needs through the shortest cut. Many still believe that God is always slow in coming but Satan is very fast in providing clues to their mysterious quest and difficulties. For the African, worship of deities means doing business with them. And one does business so as to gain. The deity that does not deliver 'quick-quick' will always have his shrine destroyed, burnt and replaced with the shrine of another deity.
Our people embraced Christianity with this mentality. The multiplicity of sects and churches today are partly serving this purpose. Satan means enemy or adversary in the Hebrew but the Greek equivalent is 'diabolos', the devil or the slanderer. He is the mysterious serpent in (Genesis 3:1). He is the enemy of man (Wisdom 2:4). Its real name is the devil (Wisdom 2:24). Satan, referred to by Paul as thrones, dominions and principalities is totally envious of man and he stands against God's plan for humanity (Eph. 6:12). We who are baptized into the kingdom of light ought to war against the kingdom of darkness (Eph. 6:10-17, Rom. 13:12; 2 Cor 6:7; 10:4; James 4:7; 1Pet. 5:8-9). On the contrary many of us keep on making agents of Satan look very important by consulting them for one thing or the other; we run after 'pastors', many of whom are using satanic powers; we use them as pillows and many a time they pull off and we scatter. But God has empowered us to be pastors, healers, prophets of ourselves. We need not depend on any person (Eph. 6: 14-20).
What are the things we look for? Medicine for wealth (now 'prayer' or 'miracle' for wealth, sons, health, and power); medicine for love from fiancés, boyfriends and husbands; medicine to make somebody blind or sick; medicine to make our creditors to forget our debt; medicine to upstage our business partner; medicine to climb the ladder of politics fast; medicine to turn the wealth of our tenants into our own; medicine to block or prolong somebody's pregnancy; amulet or ring to be survivors in motor accidents; charms to be impregnable to gun shorts or machete-cuts; poison to kill our enemy or block his progress. Power to perform spiritual marriages, bring disharmony in homes, create complicated difficulties and misery in homes, settle apprentices with bewitched money, turn loans and gifts into weapon of satanic attack against donors, initiate lads little girls, young men and women into devilish cults etc. people base their practices on: 'Pay to God what belongs to God and Caesar what belongs to Caesar' (Mark 12:7).
But this is not the meaning of that verse. But be assured that the wages of sin is death (Rom. 6:23).
God and money are opposed (just like Light and Darkness), to each other. You cannot be the slave both of God and of money (Matt. 6:24). Friendship with the world is enmity with God. Seek ye first the kingdom of God and his righteousness and every other thing shall be added unto you (Matt. 6:33, Jam. 4:13-14). Be compassionate just as your father is compassionate (Lk. 6:36, Ex. 34:6-7, Matt. 7:1). Love your enemies: do good to those who hate you (Lk. 6:27; Matt. 5:44; 1Pet. 3:9).
People do not easily fall into Satanism. Satan uses traps of signs and wonders, spiritual power, fortune telling, seeing vision, astral travels, women, beauty, wealth, influence, etc. to lure us. These are the same things with which he tempted Jesus. But Jesus gave us an example of how not to be led astray by the things of the world. What does one gain if he wins all worldly things but loses his soul? For sure all knee must bow at the name of Jesus. One with God is a majority. Seek therefore God's will (Rom. 12:1-2). In deed it is an evil and unfaithful generation that asks for a sign (Matt. 12:39). Again Matt. 10:23 ask us not to fear those that can kill the body but cannot kill the soul. See also 2Cor. 6:17.
3.5. DON'T BUILD CHURCHES, BUILD HUMAN BEINGS: DON'T BUILD STRUCTURES, FORM GOOD CHARACTERS
Today some churches no longer care about the quality of their membership.
They rather go for the quantity, i.e. the population of their members. Others are following the example of the Jihadists who distributed flags to warriors to go and conquer territories and plant them. They enjoin members to open branches and put signboards anywhere they can get space.
Many of the churches compete in building gigantic and towering edifices. They do not ask: What quality of people fill the pews in theses mighty churches and warehouses? These millions of churches goers, what sort of life do they live outside and even inside those churches: Jesus enjoins us to enter by the narrow gate, since the road that leads to destruction is wide and spacious and many take it. But it is a narrow gate and a hard road that leads to life and only a few find it (Matt. 7:13 - 14; cf. Deut. 30:15; Psalm 1:1; Luke 13:24).
If all the multitudes who fill the mosques and churches are practising what they profess, how come our entire society is chaotic with evil and dirt. People urinating in public places; people defecating here and their; refuse littered here and there; sneezing and cleaning the nose with bare hands and embracing and shaking others with the same hands; marketing of adulterated and fake drugs food-stuffs, and the so-called pure-water. Hoarding of goods and services and inflation of prices. Bribery and corruption and sharp practices in the public services, and the private enterprise. Jesus would ask us then: Why do you call me, 'Lord, Lord and not do what I say?' Everyone who comes to me and listens to my words and acts on them; I will show you what such a person is like.
"Such a person is like the man who, when he built a house dug deep. And laid the foundation on rock; when the river was in flood it bore down on that house but could not shake it, it was so well built. But someone who listens and does nothing is like the man who built a house on soil, with no foundations; as soon as the river bore down on it, it collapsed; and what a ruin that house became" (Lk 6: 47-49; Mtt 7:24-27).
Many people leave one church for another not because the former church or its leaders have done them evil, but because of deep-rooted grievances they have against their fellow members. Some who are small businessmen have had to empty their purse to enter into joint business with a richer importer or wholesaler and the latter pockets the money, narrating false stories. Others are specialists in having their eyes on other peoples' daughters, sisters and wives. A particular husband ends up having children who are not really his own blood. Peoples' daughters and sisters are put in the family way and spoilt. If it is your own would you like it? Families and marriages have been ruined in this way. Some have used other peoples' children for rituals; many have taken over other peoples landed property, possession and positions unjustly and sometimes forcefully. When these wrongs are not righted and settled the aggrieved people find it difficult to sit inside the same church with their oppressors singing, clapping their hands or receiving communion. Worse still when the oppressors are those who parade themselves inside the church as the special members or even titled members.
That is why the leaders of the churches must watch out for such situations and correct them. They must be sharp to observe sharp practices; oppression and injustices perpetuated by elected members of the church or group and call them to order, lest their cheating and dubious life become a stumbling bock to weaker brothers and sisters. The church leaders should not mind how rich or influential those cheat and oppressors are. Church leaders who close their eyes or look the other way when those things are happening are sinning by omission. (Jeremiah 23:1-6) has strong words for them: "Doom for the shepherds who allow my sheep to be scattered - –t is the Lord who speaks…. You have let my flock be scattered and go wandering and have not taken care of them. Right, I will take care of you for your misdeeds…"
Every other sin may be between us and God, but the sins of oppression, injustices, murder and deceit go up to Heaven to seek God's vengeance. And those leaders who kept quiet and looked the other way simple because it does not concern them or their comfort is not perturbed; or even because those oppressors are making fat donations and tithes from their loots share in the blood money, and the eventual retribution.
REFLECTION
Beautiful and powerful churches built without qualitative members will sooner or later become empty. Let us not build halls, churches etc. just for the purpose of immortalizing our name before men we have God who sees everything and knows men's hearts. Let us help create jobs for the teeming jobless population of our youths. Let us form characters who can worship God not only under the roof of the church but everywhere they find themselves.
"You are light for the world… Your light must shine in people' sight, so that, seeing your good works, they may give praise to your father in heaven" (Matt. 5:14 - –6 cf. Mk.9:50; Lk 14: 34-35; Lv. 2:13; Num. 18:19; Col. 4:6; John. 8:12; Mk. 4:21; John. 3:21; 15:18; 1 Cor 10 :31).
FURTHER BIBLICAL CONSULTATIONS
Proverb: The Sky is wide enough for every bird to fly (Matt. 3:1 - 18; Matt 6:24; Matt. 6:25; Luke 12:22; Ps 127; I Kg 10:1 - 19; James 4:13 - 14).
3.6.TRUTH AND SINCERITY VERSUS LIES AND DECEIT
Truth means sincerity in action, character, and utterance. It is the correspondence of what one says with the reality, whether past or present. One may not talk of future because the gift of foretelling the future is not open to everyone. The charism of true prophecy is rare, that is why there are numerous false prophets.
Jesus, in his dialogue with Pilate, said "I was born and I came into the world for this one purpose, to speak about the truth. Whoever belongs to the truth listens to me". And Pilate asked him. And what is truth? This question was never answered by Jesus and ever since then no body has answered it. Even if Jesus meant divine truth and Pilate meant physical and human truth; Jesus who knew that Pilate was interested to know whom to believe: the Jews or Jesus evaded the question.
Truth in today's language is the fruit of Greek thought (alethes) which means NOT HIDDEN. In the Bible truth refers to man's religious meeting with God. (Deut. 7:9, 32:4, Isaiah 49:7). This religious experience in the Old Testament means faithfulness to the covenant between God and his people (Prov. 12:19, Ex. 8:9, Psalm 89, Neh. 9:33, Hos. 2:21 Ps. 91, 2 Sam. 7: 28, Ex. 1821, Neh. 7:2, Sirach 4:28).
The New Testament sees Truth as the fullness of revelation in Christ (Eph. 1:13; Rom. 10:14; 2 Tim. 2:25). Hence Jesus insists that he is the way, the truth, and life. Only Him can lead us to the father; the revelation about God is perfect truth and only him can transmit it to us; and since He Himself is an embodiment of this knowledge, He too is our source of life (John 1:18; 17:8, 14, 17; 1:4; 3:16, 1 John. 5:11).
With Jesus all revelation has ended (John. 12:50) . The spirit (the paraclete) then comes to bear witness to the Truth. (John. 14:17; 15:26: 1 John 5:6). It is the spirit of Truth. So while revelation is complete and final with Jesus and the spirit bears witness to the fullness of this truth, the devil; is the father of lies (John 8:44).
This opposition becomes manifest in (Acts 4:36-37). Barnabas sold his piece of land and presented the whole money for the common purse. On the contrary Ananias and Sapphira sold theirs and kept part of the proceeds to themselves. They, by so doing stood in solidarity with the devil while at the same time lied to the Holy Spirit. Peter said, 'Ananias, how can Satan have possessed you that you should lie to the Holy Spirit and keep back part of the price of the land? While you still owned the land, wasn't it yours to keep, and after you had sold it wasn't the money yours to do with as you liked? What put this scheme into your mind? You have been lying not to men but to God. When he heard this Ananias fell down dead. And a great fear came upon everyone present. The younger men got up, wrapped up the body, carried it out and buried it.
About three hours later his wife came in, not knowing what had taken place. Peter challenged her, 'Tell me, was this the price you sold the land for? 'Yes' she said, 'that was the price' Peter then said, why did you and your husband agree to put the spirit of the Lord to the test? Listen! At the door are the footsteps of those who have buried your husband; they will carry you out too! Instantly she dropped dead at his feet. When the young men came in they found she was dead. And they carried her out and buried her by the side of her husband. And a great fear came upon the whole church and all who heard it'.
Our God is a very merciful and tolerant God. That is why today, many of us are parading lies and deceit.
- We say one thing before someone; and behind him, we say the opposite (Lk. 6:43-45; Matt. 7:16-18; Matt. 12:33-35 Matt. 25:21).
- Children and students tell lies to deceive their parents/guardian and extort money from them.
- Traders and businessmen swear falsely before customers on the prices of the purchase of their goods just to cheat the client is (Lk 6:24, Tob. 4-9-10, Lk. 6:9-13).
- Husbands and wives live like cat and mouse as if there is a competition on who will out-cheat the other on infidelity, fiancés, possessions, loyalty of the children, family responsibilities etc.
- Priests and pastors use the bible and Pulpit to mislead and dupe the people (Mtt. 18:5-7). They steal, embezzle, misappropriate and divert funds from the common treasury. (Isaiah 29:13; Matt. 7:15-20. 24:11, 24: 2Peter 2:1-3; Rev. 13:19:20).
- Some of us who are celibate so as to be more free to devote everything we are and own to God and his service, end up being more encumbered and over-burdened by worldly cares and worries than the married people. (Deut. 13:2- 6; 18:9- 22. Luke. 6:34- 44; Luke. 6:46-49 Luke. 12:47-48).
- Politicians and public workers are a sure proof that the love of money is the root of all evil. (Mtt. 5:3-4; 19:21-26; Lk. 16:13): ritual murder, ritual sacrifice, shedding innocent blood, lies and deceit, propaganda, falsehood of all dimension hired killings and cover-up, ill-gotten wealth, self aggrandizement etc.
[...]