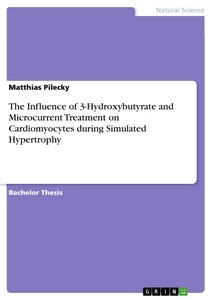 The Influence of 3-Hydroxybutyrate and Microcurrent Treatment on Cardiomyocytes during Simulated Hypertrophy
Bachelorarbeit 2010 31 Seiten
Leseprobe
Table of Contents
Abstract
Zusammenfassung
Introduction
Theoretical Background
Chronic Heart Failure
Mitochondrial Alterations
Metabolic Shift
Insulin Resistance
Ketone Bodies
Oxidative Stress
Microcurrent Therapy
Aim of this experiment
Results
Hypertrophic Model
H9c2
Primary cardiomyocytes (SHR7)
Electro Microcurrent treated primary (SHR7) cells
Cell growth under ß-Hydroxybutyrate treatment
Cell proliferation Assay with alamarBlue®
Hypertrophic growth under ß-Hydroxybutyrate treatment
ROS assay
Immunohistochemical staining (Mitochondrial distribution)
H9c2
SHR7
Discussion
Hypertrophic Model
Mitochondrial Activity Assay
ROS Assay
Immunostaining
Conclusion
References
Eigenständigkeitserklärung
Attachment:
Abbreviations
Materials
Methods
Hypertrophic Model
Hypertrophic Measurement
HE-Staining
MitoTracker®
ROS-Measurement
OHB Proliferation Assay
AlamarBlue®-Assay
Cristal Violet-Assay
Immunostaining (Caveolin-3)
Immunostaining (a-Tubulin)
Microcurrent treatment of SHR7 cells
Abstract
Chronic Heart Failure (CHF) is combined with various metabolic shifts. The continuous adrenergic stress results in a metabolic shift increasing glycolysis similar to a fetal metabolism. However also insulin resistance (IR) was reported triggering low glucose uptake and mitochondrial uncoupling and therefore reactive oxygen species (ROS) production reduce cardiac contractility. The adrenergic increased free fatty acids (FFA) are metabolized to ketone bodies (mainly ß-hydroxybutyrate (OHB)) which are also energy stocks for brain and heart. Elevated blood ketone levels have been reported during CHF similar to diabetes. Clinically a correlation between ketone body blood level and severity of CHF has been discovered. However it remains unclear whether this is a result of metabolic changes or a compensatory mechanism. The aim of this study was to show, that rat cardiomyocytes (H9c2) treated with Phenylephrine (PE) for hypertrophy are slightly more susceptible to OHB at concentrations similar found in patients with CHF and that OHB reduces cell area significantly.
Zusammenfassung
Chronic Heart Failure (CHF) geht einher mit dauerhafter hyperadringerger Stimulation der Kardiomyozyten, welche - ähnlich dem fötalen Metabolismus - einen "metabolic shift" von Fettsäure- zu Glucosemetabolismus, bewirkt. Es wurde berichtet, dass verschiedene zusätzliche Veränderung, wie Insulinresistenz und damit verbundene geringere GLUT4 Level, oder mitochondrielles Uncoupling, und auch damit verbundene erhöhte ROS Produktion die Leistungsfähigkeit des Herzens herabsetzen. Durch die erhöhten freien Fettsäureplasmalevel (FFA) und die generellen Veränderungen der Muskelmetabolismen produziert die Leber vermehrt Ketonkörper (KB) (besonders ß-Hydroxybutyrat (OHB)). Ketonkörper sind neben Fettsäuren und Glucose Energielieferanten für das Herz. Während CHF können die Ketonkörperblutlevel bis auf 10 mM ansteigen. Viele Forschungsgruppen spekulierten, dass Ketonkörper den Citratcyclus hemmen, jedoch zeigten Pelletier et al. dass OHB die Glucoseaufnahme durch Inhibierung des AMPK/p38 MAPK Signalpathways erreicht, dessen Aktivierung eine erhöhte Glucoseaufnahme bewirkt. In dieser Arbeit wurde gezeigt, dass Ratten-Kardiomyozytenzellen (H9c2) im durch Phenylephrin induzierten hypertrophen Zustand leicht erhöhtere Aktivität bei OHB zeigen als unbehandelte, sowie dass sich die Zellgröße bei OHB Behandlung deutlich verkleinert.
Introduction
Theoretical Background
Chronic Heart Failure
Acute heart failure (AHF) and chronic heart failure (CHF) are the most death causing diseases in industrial countries. In complex cardiac diseases various factors such as cardiac overload, sympathetic tone, diet or inherited factors play an essential role and finally cause mechanical imbalance between cardiac output (CO) and systemic vascular resistance (SVR) resulting in decreasing blood pressure, cardiac shock and eventually death (1). Whereas in AHF a distinct event triggers cardiac failure within minutes, CHF develops multiple metabolic, protein expression and humeral alterations over time (2). The exact mechanisms leading to CHF have not been identified exactly yet although high blood pressure, resulting from arteriosclerotic events, is considered as one of the major causes. According to the Frank- Starling-mechanism, which describes stroke work as relation between stroke volume (SV), ventricle end systolic and end diastolic pressure, with increasing preload (filling pressure) the respective recruited SV decreases (1). This is on the one hand combined with an enhanced sympathetic tone, on the other hand mechanoreceptors (caveolae) in the membrane of cardiomyocytes are stimulated leading to an shift in Ca2+ concentrations (3) and thus triggering of a cascade via caveolin-3 and STAT3 resulting in hypertrophic growth (4) and alteration in extracellular matrix (ECM) and expression of matrix metallo proteinasen (MMP) (5). In animal models with artificial pressure overload the expression of myc significantly increases. These facts suggest that during hypertension the myocardial cell cycle machinery is activated and not leading to proliferation but to hypertrophy (6). To avoid this, the atrium releases atrial natriuretic peptite (ANP) which acts diuretic and thus volume unloading (7). In case of CHF cardiomyocytes enter a vicious circle suffering contractile failure, which leads to ventricle remodeling causing further myocyte energetic imbalance (8). The worse the cardiac state is the more ANP and BNP is released. The blood levels of ANP and BNP (brain natriuretic peptide; released by the ventricles) are of diagnostic value in CHF, (1) as they are significantly elevated (9).
Mitochondrial Alterations
Changes in cell signaling due to the mechanisms mentioned above have significant effects on the mitochondria. Increased activation of myc directly influences PPAR-y coactivator-1 a (PGC-1) (6) whose overexpression upregulates the mitochondrial transcription factor (mtTFA) leading to mitochondrial proliferation (10). An increased amount of mitochondria in hypertrophic cardiomyocytes is accompanied by a smaller volume and abnormal functionality, as described in a dog model (11). Although various reports on decreasing mitochondrial complex activity exist the exact mechanism remains unclear. A significant decrease was described for Complex I, III and IV in dog (12) and mice (13) models, assuming damaged mtDNA, since their subunits are mostly mitochondrial encoded and the expression of mitochondrial gene is regulated by mtDNA copy number (14). In contrast other clinical investigations only found a significant decrease in complex I assuming that the mtDNA is intact (15).
Metabolic Shift
The human heart in general is a metabolic omnivore (8). While the fetal heart mainly receives the bigger part of energy from glycolysis and lactate oxidation the growing heart prefers fatty acids as source of energy (16). In CHF the energy reserves of cardiomyocytes considerably decrease as seen in the ratio of Phosphocreatine to ATP (PCr/ATP) which also correlates with the severity of the disease (17). Under physiological conditions the heart adopts its metabolism in response to hormones, changes in workload or blood supply as well as altered gene expression (18). Basically a genetic metabolic shift away from using fatty acids to glucose as main energy source comparable to processes in fetal organism has been observed in CHF (19). This process seems to be a compensatory mechanism for managing increased workload. Studies performed in a rat model have shown an overexpression of insulin-independent glucose transporter GLUT-1. increased cardiac performance and prevented heart failure even in an artificial pressure-overload induced hypertrophic state without influencing glucose homeostasis (20). However in CHF increased sympathetic tone resulting in elevated noradrenalin levels constricts coronary vessels leading to minor oxygen supply and elevates FFA levels (21) (22). Enhanced FFA levels also influence mitochondrial uncoupling and uncoupling proteins (23) which are also a source of ROS (24).
Insulin Resistance
Elevated FFA levels as a result of the hyperadrenergic state promote an increasing insulin resistance (IR) and inhibit glucose uptake as well as glycolysis by heart and muscle cells (25), by blocking the signal cascade necessary for the fusion of insulin-dependent glucose transporter GLUT-4 vesicle with the plasma membrane (26). Accelerating IR may be the reason for increased FFA uptake compared to glucose shown by cardiomyocytes during HF (27) (28) since a decrease of FFA levels improves myocardial glycolysis (29). However several studies showed no difference in insulin or glucagon blood levels (9). In conclusion a metabolic vicious circle of elevated FFA causing IR, preventing efficient energy substrate usage (and causing ROS) leading to more adrenergic stimulation establishes additionally to the mechanical vicious circle previous mentioned (30).
Ketone Bodies
Chronic elevated FFA levels also alters liver metabolisms which start converting FFA into ketone bodies (KB) namely ß-Hydroxybutyrat (OHB) and Acetoacetat (AAc) (31). Some papers referred to KB as "superfuel" since it produces more energy per oxygen consumption than glucose or fatty acids, because concentrations of NADH increases relative to NAD+ and CoQ relative to CoQH2 accelerating the redox-reaction at the NADH dehydrogenase complex (32). This is also confirmed by a complex perfused rat heart preparation where OHB increased contractility and decreased oxygen consumption (33). Furthermore it was shown, that ketogenesis increased parallel with growing brain size, which only uses glucose and KB as energy source, during the evolution of vertebrates (34). However, the highest part of KB's myocardial oxygen consumption can be found within fetal organisms (e.g. not over 7% in lamb) (35). Normal individual blood levels are less than 0.1 mM for both OHB and AAc, but can reach up to 8 mM of OHB and 2 mM for AAc and Acetone (36). Clinical Studies carried out by Lommi et al. showed that patients suffering from CHF do have a 2-fold increase in blood KB in mean compared to control subjects. Additionally blood KB levels correlate with severity of symptoms, degrees of venous congestion, left ventricular dysfunction as well as neurohormonal activation (9). Whereas previous studies assumed that KB block the citrate cycle (CC) (37) and thureupon cause contractility dysfunction (38) newer studies showed that KB prevent glucose uptake by inhibition of AMPK, generation of oxidative stress and promoting IR what might reduce cardiac energy substrate support in CHF (39). If the effect of KB is a negative one inhibition of carnitine palmitoyl transferase-1 (CPT-1) as most regulated step in ketogenesis may be a therapeutic possibility (40).
Oxidative Stress
Several mechanisms mentioned before produce reactive oxygen species (ROS), for example electron transport chain complex I (41) and mitochondrial uncoupling (42) lead to further mitochondrial damage and thus ROS production by oxidizing the plasma membrane, proteins and DNA (43). Various reports confirmed that ROS generation plays an important role in both AHF and CHF by decreasing mitochondrial functionality as for example shown in murine models (44).
Microcurrent Therapy
Mueller et al. discovered that cardiomyocytes cultured under electrical microcurrent application increase cell proliferation, change MMP and tissue inhibitors of metalloproteinase (TIMP) expression, modify collagen I to collagen III ratio and decrease expression of pro- inflammatory proteins (i.e. IL-6 and TNF-a) as well as the expression of growth factors (i.e. TGF-ß) (45). Experiments in Wistar-Kyoto rats (WKY) and spontaneous hypertensive rats (SHR) showed that pericardial electrical microcurrent application up-regulates levels of MMP- 2 and MMP-9, downregulates TIMP-3, reduces collagen III and reduces pro-inflammatory proteins (46). These results demonstrate that microcurrent application might be a promising method to increase heart function during CHF (47).
Illustration not visible in this excerpt
Figure 1: A schematic summary of the described mechanisms. The ellipse stands for the planed investigations. Starting with mechanical disturbance (e.g. high-blood-pressure as a result of chronic increased Angiotensin) various cell alterations result in increased glycolysis and fetal like metabolism. Growth factors inhibit apoptosis, however, the increased activation of myc results in hypertrophy leading to further mechanical myocardial imbalance, which is the vicious circle finally leading to heart failure.
Aim of this experiment
In this studies the effect of 3-hydroxybutyrate (OHB) on untreated and hypertrophic H9c2 cells was investigated. Hypertrophy could be induced by phenylephrine (PE) which binds to the ß-adrenoreceptor and cross-activates caveolins, which further activates STAT3 and finally induces hypertrophic growth (4).
Since little is known about the effect of ketogenesis during the complex illness CHF it is interesting if OHB (and AAc - not in this experiments) improve, decrease or do not affect cardiomyocyte activity measured by using alamarBlue® and if they are a source of increased reactive oxygen species (ROS) generation. Additionally it was analyzed whether adrenergic stimulation and the supply of ketone bodies alter mitochondrial distribution and activity.
After establishment of a hypertrophic cardiomyocyte model including the effect of OHB on the cells the same experiments were performed by using primary cultures of card io myocytes isolated from spontaneous hypertensive rats (SH-R), which also develop hypertrophy over time and with primary cells obtained from SH-R treated with microcurrent.
Comparable experiments as described in this paper have been carried out by using P19 mesenchymal mouse cancer cells which can be differentiated into cardiomyocyte like cells in 1% DMSO; however their physiological properties were unsuitable to get conclusive results (data not shown)
Results
Hypertrophic Model
H9c2
Measurement of cellular dimensions showed, that cells treated with 62,5gM Phenylephrine (PE) have been with approximately 2.000 gm2 twice as big as untreated cells cultured under normal cell culture conditions. (Figure 2) To confirm the mechanism (4) via Caveolin-3 and ß- adrenergic stimulation immunohistochemical staining procedures against Caveolin-3 has been carried out (Figure 1).
Illustration not visible in this excerpt
These results are corresponding to the observations of Jeong et al. and confirm the established model of hypertrophic H9c2 cells.
Primary cardiomyocytes (SHR7)
SHR7 cells were isolated from a male 14 months old spontaneous hypertensive rat treated with microcurrent for 5 days. Immunohistochemical staining procedures against Caveolin-3 were performed similar to H9c2 cells. Untreated cells showed Caveolin-3 within the cytoplasm, as well as agglomeration at the cell membrane. With 62,5 pM phenylephrine stimulated cells showed caveolin-3 vesicles clearly within the cytoplasm. Interestingly treated cells as well as untreated SHR7 cells sporadically showed sickle-shaped caveolin-3 agglomeration at the plasma membrane.
Illustration not visible in this excerpt
Electrical Microcurrent treated primary (SHR7) cells
Electrical microcurrent treatment was achieved by electrodes placed into the medium and applied for 5 days. For negative control the same plate was used, however, without applying any current. HE-Staining showed that hypertrophic growth was diminished (Diagram 2). Caveolin-3 staining showed no difference compared to untreated cells. In both cases Caveolin-3 was located within the cytoplasm signaling hypertrophic growth.
Illustration not visible in this excerpt
[...]
Details
Seiten

31

Jahr

2010

ISBN (eBook)

9783640869084

ISBN (Buch)

9783640869558

Dateigröße

1.2 MB

Sprache

Englisch

Katalognummer

v168718

Institution / Hochschule

FH Campus Wien – Molekulare Biotechnologie

Note

2,0

Schlagworte