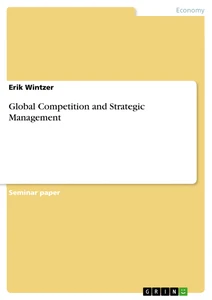 Global Competition and Strategic Management
Hausarbeit 2001 27 Seiten
Leseprobe
CONTENTS
1 Introduction
2 Fundamentals of Strategic Management
2.1 The Concept of Strategy in Business Life
2.2 Strategic Planning and Strategy Formulation
2.3 Strategic Analysis, Strategic Choice and Strategy Implementation
2.4 Managing by Strategy
3 Analyzing the Environment
3.1 The Internal Environment
3.2 The Analysis of Industry and Competition
3.3 The Macroenvironment
4 International Management Strategy
4.1 Corporate Strategies for Multinational Corporations
4.2 Market Share Goals
4.3 Global Competitive Advantage
5 Concluding Remarks
6 Acknowledgements
References
1 Introduction
D. Ricardo published in 1817 his theory of comparative advantage of nations. This theory declares that every country will gain from international trade if it concentrates in those products that it can generate more efficiently than other products. Certainly, to bring this advantage to work a country must be able to do business with any other country in the world. Today, this global competition has become reality.[1]
Globalization of business that began in the 1970s and matured in the 1990s, has replaced the concept of national exchanges with global transactions. Technology is the prime mover of globalization and globalization is a major mover of competition.[2] This paper is set out to examine the effect global competition has on the process of strategic management.
A key question in strategy research is why business corporations diverge in their conduct and profitability. Researchers have determined to view firms as autonomous entities, striving for competitive advantage from either external sources, or from internal resources and capabilities.[3]
Certainly, the objective of a corporation's strategy is achieving competitive advantage, but additionally, the strategy itself is a source of competitive advantage.[4] "When competition accelerates, so do the strategies of players."[5] The intensifying competition on the "world marketplace"[6] is a great challenge for strategic management. Understanding of how technology and globalization affect a firm's competitive positioning and creating global competitive advantage are the most important determinants of strategic management today.
It is the objective of this paper to employ some overall fundamentals of strategic management, to take a closer look at the globalized business environment, and to regard some significant aspects of international strategic management. It is explored how strategic management and globalization are linked.
2 Fundamentals of Strategic Management
Strategic management applies to managerial decisions that fuse the organization to its environment, guide internal activities, and concern organizational long-term performance. The strategy determines markets and products or services, it is about selecting where and how to compete, which organizational structure has to be established, how can employees be motivated, and how to allocate resources to create the greatest overall success.[7]
The intensifying competition in global markets causes a further need of understanding the strategic management process. This increase in competition influences the strategies of competing organizations decisively.[8]
2.1 The Concept of Strategy in Business Life
The point of implementing strategy is to fulfill stakeholder expectations in the long term, that means to handle the uncertain future. To accomplish this purpose, the strategy has to give consistency and direction to the individual decisions of an organization and should continually be adapted according to environmental change. However, there are no concrete rules to perform this assignment, formulating and implementing strategies base on special techniques, frameworks, concepts and, more or less, on intuition and experience.[9]
In business life strategy is about achieving competitive advantage[10] by responding to external opportunities and risks and internal conditions (see figure 2-1). It can be seen as the harmonizing of the actions of an organization to its environment.[11]
A strategy facilitates to allocate an organization's resources in order to reach the organization's objectives. Strategic decisions are based on predictable, unpredictable, and unknowable environmental changes. Thus, strategy has to be integrated in all managerial decisions and activities of a business corporation to anticipate environmental changes and actions of competitors.[12]
illustration not visible in this excerpt
Figure 2-1: The Basic Framework for Explaining the Profitability of a
Business
Source: Adapted from Hax/Majluf (1996), p. 5.
2.2 Strategic Planning and Strategy Formulation
Strategic planning is a chain of analytical and evaluative measures to formulate an intended strategy and the means of implementing it. Strategy formulation proposes to advert all of the crucial strategic issues. Actually, the process of strategic planning and strategy formulation differs in each corporation. However, the concept of the perspectives of strategy is valid for almost company. Basically, there are three intertwined perspectives of strategy: corporate, business, and functional.[13]
The corporate strategy deals with the decisions that concern the overall corporation, it occupies the highest level of strategic decision-making. Definitely, these decisions are not to be taken decentralized because suboptimization errors could be the consequence.[14]
In general, there are three corporate-level strategies:
- growth strategy (internal growth or external growth),
- stability strategy, or
- retrenchment strategy (turnaround, divestment, or liquidation).[15]
Business unit strategies, secondly, concentrate on improving the competitive situation of the corporation by asking how an organizational subsystem can compete in its business.[16] The business unit strategies are undoubtedly closely linked with the corporate strategy, and vice versa. Every business unit strategy has to be congruent to the corporate direction.[17]
Lastly, functional strategies do not merely combine the functional requirements (functions of operations, marketing, human resources, finance, and so on). Insisted by the corporate and business strategies, they comprise the capabilities considered necessary to balance customer value and competitive advantage.[18]
The sequence of formulating these particular strategies is not fixed, there is no specific hierarchy of strategy (see figure 2-2). The strategy formulation process can start at the corporate level (top-down strategic planning) as well as at the division level or the functional level (bottom-up strategic planning), furthermore, strategy can be formulated by an interactive approach between the levels.[19]
illustration not visible in this excerpt
Figure 2-2: Hierarchy of Strategy
Source: Wheelen/Hunger (1998), p. 20.
2.3 Strategic Analysis, Strategic Choice and
Strategy Implementation
Strategic management contains three interlinked elements: strategic analysis, in which the strategist tries to comprehend the strategic position of the corporation, strategic choice, that deals with the measures of accomplishment, and strategy implementation, which is concerned with bringing the strategy into effect and managing the changes required.[20]
Strategic analysis, firstly, considers the understanding of the organization's strategic position in terms of its corporate environment (internal and external), as well as the expectation and demand of stakeholders. Certainly, the development of the corporate environment affects the conditions upon choices are made. Thus, the intention of strategic analysis is to form a view of the most important internal and external influences facing the corporation.[21]
Secondly, strategic choice concerns identifying bases of decision-making (stakeholder expectations and other ambitions of the organization), creating strategic options, the evaluation of those options, and, of course, choosing between them. The starting point of strategic choice is to understand the corporate environment and the competencies of the organization.[22]
Strategy implementation, finally, deals with the transformation of strategy into organizational execution. There are several questions to answer in order to bring the strategy to work:
- Who is responsible for implementing the strategy?
- What changes in organizational structure and culture are necessary to support the strategy?
- How can the progress be supervised?[23]
[...]
---
[1] Wheelen/Hunger (1998), p. 311.
[2] Johnson/Scholes (1999), pp. 104-107.
[3] Gulati/Nohria/Zaheer (2000), p. 203.
[4] Luffman/Lea/Sanderson/Kenny (1996), p. 102.
[5] Parayre/Hurry (2001), p. 281.
[6] Wright/Kroll/Parnell (1998), p. 281.
[7] Houlden (1996), p. 13; Stahl/Grigsby (1997), p. 21.
[8] Johnson/Scholes (1999), p. 107; Parayre/Hurry (2001), pp. 281-282; Wright/Kroll/Parnell (1998), p. 6.
[9] Grant (1996), p. 3; Johnson/Scholes (1999), pp. 10-11; Maciariello/Kirby (1994), p. 317. The term
"stakeholder" is outlined, for example, in: Luffman/Lea/Sanderson/Kenny (1996), p. 27.
[10] Business corporations do, by all accounts, attempt to identify, create and leverage competitive
advantages. For further information see, for example, Porter (1996), pp. 61-78; Powell (2001), p. 875.
[11] Hax/Majluf (1996), p. 4; Johnson/Scholes (1999), p. 5.
[12] Hax/Majluf (1996), p. 37.
[13] Hax/Majluf (1996), pp. 24-28; Johnson/Scholes (1999), p. 51.
[14] Hax/Majluf (1996), pp. 24-25.
[15] Wright/Kroll/Parnell (1998), p. 93.
[16] The corporate strategy, on the other hand, addresses what business(es) the company should be in,
to this see, for example, Wheelen/Hunger (1998), p. 183.
[17] Hax/Majluf (1996), p. 25; Wright/Kroll/Parnell (1998), p. 135.
[18] Hax/Majluf (1996), p. 25; Stahl/Grigsby (1997), p. 187.
[19] Wheelen/Hunger (1998), p. 19.
[20] Johnson/Scholes (1999), p. 17.
[21] Ibid., pp. 17-19.
[22] Johnson/Scholes (1999), pp. 20-21.
[23] Johnson/Scholes (1999), pp. 22-23; Luffman/Lea/Sanderson/Kenny (1996), p. 192.
Details
Seiten

27

Jahr

2001

ISBN (eBook)

9783638110525

ISBN (Buch)

9783638637367

Dateigröße

608 KB

Sprache

Englisch

Katalognummer

v1708

Institution / Hochschule

Hochschule Schmalkalden, ehem. Fachhochschule Schmalkalden – Economics

Note

1,3 (A)