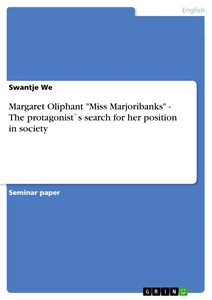 Margaret Oliphant "Miss Marjoribanks" - The protagonist`s search for her position in society
Seminararbeit 2010 12 Seiten
Leseprobe
Table of Contents
1. Introduction
2. Lucilla's Aims
3. Her Mission
3.1. Lucilla's Calculation
3.1.1. A Comfort to her Father
3.2. Popularity
3.2.1. Barbara Lake
3.2.2. Mrs Mortimer
3.2.3. Rose Lake
4. Steps of Emancipation
5. Lucilla and Marriage
6. Triumph or Failure
7. Lucilla vs. Jane Eyre
8. Conclusion
Literature
Primary Literature
Secondary Literature
1. Introduction
"(…) in such a case as hers, it was evidently the duty of an only child to devote herself to her father's comfort, and become the sunshine of his life" (Oliphant, 4).
Margaret Oliphant published almost a hundred novels and with 'Miss Marjoribanks' she created a masterpiece. The novel is about a young woman who tries to overcome the social boundaries of the Victorian era. The protagonist claims to act for her father's comfort but in some cases it is doubtful whether Miss Marjoribanks really "devotes herself to her father" (Oliphant, 4). It rather seems that she hides herself in the image of the caring daughter in order to protract other goals.
This paper deals with the topic "Miss Marjoribanks: A Woman's Search for her Position in Society" and will reveal some of Lucilla's calculating actions.
Since there are two papers on the topic I will confine myself to lining out Lucilla's aims, the steps of emancipation and I will compare Lucilla to Charlotte Brontë's "Jane Eyre".
2. Lucilla's Aims
Throughout the novel, the protagonist Lucilla Marjoribanks undergoes certain developmental stages and faces various challenges that define her social status and position.
Inferior to men by Victorian world order, Lucilla tries to overcome social boundaries and challenges social order. In this case, she undertakes different campaigns in order to discard the typical role of a woman in the Nineteenth century. She wants to expand her sphere which is limited to domestic arrangements according to the Victorian image of a woman. Beyond that she contrives to change not only her own situation but to reorganise society and refute stereotypical thinking. In order to realise this campaign, she aims to take on the role of the leading actor in Carlingford.
3. Her Mission
When returning home from Mount Pleasant after three years education, she starts her mission to change society.
While claiming repeatedly that her only aim is being a comfort to her widowed father, she takes on the role of the leading woman at home and tries to expand her influence from domestic areas to society. That means that she strives for popularity and control on society in order to cut down social borders. She wants to leave behind Victorian stereotypes and open people's minds for modern thinking.
Lucilla feels that she needs to change something and therefore strives for popularity. Popularity is necessary for her as a means of power. She has to become a woman people in Carlingford listen and look up to. That is why she plans her actions conscientiously. Never does she make any mistakes or acts contrary to her purposes but always keeps in mind any aspect that is involved into her actions. Lucilla plays all her roles perfectly, be it the role of the caring daughter or that of the attentive host. Be it her part as the upper middle-class woman who cares for benefiting the poor in society as she does with Barbara and Rose Lake. In this case, however, the reader cannot put aside the impression that Lucilla to some degree acts for her own profit.
3.1. Lucilla's Calculation
When she asks Barbara to accompany her on the piano with her beautiful voice one has the feeling that she aims to shine in the light of her duet partner. As for this self-admiration, Lucilla is always concerned about her effect on the people around her. She knows that a good reputation is the base for her success.
Her father plays a very important role in realising Lucilla's plan. She profits from his good reputation as the well off doctor in Carlingford whom everybody trusts in. Nobody would ever have doubted his solvency, but when he dies he turns out to be broke. This causes Lucilla a steep decline in reputation and reveals that she has been dependent on the reputation of her father all the time. Now that she stands there alone without any financial reserves, she finds herself thrown back to the bottom of society. She is no longer the woman that holds the floor in Carlingford but is urged to find a man to marry her.
Marriage is another important factor that influences Lucilla's life. She is determined not to marry before she has reached twenty nine years since she wants to concentrate on her mission only.
3.1.1. A Comfort to her Father
Throughout the novel Lucilla asserts that caring for her widowed father was the object of her life. She pretends to act according to what is best for him. When she points out statements like "oh papa, it would be no sacrifice […] if you would only let me be a comfort for you" (Oliphant, 10) the reader gets the impression that Lucilla completely devotes herself for her father.
After the death of her mother Lucilla is sent back to Mount Pleasant where she gets a high education. She even gains some travel experience when she travels to the French Alps and to Italy. This is a remarkable thing for a woman in the Victorian world where a woman's sphere is limited to domestic arrangements.
It is important for the doctor that his daughter receives a high education in order to make her an independent woman. Instead of seeking for a career Lucilla returns home after school education and decides to live with her father and be a comfort to him.
Taking into consideration the want of her father, the situation is a different one. First, he sends her back to school for the completion of her education. He does not want her to throw away her opportunities by staying with him without having finished school. Lucilla returns and overwhelms her father with her plans and her agility.
First, she arranges the drawing room the way she likes it not caring for the wishes of her father concerning the renovation. Then she takes her father's seat at the front of the table. He is confused but does not insist on his place. She constantly expands her influence and enjoys privileges due to her rising popularity in Carlingford.
Usually her father gave his Thursday evenings where he invited some people from Carlingford to dine with him. Lucilla violates this monopoly when she arranges her Thursday evenings with influential people coming. In this case she takes what was the doctor's routine for years.
Taking into consideration these facts, it is doubtful whether Lucilla Marjoribanks really devotes herself to her father's best. It rather seems that she kind of exploits his reputation in Carlingford and makes use of the status he enjoys. She pretends to return home because of her widowed father but in fact it is her mission to change society that protracts her back to Carlingford.
She wants to connect both, caring for her father and also gaining influence on the people around her. When Dr. Marjoribanks dies Lucilla's dependence from her father and his fortune becomes obvious. She used to think that he was a well off man and with his death he turns out to be broke. From one day to another she falls from the top of society to its bottom since she is unmarried and does not have any reserves. Now she has lost everything in one moment.
She thought she had made it to the leader in Carlingford, but then it becomes clear that her popularity had enjoyed the support of Dr. Marjoribanks' reputation all the time.
3.2. Popularity
When Lucilla holds her Thursday evenings she enjoys a certain celebrity. She is at the hub of society and brings the upper middle-class people of Carlingford together. Thus she is always informed about rumours, quarrels or other things going on. She is able to react specifically to the people since she absolutely knows about their current life situation. In addition, she has the feeling for people's needs and desires and is able to use this knowledge for her own profit. That is why she plays the role of the active young woman that cares for the weak in society. In this case she is always thinking about doing something good to others but also keeps in mind to what extend she can profit from her benefit. This profit mostly means the respect and appreciation of the people. It supports her popularity in Carlingford and also promotes her aims. For if people esteem her behaviour towards the weaker of society, they learn to esteem her as a person and will follow her on her mission. She wants to better the role of women and aims to act as the pioneer.
There are different occasions on which she consolidates her reputation and popularity by playing the role of the caring young lady.
3.2.1. Barbara Lake
One of the people Lucilla supports is Barbara Lake. She is the daughter of the drawing master and belongs to an artist family which usually does not class with the people Lucilla surrounds herself with.
When Lucilla notices that Barbara has a very nice voice she decides to make Barbara her duet partner for the dining evenings. In this case Lucilla, who has the weaker voice, aims to shine the brightest in front of her guests. She emphasises her affinity for Barbara pretending that she wants to integrate the outsider into company. The way she does this, however, reveals Barbara as a lower class woman. First, Lucilla tells Barbara and her female guests not to dress up for the dining evenings since she saw no need to impress any men. Barbara comes to Lucilla's party with a worn out dress that makes her look inferior to Lucilla, who wears an elegant dress of silk. Second, she notices the affinity between Barbara and Mr Cavendish and later uses her sensitivity for peoples' feels to reveal Barbara as woman without honour. However, Lucilla is never revealed as a calculating actor but always holds her role as the pure young lady that cares for her fellow men.
Regarding the affair of Cavendish and Barbara Lake, Lucilla is the one to be pitied in the end while people blame the two lovers for their impurity.
3.2.2. Mrs Mortimer
Another woman Lucilla supports is Mrs Mortimer. Dr Marjoribanks had sent for her to help Lucilla with her mourning after the death of his wife but the helping hand turned out to be mentally unstable. That is why Lucilla feels pity for the older woman and decides to help her. She gives her a job at a little school for employment as well as purpose to offer Mrs Mortimer a perspective in life. Lucilla visits her regularly and constantly cares for her protégé.
[...]
Details
Seiten

12

Jahr

2010

ISBN (eBook)

9783640902163

ISBN (Buch)

9783640902118

Dateigröße

469 KB

Sprache

Englisch

Katalognummer

v170861

Institution / Hochschule

Universität Vechta; früher Hochschule Vechta – Intitut für Geistes- und Kulturwissenschaften

Note

1

Schlagworte