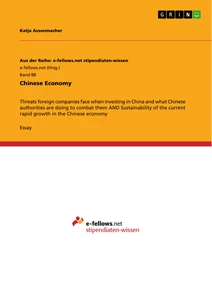 Chinese Economy
Threats foreign companies face when investing in China and what Chinese authorities are doing to combat them AND Sustainability of the current rapid growth in the Chinese economy
Essay 2010 27 Seiten
Leseprobe
Table of content
Table of content
List of tables
List of abbreviations
Threats foreign companies face when investing in China and what Chinese authorities are doing to combat them
1. Intoduction
2. Threats
A. Intellectual property rights
B. Corruption
C. Local competitors
D. Foreign competitors
E. Protectionism
3. Measures
A. Introduction
B. Protecting Intellectual Property Rights
C. Combating Corruption
D. Making Local Competition fairer
E. Allowing for fair Foreign Competition
F. Reducing Privileges through Protectionism
Reference List
Sustainability of the current rapid growth in the Chinese economy
1. Introduction
2. Factors influencing growth
A. Demography
B. Country Politics
C. Country Economics
D. Economic Institutions
E. Incentives
F. Technology
Reference List
List of tables
Table 1 Threats for foreign businesses in China with case examples
Table 2 Threats for foreign businesses in China and governmental measures to combat them
Table 3 Influencers of economic growth and their evaluation in China
List of abbreviations
Abbildung in dieser Leseprobe nicht enthalten
Threats foreign companies face when investing in China and what Chinese authorities are doing to combat them
1. Intoduction
In 1978 China introduced the Open Door Policy which was the first step to open up the Chinese market to international trade. The economic reforms during the 1980s caused China's growth rate to increase rapidly. The policy encouraged many Chinese firms to export their goods to Western companies and also Foreign Direct Investments (FDI) increased heavily. (Wei, 1995) China's entry to the World Trade Organisation (WTO) in 2001 the business opportunities for foreign companies in China grew. Western firm are keen to enter the Chinese market and to make use of these opportunities in the future. (Al-Khatib, Vollmers and Liu, 2007)
However, foreign firms have to be aware of the threats a development of the Chinese market brings along. Companies have to find ways to manage the risks of Intellectual Property Rights Infringement, Corruption, Local and Foreign Competitors as well as Protectionism. As Chinese authorities recognise the benefits of globalization, influences by and in cooperation with the WTO and APEC, they aim at better international acceptance and offer better and fairer conditions to foreign businesses coming to China.
2. Threats
Abbildung in dieser Leseprobe nicht enthalten
Table 1 Threats for foreign businesses in China with case examples
A. Intellectual property rights
One of the threats foreign companies face when investing in China is the infringement of intellectual property rights (IPR). This refers to the issue of "unauthorized manufacturers blatantly and consistently use famous trademarks to sell their products and profit from well-recognized brand names͘ " (Trainer, T.P., 2002) According to Betts (2004) two-thirds of all pirated or counterfeited goods worldwide come from China. To foreign firms investing in China this is a problem because they are at the risk that Chinese partners use the company's knowledge for its own purposes͘ The major sectors for Chinese counterfeiting products are replacement car parts, cigarette production and distribution and pharmaceuticals (Navarro, P., 2007)
For example the established British brand Burberry largely operates through franchisees in China. The company chose this approach mainly to overcome its lack of market knowledge in China. According to Burberry (2010) the main issue associated with this is the "lack of direct control and transparency and as the Group moves into increasingly higher risk locations the operating and reputational risk increases".
B. Corruption
According to the annual Corruption Perception Index, China ranks 78 out of 178 countries (with a score of 3.51 ). The US as a reference scores 7.1 and is much cleaner than China. These differences can endanger foreign companies investing in China.
"Within Chinese culture itself, there are, indeed, moral parameters to distinguish morally proper gift giving from bribery and corruption͘" (Steidlmeier, 1999)
However, it is not an easy subject for foreign businesses to understand this difference. In the US the 'Foreign Corrupt Practices ct' (1977) prohibits any payments to foreign government officials. This puts foreign companies in a difficult position because they makes it difficult for two reasons, firstly the foreign company has to create an understanding of the Chinese perception of gifts and learn to distinguish gift giving from bribery and corruption. Secondly, even if the foreign company manages to comprehend this, it can still have a negative effect on their reputation on their home market if their company is associated with what is considered corruption in the home country. (Steidlmeier, 1999)
The US company Johnson&Johnson admitted in 2007 that they were involved in corruption in China. Analysts assume that the company admitted the corruption after being accused by the Chinese press as an "attempt to contain the damage, since a company found guilty of a felony could be barred from Medicare, the U.S. federal insurance program for the elderly." (Steenhuysen, J., 2007) As this case proves, the participation in corruption in China puts businesses' rights and reputation in their home country at a high risk.
C. Local competitors
As on other markets, foreign companies will face competition on the Chinese market. It is crucial for the businesses to understand who their local competitors are. The local businesses have a strong competitive advantage, the knowledge about the market.
The British retailer Tesco for example has entered the Chinese market, the company recognised the threat of little market knowledge and took actions to overcome this obstacle2. According to Ken Towle who is the head of Tesco China:
"We have the scale and expertise but not the local experience. That's why we teamed up with Hymall - and why more than half of our senior managers are local͘" (Wheatley, C., 2007)
D. Foreign competitors
Foreign companies can choose to invest in China in order to develop the Chinese market to expand.
"The expanding middle class in China is indicative of the country's economic success and is extremely important to both local and international companies due to their significant purchasing power" (Hodgson, 2007)
According to McKinsey specialists Farrell, Gersch and Stephenson (2006), the Chinese middle class is especially looking for luxury goods with a Western standard which are seen as very prestige. Foreign companies do not have to adapt their products, which makes it easy and attractive for businesses to go there. The main threat on the Chinese consumer market are other foreign companies who also want to develop the Chinese market. In order for a business to be successful the main focus has to lie on creating a competitive advantage through reputation.
The luxury design brand Thomas Lyte is looking at the China. The company appears to have an understanding about the importance of a unique selling proposition to be successful on the Chinese consumer market. According to Kevin Baker, founder of the brand:
"In China there are 136 million middle-class luxury goods buyers and that is only going to grow. China is already the second largest luxury market in the world and they have an absolute passion to buy English. The idea that the goods are actually made in England is fundamental to this passion." (Stone, A., 2010)
E. Protectionism
Another threat foreign firms face when investing in China are the protectionist measures implemented by Chinese authorities "in order to boost its domestic firms and lock out foreign competitors͘" (Moore, 2010) Founder and managing director of the China Market Research Group, Shaun Rein (2010), goes as far as advising foreign firms not to try entering in the highly controlled sectors because of the year long procedures and the amount of red tape they would have to face.
One firm that had to face protectionism in China was Coca-Cola, in September 2008 the company announced that it intended to purchase China Huiyuan Juice Group Limited to strengthen their business on the Chinese market (The Coca-Cola Company). However, the acquisition was rejected by the Chinese Ministry of Commerce (MOC) claiming that it would have a negative impact on the country's drinks market (Wong and Cheng, 2009)͘ ccording to Renee Tai, food and beverage analyst at CIMB-GK Securtities (HK) ]Ltd, this decision by authorities was a measure to protect own Chinese brands3.
3. Measures
Abbildung in dieser Leseprobe nicht enthalten
Table 2 Threats for foreign businesses in China and governmental measures to combat them
A. Introduction
The Asia-Pacific Economic Cooperation (APEC) is a forum that facilitates the growth of the Asia- Pacific region. In 1991 China entered the APEC which helped the country's cooperation with other Asia Pacific countries. The progresses the country made though its work in the multilateral organisation APEC also laid the foundation for the entry in the WTO. (Xiaoyan, 2004)
B. Protecting Intellectual Property Rights
As discussed earlier, "such intellectual property theft has also emerged as a major point of conflict between China and many foreign governments" (Navarro, P͘, 2007) ccording to Cox and Sepetys (2006) the Chinese authorities are not ambitious to solve this problem. They further claim that most of the actions against the infringement of intellectual property rights are due to external foreign pressure and some because of internal economic objectives. The infringement of intellectual property is a big issue and
"the protection of intellectual property rights is a prerequisite for technology and know-how to be transferred smoothly and better utilised in other countries. It is well perceived by all PEC members͘" (Yamazawa, I͘ and Urata, S͘, 2000, p͘63)
The penalties enforced in 2003 for various violations of intellectual property laws amounted to 0.05 percent of the sales revenues losses that were estimated due to this infringement. In 2005 the APEC Anti-Counterfeiting and Piracy Initiative was announced. The main aim is to:
"reduce trade in counterfeit and pirated goods and to effectively combat transnational networks that produce and distribute such goods through strong and effective border and civil or criminal intellectual property enforcement measures, while facilitating legitimate trade"͘ ( PEC, 2005)
Another approach can be seen in Hong Kong, where the "No Fakes Pledge" scheme was implemented which increases the awareness of intellectual property infringement. As proof of the promise of operating an honest business, participants are allowed to label themselves with this pledge. This is an agreement which does not make use of legal penalties, but relies on an ethical approach and the self-cleaning function of it. (The Government of the Hong Kong Special Administrative Region, 2004)
[...]
---
1 Transparency International: "The 2010 Corruption Perceptions Index shows that nearly three quarters of the 178 countries in the index score below five, on a scale from 10 (highly clean) to 0 (highly corrupt). These results indicate a serious corruption problem͘"
2 The Chinese consumer in general have fewer fridges, 'so many buy small amounts of food most days, spending an average of around 80 yuan (£5.25). The tills are arranged for customers who use baskets and pay cash͘' (Wheatley, C., 2007)
3 "Drinks are not politically sensitive products, but it's purely political͘"
Details
Seiten

27

Jahr

2010

ISBN (eBook)

9783640955251

ISBN (Buch)

9783640954896

Dateigröße

1.4 MB

Sprache

Englisch

Katalognummer

v174868

Institution / Hochschule

Ashcroft International Business School Cambridge

Note

1,3

Schlagworte