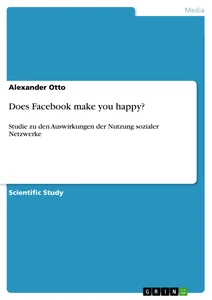 Leseprobe
Table of Contents
Introduction
Methods
Sample
Procedure
Measures
Plan of Analyses
Descriptives
Hypotheses Testing
Conclusion
References
Introduction
One of the newer trends in the short history of the Internet are Social Networking Sites (SNS), which at the same time might be the future centre of online interaction. In the field of many social networks, it is Facebook that stands for a whole branch. And although users in the United States seem to visit Facebook less in beginning 2011 (AFP, 2011), the Palo Alto based company still reportedly has 600 million monthly active users (Carlson, 2011) and is therefore by far the worlds' leading SNS.
Besides of communicating in the sense of sending text messages, SNS (and especially Facebook) allow their users to interact with other people, companies and public persons like politicians or artists. There are multiple new means of interaction, which range from mentioned text messages to video and picture posting in various channels, separated by the amount of publicity that wants to be reached. Most of these means of interaction are related to one person or group which is addressed by the messages. Being a member of SNS often includes the presentation of your own person using a profile. Therefore, communicating and interacting on SNS includes a personal sphere, which may be related direct to the users' profile or indirect to the users' statements published.
Consequently to these assumptions, using SNS is able to directly affect the users' mood and emotions. This research projects aims to investigate, by which kind and to what extent the usage of SNS influences its users daily live and their well-being in general. SNS are mostly seen as a positive extent of our modern lifestyle, but there might be negative ef- fects on users as well.
The following examples for behaviour influenced by SNS may illustrate the research purpose. More introvert people might see SNS as a chance to unclench themselves, while extrovert people are dissatisfied with the amount of reactions they receive. And it is quite sure that SNS do influence our lives, but does this only apply to heavy users? Which kind of feedback on the users' activities on SNS does affect their well-being?
Research Question and Hypotheses.
Subsequently to the remarks and questions above, the following research question is put into words: Which effects do different types of SNS behaviors have on peoples ' well-being (life-satisfaction, self-esteem, loneliness)? This RQ leads to a number of hypotheses:
- H1: "Active" SNS behaviours lead to more life-satisfaction, more self-esteem, and less lone- liness
- H2: People who are more active on SNS receive more positive feedback (more comments, more likes)
- H3: People who receive more positive feedback on SNS are more satisfied with their lives, have more self-esteem, and are less lonely
- H4: People who post about a positive experience online and receive feedback estimate this experience as more positive and important than people who did not post about a positive experience online.
- H5: People in a relationship or married are less active on SNS and receive less feedback.
- H6: Female singles are more active on SNS and receive more feedback than females in a relationship or married, while marital status does not make a difference for men.
Methods
The methods section covers descriptions of the sample within the data was collected, the actual procedures of data collection and finally the measurements used in this study.
Sample
The sample employed for this research project consists of international young adults using Facebook. We focused on young adults (18 - 29), because they seem to be the main users of Facebook. 291 participants started the main part of the survey, but only 207 partici- pants completed it. Of the 207 participants, 84 completed both the main survey and the follow-up survey. The respondents mean age is 24.19 (SD = 2.38) with 72 males (34.8%) and 135 females (65.2%). 55.6 per cent (115) of the participants answered "studying" to the question of their main current occupation, 48.6 per cent (80) "working" and 5.8 per cent (12) were unemployed at the moment participating the survey. The nationality of the respondents shows a high variety, with the largest group coming from Europe (82.1%).
Procedure
Since there was only a very short time span for conducting the study, we chose a cross- sectional design combined with a follow-up survey instead of a longitudinal design. Partic- ipants entered a personal code to identify themselves and enable us to merge their an- swers of the main survey and the follow-up survey. This code does not allow any further identification of personal data, so privacy protection is ensured.
As our sample consists of registered Facebook users, an online survey with a selfcompletion questionnaire seems to best suited. The disadvantages of online surveys, like the limitation to people online and therefore e.g. a possible shortened age group can be neglected. Both surveys were created with Qualtrics Survey Software. The validation option "Force response" was applied to all questions to ensure that participants cannot skip questions or enter invalid data, e.g. text where we asked for numbers.
As described in the introduction, we focused on Facebook as the leading SNS. Therefore, the group of researchers used Facebooks means of communication to recruit the participants and sending them the link to the survey. Participants where either contacted via private messages or by sharing the link on walls. The main survey was launched and the link distributed on Thursday June 16th 2011. After recording about 200 responses on Monday June 20th, the main survey was deactivated and the link for the follow-up survey distributed. Finally, the follow-up survey was closed on Friday June 24th.
Measures
The measures that were employed in this research project consist either of already existing, partially adopted scales or are newly developed. In the following section, I will describe these measures and give examples for key items. The order of measures described below does not represent the order of questions in the questionnaire.
Facebook usage.
Facebook usage was entirely new developed by the group of researchers. It consists of eight questions, starting with general Facebook usage: "How often do you use Facebook?" (M = 7.24, SD = 1.47). The response categories for this and the two following questions are " Never " (1), "Less than once a month" (2), "Once a month" (3), "Several times a month" (4), "Once a week" (5), "Several times a week" (6), "Once a day" (7) and " Several times a day " (8). A more detailed question on user-activities on Facebook ("How often do you do the following actions on Facebook") consists of 14 items is following (see table 1). The summed up scale has a Cronbachs' alpha of .90 (M = 4.42, SD = 1.22). The question there- after asks "How often do you receive feedback on Facebook?" (M = 5.04, SD = 2.28).
illustration not visible in this excerpt
Table 1: 14 items measuring frequency of activities on Facebook
In an open question, participants filled in the number of hours spend on Facebook per week (M = 5.65, SD = 7.44). The responses Item Mean Check your profile 5.46 Standard Deviation 2.19 can be grouped in three groups Check profiles of others 5.60 1.90 with the value Low (1, 33%), Me- Update your profile 2.74 1.38 dium (2, 37.8%) and High (3, Post pictures 2.68 1.23 26.6%). Another question deals Chat with someone on Facebook 4.28 2.37 with the usage of Facebook via Send messages using Facebook smartphone has dichotomous response categories [yes (1) / no (2) ] with M = 1.5.
The next question covers the par- Use the "like" function 5.53 1.88 ticipants' satisfaction with the Check the news feed 6.52 2.13 amount of feedback received ("Are you satisfied with the amount of feedback you get on your profile?"). This is meas- ured on a Likert scale with seven response categories ranging from " Extremely dissatisfied " (1) to " Extremely satisfied " (7) (M = 4.58, SD = 1.4).
Facebook usage measures end with two more general questions. The first one "How important is Facebook for you?" (M = 3.6, SD = 1.4) employs seven response categories ranging from "Extremely unimportant " (1) to " Extremely important " (7). "How much do you like Facebook?" (M = 4.67, SD = 1.32) is the last question of this block with response categories ranging from " Do not like at all " (1) to " Like a lot " (7).
Rating of Events.
The measurement Rating of Events consists of 10 que]stions and wants to find out about a respondents experience in the last two days and this was communicated. The follow-up survey (see Procedure) includes the exactly the same questions besides the question on how participants shared this event on Facebook.
The block can be split into three parts. Part 1 (three Questions) covers general questions about the event, part 2 (four Questions) deals with the way it was shared on Facebook and the three left questions in the last part ask the participant to judge the feedback received on his or her shared information.
General Information about the event.
The first question is an open text question and asks the participant to describe the event with five words: "Could you please think about the most positive event you experienced during the past two days? What was it?".
The second and third questions use the slider below (positivity rating is shown below by Figure 1). Participants indicated their current feelings about the event they described above ("How would you rate this event?"). They were able to do this on an open scale ranging from " Pretty normal " (0) to " Best thing ever " (100, Question two, M = 61.6, SD = 24.77) respectively from " Unimportant " (0) to " Very important " (100, Question three, M = 68.74, SD = 25.24). The two variables can additionally be used summed up to a single scale for the main survey (M = 65.17, SD = 22.87, Cronbachs' alpha = .81) and for the follow-up as well (M = 65.85, SD = 21.57, Cronbachs' alpha = .88).
Figure 1: Slider used to indicate current feelings about the event
illustration not visible in this excerpt
Event shared on Facebook.
The first question of this part asks "Did you tell anybody about the event (e.g. in a conver- sation, on the phone)? (Facebook posts NOT included)". The dichotomous response cate- gories are "Yes" (1) or "No" (2) (M = 1.17, SD = 0.38). This question is used as a filter ques- tion: participants answering "No" will skip the next question (two), which deals with the enthusiasm of non-Facebook feedback ("Please indicate the enthusiasm of the feedback you got from the people you told about the event."). For this question a seven point Likert scale with response categories ranging from " Not enthusiastic at all " (1) to " Extremely en- thusiastic " (7) is used. Since only participants who answered "yes" to the previous ques- tion were included, the number of responses was reduced (N = 171, M = 5.13, SD = 1.25).
[...]
Details
Seiten

19

Jahr

2011

ISBN (eBook)

9783640991068

ISBN (Buch)

9783640991273

Dateigröße

511 KB

Sprache

Englisch

Katalognummer

v177431

Institution / Hochschule

Universiteit van Amsterdam – Graduate School of Communication

Note

7,8 (von 10)

Schlagworte