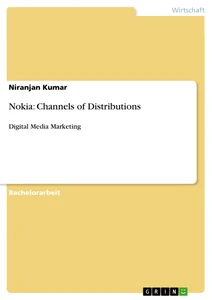 Nokia: Channels of Distributions
Digital Media Marketing
Bachelorarbeit 2011 101 Seiten
Leseprobe
Table of content
1. Introduction
2. Device Business
2.1 Service Business
2.2 Infrastructure Business
3. R & D Centers
4. Industry Overview
5. Some Firsts for Nokia In India
6. Some Achievements for Nokia
7. Total Market size
7.1 Handset Market share
7.2 The Stat of the world wide mobile phone market
7.3 World wide mobile terminal sales to end users
7.4 World wide smart phones sales
7.5 Nokia still top dog in smart phone market
8. Networking equipment
9. First mobile phones
10. Involvement in GSM
11. Milestones and releases
12. Devices
13. Services
14. Solutions
15. Markets
16. Subsidiaries
17. Online Services
17.1 mobi and mobile web
17.2 OVI
17.3 My Nokia
17.4 Comes with Music
17.5 Nokia Messaging
18. Controversy
19. Nokia Interactive advertising
20. Nokia Corporation
21. Channel Support and coordination to sales strategies
22. Intensive distribution
22.1 Extensive distribution
22.2 Selective distribution
22.3 Exclusive distribution
23. Vertical Integration
24. Market strategy for Nokia
25. Nokia Succeed in the Indian Mobile Market
26. The Power of focus
27. The distribution Age
28. Investment in manufacturing
29. Building the Brand
30. Product for India
31. An Expanding Market
32. Work performed by marketing channels
33. Distribution Channel flows
33.1 Physical flow
33.2 Title flow
34. Channel level
34.1 One level channel
34.2 Two level channel
34.3 Three level channel
35. Research Methodology
36. Research process
37. Method of data collection
38. Collection of data through questionnaire
39. Questionnaire
40. Conclusion
41. Limitations
42. Suggestion
43. Biblography
1. INTRODUCTION
Nokia has played a pioneering role in the growth of cellular technology in India, starting with the first-ever cellular call a decade ago, made on a Nokia mobile phone over a Nokia-deployed network.
Nokia started its India operations in 1995, and presently operates out of offices in New Delhi, Mumbai, Kolkata,Jaipur,Lucknow,Chennai, Bangalore, Hyderabad, Pune and Ahmedabad. The Indian operations comprise of the handsets business; R&D facilities in Bangalore, Hyderabad and Mumbai; a manufacturing plant in Chennai and a Design Studio in Bangalore.
Over the years, the company has grown manifold with its manpower strength increasing from 450 people in the year 2004 to over 15000 employees in March 2008 (including Nokia Siemens Networks). Today, India holds the distinction of being the second largest market for the company globally.
2. Devices business
Nokia has established itself as the market and brand leader in the mobile devices market in India. The company has built a diverse product portfolio to meet the needs of different consumer segments and therefore offers devices across five categories ie. Entry, Live, Connect, Explore and Achieve. These include products that cater to first time subscribers to advanced business devices and high performance multimedia devices for imaging, music and gaming.
Nokia has been working closely with operators in India to increase the geographical coverage and lower the total cost of ownership for consumers. Today, Nokia has one of the largest distribution network with presence across 1,30,000 outlets. In addition, the company also has Nokia Priority Dealers across the country and Nokia 'Concept stores' in Bangalore, Delhi, Jaipur, Hyderabad, Chandigarh, Ludhiana, Chennai, Indore and Mumbai to provide customers a complete mobile experience.
2.1 Services business
With the global launch of Ovi, the company's Internet services brand name, Nokia is renewing itself to be at the forefront of the convergence of internet and mobility. From being a product centric company, Nokia is now focusing to become solutions centric. The strategic shift is built on Nokia's bid to retain consumers and empower Nokia device owners to realise the full potential of the Internet. Nokia will build a suite of Internet based services like Nokia Maps, the Nokia Music Store and Nokia N-Gage around its Ovi brand.
2.2 Infrastructure business
Nokia Siemens Networks is a leading global enabler of communications services. The company provides a complete, well-balanced product portfolio of mobile and fixed network infrastructure solutions and addresses the growing demand for services with 20,000 service professionals worldwide. Its operations in India include Sales & Marketing, Research & Development, Manufacturing and Global Networks Solutions Centre. Headquartered in Gurgaon, Nokia Siemens Networks has 47 offices and presence in over 170 locations across the country.
3. R & D centers
Nokia has three Research & Development centers in India, based in Hyderabad, Bangalore and Mumbai. These R&D hubs are staffed by engineers who are working on next-generation packet-switched mobile technologies and communications solutions to enhance corporate productivity.
The Center in Bangalore, the biggest R&D site in the country comprises S60 Software Organization, Common Technologies, Next Generation now called Maemo Software, Productization and Software & Services.
4. INDUSTRY OVERVIEW
Nokia Corporation is a Finnish multinational communications corporation that is headquartered in Keilaniemi, Espoo, a city neighboring Finland's capital Helsinki.Nokia is engaged in the manufacturing of mobile devices and in converging Internet and communications industries, with over 123,000 employees in 120 countries, sales in more than 150 countries and global annual revenue of EUR 41 billion and operating profit of €1.2 billion as of 2009 It is the world's largest manufacturer of mobile telephones: its global device market share was about 39% in Q4 2009, up from 37% in Q4 2008 and 38% in Q3 2009, and its converged device market share was about 40% in Q4, up from 35% in Q3 2009. Nokia produces mobile devices for every major market segment and protocol, including GSM, CDMA, and W-CDMA (UMTS). Nokia offers Internet services such as applications, games, music, maps, media and messaging through its Ovi platform. Nokia's subsidiary Nokia Siemens Networks produces telecommunications network equipment, solutions and services Nokia is also engaged in providing free digital map information and navigation services through its wholly-owned subsidiary Navteq.
Nokia has sites for research and development, manufacture and sales in many countries throughout the world. As of December 2009, Nokia had R&D presence in 16 countries and employed 37,020 people in research and development, representing approximately 30% of the group's total workforce. The Nokia Research Center, founded in 1986, is Nokia's industrial research unit consisting of about 500 researchers, engineers and scientists. It has sites in seven countries: Finland, China, India, Kenya, Switzerland, the United Kingdom and the United States. Besides its research centers, in 2001 Nokia founded (and owns) INdT – Nokia Institute of Technology, a R&D institute located in Brazil. Nokia operates a total of 15 manufacturing facilities located at Espoo, Oulu and Salo, Finland; Manaus, Brazil; Beijing, Dongguan and Suzhou, China; Farnborough, England; Komárom, Hungary; Chennai, India; Reynosa, Mexico; Jucu, Romania and Masan, South Korea Nokia's Design Department remains in Salo, Finland.
Nokia is a public limited liability company listed on the Helsinki, Frankfurt, and New York stock exchanges. Nokia plays a very large role in the economy of Finland; it is by far the largest Finnish company, accounting for about a third of the market capitalization of the Helsinki Stock Exchange (OMX Helsinki) as of 2007, a unique situation for an industrialized country. It is an important employer in Finland and several small companies have grown into large ones as its partners and subcontractors. Nokia increased Finland's GDP by more than 1.5% in 1999 alone. In 2004 Nokia's share of the Finnish GDP was 3.5% and accounted for almost a quarter of Finland's exports in 2003.
In recent years, Finns have consistently ranked Nokia as one of the best Finnish brands. In 2008, it was the 27th most respected brand among Finns, down from sixth place in 2007.] The Nokia brand, valued at $34.9 billion, is listed as the fifth most valuable global brand in the Interbrand/BusinessWeek Best Global Brands list of 2009 (first non-US company). It is the number one brand in Asia (as of 2007) and Europe (as of 2009), the 41st most admirable company worldwide in Fortune's World's Most Admired Companies list of 2010 (third in Network and Other Communications Equipment, seventh non-US company), and the world's 85th largest company as measured by revenue in Fortune Global 500 list of 2009, up from 88th the previous year. As of 2009, AMR Research ranks Nokia's global supply chain number six in the world.
5. Some firsts for Nokia in India
1995 – First mobile phone call made in India on a Nokia phone on a Nokia network
1998 - Saare Jahaan Se Acchha, first Indian ringtone in a Nokia 5110
2000 - First phone with Hindi menu (Nokia 3210)
2002 - First Camera phone (Nokia 7650)
2003 - First Made for India phone, Nokia 1100
2004 - Saral Mobile Sandesh, Hindi SMS on a wide range of Nokia phones
2004 - First Wi-fi Phone- Nokia Communicator (N9500)
2005 – Local UI in additional local language
2006 – Nokia manufacturing plant in Chennai
2007 – First vernacular news portal
6. Some Achievements for Nokia
- Ranked No 1 Most Trusted Brand Survey by Brand Equity, 2008
- Ranked the No 1. MNC in India by Businessworld, India's leading business weekly, 2006
- Ranked as the No. 1 telecommunications equipment vendor in the country by Voice & Data for five consecutive years –2008, 2007, 2006,2005 and 2004
- Ranked as the 9th most powerful brand by Millward Brown's BrandZ 2008
- Ranked world's 4th most valuable brand by Interbrand, 2007
- Ranked Asia's most trusted brand by the Media-Synovate, 2006
Handset Market Share
- Nokia: 59.5%
- Sony: 8.1%
- Samsung: 7%
- Motorola: 5.9%
- Nokia said on Friday the cellphone market totaled 1.26 billion phones last year, above its earlier forecast of 1.14 billion, and reduced its share of sales to 34 percent from an earlier forecast of 38 percent.
- Research group Gartner said the grey market -- mostly in China, India and Latin America -- totaled 145 million phones last year.
- Nokia said new measurement tools enable it to better estimate the number of handsets being sold by some new players.
- "These include vendors of legitimate, as well as unlicensed and counterfeit, products with manufacturing facilities primarily centered around certain locations in Asia and other emerging markets," Nokia said.
- Nokia repeated it expected the overall 2010 phone market to grow 10 percent while its market share would be unchanged at 34 percent.
- The comments boosted Nokia shares, which trimmed an earlier high of 10.91 euros to settle at 10.80, up 2 percent, by 1539 GMT.
- "This is a good thing for Nokia because it is really showing that they want to measure the real market and grey market has been a big driver in 2009," said Gartner analyst Carolina Milanesi.
- "It is an opportunity for them to go after and try and actually win over users in that segment as well," he said.
7.2 The State Of The Worldwide Mobile Phone Market, 2009
illustration not visible in this excerpt
Gartner just released a report highlighting the state of the mobile phone worldwide market for 2009. In terms of units sold, Nokia leads, unsurprisingly, given its history. In the smartphone market share segment, Nokia, through its Symbian operating system, leads again, again unsurprisingly. What is again unsurprising is the fact that Nokia lost market share both in terms of the units shipped, as well as smartphone market share. In terms of units shipped, Nokia lost 2.2%, and 5.5% in terms of its smartphone market share.
7.3 Worldwide Mobile Terminal Sales to End Users in 2009 (Thousands of Units)
Abbildung in dieserLeseprobenichtenthalten
7.4 Worldwide Smartphone Sales to End Users by Operating System in 2009 (Thousands of Units)
Abbildung in dieserLeseprobenichtenthalten
7.5 Nokia Still Top Dog In Smartphone Market, But Is Bleeding Share
Gartner, a global market research firm, reported the smartphone market segment results recently for the whole of 2008. As expected, Nokia shipped the most units, with around 61 million units (that's not a lot is it, judging by the fact that a high percentage of the world's population now own cellphones, but this is the smartphone market we're talking about, so the market is much smaller). This translates to around 44% market share, more than twice the share of its closest competitor, Research in Motion – "RIM" (makers of the Blackberry) with around 17%. However, Nokia's market share has been declining of late, as in 2007, its market share was around 49% and has been in steady decline recently. Bad news for Nokia indeed, but not especially surprising, given that its competitors have introduced a slew of new products and new competitors have been slowly building their own momentum.
illustration not visible in this excerpt
In particular, Apple and RIM recorded impressive year-on-year growth, which mainly came at Nokia's expense. Gartner reports that Nokia higher end N-series smartphones are facing increasingly stiff competition from RIM's Blackberries as well as Apple's iPhone. When Palm's Pre is finally unleashed, I think it's safe to say that Nokia's market share is going to decline even further. It's probably in Nokia's best interests to get the latest N series phones out the door as quickly as possible. Perhaps its flagship E series phones need to be refreshed as well. The other challenge comes in the form of the very gloomy outlook for the global economy – so it looks like Nokia is facing a double whammy of increasingly serious competition and a tough operating environment (although, to be fair, its competitors are facing this as well). The surprising item in the market share list was the inclusion of Samsung – from a share of 1.8% the previous year, it jumped to 4.2% last year, due to the success of its Omnia handset. If that's what they can do with only one handset, imagine what can happen if Samsung put their minds to it and releases more smart handsets. More headache for Nokia, especially seeing that Samsung is going to position its OmniaHD product directly against the Nokia N97. If Samsung manages to make this happen quickly, and a reasonable price point, I foresee Nokia's mindshare in the eyes of consumers quickly evaporate. Come on Sammy – get it out the door quickly, and show us what the OmniaHD can do, and if it can do it better than Nokia's own N97!
illustration not visible in this excerpt
The Nokia House, Nokia's head office located by the Gulf of Finland in Keilaniemi, Espoo, was constructed between 1995 and 1997. It is the workplace of more than 1,000 Nokia employees.[23]
8. Networking equipment
In the 1970s, Nokia became more involved in the telecommunications industry by developing the Nokia DX 200, a digital switch for telephone exchanges. In 1982, a DX 200 switch became the world's first microprocessor controlled telephone exchange and the first fully digital exchange to be taken into service in Europe. The DX 200 became the workhorse of the network equipment division. Its modular and flexible architecture enabled it to be developed into various switching products. In 1984, development of a version of the exchange for the Nordic Mobile Telephony network was started.
For a while in the 1970s, Nokia's network equipment production was separated into Telefenno, a company jointly owned by the parent corporation and by a company owned by the Finnish state. In 1987, the state sold its shares to Nokia and in 1992 the name was changed to Nokia Telecommunications.
In the 1970s and 1980s, Nokia developed the Sanomalaitejärjestelmä ("Message device system"), a digital, portable and encrypted text-based communications device for the Finnish Defence Forces. The current main unit used by the Defence Forces is the Sanomalaite M/90 (SANLA M/90).
9. First mobile phones
illustration not visible in this excerpt
The Mobira Cityman 150, Nokia's NMT-900 mobile phone from 1989 (left), compared to the Nokia 1100 from 2003. The Mobira Cityman line was launched in 1987.
The technologies that preceded modern cellular mobile telephony systems were the various "0G" pre-cellular mobile radio telephony standards. Nokia had been producing commercial and some military mobile radio communications technology since the 1960s, although this part of the company was sold some time before the later company rationalization. Since 1964, Nokia had developed VHF radio simultaneously with Salora Oy. In 1966, Nokia and Salora started developing the ARP standard (which stands for Autoradiopuhelin, or car radio phone in English), a car-based mobile radio telephony system and the first commercially operated public mobile phone network in Finland. It went online in 1971 and offered 100% coverage in 1978.
In 1979, the merger of Nokia and Salora resulted in the establishment of Mobira Oy. Mobira began developing mobile phones for the NMT (Nordic Mobile Telephony) network standard, the first-generation, first fully-automatic cellular phone system that went online in 1981. In 1982, Mobira introduced its first car phone, the Mobira Senator for NMT-450 networks.
Nokia bought Salora Oy in 1984 and now owning 100% of the company, changed the company's telecommunications branch name to Nokia-Mobira Oy. The Mobira Talkman, launched in 1984, was one of the world's first transportable phones. In 1987, Nokia introduced one of the world's first handheld phones, the Mobira Cityman 900 for NMT-900 networks (which, compared to NMT-450, offered a better signal, yet a shorter roam). While the Mobira Senator of 1982 had weighed 9.8 kg (22 lb) and the Talkman just under 5 kg (11 lb), the Mobira Cityman weighed only 800 g (28 oz) with the battery and had a price tag of 24,000 Finnish marks (approximately €4,560). Despite the high price, the first phones were almost snatched from the sales assistants' hands. Initially, the mobile phone was a "yuppie" product and a status symbol.
Details
Seiten

101

Jahr

2011

ISBN (Buch)

9783656006619

Dateigröße

1.2 MB

Sprache

Deutsch

Katalognummer

v178372

Note

Schlagworte