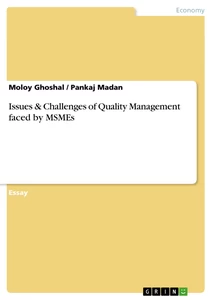 Issues & Challenges of Quality Management faced by MSMEs
Essay 2011 29 Seiten
Leseprobe
Issues & Challenges of Quality Management faced by MSMEs.
1 Prof. Moloy Ghoshal & 2 Dr.Pankaj Madan
Issues & Challenges of Quality Management Practices faced by MSMEs.
Abstract
With the increase in quality consciousness and expectations of the customers around the world, Medium, Small and Micro Enterprises (MSMEs) in India are also trying to keep-up with them by improving the quality of their products. This paper is an assessment of quality practices, issues and challenges of MSMEs of Kanpur, India. The focus of the study is to identify the quality readiness of these MSMEs, their contribution to export, the strategic advantages and disadvantages faced by MSME in export. A study was conducted on export oriented leather, plastics and chemical industries of Uttar-Pradesh (India) which was presented at the end of the paper as a case study so as to understand the current quality management practices of these industries.
Key words: MSME, Quality, Quality management, Strategy, Six Sigma.
1. Introduction-
It is important to note that, in general, there is no single official universal definition for a small firm. For research purposes, the US Small Business Administration (SBA) has traditionally defined 'small businesses as fewer than 500 employees (SBA, 2001). According to Mukhtar(1988) a wide range of definitions is used in practice. The European Commission offers a more exacting definition. Its definition for MSME, first adopted in 1996, specifies size gradations for micro, small and medium-sized firms based on three factors: (1) headcount; (2) annual turnover; and (3) annual balance sheet total. Micro: < 10 employees, turnover _ €2 million, balance sheet _ €2 million - Small: < 50 employees, turnover _ €10 million, balance sheet _ €10 million
- Medium: < 250 employees, turnover _ €50 million, balance sheet _ €43 million
In accordance with the provision of Micro, Small & Medium Enterprises Development (MSMED) Act, 2006, India, the Micro, Small and Medium Enterprises (MSMEs) are classified in two Classes: (a) Manufacturing Enterprises and (b) Service Enterprises: The limit for investment in plant and machinery / equipment for manufacturing / service enterprises, as notified, vide S.O. 1642(E) dtd.29-09-2006 are as per under table-I:
Table-I: Investment Ceiling for Plant, Machinery or Equipment*
illustration not visible in this excerpt
Source: Confederation of Indian Industries(CII).
Organization for Economic Cooperation and Development (OECD) defines SME as establishments with up to 19 employees as 'very small', between 20 and 99 employees as 'small, from 100 to 499 employees as medium and over 500 employees as large enterprises. Multilateral Investment Guarantee Agency (MIGA) defines SME s as firm with not more than 300 employees, value of asset not exceeding US $15 million and annual sale not exceeding US $15 million.
The European Union defines SMEs as enterprises that have employees of less than 250, with a turnover not exceeding Euro 50 million.The definition of a small firm is complex, and therefore a wide disparity of definitions of what constitutes a small firm is presented in the literature (Hill and Stewart ,2000).
2. Importance of MSMEs
The importance of the MSME sector is well recognized worldwide due to its significant contribution to gratifying various socio-economic objectives, such as higher growth of employment, output, promotion of exports and fostering entrepreneurship. In a labour abundant and capital scare country like India, Small Scale Industries have come to occupy a significant position in country's economy. India has nearly twelve million MSMEs, which account for almost 45 per cent of industrial output. They are an essential employment-generating sector with 50 per cent of the private sector employment and 30–40 per cent of value addition in manufacturing. They produce a diverse range of products (over 8000), including consumer items, capital and intermediate goods and contribute 8-10% in GDP. MSMEs in India constitute more than 80 per cent of the total number of industrial enterprises and form the backbone of industrial development.
Realizing the potential of the sector, the union government has recently taken major initiatives to revitalize the sector including implementation of the MSMED Act, 2006.
The growth pattern of the sector justifies the measures. The total number of MSMEs has increased by over 17% in the five years from 109.5 lakhs in 2002-03 to 124.5 lakhs in 2006-07. Aggregate value of production has increased by 54% from INR 3,06,771 crore in 2002-03 to INR 4,71,663 crore in 2006-07 while the volume of employment has increased 18.5% during the same period( economic survey 2007-08, Govt of India).
Even in the global scenario MSME have always played a crucial role in their respective country's economy. International comparisons reveal that MSMEs create the majority of jobs.
In the USA, nearly half of the private workforce is employed in small firms, of which three-fifth have less than five employees. In Japan, 78 percent of jobs are generated by MSMEs.
The same sector in Korea accounts for 99 percent of all manufacturing enterprises and 69 percent of employment in this sector. The economic contribution of MSMEs in Jamaica is significant. A recent study by Small Business Association of Jamaica (2007) stated that MSMEs contribute up to one third of the Gross Domestic Product and 33% of Jamaica total workforce.
Therefore, MSMEs must play a central role in the country's employment strategy. This will require modification of policies and programmes to level the playing field, improve availability of credit, increase productivity, raise quality consciousness and competitiveness, and enhance job quality.
Recent experiences of different countries in the context of Globalisation also demonstrate that MSMEs are better insulated from the pressures generated by the volatility of world trade and capital markets. They are more resistant to the stresses, and more responsive to the demands of the fast-changing technologies and entrepreneurial responses. Indeed, they are observed to be a very important vehicle for new technology adoption and entrepreneurial development. Ensuring the competitiveness of the MSME is important as it would help in overall growth of manufacturing sector as also the national economy.
2.1 Contribution to Economy-
Micro, Small and medium enterprises (MSMEs), particularly in developing countries, are the backbone of the nation's economy. They constitute the bulk of the industrial base and also contribute significantly to their exports as well as to their Gross Domestic Product (GDP) or Gross National Product (GNP).
Empirical studies have shown that small-scale enterprises are an important vehicle for meeting the growth of social and economic development. In Indian context they play a key role in the economic development of the country. What more they also act as a breeding ground for entrepreneurs to grow from small to BIG. India has nearly twelve million MSMEs, which account for almost 50 percent of industrial output and 42 percent of India's total exports. A special role for MSMEs was earmarked in the Indian economy with the advent of planned economy from 1951 and the subsequent industrial policy followed by government.
By and large, MSMEs developed in a manner, which made it possible for them to achieve the objectives of: 1. High contribution to domestic production 2. Significant export earnings 3. Low investment requirements 4. Operational flexibility 5. Low intensive imports 6. Capacity to develop appropriate indigenous technology 7. Import substitution 8. Technology-oriented industries 9. Competitiveness in domestic and export markets.
However, as a result of globalization and liberalization, coupled with WTO regime, MSMEs have been passing through a transitional period. With enhanced competition from China and a few low cost centers of production from abroad many units have of late been facing a tough time.
However, those MSMEs who had a strong technological base, international business outlook, competitive spirit and willingness to restructure themselves withstood the current challenges and came out successful to make their own contribution to the Indian economy.
It is the most important employment-generating sector and is an effective tool for promotion of balanced regional development. These account for 50 percent of private sector employment and 30 to 40 percent of value-addition in manufacturing. It produces a diverse range of products (about 8000 odd items), including consumer items, capital and intermediate goods.
2.2 Contribution to GDP:
Micro, Small and Medium Industries has been contributing significantly to Gross National Product of the Country. Table shows that the total production of small industry was 61,228 crores in 1985-1986 which rose to 6, 25,000 in 2000-01. It is important to note that the output of the small and medium sector rose faster than that of large scale sector. The total value of production by village and small scale industries during the 10th Five year plan period is projected to rise to Rs.7, 00,000.
Table-II: Performance of Micro & Small Enterprises (India)
illustration not visible in this excerpt
Source: Office of the Development Commissioner M/O Micro & Small Enterprises Cluster Development Programme(Statistics & Data Bank Division)
2.3 Contribution to Exports:
Micro, Small and Medium scale industries has registered a high growth in the export field by contributing substantially to the national earnings from exports. The increase in the total exports is depicted in Table. The contribution of small scale industries(MSMEs) to exports has gradually increased from 2,580 crores in 1984-85 to nearly 55,000 crores during 2003-2004. However, from year to year changes are significant. A view of the progress made by the small scale sector in terms of investment, employment, production exports does bear out that it has made significant contribution to the economy.
[...]
---
1.Sr. Lecturer, Department of Management, Institute of Productivity and Management, Kanpur, India. Email: moloybreeze@rediffmail.com, moloy@ipmkanpur.edu.in Website: www.ipmkanpur.edu.in
2.Professor, CENTRUM Católica, Pontificia Universidad Católica del Peru Email: pmadan@pucp.edu.pe Website: http://www.centrum.pucp.edu.pe
Details
Seiten

29

Jahr

2011

ISBN (eBook)

9783656078333

ISBN (Buch)

9783656078739

DOI

Dateigröße

559 KB

Sprache

Englisch

Katalognummer

v183398

Note

Schlagworte