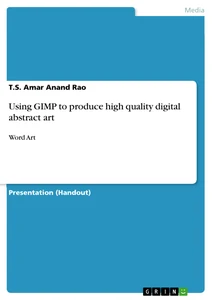 Using GIMP to produce high quality digital abstract art
Word Art
Referat (Handout) 2011 26 Seiten
Leseprobe
Page 1
---
Using GIMP to produce high quality digital abstract art
T.S. Amar Anand Rao
Molecular Biophysics Unit, Indian Institute of Science Bangalore - 560012, Karnataka, India.
Page 2
---
Abstract
I hereby present the results of using GIMP to produce high quality wallpaper images or digital abstract art. It is evident that it is not only need to be used as a photo editing software but can also be used very creatively. And these art can be sold as wall papers or wall Frames etc. Keywords
Opensource, Operating system, GIMP, software
Page 3
---
Introduction
Opensource Operating systems are climbing the usage ladders of the populations, as features are becoming logarithmically in par with other Operating systems that are for purchase. Especially Ubuntu has captivated the hearts of many users worldwide. Its estimated that at this rate opensource will the future of tomorrow.
Using of GIMP software is clearly mentioned in GIMP Tutorials available online or along with the software in Ubuntu operating system. It can also be downloaded from the repositories at Ubuntu Software Center.
Abstract art is a image that shows the mists of the painter's mind to the audience. It conveys a meaning or can be interpreted to mean some thing according to each one's perception. The intricate details can be so fine in GIMP that it can be made good use of to create wall paintings. It is better than Inkscape or Vector graphics in this regard. It has an amazing variety of tools.
Page 4
---
Materials and Methods