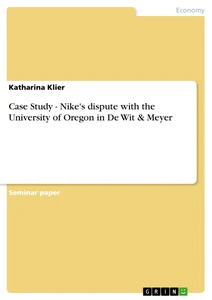 Case Study - Nike's dispute with the University of Oregon in De Wit & Meyer
Hausarbeit 2011 14 Seiten
Leseprobe
Table of content
EXFCUTIVF SUMMARY
QUESTION ONE:
A) PORTFR'S VALUF CHAIN
b) PORTFR'S FIVF FORCFS FRAMFWORK
c) Bfnffits for Nikf from Intfrnational Tradf
OUFSTION TWO:
a) Whittington's systfmic and procfssual schools of thought
b) Application of thf systfmic school of thought to Nikf
OUFSTION THREE:
a) Mintzbfrg's cultural and fnvironmfntal schools of thought
b) Application of Mintzbfrg's cultural school of though to Nikf
RFFFRFNCF LIST
a) Primary Sourcfs
b) Sfcondary Sourcfs
Executive Summary
This report analyses the actual strategic position of the sports company Nike and carries out the development of the global sport's industry and its influences on Nike. In order to analyse the external and internal influences, this report will commence with Porter's value chain model and his five forces framework to critically evaluate the reasons for Nike's strategic decision to outsource its manufacturing factories to Asia. The reader will also achieve an understanding of the environment in which the company operates, which will be enlarged in the following part, by evaluating the advantages of international trade for Nike.
The second part of this report will concentrate on two of Whittington's schools of thought and concentrates on Nike's systemic approach to its strategic position.
Finally, Mintzberg's cultural and environmental schools of thought will be discussed and compared to illustrate Nike's development between the years of 1996 and 2000.
Question One:
a) Porter's Value Chain
Porter's Value Chain (1998) outlines the most important activities for a firm to identify its competitive advantage, achieved through its core competences. According to Porter, a business is divided into different processes and functions, which he separates into five primary and four support activities. Hereby, the subsystems of the company are allocated to their effects on costs and profit to evaluate the firms core competences to create a profit margin (http://www.ifm.eng.cam.ac.uk/dstools/paradigm/valuch.html, no date). Consequently, this model of strategy includes also outsourced activities as the work of subcontractors or suppliers. During all activities of the value chain, a company has the opportunity to improve its processes by outsourcing cost-driving processes to achieve superior value by focusing only on its core competences, which is described by Porter (1998) as "differentiation".
Nike were manufacturing in Asia because of mainly three reasons. With outsourcing all manufacturing processes to specialists in Southeast Asia and moving its production facilities abroad, the company was able to concentrate on their core competences as research and development, marketing, and retailing (De Wit, B. & Meyer, R. 2010, p. 946). De Wit and Meyer also supporter Porter in his perception, that "a differentiator thus aims at cost parity or proximity relative to its competitors by reducing costs in all areas that do not affect differentiation" (De Wit, B. & Meyer, R. 2010, p. 270). Accordingly, the strategy of Nike was to focus on their core competences, which were responsible for their differentiation. The time consuming manufacturing processes, which did not ask for a high level of skills or know-how, and did not contribute to the company's differentiation, were outsourced to due cost advantages (De Wit, B. & Meyer, R. 2010, p. 946). For Nike, this was a possibility to improve its processes to achieve superior value by lowering its costs of labour and by creating a faster and cheaper production system Asia.
Other reasons for Nike to switch its production to Asia were the advantage of lower tariff rates for hand-assembled leather goods as well as an easier and cost-efficient access to raw material suppliers. Since it was not possible for Nike to mechanize the production processes due to the time consuming process handwork processes, the company registered significant costs saving. In addition Nike profited by a faster access to raw materials while manufacturing overseas and receiving materials just in time.
Today, Nike sells more than 40 million running shoes each year without manufacturing any of them itself, which shows Nike's optimised supply chain processes.
b) Porter's Five Forces Framework
Porter (1998) developed a structural analysis for industries, which helps companies to explore their environment in order to achieve superior value. Due to this context, the important message for companies is, that they always have the possibility to identify those strategic innovations that improve their profitability (De Wit, B. & Meyer, R. 2010, p. 265). Porter's Five Forces Framework is in the literature often represented by the following diagram:
Figure 1: Five Forces Framework
Abbildung in dieser Leseprobe nicht enthalten
Porter (1998, p. 4-6) argued that these forces determine the profit potential within an industry and are all "competitors" to firms, acting in the industry. Their influence depends, according to Porter, on the particular circumstances.
1) Threat of Entry
A high treat of entry is always preferable for companies, which already interact within a certain market. While competing with only few companies, the firm is relatively free in pricing its products. According to Porter (2008, p. 8-13) there are seven major barriers of entry, which influence the competition within the industry and need to be surmounted. But especially because companies deal with less government regulations and low switching costs concerning market accesses in Asia, the threat of entry seems to be comparatively low. But especially in the sports industry, where different kind of sports often "belong" to different brands (for example the dominating brand in the swimming industry is Speedy, but the dominating brand in athletics is Nike), it is very difficult for companies to break open the market. Concerning the point that the leaders of the industry in which Nike operates are all very well established due to their already existing access to resources and distribution channels (Almaney, A.J. Ph. D., 2000), the entry barriers within the industry are very high. Nevertheless, Nike has been present in the market for a long period of time, has an optimized supply chain and has therefore, overcome the barriers of entry.
2) Power of Suppliers
The higher the power of suppliers is, the more difficult it is for companies to develop an independent strategy. In general, the manufacturing processes are of extreme importance for Nike. As already mentioned, the company cannot produce its products itself and therefore needs its suppliers and subcontractors. Nevertheless, the power of suppliers is, due to Nike's low switching costs, relatively low. Furthermore the costs for the manufacturing processes are, in comparison to the relatively high selling prices or high costs of labour in western countries, comparatively low. According to this, the suppliers are exchangeable because of their low contribution to Nike strategy of differentiation.
3) Power of Buyers
The buying power describes the impact a customer can have on setting prices. Substantial power is possible when it is easy and simple for the buyer to change the supplier, when the buyer is more or less sensitive towards fluctuations of prices and especially when the product is replaceable or is not needed permanently. According to these aspects, it seems that Nike is exposed to intense buying power. But in fact, Nike has a large number of buyers. Considering the fact, that Nike "maintained that its sales were never affected" (De Wit, B. & Meyer, R. 2010, p. 950) although its image got worse according to Nike's global labour practises, the buying power is not as intense as assumed. Only if the company is not aware of the fact that this might change according to the public opinion, the buyer power might arise.
4) Threat due to Substitution
The threat of substitutes describes the replace ability of a company's products from the customer's point of view. The high brand loyalty, which is due to Nike's progressive research and development operations, indicates that the threat of substitutes is low. But in fact, Nike's products are replaceable. The low switching costs for customers and the continuously changing trends of lifestyles as well as the pressure to always meet the customer requirements, force Nike to spend a lot of time for analyzing the market needs to form a closer relationship with its customers.
5) Competitive Rivalry
The higher the rivalry between the companies within a certain industry is, the higher is the pressure on prices, margins, and profitability (Recklies, 2001). With having a lot of direct competitors as Adidas, Reebok, Puma, Fila, New Balance or Asics, and according to high barriers of entry and a high threat of substitutes as well as low power of buyers and suppliers, Nike is exposed to a high rivalry between the industries. While being in a mature market where consumers are price conscious and where innovation is continuously necessary, Nikes market share declined from 45 % in 200 to 36 % in 2011 (van Riper, T., 2008).
c) Benefits for Nike from International Trade
Nike achieves several benefits through its international work. One major advantage is the cost factor. With outsourcing processes into 3rd world countries as Vietnam, Nike achieves higher margins by saving costs of labour. The access to raw material suppliers and cheap labour sources as well as better exchange rates is also very cost-efficient for the company. Nike also benefits from the lack of human rights since especially in Asia, people are not provided with employment protection legislations or other fundamental registrations.
Another benefit of international trade is the support of global marketing events as for example the Olympic games. While Nike's CEO Phillip H. Knight stated (De Wit & Meyer, 2010) that Nike is due to the outsourced manufacturing processes a "marketing-oriented company", the CEO attached great importance to these activities. Supported by famous athletes as Carl Lewis or Michael Jordan, Nike managed to enhance its attractiveness for customers.
In general, it is also easier for a company to have a global marketing strategy to generate a homogeneous image. With subdividing processes and eliminating manufacturing processes overseas, Nike profits of clearly divided scopes of duties. Indeed, while establishing its manufacturing factories overseas, the subcontractor and therefore Nike possessed a high demand concerning manpower.
Furthermore, the access to new emerging markets as China or India leads to enormous economies of scale. With having had employed "around 20 000 people directly, and half a million indirectly in 565 contract factories in 46 countries around the world (and) revenues (of) $ 9 billion", the growth of Nike is tremendous. According to company target revenues for the next three years, the company sets its revenue targets for 2015 to an ambitious amount of $28-30 billion (NIKE Inc. 2011), what indicates Nike's potential of growth, resulting from international trade. This is only possible because of international trade, which enables to company to reach as many customers as possible.
Another cost saving factor due to international trade is the elimination of "intermediaries". With the continuously growing trade over the Internet, the traditional distribution channels are no longer used which saves time and increases profit for Nike. Additionally, Nike is no longer addicted to local market developments. In case of fluctuations in some markets, Nike has still the opportunity to reach its target revenues if the company manages to increase sales in other existing markets. At the same time, while selling more products in other markets, the manufacturing processes are stimulated and more products are produced. This helps on the one hand Nike's employees in its manufacturing factories overseas and on the other hand will this development affect Nike's sales in a very positive way.
[...]