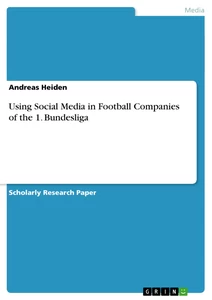 Leseprobe
Table of contents
1. Introduction
2. Social Media
• 2.1. Online communities in football
• 2.2. Chances for the football company's
3. Conclusion
List of literature
1. Introduction
Who thinks that football enterprises are only clubs is not right. Football clubs are even more big companies and its work has grown up. "Who thought that Bundesliga clubs only meet for a sporty competition should have a look into the companies register."(11 Freunde, P. 42, 2010) From the Bayern München AG to the St. Pauli Marketing GmbH, companies and professional trade have taken place in the Bundesliga.
The question is why does the Bundesliga need social media and why is social media a good instrument in the football business? Football is probably the most popular sport in the world; about 174 million people in Europe are interested in it which makes about 71 percent. In Germany it is about 81 percent of the population. Because of this huge sympathy an economically coefficient grows out. (Comparative Sponsors, P. 32, 2009) Such loyal fans can bring more sales and the companies are not that forced to be successful in its sport. Football is also a European competition between clubs to get the best players, sponsors and the best sales. The clubs can influence the fans to buy more products or even attract new fans. A popular instrument to get attention and to get a better costumer relationship is using the social media.
2. Social Media
The term social media is a broadly defined and not clear defined term. Kaplan and Haenlein define social media as: "Social Media is a group of Internet-based applications that build on the ideological and technological foundations of Web 2.0, and that allows the creation and the exchange of User Generated Content."(Kaplan/Haenlein, P. 61, 2010)
Social Media is a synonym for Social Software. The software is in the form of web applications a free service offered for the users. The software is easily designed so that the user does not need any knowledge. (Comparative Adomeit, P.9,2008) The following functions are part of the social media and also offer users the possibility of active participation and generating content for the purposes of the community thought.
1. The weblog is a public diary or logbook. The blog is written by the Blogger regarding to his knowledge or impressions of a broad mass accessible. (Comparative Töpfer/Silbermann/William,P.652, 2008) The term originated from the fact that the bloggers
felt as the discoverer of the web, and so they write web logs (Blogs). The entries on a blog can and should be commented so that an interaction and an exchange between the viewers is possible. However, the default is always on the blogger core of the discussion, therefore, the blogger can control the course. The personality of the blogger also has a strong influence on the overall appearance and on the style of the blog. A blog is like a constantly updated journal, but there are far more options than the classic journalistic style offers. Any videos, radio shows, music etcetera can be put on a blog without much effort. (Comparative Weinberg, P.97ff, 2009) Technorati.com, a leading search engine for blogs, estimates the number of blogs worldwide to 133 million. (technorati.com, 2010) The totality of blogs is called blogosphere, proprietary blogs are called corporate blogs.
2. Internet forums are web pages that also include an opinion exchange. However, they offer other than the blog more freedom. In forums, registered users can start discussions, write comments and thus content is generated. Furthermore, discussions often extend over a longer period and are more structured. Comments to the same sub-themes are grouped into so-called "threads" and comments are displayed chronologically. Forums are often provided on homepages under the synonym community, to allow the user more participation. Forums are also used to collect complains as a part of the complaints management. (comparative Töpfer/Silbermann/William, P.654, 2008)
3. Social networks are large platforms. The content of social networks is the interaction, communication and networking of users. Social networks are popular sites on the internet. According to the website statistics service alexa.com, facebook.com is the second most popular website worldwide, only behind google.com. In Germany websites such as facebook, studivz/schülervz, xing and twitter are in the top 20 of the most visited websites. The social networks are based on profiles and offer ways to connect with like-minded in contact or build relations.
Twitter stands out a bit from the smorgasbord of social networks. On Twitter, it is less about user profiles, it is more about the answer to the question: "What are you doing?" This socalled micro-blogging service allows communicating within up to 140 characters of what users currently employs. Recipients of the status messages are "followers" that the status messages from particular users have subscribed so to speak. By keeping track of certain status messages of people, a networked community is formed. With the proliferation of mobile phones with broadband internet, Twitter has become popular because it is always possible to put news online. (Comparative Weinberg, P.141ff, 2009)
The profile on social networking sites like facebook, Xing or the VZnetworks gives information about the user, such as hobbies, education or general interests. This information can be consulted to find like-minded people and friends. With the help of friend invitations communities are formed. Most profiles are customizable and therefore give an accurate impression about the person. (Comparative Shuen, P.55, 2008) Most portals offer functions in order to protect privacy. However, in every community is a certain level of voluntary movement of users, who can in turn be used by companies to contact you. Messages and brands can be spread very well through social networks. Due to the strong networking and interacting profile sites of brands, products can be spread very quickly and increase their awareness. Using the example of facebook, which now is the largest social network and which was founded by Mark Zuckerberg in 2004. It is characterized by:
1. More than 600 million active user worlwide (in germany about 16 million users)
2. 50% of the users log on to facebook in any given day
3. Average user has 130 friends
4. People spend over 700 billion minutes per mounth on facebook
(comparative facebook statistic 2011)
These figures demonstrate the tremendous presence of facebook. Because facebook has so many features and for companies an enormous marketing potential, a steady growth is inevitable. (Comparative Weinberg, P.169, 2009) Facebook connects countless features to create their profile. In addition, it is easily possible, that not only private users have a profile; also brands, companies, music bands, actors, sport teams and football companies have profiles on facebook. Similar to a weblog you can create and upload videos, music or photos. This media can be relinked to other users. They are marked or linked on the used medium. The most important innovation is that it is similar to Twitter, a very high degree of topicality. News of friends are shown directly on your own profile. Through this function everybody is always up to date about the activities of their friends or favorite football club. The own profile is like a blog because status reports, long posts and all forms of media can be published. This information is sent to both, the friends and the related persons. At the same time facebook binds other sites such as YouTube or Twitter. Therefore these communities are not separated, they act together.
[...]
Details
Seiten

11

Jahr

2011

ISBN (eBook)

9783656624059

ISBN (Buch)

9783656624080

Dateigröße

442 KB

Sprache

Englisch

Katalognummer

v190677

Institution / Hochschule

Deutsche Hochschule für Gesundheit und Sport (vormals H:G Hochschule für Gesundheit & Sport, Technik & Kunst)

Note

1,0

Schlagworte