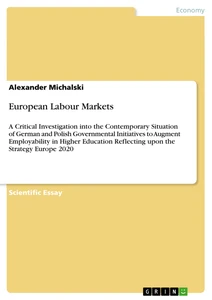 European Labour Markets
A Critical Investigation into the Contemporary Situation of German and Polish Governmental Initiatives to Augment Employability in Higher Education Reflecting upon the Strategy Europe 2020
Wissenschaftlicher Aufsatz 2012 18 Seiten
Leseprobe
Table of Contents
List of Figures and Tables
List of Abbreviations
1. Introduction
1.1. Contemporary Labour Markets in Germany and Poland
2. Higher Education and its Impact on Employability in Germany and Poland
2.1. The Growth Strategy Europe 2020
2.2. The Joint Employment Report 2012
2.3. National Reform Programmes 2011 of Germany and Poland
2.4. Empirical Evidence: Higher Education Initiatives in Germany and Poland
3. Summary
Reference List
List of Figures and Tables
Figure 1: Training paradigm
Table 1: Public expenditure on labour market programmes as a percentage of GDP in Germany and Poland, 2006
Table 2: Percentage of employed workers on fixed-term contracts in Germany and Poland, 2000 and 2007
Table 3: Total employment rate in Germany and Poland, 2005-2011
Table 4: Comparison of contemporary challenges in Germany and Poland
List of Abbreviations
illustration not visible in this excerpt
1. Introduction
1.1. Contemporary Labour Markets in Germany and Poland
In the light of international competition, labour markets within the European Union (EU) are affected. Consequently, member states (MS) such as Germany and Poland are implementing labour market policies to convert into knowledge-based societies; clearly, the labour market competitiveness requires a highly skilled workforce (Harvey & Knight, 2003). Thus, for knowledge-based societies it is crucial to augment the employability of their workforce (Itzel, 2006). The European Council pinpointed these issues in the Lisbon Strategy, which was introduced in March 2000 and revised in 2005. Further, the EU promoted Europe 2020 aiming for flexible and knowledge driven economies with superior employment opportunities and better social consistency (Alvarez, Meneghini & Richter, 2006; European Council, 2005). Apparently, the Lisbon Strategy influences MS differently due to different developments of economic and social settings; hence, it is worth to identify contemporary labour markets in Germany and Poland beforehand. Germany is the fifth biggest economy worldwide in terms of purchasing power parity (PPP), it has an unemployment rate of six percent, and is a major exporter of automobiles and machinery. Germanys' workforce consists of 15 percent high and 65 percent intermediate skilled people (White Paper, 2003); however, the country is confronted with an increase of aging population in the next decades (CIA, 2012a).
In comparison, after the reunification in 1990, Poland effectively introduced economic liberalisation policies and resisted a recession during the economic decline in 2008. Since 2004, Poland accelerated its economic growth due to its EU membership and access to EU funding schemes. However, Poland is ranked 20th in terms of PPP globally and the unemployment rate has been two percent over EU average (9.4 percent in 2011). Amongst other issues, an ineffective commercial court system, a rigid labour code, and increasing costs for education prevent further economic growth (CIA, 2012b).
Table 1 displays major differences in governmental spending for labour market programmes between Germany and Poland.
Table 1: Public expenditure on labour market programmes as a percentage of GDP in Germany and Poland, 2006
illustration not visible in this excerpt
Source: Sengenberger, 20112 3 4
Noteworthy, the corporatist model (Ashton, D. et al., 2000) of Germany promotes comparably rigorous employment legislation and provides comprehensive financial support for unemployed people; though, the implementation of the `Peter Hartz-proposals´ in 2002 enhanced market flexibility and decreased possible income subsidies from the government (Sengenberger, 2011). Table 2 shows the percentage of employed workers having fixed-term contract, which has massively increased in Poland between 2000 and 2007.
Table 2: Percentage of employed workers on fixed-term contracts in Germany and Poland, 2000 and 2007
illustration not visible in this excerpt
Source: Sengenberger, 20115
Table 3 shows the employment rate development in Germany and Poland between 2005 and 2011.
Table 3: Total employment rate in Germany and Poland, 2005-2011
illustration not visible in this excerpt
Source: Eurostat, 20126
Table 4 displays a summary of the similarities and differences of current labour market challenges in Germany and Poland.
Table 4: Comparison of contemporary challenges in Germany and Poland
illustration not visible in this excerpt
Source: Table developed by the author
2. Higher Education and its Impact on Employability in Germany and Poland
The following investigation aims for (1) describing and (2) evaluating German and Polish governmental initiatives to augment employability in the area of higher education, and (3) explores possible reasons preventing Germany and Poland from implementing goals and requirements stated by the EU. In the analysis, thereby, the author mainly refers to the EUs growth strategy Europe 2020, relevant National Reform Programmes (NRP), the Joint Employment Report 2012 (JER), and the particular context of Germany and Poland.
2.1. The Growth Strategy Europe 2020
As this paper at hand evaluates German and Polish initiatives to enhance employability of graduates in HEC, it is essential to pinpoint specific EU goals. Based on the Lisbon Strategy (2000/2005), and after the economic crisis, the EU proposed its growth strategy Europe 2020 as a reflection point for a new future. It aims to enhance "employment, innovation, education, social inclusion and climate/energy" (European Union, 2012). Referring to higher education, the EU aims to enhance the proportion of inhabitants between 30 and 34 having finished tertiary education7 from 31 percent to a minimum of 40 percent. Moreover, as one of the "flagship initiatives youth on the move" (p. 13), the EU aspires to strengthen the global attractiveness of higher education within the EU. Moreover, it wants to raise higher education quality by (1) supporting student flexibility, (2) aligning initiatives with MS regarding research initiatives such as Erasmus, and (3) measuring university performance and learning results (European Commission, 2012). According to Europe 2020, furthermore, MS such as Germany and Poland have to ensure (4) resourceful investment in tertiary education, (5) superior educational results, (6) that education is based on the skill needs of the labour market, and (7) a successful transition from higher education into the labour market (European Commission, 2012). Following the European (mainland) approach, Germany and Poland likewise, focus to a large extends on developing intermediate level skills in order to ensure high employment. Both countries reflect the aims stated by the EU drawing upon the notion of the OECD Strategy 1998 to build intermediate, high skills, and human capital with higher education. Thus, Germany and Poland are shifting their resources from supporting low or even non-skilled people into the development of high-skilled people for instance in HEC. In doing so, however, possible drawbacks are diminishing job security due to deregulated labour markets and an evolving `preceriate´ (Standing, 2009), people who are living far below the poverty line without any support from the government. In addition, research reflects that high-skill employment does not balance losses in the economy and that the relation between employment and productivity level might be conflicting in itself (Crouch et al., 1999; OECD, 1998).
2.2. The Joint Employment Report 2012
The JER is compulsory based on the Treaty on the Functioning of the European Union (TFEU). It serves as economic assistance and likewise as foundation for individual MS recommendations. The JER 2012 contains the assessment of implementing progress of employment regulations in the EU. If necessary, the JER highlights recommendations and developments of MS witch respect to the strategy Europe 2020. According to the European Council (02/2012), the JER pinpoints the necessity for actions to enhance higher education in MS. The European Council proposed for education and thus for higher education centres (HEC) the alignment of education with demands of the labour markets. Moreover, HECs should support the transition from education into work-life by offering counselling for students. Clearly, an 4 increasing collaboration between HECs, employers, and social partners is a prerequisite to decrease possible skill-gaps after higher education. In addition, in order to enhance graduates employability, HECs should improve graduates' future labour market prospects.
In the JER 2012, governmental initiatives of Poland to enhance tertiary education are highlighted. For instance, Poland improves the labour market perspectives of under-represented groups in HECs by offering direct financial support, assistance, mentoring, and introductory programmes mainly to the low-income workforce. Moreover, Poland interlinks its higher education with labour market needs, reflecting the higher education reform programme `partnership for knowledge´ (European Council, 2012). Interestingly, Germany is not mentioned in the JER 2012. This might have several reasons; as in Germany studying at HECs is nearly free of charge, also population with rather low-incomes can afford to study. The German government supports families with low incomes with a payment called `BAföG´, which is a student loan. Furthermore, German universities´ research initiatives have been traditionally interlinked with corporations, especially for the automotive and chemical industry.
The implementation of proposed recommendations, based on the JER and individual recommendations for MS, are supported by the European Social Fund (ESF). The ESF facilitates core initiatives of the EU and thereby sustains MS to meet the requirements and targets stated in the strategy Europe 2020. Thus, the ESF drives specific objectives regarding HECs based on, for instance `Youth on the Move´: investment in education, research and innovation (European Council, 2012).
2.3. National Reform Programmes 2011 of Germany and Poland
The EU employs National Reform Programmes (NRP) in order to control and evaluate the implementation of MS initiatives with respect to the strategy Europe 2020. In addition, NRP are used by the MS as a widespread three- year strategy to put into practice the European Commission' s targets. MS set their Europe 2020 targets in their NRP in April 2011 with respect to foster tertiary education for Germany to 42 percent and Poland to 45 percent respectively (European Union, 2012).
[...]
---
1 Founder and owner Alexander Michalski - Management Consulting, Bachelor of Arts International Management, International University of Applied Science Bad Honnef Bonn (Germany), cand. Master of Science Human Resource Management, University of Southampton (UK)
2 "includes public employment services, training, employment incentives, supported employment and rehabilitation, direct job creation and start-up incentives" (Sengenberger, 2011, p. 37)
3 "includes out of work income maintenance and support; full-time UE benefits, partial and part-time unemployment benefits, and redundancy and bankruptcy compensation" (Sengenberger, 2011, p. 37)
4 "includes institutional training, workplace training, alternate training and special support for apprenticeship" (Sengenberger, 2011, p. 37)
5 Note! Since 2004, Poland is a EU MS
6 Individual targets based on the strategy Europe 2020
7 International Standard Classification on Education (ISCD), ISCED 5 = First stage of tertiary education at university level, except PhD, ISCED 6 = Second stage of tertiary education at university level, includes PhDs (http://epp.eurostat.ec.europa.eu/statistics_explained/index.php/ Glossary:Tertiary_education)
Details
Seiten

18

Jahr

2012

ISBN (eBook)

9783656201472

ISBN (Buch)

9783656207030

Dateigröße

432 KB

Sprache

Englisch

Katalognummer

v193749

Institution / Hochschule

University of Southampton – School of Management

Schlagworte