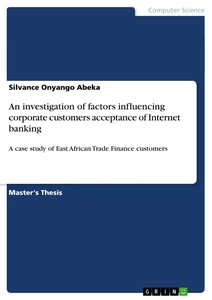 An investigation of factors influencing corporate customers acceptance of Internet banking
A case study of East African Trade Finance customers
Masterarbeit 2009 109 Seiten
Leseprobe
TABLE OF CONTENTS
Declaration
Approval
Dedication
Acknowledgements
Table of Contents
List of Tables
List of Figures
Abstract
CHAPTER ONE
INTRODUCTION
1.0 Introduction
1.1 Background of The Study
1.1.1 Trade Finance
1.1.2. Internet banking and Trade Finance
1.2 Statement of the problem
1.3 Purpose Of Study
1.4 Objectives of the project
1.4.1 General objectives
1.4.2 Specific objectives
1.5 Research Questions
1.6 Research Hypothesis
1.7 Scope
1.8 Significance of the study
1.9 Conceptual Framework
CHAPTER TWO
LITERATURE REVIEW
2.0 Introduction
2.1 Overview of the field
2.2 Technology Acceptance Model
2.3 Original Technology Acceptance Model
2.4 Revised Technology Acceptance Model
2.5 Technology Acceptance Model and Internet banking
2.6 Adoption of Internet banking
2.7. Research on Technology Acceptance Model in other context than Internet banking
2.8 Analyses of the state of the art
2.9 Summary
CHAPTER THREE
METHODOLOGY
3.0 Overview
3.1 Research Design
3.2 Research population
3.3 Research Instruments
3.4 Ethical considerations
3.5 Data Analysis Methods
3.6. Validity, reliability, generalizability
3.7. Summary
CHAPTER FOUR
PRESENTATION AND ANALYSIS OF FINDINGS
4.0. Overview and structure of the chapter
4.1 Data Analysis
4.2. Respondent background
4.2.2. Gender
4.2.3. Age
4.2.4. Education
4.3. Use of the system
4.4. Regression and Pearson product-moment correlation analysis
4.4.1. Test of hypothesis 1
4.4.2. Test of hypothesis 2
4.4.3. Test of hypothesis 3
4.4.4. Test of hypothesis 4
4.5. Adjusted research model
4.6. T-tests
4.6.1. Differences between users and non-users
4.6.2. Differences between females and males
4.6.3. Differences between age groups
4.6.4. Differences between education levels
4.6.5. Differences between nationalities
4.7. Validity, reliability, generalizability
4.8. Summary
CHAPTER FIVE
DISCUSSIONS, CONCLUSIONS AND RECOMMENDATIONS
5.0. Overview of the chapter
5.1. Analysis of the contribution
5.2. Discussions, Suggestions, and Managerial Implications
5.3. Recommendation
5.4. Suggestions for further research
REFERENCES
APPENDICIES
APPENDIX A: QUESTIONNARE
APPENDIX B: INTRODUCTORY LETTER
APPENDIX B: EAST AFRICAN MAP
DECLARATION
I Onyango Silvance Abeka do hereby declare that An Investigation Of Factors Influencing Corporate Customers Acceptance Of Internet Banking: Case Study Of East African Trade Finance Customers i s entirely my own original work, except where acknowledged, and that it has not been submitted before to any other University or institution of higher learning for the award of a degree.
illustration not visible in this excerpt
APPROVAL
This thesis has been under my supervision as a university supervisor.
Prof. Sunday Olwor N.
Signature: Date:
DEDICATION
This work is dedicated to my beloved wife Phoebe and my son Ray for their patience and understanding during the period of my study at Kampala international university.
ACKNOWLEDGEMENT
First of all I give thanks to the almighty God for his mercy and grace granted to me during this time of my degree course and through this research project
I would like to thank my supervisor Prof. Sunday Olwor N. for being there for me whenever I needed him and also offering his professional advice where necessary. I would like also to thank my friends for supporting me in regards to my research.
Am also grateful to my parents, Mr. Jared Abeka and Mrs. Martha Jared, my brothers and sisters, especially Perez for her generous financial and moral support that made me to finish this project successfully and my colleagues staff members of Kampala International University for mounting all the directives, procedures and methods of carrying out this research project.
I would also like to thank the respondents who returned the questionnaires and those who were cooperative to me.
To all those whom i have not mentioned, as well as others whom i have no space to name. I am most sincerely grateful.
May God bless you all.
LIST OF TABLES
Table 3.1. Questionnaire questions for hypothesis testing
Table 3.2. Strength of relationship based on Pearson correlation
Table 4.1. Response statistics per country
Table 4.2. Valid responses for the demographics
Table 4.3. Gender Statistics per country
Table 4.4. Age statistics per country
Table 4.5. Education statistics per country
Table 4.6 User statistics
Table 4.7. Regression analysis summary of for the Research Model
Table 4.8. ANOVA for the Research model
Table 4.9. Standardized Coefficients of the research model
Table 4.10. Pearson product-moment correlations item by item
Table 4.11. USE - PU Correlations, Mean and Standard Deviation
Table 4.12. USE – PEOU Correlations, Mean and Standard Deviation
Table 4.13. USE - OSU Correlations, Mean and Standard Deviation
Table 4.14. USE - BSU Correlations, Mean and Standard Deviation
Table 4.15. Regression analysis summary of the Adjusted model
Table 4.16. ANOVA for the Adjusted model
Table 4.17. Standardized Coefficients of the Adjusted model
Table 4.18. T-tests between users and non-users
Table 4.19. T-tests between males and females
Table 4.20. T-tests between Age Scales
Table 4.21. T-tests between Low and High educated
Table 4.22. Mean values for Kenya, Uganda, Rwanda and Tanzania
Table 4.23. T-tests between Kenya, Uganda, Rwanda and Tanzania
Table 4.24. Hypothesis summary
LIST FIGURES
Figure 1.1. Study Frame work
Figure 2.1 Original Technology Acceptance Model
Figure 2.2. Revised Technology Acceptance Model
Figure 4.1 Gender Statistics per Country
ABSTRACT
It is increasingly more interesting to the bank managers to understand what is important to customers when it comes to Internet banking, and especially banking conducted by the customers themselves. Corporate customers and Internet banking has been studied very modestly in the past, and especially the decision-making factors driving customers to go online.
The purpose of this research is to identify the factors that influence corporate customers adoption of Internet banking services in Kenya, Uganda, Tanzania and Rwanda. The hypotheses are empirically evaluated by using Trade Finance customers of an East African bank as the target sample.
Technology Acceptance Model (TAM) is the primary basis for the study. The information gathered from former studies that are mainly concentrating on private customer acts as a foundation for building an extension of TAM suitable for corporate customers.
The study involved 137 respondents from Kenya, Uganda, Tanzania and Rwanda.
Due to the quantitative nature of the study, the results are analysed with statistical measures. This included the use of SPSS to carry out regression analysis. The analysis reveals that corporate users are not motivated by the same factors as private users. In order to become Internet banking customers, it is extremely important for corporate users to have a system that is easy to use and operate with full support from the bank.
CHAPTER ONE
INTRODUCTION
1.0 Introduction
Introduction to the thesis explains the background and objectives of the study. Also description of the delimitations and structure are included in the first chapter.
1.1. Background of the study
According to Internet World Stats (2000), 5.3 % of the total world population (6,767,805,208) was using the Internet. This means that approximately 360,985,492 people all over the world were connected to each other. Today the situation is very different from that of a couple of years ago. In nine years the amount of Internet users has been increasing by 362.3% (www.internetworldstats.com). These massive figures very well reflect the scope and size of this the network. There is no other channel in the whole world bringing people so close to people, people so close to business or business so close to business than the Internet.
As expected, various industries and business areas are utilizing the Internet. Apart from connectivity, there is a great amount of other prospects coming along with it. The Internet is used to augment, or even supplant, product and service delivery processes considered as more traditional. Banking is not any different from other business areas, as banking in general is extremely information-intensive. Therefore Information technology (IT) has an increasingly important role in modern banking of any kind, especially when directly accessible by the bank's customers.
Originally information technology was utilized in back offices for batch data processing, which was something not that obvious to the customers. Consumer oriented innovations became more important during 1980-1995. This time period is called the "diffusion period of the information revolution in commercial banking" (Bátiz-Lazo and Wood, 2002). Mainly this was possible due to Personal Computers (PC's), which enabled new contacts between banks and customers. But as expected, it didn't end there. After PC's invaded homes and workplaces, customers themselves could start communicating with the bank electronically from their own PC's. The information between customers' PC's and bank's systems did not transfer on-line at that time. Only after emergence of the Internet, banks have been able to provide real-time banking services electronically to a larger audience without a need to install anything on the customer's PC. (Bátiz-Lazo and Wood, 2002)
Not only has the Internet demanded customers to change their habits and even to learn new skills, it has also become a major challenge to banks themselves. The amount and scale of products and services offered online has grown continuously, basically providing something to everyone. Internet has also changed the nature of competition among companies providing banking and investment services. Those having more traditional look on the business are forced to change their view towards the markets. This means taking more proactive approach to providing Internet and mobile services.
Historically branches and physical distribution channels have been the very cornerstones to most banks' market success. However, the emerging electronic channels have forced banks to change their entire management approach. Much of this is thanks to the fact that geographical and time restrictions do not limit the use of banking services anymore (Karjaluoto et al. 2002). As long as customers are connected to the Internet, they should be able to use the services when and where ever. The whole banking strategy has changed as a result of this; people are not dependent on the bank having branch closest to them physically, as it used to be. They can choose whichever bank offering its services online - or even several banks to serve different banking needs. This kind of development has shifted banks' attention more from marketing and selling of services and products towards building and managing customer relations.
According to the research done by Devlin et al. (2003), nearly every bank will have online services available by the year 2011. Surprisingly, they found out that small banks have benefited from the emergence of the Internet: Online services help small banks also to strengthen their competitive position. Internet is contributing to making the competition even fiercer in the future, regardless of the size of the organization (Lüneborg and Nielsen 2003). Internet banking has also played a major role in changing the structure and amount of investments made to develop banking systems. Front-end and back-office systems are now designed to support the online service offerings. Online systems and development of the necessary infrastructure and system architecture receive majority of attention and information technology investments today. Providing real time data, and having the customers to key in the data instead of more experienced bank officers, requires also more from the system design. Although, the investments that have been done also seem to pay off, Lüneborg et al. (2003) discovered that banks providing online services experience a significant positive impact on different performance measures: sales, market share, and amount of new established customer relationships. These are all expected to be profitable at some stage of the lifecycle.
In addition to tangible and measurable benefits brought by online banking, the more intangible ones are no less important, namely competitive advantage, customer retention and attraction. And very promising also for the banks is also that all of the above mentioned benefits eventually result in both increased revenues and reduced costs (Simpson, 2002). On average Internet bank customers are more profitable, maintain larger balances, use more bank products, and are faster in adopting new products and services, especially when compared to customers using more traditional channels (Hitt and Frei, 2002). This may, however, have much to do with the demographics and the background of this type of customers.
Image and reputation of the bank should not be forgotten either: Internet bank offerings have a big influence on the image of the bank, as to the loyalty and satisfaction of the customer (Flavián et al. 2004, Shankar et al. 2002).
It is fairly obvious that bank managers are interested in what can be done to increase the usage of Internet banking services. Understanding customers is important in any service industry. Identifying the elements that influence customers' propensity to start using Internet banking is crucial in the process of acquiring new customers to go online, also it helps with understanding how the customers can be retained. East African banks are not any different in this respect. Nor is the small, traditional area of corporate banking used in this research, called Trade Finance, from other banking areas.
Several studies have been conducted to investigate the issue from private retail customers' point of view in several countries, from several aspects (Sudarraj and Wu 2005, Lassar et al. 2005, Lu et al. 2005, Shih and Fang 2004, Eriksson and Kerem 2004, Akinci et al. 2004, Pikkarainen et al. 2004, Sohail and Shanmugham 2004, Devlin and Yeung 2004, Gerrard and Cunningham 2003, Chau and Lai 2003, Liao and Cheung 2002, Karjaluoto et al. 2002, Suh and Han 2002, Liao et al. 1999, Sathye 1999).
However, what are missing in this stream of research, are those studies looking at the issue from corporate customer's perspective. The only one found was a qualitative study concentrating on the barriers to Internet banking adoption in Taiwan (Rotchanakitumnuai and Speece, 2002). Trade Finance is a part of corporate banking, and this research aims to find out the factors behind the decisions of corporate customers to start using the Internet services provided by banks In the following sections The researcher discusses the use of Internet and Internet banking in East Africa. In addition he introduces Trade Finance business and products in general level, after which follows an examination of the business area and its role in Internet banking.
1.1.1. Trade Finance
Trade Finance as a phrase is somewhat misleading. To those unfamiliar with this business area, it might sound to be more describing to talk about international trade. Trade Finance involves parties, usually in different countries, importing and exporting goods by using documents as the payment instrument, or using international guarantees to secure that the beneficiary party gets the payment as agreed. When trading partners make a trade agreement, they also have to agree on the payment method used. Trade Finance products are suitable for most of the occasions. These products involve documentary payments, Documentary Credits (D/C) and Collections, and International Bank Guarantees. International Chamber of Commerce (ICC) establishes all rules for Collections, D/Cs and International Bank Guarantees. Those rules are made to be followed by all the parties involved to ensure smooth and reliable trade between all the countries.
1.1.2. Internet banking and Trade Finance
Trade Finance online services can work either two ways, or one way (stand-alone) depending on if the service is connected to the banks systems. Some banks provide online services for all the products, some only documentary payments or different combinations of Trade Finance services.
When talking about online Trade Finance services, two way online services mean that the communication is done interactively: providing the customer a way of taking care of their Trade Finance business electronically via the Internet, sending and receiving transactions to and from the bank. Customers can make applications electronically, meaning they can issue deals (Import D/C's, Export Collections and Outgoing Bank Guarantees) to the bank, and receive issuances of deals (Export D/C's, Import Collections and Incoming Bank Guarantees) electronically from the bank. In addition to that, they can make amendments to the deals registered in the system, receive notifications and correspondence with the bank electronically, accept documents and payments and follow the status of their deals.
Stand-alone service refers to a service that is not connected to the banks systems in any way. It merely offers the customer an electronic way of filling in applications and saving historical data on the deals.
Online services usually provide the customer also a way of collecting historical data, making reports of them and using the deal information in various ways. For example the data saved is used to support accounting and bookkeeping for controlling and following up the company cash flow, liabilities and transactions.
The aim of this study is to distinguish the factors influencing corporate customers' when they make a decision to start using Internet banking services or not. The empirical evaluation is based on Trade Finance customers and their view on a specific Internet banking service provided.
1.2 Statement of the problem
Corporate customers have several factors that influence them to adopt internet banking when transacting their financial business. Banks need to understand which factors may influence and attract customers to use internet banking, so that they can build long relationships with existing customers. Trust has been seen as a key factor in successful relationship marketing (Morgan and Hunt, 1994). Building a long relationship with customers can be the most important requirement for international and local banks so that they can keep their position in the market and compete globally. Banks should understand how they can attract customers from different countries, cultures, and backgrounds to use their services both online and offline. Factors that influence corporate customers' decision to adopt internet banking should be instigated.
In order to understand how banks can maintain good or successful relationship with customers and attract them to use internet services, Commitment-Trust Theory (Morgan and Hunt, 1994) and the Technology Acceptance Model (Davis et al., 1989) can be used as a basic for this study.
1.3 Purpose of the study
The purpose of this quantitative study was to identify the factors that influence East African corporate customers' adoption of online banking services.
1.4 Objectives of the project
There are two levels of objectives the researcher considered such as main and specific objectives.
1.4.1 General objectives
The major objective of this quantitative study was to identify the factors that influence East African corporate customers' adoption of online banking services. The first step was to investigate the background of previous research done on the area, especially Technology Acceptance Model, as it was used as the basis for the theoretical framework of this study. The conclusion of the theory was done based on discussions with Trade Finance specialists of the Kenya Commercial bank (referred to as the case bank in the remainder of the study). The theoretical model and hypotheses constructed to test it, was an extension to the Technology Acceptance Model.
1.4.2 Specific objectives
i. To find out how technology factors can mediate the effects of trust on corporate customers' intentions to use internet banking by East African Trade Finance.
ii. To find out if perceived ease of use of internet affect customers' decisions at East African Trade Finance.
iii. To discover which of the technological factors can best mediate the effect of the trust's antecedents on customers' intentions to use internet banking at East African Trade Finance.
iv. To find out if Bank Support can influence corporate customers to adopt internet banking across East Africa.
1.5 Research Questions
i. How does technology factors mediate the effects of trust on corporate customers' intentions to use internet banking by East African Trade Finance?
ii. Does perceived ease of use of internet affect customers' decisions at East African Trade Finance?
iii. Which of the technological factors can best mediate the effect of the trust's antecedents on customers' intentions to use internet banking at East African Trade Finance?
iv. Does Bank Support influence corporate customers to adopt internet banking across East Africa?
1.6 Research Hypotheses
i. Perceived Usefulness positively influences use of Trade Finance Internet Services in East Africa.
ii. Perceived Ease of Use positively influences use of Trade Finance Internet Services in East Africa.
iii. Organizational Support positively influences use of Trade Finance Internet Services in East Africa.
iv. Bank Support positively influences use of Trade Finance Internet Services in East Africa.
1.7 Scope
As a background of the study the researcher used mainly Technology Acceptance Model related research that in general examine user acceptance of online banking solutions. Although these studies cover wide variety of countries and aspects to the topic, most of them are related to retail banking. This research was about Trade Finance services offered to corporate customers in the Internet by one bank, within East Africa. Despite the case study nature of the research, the believe the results of this research were generalized to other Internet services designed for corporate customers, and especially for Trade Finance. Despite the fact that geographical limitations of this research narrowed down the amount of countries involved to four, generalization of the results can be done also in other so called African countries with society similar to the East Africa. The research data was collected, analyzed and presented over the course of six month period.
1.8 Significance Of The Study
The primary benefit of this study is as a contribution to knowledge in the areas of Internet banking adoption and factors that influence its adoption. The research will contributes to the limited number of empirical researches on internet banking.
This research did an assesment on the current use of internet in banking sector in East Afica, hence try to provide some improvement recommendation on internet banking adoption there. This paper also highlight the potential power of internet banking as the main tool to promote rapid growth and expansion of banks with the simple and convenient facilities guided by internet.
The study also provide great benefits for researchers, and educators though providing a clearer view and deep understanding for all the issues related to the field of Electronic Banking. The university and its authorized personel are permissible to use this paper for academic reference. The study will also act as a valuable resource for reference in literature review for those intending to do further research on e- banking related topics and finally, It will contribute value and input to the pull of the already existing knowledge by confirming theories that exist and making recommendation to the new facts.
[...]