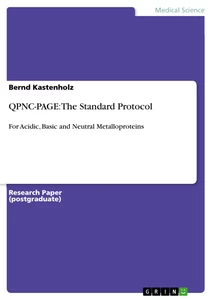 QPNC-PAGE: The Standard Protocol
For Acidic, Basic and Neutral Metalloproteins
Forschungsarbeit 2012 10 Seiten
Leseprobe
QPNC-PAGE: The Standard Protocol
For Acidic, Basic and Neutral Metalloproteins
QPNC-PAGE (abbreviation for: q uantitative p reparative n ative c ontinuous p oly a crylamide g el e lectrophoresis) is a standardized variant of the electrophoresis, particularly gel electrophoresis. This analytical method of biochemistry and bioinorganic chemistry is used for the separation of charged molecules in a homogeneous electric field and allows the quantitative separation and isolation of metalloproteins from human, vegetable or animal samples with high resolution. Proteins with different molecular mass and charge are separated according to isoelelectric points and analyzed by nuclear magnetic resonance (NMR). Thus the method makes an important contribution to the structure determination of native and denatured metalloproteins and protein isomers in complex protein mixtures [1]. Figure 1 illustrates a metalloprotein (MW ~ 32 kDa) present in eukaryotes that can be quantified by a combination of metal detection methods, NMR and QPNC-PAGE.
illustration not visible in this excerpt
Figure 1: Copper chaperone for superoxide dismutase (CCS) is a ubiquitious metalloprotein that in humans is encoded by the CCS gene. CCS specifically delivers copper to copper/zinc superoxide dismutase (SOD-1) and may activate SOD-1 through direct insertion of the copper cofactor [2]. These specific protein-protein interactions can be studied by QPNC-PAGE using Model 491 Prep Cell (Fig. 2).
illustration not visible in this excerpt
Figure 2: Electrophoresis chamber Model 491 Prep Cell is a device for isolating quantitative amounts of metalloproteins in complex protein mixtures. The upper electrophoresis buffer corresponds to the cathode buffer and the lower electrophoresis buffer to the anode buffer. The separated proteins are eluted in the elution chamber and isolated in fractions. UV-active proteins can be detected at 254 nm or 280 nm detection wavelengths, for example. Peripheral tools and run conditions of QPNC-PAGE are presented in Table 1 [3].
Table1. Recommended equipment and run conditions
illustration not visible in this excerpt
All instruments are from Bio-Rad Laboratories, Inc.
The separation of the proteins is carried out in a commercial electrophoresis device for preparative PAGE (Fig. 2). It is composed of various components, the upper and the lower electrophoresis chamber and gel tube connected with an elution chamber and cooling core (Fig. 2). As peripheral tools adapted for preparative electrophoresis serve a DC voltage source, a peristaltic pump for the transport of the eluent to a fraction collector, a UV detector with a recorder and a recirculation pump for the lower electrophoresis buffer for cooling the gel (Fig. 2). All devices except the power supply and recorder are cooled in a refrigerator at a constant temperature of 4° C during electrophoresis (Tab. 1) [4].