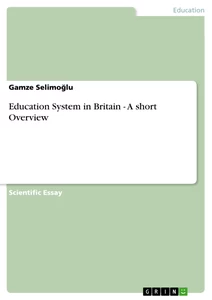 Education System in Britain - A short Overview
Wissenschaftlicher Aufsatz 2012 6 Seiten
Leseprobe
Gamze Selimoğlu
IED 134 Research Skills and Study Techniques
18.05.2012
Education in England
British education is composed of three main parts: schools, higher education and further/adult education. Schools are divided into two groups: state and independent sectors. However, there is no common educational system throughout Britain and England/Wales, Northern Ireland and Scotland have different school systems. Higher education and further/adult education commonly have the same structure all over Britain and are mostly state-funded (Oakland 210). It will be a mistake to think that all four countries in UK use the same education system. There are many similarities but there are also big differences. For instance, education is obligatory in all four countries; compulsory period is 5-16 in England, Wales and Scotland, but 4-16 in Northern Ireland. All of them have primary schools leading to secondary schools but the age of transfer is 12 in Scotland while it is 11 in the other three. In Scotland and Wales secondary schools are compulsory while it is not true of England and Northern Ireland (Gordon and Lawton 3). This paper will analyze the brief history of education system in England, types of schools and the contemporary pattern of English primary education.
The earliest schools in England, at least those which are known, dates back to the arrival of St.Augustine and Christianity around the end of the sixth century. It looks that the very first grammar school was founded at Canterbury in 598:
It may be safely asserted then, that in this year, 598, as an adjunct to Christ Church Cathedral, or rather as part of it, and under the tuition of himself and the clerks who came with him and whom Ethelbert endowed, Augustine established the Grammar School which still flourishes under the name of the King's School, not from its original founder, Ethelbert, but from its re-founder, Henry VIII. (qtd. in Gilliard 2)
It can be seen that British education has a very long history. Therefore, starting with the nineteenth-century education will be more sufficient. At the start of the nineteenth century the world was leaded by Britain in industrial and commercial development. State involvement was late. In 1870, there was the first attempt to establish a unified system of state funded elementary schools. However until 1944 the state did not provide a comprehensive and national system for primary and secondary schools. Other schools were also established by rich people and also monarchs. These were independent, not state funded and were known as high, grammar and public schools. The state provided free and compulsory elementary schools for children between the ages of five and ten in most parts of Britain by 1880. However, the education system was still inadequate in the early twentieth century (Oakland 212).
During the last thirty years, the education system has developed and grown in many ways. The secondary schools had 500.000 pupils in 1945, whereas today there are about four million. Children are required by law to have an education until they are 16 years old. Education is compulsory, but school is not, children are not required to attend school. They could be educated at home. Section 7 of the 1996 Education Act states "The parent of every child of compulsory school age shall cause him to receive efficient full-time education suitable a) to his age, ability and aptitude, and b) to any special educational needs he may have, either by regular attendance at school or otherwise" (Gosden 108).
[...]
Details
Seiten

6

Jahr

2012

ISBN (eBook)

9783656355885

Dateigröße

483 KB

Sprache

Englisch

Katalognummer

v208179

Institution / Hochschule

Hacettepe Universität – English Language and Literature

Note

Schlagworte