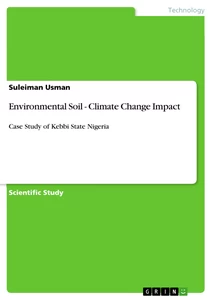 Environmental Soil - Climate Change Impact
Case Study of Kebbi State Nigeria
Wissenschaftliche Studie 2013 45 Seiten
Leseprobe
TABLE OF CONTENT
SUMMARY
CHAPTER 1
INTRODUCTION
An overview background
CHAPTER 2
MATERIALS AND METHODS
2.1 Area of study
2.2 Verbal Interview (VI)
2.3 Instrument used for VI
2.4 Procedure used for VI
2.5 Environmental analysis used
2.6 Rainfall data collected
CHAPTER 3
RESULTS
3.1 Overall results information
CHAPTER 4
DICUSSION
4.1 General discussion
4.1.2 Rainfall and combined factors
4.1.2 Rainfall decline or fluctuating
4.1.3 Rainfall and deforestation
4.1.4 Drought or long dry season
4.1.5 Soil erosion and combined factors
4.1.6 Deforestation and poverty
4.2 Implications and causes
4.3 Quality of the result
4.4 Future agricultural production management of the result
4.5 Future uncertainty of the result
CHAPTER 5
CONCLUSION AND RECOMMENDATION
5.1 Conclusion remarks
5.2 Recommendation remarks
REFERENCES
PREFACE
" The text presented in this book was part of Author's field study as undergoing PhD programme at Natural Resources Institute, The University of Greenwich UK. Suleiman laboured throughout his field studies to collect as much information from different soil background perspectives to aid him report the soil baseline data information that will be used as reference materials for the Sudan Savannah zone, Kebbi State Nigeria. In the process of this gigantic work, Suleiman obtained some information that is not necessarily accompanied in his PhD thesis, and which the materials in this book is part of that extra materials. The book was aim to address the impact and causes of climate change and soil degradation under agricultural soil environment in Kebbi State Nigeria. The results provided, indicated that farmer's viewpoints on the impact of climate change and soil degradation have contemplation in the global climate change and soil degradation perspectives. Farmers believed that climate change and soil degradation are interconnected, and have induced some unacceptable changes to their agricultural lands in Kebbi State. The results designated that soil and soil properties were changed in form of soil erosion, desertification, dessert encroachment, leaching, mass movement of soil particles, development of gullies or land channels, and subsequently poor soil quality, poor crop performance and annual yield reduction. Farmers are in the opinion that the major factors underlying the progressive enhancement of these problems are deforestation, poverty, drought, overgrazing, population, poor government policy and poor research development. "
SULEIMAN USMAN
Natural Resources Institute,
The University of Greenwich
Medway Campus, Chatham Maritime
Central Avenue, Chatham, Kent ME7 4TB UK
(us06@gre.ac.uk or labboallugu@yahoo.com)
illustration not visible in this excerpt
CHAPTER 1
INTRODUCTION
1.1 An overview background
Call has been made for more research into the global drivers of African climate and into the detailed consequences at local level (Conway, 2009). Sub-Saharan Africa is due to answer this call because of its low economic development, lack of infrastructure, services and needs for special attention on soil and environment in developing climate change adaptation strategies (Muller, 2009). Essentially, the news has reached the level of acceptance that the world's climate is changing (IPCC, 2007). This climate change has been considered as one of greatest environmental challenges facing the mankind all over the globe (DEFRA, 2007). Understanding climate change and its likely impacts on global environment is one of the great scientific priorities of the 21st century and responding successfully to them will be a major test for global environmental civilization (David et al., 2008; Trevor, 2009). Climate change impact has led to increased in soil and land problems such as changes in the seasonality of precipitation and a potential increase in the frequency of extreme events to have also potential implications on soil properties and process rates (Parry et al., 2007). Climate change has been linked to degradation of natural resource such as soil inform of erosion, desertification and inappropriate agricultural practices, which have received a very high consideration for both in research and environmental policy issues because of their potential impacts on global environmental and soil developments (IPCC, 1996; Eswaran et al., 1998; Dougill et al., 2002; Thomas and Dougill, 2003; Pathak et al., 2005; Junge et al., 2007; Engstrom et al., 2008).
As a result of huge losses and damages caused by climate changes and soil degradation on global environment (Max et al., 1997; Bationo et al., 2007; Pak Sum Low, 2010), the rapid increasing world population is currently suffering from food crisis that led to the increase in hunger, malnutrition and poverty. Kebbi State will be a good example. The work of Usman (2007) reported that little reliable information is available on extend and impact of climate change in northern States of Nigeria including Kebbi State. Meanwhile, environmental crisis due to climate change are increasingly alarming and affects almost everyone on the planet (IFAD, 2007). Although, there are many reasons to this including greenhouse gas emissions, solar effect and inappropriate land management (Trevor, 2009); however, the associated implications in Kebbi State would have include drought, deforestation, overgrazing, poverty and poor environmental government policy, which have been long affecting arid and semi-arid African regions (Eswaran et al., 1998). The development and poverty reduction in Kebbi State depends on ability to conserve, sustain and manage soil resources for agricultural production. While agricultural production and food security in many parts of sub-Saharan Africa are affected by natural climate variability and are likely to be severely compromised by climate change in particularly by damaging high temperature and greater incident of drought (Conway, 2009). The area suitable for agriculture, the length of growing seasons and yield potential particularly along the margin of semi-arid and arid areas of sub-Saharan Africa are expected to decrease (Africa Partnership Forum, 2007). Thus, the interaction of climate change with soil degradation in places such as Kebbi State, will likely lead, to degradation of quality of life and environmental hazards in the region.
While climate change and soil degradation have been consider not only to results in decrease in food production but also in water quality, soil quality, ecological imbalance and consequent degradation of the quality of life as well as increase in flooding and soil contaminations (FAO, 1995; PCFSC, 2000; IPCC, 2007). The climate change and soil degradation have been mentioned as both the causes and effects of natural disasters, for instance, climate change, soil erosion and desertification caused direct environmental damage to natural resource, and indirect damage by increasing poverty, which itself leads to the unsustainable use of natural resource and environmental miss management (Tran and Shaw, 2007). These problems are enough to prevent any region undergoing human development such as Kebbi State from improving economically, socially and educationally. Research and development must investigate these implications to find out the possible causes of environmental changes in the State for future environmental management.
For example, the climate change and soil degradation, are interconnected in many ways to induce environmental changes. So far, the result of many studies on climate changes worldwide suggested that climate change is the major driving force of soil degradation (Devidson et al., 2003; IPCC, 2007; TroFCCA, 2008; Ameztegui et al., 2010). The IPCC report on working group II (Perry et al., 2008) reported that, all the studies on soil erosion have suggested that, increased rainfall amounts and intensities will lead to greater soil erosion rates, which are expected to change in response to changes in climate for a variety of reasons including the change in the erosive power of rainfall, changes in plant canopy, change in the litter cover, and changes in land use practices. Notably in Kebbi State (FMEN, 2001; Usman, 2007) little work has been done on how climate change and soil degradation have been interconnected to impacts the soil properties, physical environmental conditions, human life, animal and water habitat.
Yes! the impact of climate change and soil degradation on human, soil properties and natural ecosystem has been well documented in recent developments (Patz1 et al., 2005; Parry et al., 2008; Trevor, 2009) and the volumes provides invaluable and educated information for researchers in soil science, crop science, environmental science, climatology, policy makers, students, and industrial and governmental organisations. However, few of these studies have looked at the detail information of climate changes and soil degradation in dryland regions such as Kebbi State Nigeria. This is important because, the impact of climate change and soil degradation in dryland areas is even more serious than somewhere else on the globe (FAO, 1997). Erosion also need to be survey and recorded at different areas according to the degree of detail required (Hudson, 1987). The current investigation on climate change and soil degradation in Kebbi State will add to that information.
In this study, the impacts of climate change as liked to soil degradation on physical soil environment in dry areas are taken into account in addition to identify the major causes of environmental changes due to climate change in Kebbi State Nigeria. The information will assist policy makers in Kebbi State and will be add to the development of the ongoing awareness of the factors that causes climate change and environmental hazards in sub-Saharan West African regions.
CHAPTER 2
MATERIAL AND METHODS
2.1 Area of study
Kebbi State is located in sub-Saharan West African desert region, bordering the nations of Niger republic to the west and Benin republic to the southwest, and also borders the Nigerian States of Sokoto to the north, Zamfara to the east and Niger to the south (Figure 1). Kebbi State is one of the Sudano-Sahelian zone regions of Nigeria dominated by Hausa-Fulani. The total land area of the State is 36,229 km2 of which 12,600 km2 is under agriculture. The State has a total population of 3, 630, 9313 people of which 85% (over 2 000000) are farmers. The major binding factors among the people living in Kebbi Sate include the significance of Islamic religious culture, Hausa as a major language of communication and agriculture as the key of economic struggles.
illustration not visible in this excerpt
Figure 1: Map of Kebbi Stated located in Nigeria in the sub-Saharan West African region. Adapted from Perry-Castañeda Library Map Collection (2010)
The State has two important agricultural lands namely – the fadama land and dryland. The fadama is an agricultural land which seasonally flooded with water during the period of rains and recede during the dry season leaving a coating of alluvial clay soil. The dryland areas of the State shared similar characteristics with other dry areas of the world. They were characterised as slowly permeable, most of the water is lost by run-off and might have been formed under aridity from wind-stored desert sands that accumulated over long periods of time (Adegbola, 1979; Fitzpatrick, 1980).
2.2 Verbal Interview (VI)
In an effort to collect necessary information on climate and environmental changes in Kebbi State, a Verbal Interview (VI) was carried out in rural areas. Farmers were selected according to Random Method (RM) introduced by FAO (1997). The respondents include rural farmers, village heads and house heads living in Bagudo, Birnin Yawuri, Bui, Dirin daji, Gotomo, Kangiwa, Ngaski, and Tondi gada local areas of Kebbi State (Figure 2).
illustration not visible in this excerpt
Figure 2: Location of areas where VI was conducted in Kebbi State (Source: Suleiman Usman, 2012)
The types of questions used were mainly on climate change and soil degradation. These questions are: 'Is climate changes?', 'What major environmental degradation it caused' 'Is climate change affect physical environmental condition? And what they believe would happen to their physical environmental condition in the future; Are there any soil changes on your farms? What are these major changes? Have you observed yield reduction? What are the major causes?. Priority was given to forest, vegetation and cultivated areas, which have been affected physically. Environmental Analysis (EA) as set out by DFID (2003) was used to show the relevant of each data in detailed studies. This is aimed to (a) identify the major environmental problem in the study area, (b) the quality of the agricultural land, (c) the evidence of climate change as it impact on soil environment and (d) farmer's perceptions with regard to differences between environment of today and that of last 40 years ago.
2.3 Instrument used for VI
Assess to qualitative field data information has been widely recognised as the cornerstone to meaningful public participation in many aspect of environmental studies including environmental impacts, climate change and environmental decision-making (see Cox, 2006). From this view, 'Personal-Verbal-Face-to-Face-Interview' (PV'F-F'I) was used as an instrument for field data assessments. In some literatures it was called 'face-to-face dialogue' (Katz and Miller, 1996 p. 128). Nevertheless, it is optimistic that using this instrument for data assessment will help to obtain more reliable information needed to the understanding people own problems (SEDSCR, 2004; Salami, 2004; Richard, 2007).
Most educationalists scholars (e.g. Martin, 2007) agreed that public participation methods such as PV'F-F'I that could employ collaborative communication activities where farmers work together with scientific investigators to jointly define a problem and evaluate solution are more likely to build trust in providing accurate and quantitative result for environmental problems and management decision. This is because through verbal interview, the respondents may have ample time to express their personal opinions, ideas and views more clearly. They may also have opportunity to voice their concern on particular or a major problem affecting their day to day activities particularly with regard to their farming businesses. According to DFID (2001) how environment shocks and stresses are experienced by poor people (rural farmers), is always linked to the way in which they deal with environmental change; and this may means that, their regular soil and environmental activities have made them very conversant with key problems and their possible solutions.
2.4 Procedure used for VI
The total size of the participants in each village was 100 (100 x 8 = 800). The participants were predominantly farmers aged 20 – 70 years old. Individuals were organized in front of district head house to answer the questions early in the morning. Overall, each interview was recorded using pen and exercise book, lasted between 55 and 95 minutes for a period of 2 days in each study area from Saturday to Sunday. This interview was also repeated for 5 weeks, and the reason behind this is to collect as much information for data accuracy and error minimisation. The major points of consideration by farmers throughout these 5 weeks of interview was highlighted and presented in Chapter 3 as complete representation of the result finding. However, to encourage the participation of individuals during these days some pictures were taken with the rural farmers in the field. At the end of each interview, the recorded information was then reorganised in another new exercise book and finally documented into the laptop computer for future record and further analysis.
[...]