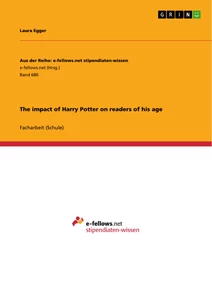 The impact of Harry Potter on readers of his age
Facharbeit (Schule) 2009 30 Seiten
Leseprobe
Table of Contents
1. Introduction
2. Harry Potter and reading attitudes
2.1 Readers attracted by Harry Potter
2.2 Interest in reading
3. The influence of Harry Potter on character and personality development
3.1 Moral Reading
3.2 The reader's character
3.3 Increasing complexity of the books
3.4 Importance for the formation of a generation's common identity
4. Conclusion
5. Discussion
References
English version of survey
German version of survey
1. Introduction
"When Harry Potter and the Deathly Hallows went on sale in July 2007, it sold 15 million copies worldwide in 24 hours, breaking the record that had been held by each of the previous three books (to put that in perspective, 2005's Half-Blood Prince moved more copies on its first day than 'The Da Vinci Code' in an entire year)." (Gibbs, Time Magazine, Dec 2007/Jan 2008, 74)
The immensely popular Harry Potter series by British writer Joanne K. Rowling has captivated tremendous attention from people of all ages all over the world. However, the ones that have probably been most grasped by Harry Potter are the children who started reading the first book of the series when they were between eight and twelve and then grew up with Harry (who turns eleven in the first book). There is a generation of children who were always about the same age as the protagonist of the series. And as Harry got older with every publication of a new book, so did they. There are readers who have read every book of the series, children who have read them multiple times and others who only know one or some of the books. However, according to the survey considered in this paper at least one Harry Potter book has been read by the majority of 18-20-year olds. No matter how great the impact was, overall it seems to have affected children more than any other book.
What is it about the Harry Potter books that made them worth reading to such an extent? What influence did the books have on people's reading attitudes, e.g. how many people have actually read them how many times and have the books changed their interest in reading? What exactly was the actual impact that the books have had on children's character and personality development, such as moral reading, their (the reader's) own character and the formation of a generation's common identity? And what impact did the increasing complexity of the books have on young readers?
This is what the following analysis wants to find out. It is mainly based on a survey among 100 18 to 20-year-old students and also on published research and surveys on the subject as well as newspaper articles and internet publications.
2. Harry Potter and reading attitudes
2.1 Readers attracted by Harry Potter
Among the 100 students taken into account for this survey, 89 have read at least one of the Harry Potter books as opposed to eleven who have not. 54 of the students who filled out a questionnaire were girls and 46 boys. 48 (89 %) of the girls have read at least one of Harry Potter whereas six (11%) have not. Among the boys 41 (89%) have read at least one of the series and five have not read a single book (11%). There is no major difference to be seen between male and female students regarding the general appeal Harry Potter has had on the now 18 to 20-year-olds. The equal percentages of Potter-readers and non-Potter-readers in this sample of 100 students may be indicating that boys and girls were equally interested or not interested in reading Harry Potter (Questions 1, 2, 3, 4)
However, another survey by Scholastic and Yankelovich, "The Kids and Family Reading Report"[1], suggests that boys are more likely than girls to have read Harry Potter. One possible explanation the report gives for this is that according to Scholastic a majority of boys they questioned said "it is important to read Harry Potter to feel 'in' with their friends" (63% of boys, only 43% of girls). This report states that 57% of boys have read the series whereas only 51% of girls interviewed have. (Kids and Family Reading Report: 13-15)
According to my survey, books 1-4 were read by most people. "Harry Potter and the Philosopher's Stone" (the first of the series) was read by 89, "Harry Potter and the Chamber of Secrets" by 85, "Harry Potter and the Prisoner of Azkaban" by 84 and "Harry Potter and the Goblet of Fire" by 80 students. With the publication of the more recent books (5-7), less people read them, which indicates that not all readers who kept reading until the fourth book were interested in reading the later ones as well. Only 71 students (out of 89) read "Harry Potter and the Order of the Phoenix", 63 "Harry Potter and the Half-Blood Prince" and 57 stuck with Harry Potter to the end and finished [illustration not visible in this excerpt]"Harry Potter and the Deathly Hallows".
This may be due to the fact that people felt they were growing too old for Harry Potter. So only the readers who did not lose interest kept on reading. However, these were certainly not all the readers who started off reading the series being very enthusiastic about it. According to my survey there are readers who have read the first three or four or five books multiple times but then did not continue with the later books. The Harry-Potter–hype seemed to be at its highest shortly after the first three books were published as these books were read most frequently. The now 18 to 20-year-olds probably were most into Harry Potter when they were between about eleven and thirteen and at that age were eager to read the books. (Question 4)
The survey by Scholastic and Yankelovich produced equal findings. Among 54% of 500 5-17 year olds who have read Harry Potter, the series "is popular among kids nine years old and up". More children of age groups nine to eleven and twelve to fourteen have read Harry Potter and are also interested in re-reading it than age groups five to eight and 15-17. Furthermore, this research by Scholastic and Yankelovich found that on average kids say they started reading Harry Potter at the age of 9. (Kids and Family Reading Report: 16)
The decrease in times of reading noted for the later books may not only be due to the fact that students felt they were growing too old for Harry Potter, but also to the fact that, as Elizabeth E. Heilman states: "already in 1998 Harry Potter was an unavoidable cultural phenomenon." (Heilman, 2003: 1) So it may as well be possible that children mostly got fascinated by the books because of all the media attention and Harry Potter fan ware, i.e. the mass marketing of the Harry Potter products as well as the starting of the movie adaptations by Warner Brothers. (Turner-Vorbeck, 2003: 17) Tammy Turner-Vorbeck takes this even further : "Is it something special about the Harry Potter books that has caused such a sensation or is the sensation artificially manufactured and simply centred around them?" (Turner-Vorbeck, 2003: 18)
It is very likely that some children have drawn the interest for the series from this "Pottermania" and only started reading the books because of it. But other young readers certainly have because they simply liked the story and most of those are assumedly among those readers who also read on until the seventh book.
When Harry Potter arrives at Hogwarts School of Witchcraft and Wizardry he has just turned eleven. He then gets one year older with every new book. As it took one or two years until the publication of every next book, the reader grew older about the same as Harry and his best friends Ron and Hermione did. Contemplating the 100 students questioned for this survey, 26 (29%) were 8-9 years old and 47 (53%) out of the 89 Potter-readers were 10-11 when reading the first book. Hence 82% of the readers where about the same age as the series' pre-adolescent protagonists when they started reading, and if they read on stayed about their age until the series finished in 2007. Only 1(1%) person said he was younger than eight, and 15 (17%) people said they were twelve or older when they first read Harry Potter. So on average the 89 German sixth formers started reading Harry Potter at the age of 10. (Question 5)
illustration not visible in this excerpt
In her article for the Guardian, Rumeana Jahangir refers to this generation of children as Rowling's core readers, the fans who have grown up with Harry:
"The stories of his struggles against the dark forces against a backdrop of adolescent tribulations have been a mainstay in the lives of countless young people. Many who started reading Harry Potter when it first came out are now on the verge of adulthood and entry into the 'real world', too, just as the series reaches its conclusion. "(Jahangir, The Guardian, 2007-07-12)
53 (60%) of the students said they did read Harry Potter when it first came out and also read the other books of the series straight after they got published. 36 (40%) stated they did not. (Question 9)
From this it can be made out that 82% of the students are likely to have been attracted by Harry Potter because they were the same age as the main characters and therefore might have been able to identify with characters or issues from the books. (see 3.) The fact that 60% of Harry Potter readers read the books straight after their publication can be seen as a clue of great interest the books gave rise to. This number is also congruent with those who read every single Harry Potter book (64%). Those who have read all the books and those who have read them immediately are very likely to be the same children, that is to say the real "Harry Potter fans".
2.2 Interest in reading
Since the start of the massive popularity of the Harry Potter books it has been claimed frequently that Rowling's writing has given her readers pleasure and showed them that reading can be enjoyable: "There's something magical about Harry Potter [...] he has made millions of children switch off the television and pick up a book." (Fitzgerald, Spotlight, 2007: 44)
Apparently by creating the fictional world around Harry Potter Rowling has taken a huge part in getting children interested in reading and literature again. For instance one of several youngsters interviewed on the subject by the Guardian says: "The Harry Potter series are what started me reading and have been a constant source of inspiration and amusement for the past seven years." (Jahangir, The Guardian, 2007-07-12)
illustration not visible in this excerpt
Among the 89 sixth formers who have read Harry Potter eleven (12%) said they read "a great deal of books" before starting the series. 28 (32%) stated they read "quite a lot of books", 23 (26%) checked "not that much" and 27 (30%) admitted they only read "a book now and then". (Question 7) Among those who already read quite a lot (one book or more per week) obviously ten out of eleven said the amount they read after starting Harry Potter remained the same. Regarding the 28 who said they read "a lot" (a few books a month), 21 claimed their amount of reading stayed the same, six said they read "slightly more" and one person stated the series made her read "a lot more". Furthermore, 16 out of the 23 who only read "one book a month" said they read "as much as before", three ticked "slightly more" and four "a lot more". Last but not least, 21 out of the 27 who stated they had only read "a book now and then" before Harry Potter answered that this did not change after reading one or more of the series. Only four said they started reading "slightly more" and two changed their reading attitudes strongly and started reading a lot more. Taking all these numbers into account, there were seven (8%) students who really started reading a lot more and fourteen (16%) who took off reading a little more after they had discovered Harry Potter. Together this adds up to 21 (24%) of students who felt an increase in the number of books they read because of Harry Potter.
[...]
---
[1] The "Kids and Family Reading Report" is an American national survey of 1000 individuals, 500 (250 boys/250 girls) children ages 5 to 17 years old and one parent or primary guardian per child. The survey was designed and analysed by the staff at Scholastic and Yankelovich. The Scholastic corporation is the world's largest publisher and distributor of children's books and a leader in educational technology and children's media.
Yankelovich, Inc. is a leading consumer market research and analytics company . (New Study, 2008-07-25)