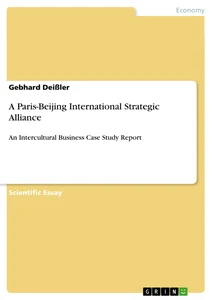 A Paris-Beijing International Strategic Alliance
An Intercultural Business Case Study Report
Wissenschaftlicher Aufsatz 2013 20 Seiten
Leseprobe
Inhaltsverzeichnis
1. The Business Case
2. Culture Profiles (Societal and Organisational) of Joint Venture Partners
3. CHINEFARGE: A SINO - WESTERN JOINT VENTURE. A CASE STUDY REPORT
4. Literature
CHINEFARGE
A SINO-WESTERN JOINT VENTURE
A CASE STUDY REPORT
1.The Business Case
'Chinefarge' is an intercultural business case study report and refers to a Sino-western joint venture of Paris-based LAFARGE and Huabei Mining Company (HMC) near Beijing. Lafarge is a major global player in building materials that tries to gain a foothold in Asia, more specifically in China which has an extraordinary need of construction materials and know-how to satisfy its emergent economy. While one can gain market share and the other a powerful partner, the cultural challenges of the IJV constituted a barrier for both sides. This succinct case study report diagnoses the cultural challenges they encountered in the initial stages of the joint venture and recommends some solutions.
This case study report was an assignment within the context of an Advanced Intercultural Management Programme of the University of Cambridge in the United Kingdom and was completed according to stipulated conditions in a precisely limited number of words, in 2004.
2 Culture Profiles (Societal and Organisational) of Joint Venture Partners
Abbildung in dieser Leseprobe nicht enthalten
3 CHINEFARGE: A SINO - WESTERN JOINT VENTURE.
A CONCISE CASE STUDY REPORT
Culture: Corporate asset or liability?
Due to the high concentration of dysfunctionalities in the psychological area, signaling insufficient cultural awareness by JV partners, I raise the question: What can be done to make culture work for, instead of against the JV, in line with Ghoshalಬs, Bartlettಬs and Birkinshaw's emerging change management model (2002, p374), which addresses first psychology, then physiology and finally anatomy?
[...]
Details
Seiten

20

Jahr

2013

ISBN (eBook)

9783656410911

ISBN (Buch)

9783656565833

Dateigröße

500 KB

Sprache

Englisch

Katalognummer

v212910

Note

Schlagworte