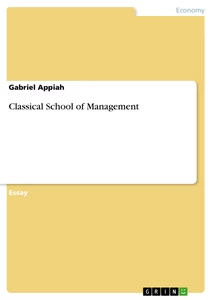 Classical School of Management
Essay 2013 4 Seiten
Leseprobe
Classical School of Management
INTRODUCTION
There is no one acceptable definition of management and hence many scholars like Henri Fayol, F.W. Taylor, E.F.L. Brech and others have defined management based on their own understanding of the concept. For instance, Mary Parker Follet defines management as "Getting things done through other people". This definition calls attention to the fundamental difference between a manager and other personnel of an organization.
The concept of management has seen many evolutions in the direction of theorizing to underpin the concept. Among some of these schools of management thought or theories are the classical or traditional approach, the human relations school, the system approach and the contingency approach.
CLASSICAL PRINCIPLE (SCHOOL) OF MANAGEMENT
The main assumption underpinning this principle of management is the fact that people are rational and as such are motivated by their economic aspirations. The classical viewpoint of management can be divided into three parts: Scientific Management, Administrative School and Bureaucratic Management. The proponents of scientific management believe that scientific method can be used to define the "one best way" for a job to be done. The main proponents were Frank and Lillian Gilbreth, Frederick Winslow Taylor and Henry L. Gantt. The proponents of the Administrative School (Bureaucratic Management) were Max Weber and Henri Fayol. Max Weber believed that organizations should be managed impersonally and that a formal organizational structure, where specific rules were followed, was important. Henri Fayol, on the other hand developed 14 principles of management based on his management experiences. These principles provide modern-day managers with general guidelines on how a supervisor should organize her department and manage her staff.
Details
Seiten

4

Jahr

2013

Dateigröße

426 KB

Sprache

Englisch

Katalognummer

v213038

Institution / Hochschule

Kwame Nkrumah University of Science and Technology

Note

Schlagworte