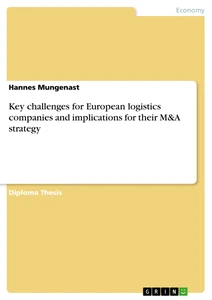 Key challenges for European logistics companies and implications for their M&A strategy
Diplomarbeit 2008 105 Seiten
Leseprobe
Table of contents
1 Introduction
1.1 Problem description and aims
1.2 Structure and methodology
2 Theoretical background
2.1 Strategic planning
2.1.1 Strategic management process
2.1.2 External vs. internal factors
2.2 External audit
2.2.1 External forces
2.2.2 Competitive analysis
2.3 Growth strategies
2.3.1 Organic growth
2.3.2 Mergers & Acquisitions
2.3.2.1 Forces for M&A
2.3.2.2 Motives for M&A
2.3.3 Organic growth vs. M&A
3 Logistics market
3.1 Market overview
3.1.1 Sub-industries
3.1.2 Modal split
3.2 Shipping lines
3.3 Ports and port operators
3.4 Air carriers and air ports
3.5 Intra-European transport
3.5.1 Road transportation
3.5.2 Rail transportation
3.5.3 Inland shipping
3.6 Freight forwarding
3.7 Contract logistics
3.8 Historical M&A activity
4 External audit for logistics companies
4.1 Economic forces
4.2 Social, cultural, demographic and environmental forces
4.3 Political, legal and governmental forces
4.4 Technological forces
4.5 Competitive forces
4.5.1 Shipping lines
4.5.2 Ports and port operators
4.5.3 Air carriers and air ports
4.5.4 Intra-European transport
4.5.4.1 Road transportation
4.5.4.2 Rail transportation
4.5.4.3 Inland shipping
4.5.5 Freight forwarding
4.5.6 Contract logistics
5 Implications for the M&A strategy of logistics companies
5.1 Is a growth strategy feasible?
5.2 Are logistics M&A value enhancing?
5.2.1 Event study for logistics M&A
5.2.1.1 Methodology
5.2.1.2 Results
5.2.2 Long-term effects of logistics M&A
5.3 Main external forces for logistics companies
5.4 Implications on M&A strategy from developments in related industries
5.4.1 Shipping lines
5.4.2 Ports and port operators
5.4.3 Air carriers and air ports
5.4.4 Intra-European transport
5.4.4.1 Road transportation
5.4.4.2 Rail transportation
5.4.4.3 Inland shipping
5.5 Implications on M&A strategy from developments within the logistics industry
5.5.1 Rise of BRIC countries
5.5.2 Integration of freight forwarding (FF) and contract logistics (CL)
5.5.2.1 Positioning of logistics companies
5.5.2.2 Profitability of different segments
5.5.2.3 The rationale of integrating FF and CL
5.5.2.4 Attractiveness of the combined industry
5.5.2.5 Empirical research on the combination of FF and CL
5.6 Summary
6 Conclusion
7 Bibliography
8 Appendices
8.1 Back-up material for event study (Logistics index)
8.2 Back-up material for event study (MSCI World)
8.3 Back-up material for ROCE calculation
8.4 Potential M&A activity in future
9 Supplementary information CD
9.1 Annual report analysis AR analysis.doc
9.2 M&A case studies M&A case studies.doc
9.3 Interviews and E-Mails Interviews and E-Mails.doc
List of figures
Figure 1 Strategic-Management Model
Figure 2 Relationships between key external forces and an organisation
Figure 3 Porter's Five Forces
Figure 4 Forms of M&A
Figure 5 Overview of logistics market
Figure 6 EU-25 modal split for freight transport (in %, based on tkm, 2005)
Figure 7 Inland transport modal split in EU-25 (in %, based on tkm, 2005)
Figure 8 Freight forwarding business model
Figure 9 Overview of contract logistics
Figure 10 Share in world GDP at PPP (in %)
Figure 11 Flows of world trade (in €bn)
Figure 12 Capacity of container alliances vs. independent container shipping lines
Figure 13 European terminal portfolio of some major terminal operators
Figure 14 Total market shares of non-incumbent rail freight operators (2006)
Figure 15 Hypothesis testing (full sample)
Figure 16 Hypothesis testing (significant M&A only)
Figure 17 Main external forces for European logistics companies
Figure 18 Positioning of selected logistics providers
Figure 19 Profitability of different logistics segments
Figure 20 ROCE of logistics companies
Figure 21 Porter's Five Forces (Integration of FF and CL)
Figure 22 Hypothesis testing (Combination of FF/CL vs. same industry M&A)
Figure 23 Hypothesis testing (Integration of industries)
Figure 24 Logistics M&A matrix
Figure 25 Back-up material for event study (Logistics index)
Figure 26 Back-up material for event study (MSCI World)
Figure 27 Back-up material for ROCE calculation (2007)
List of tables
Table 1 Volume of seaborne trade (2005)
Table 2 Leading container shipping lines
Table 3 Container shipping routes (2006)
Table 4 Leading container terminal operators
Table 5 Leading air cargo airlines (international transport, 2006)
Table 6 Largest rail cargo companies in EU (2007)
Table 7 Selected blockbuster deals in the logistics market
Table 8 Market positions of freight forwarders (2007)
Table 9 Largest contract logistics companies (2007)
Table 10 Growth rates of different markets
Table 11 Potential M&A activity in future
List of abbreviations
illustration not visible in this excerpt
1 Introduction
1.1 Problem description and aims
The world is constantly changing, particularly in booming industries such as logistics. Globalisation, increased outsourcing, customers' demand for global coverage and integrated services are just a few examples of how the external environment affects logistics companies. Therefore, logistics companies face the question of how to react to these changes in the external environment to stay competitive in an ever changing, highly competitive industry. In this thesis, this question is sub-divided into three main questions:
1. Does the external environment support a growth strategy?
2. Are M&A a feasible growth option for logistics companies?
3. What are the implications from the external environment for the M&A strategy of logistics companies?
The basis for all these questions is the external audit. Therefore, an external audit for logistics companies with focus on competitive forces is conducted. Hence, one aim of this thesis is to collect and summarise the main external forces affecting European logistics companies to give decision makers in the industry an overview of the most important factors. Based on the external audit, it is analysed whether a growth strategy is supported by the external environment. Furthermore, it is assessed whether M&A are a feasible growth option, i.e. whether M&A are value enhancing for the acquirer. Finally, implications for the strategy in general and M&A strategy in particular for European logistics companies will be drawn from selected external forces with focus on competitive forces. The answers to these questions aim to give decision makers some ideas and suggestions about their strategy, in particular on the combination of freight forwarding and contract logistics. It shall be noted that the implications drawn in this thesis are derived from external forces only and therefore have to be aligned to the situation of an individual company and its competitive position if used at a company level.
1.2 Structure and methodology
This thesis is structured into four main chapters. First of all, a theoretical background about strategic planning and growth strategies (organic growth and M&A) is provided, as these theories are the framework of this thesis (2 Theoretical background, p. 3). Following a description and introduction of the logistics market (3 Logistics market, p. 13), an external audit for European logistics companies is conducted (4 External audit for logistics companies, p. 30). The description of the logistics market and the external audit are based on secondary research of several sources, such as market reports, market studies, broker reports, annual reports of logistics companies, official statements by logistics companies and news articles. Based on the external audit, implications for the M&A strategy of European logistics companies are drawn (5 Implications for the M&A strategy, p. 54). The implications are based on several analyses. First of all, the suitability of a growth strategy is assessed by several market estimates about the future growth rates of the industry. Furthermore, an event study is conducted to investigate whether M&A in the logistics industry are value enhancing for the acquirer. Additionally, the long term success of logistics M&A will be briefly discussed. Based on the information extracted from the external audit, the author will assess the impact of related industries on the logistics industry. Furthermore, an assessment of an expansion into BRIC countries with the example China, based on expert interviews, is provided. In addition, the combination of freight forwarding and contract logistics will be examined with several analyses (positioning of logistics companies, analysis of profitability in different segments, assessment of the attractiveness of such an industry, event study). Finally, an M&A matrix for the logistics and transport industry will be conducted to identify in which areas M&A are feasible.
2 Theoretical background
This chapter deals with the theoretical foundation of this thesis. Firstly, an overview of strategic planning will be presented. Secondly, one step in strategic planning – the external audit – will be described. Thirdly, growth strategies with focus on M&A will be depicted.
2.1 Strategic planning
"Strategic management is the process through which organisations analyze and learn from their internal and external environments, establish strategic direction, create strategies that are intended to help achieve established goals and execute those strategies, all in an effort to satisfy key organisational constituencies, which are called stakeholders."[1] Strategic planning can be used synonymously with strategic management.[2] Strategic planning has a horizon of five years or more. This results in high uncertainty, while the planning process is characterised by predominantly qualitative data.[3] The overall aim of strategic planning is to achieve competitive advantage.[4]
2.1.1 Strategic management process
The strategic management process can be divided into three main stages:[5]
1. Strategy formulation
2. Strategy implementation
3. Strategy evaluation
The first stage, strategy formulation, includes developing a vision and mission, identifying an organisation's external opportunities and threats, determining internal strengths and weaknesses, establishing long-term objectives, generating alternative strategies and choosing particular strategies to pursue. The second stage, strategy implementation, is putting formulated strategies into action (hence also called action stage). As all strategies are subject to future modification due to changing external and internal factors the third stage, strategy evaluation, is needed. This stage includes reviewing external and internal factors that are the bases for current strategies, measuring performance and taking corrective actions.[6] The following figure displays the strategic-management model.
Figure 1 Strategic-Management Model
Abbildung in dieser Leseprobe nicht enthaltenSource: Own figure based on David F. (2005), p. 14
2.1.2 External vs. internal factors
As can be concluded by the description of the strategic management process above, two main determinants for strategic management exist:[7]
1. External factors
2. Internal factors
There is disagreement between scientists whether external or internal factors are more important for a company to reach competitive advantage. Proponents of the industrial organisation view see industry (external) forces as main determinants for organisational performance, whereas the resource-based view argues that internal resources are more important for a company than external factors.[8] This discussion is irrelevant for the purpose of this thesis. Both factors are needed to develop a sound strategy. It is impossible to develop a strategy without knowing the core competency (i.e. internal factors) of a company.[9] On the other hand, prior to formulating strategies, it is essential to examine external developments and forces and identify external opportunities and threats.[10] This thesis solely focuses on external forces, while companies applying the results in this thesis have to align them to the specific situation of their company.
2.2 External audit
The external audit is one step in the strategy formulation stage. "An external audit focuses on identifying and evaluating trends and events beyond the control of a single firm …"[11]
2.2.1 External forces
According to David, external forces can be divided into five broad categories:[12]
1. Economic forces
2. Social, cultural, demographic and environmental forces
3. Political, governmental and legal forces
4. Technological forces
5. Competitive forces
The following figure depicts the relationships among these forces and an organisation.
Figure 2 Relationships between key external forces and an organisation
illustration not visible in this excerpt
Source: Own figure based on David F. (2005), p. 75
Changes in external forces affect suppliers, distributors, the products and services developed and translate into changes in consumer demand. For an external audit, competitive intelligence (information about the competitors' activities and general business trends) and information about the above mentioned external forces have to be gathered.[13] This is conducted for the logistics industry in chapter 4.
2.2.2 Competitive analysis
Porter's Five-Forces Model is a widely used approach of competitive analysis to assess the attractiveness of an industry.[14] According to Porter, the nature of competitiveness in an industry is based on five sources:[15]
1. Rivalry among existing companies
2. Potential entry of new competitors (Barriers to entry)
3. Potential threat of substitute products
4. Bargaining power of suppliers
5. Bargaining power of customers
Porter contends that the collective strength of these forces determines the profit potential in the particular industry. The stronger the forces, the more constraint companies are to raise prices and earn greater profits.[16] The following figure depicts the main determinants for each of Porter's five forces.[17]
Figure 3 Porter's Five Forces
Abbildung in dieser Leseprobe nicht enthalten
Source: Own figure based on QuickMBA (2007)
Porter's model will be used in 5.5.2.4 (p. 77) to assess the attractiveness of a combined freight forwarding and contract logistics industry.
2.3 Growth strategies
A company can pursue three general orientations (called directional or grand strategies):[18]
- Growth strategies (expand the company's activities)
- Stability strategies (make no change to the company's current activities)
- Retrenchment strategies (reduce the company's level of activities)
This thesis will solely focus on growth strategies. If a company wants to expand, it can do so through organic growth (internal development) or through M&A. Furthermore, growth strategies can be distinguished between concentration and diversification. Concentration on current product lines makes sense when these product lines have growth potential. The two basic concentration strategies are horizontal and vertical concentration.[19] In case of M&A, horizontal M&A occur between companies in the same business activity, in order to reach synergies and economies of scale. As these kinds of mergers could result in a loss of competition, governmental antitrust regulations have to be considered. Vertical M&A occur between companies in different stages of production, like for example the acquisition of a supplier. These kinds of M&A happen due to increasing information and transaction efficiencies, as information can flow quicker within a company after a merger and no time for contracting is being wasted any more.[20] Diversification can be divided into concentric and conglomerate. Concentric diversification is growth into a related industry, while conglomerate diversification is growth into an unrelated industry.[21]
2.3.1 Organic growth
Organic growth is growth from a company's existing businesses, i.e. excluding any growth from M&A activity. Examples for organic growth are construction of facilities or foundation of new companies.[22] A motive for organic growth is the targeted increase of capacity. In contrast to M&A, structures can be built up from the bottom and can therefore be specifically aligned to the needs and objectives of the company. Furthermore, those structures can be built up with the newest technologies, while the target company does not have the newest technology in many cases of M&A. Additionally, organic growth is more independent from legal constraints, as for example antitrust issues.[23]
2.3.2 Mergers & Acquisitions
According to Copeland/Weston, M&A refer to traditional mergers (one company is combined with and disappears into another company) and acquisitions (obtaining control of another company by the purchase of shares or assets), takeovers, corporate restructuring, corporate control and changes in the ownership structure of companies in general.[24] As displayed in the following figure, M&A can be divided into different forms, which reach from long-term cooperation without financial participation to a complete acquisition of a company.
Figure 4 Forms of M&A
Abbildung in dieser Leseprobe nicht enthalten
Source: Own figure based on Picot G. (2002), p. 20
2.3.2.1 Forces for M&A
"M&A activity is driven by economic and cultural change."[25] Technological change (e.g. the internet), improvements in communications and transportation, deregulation or growing competition are the driving forces.[26] Such as strategy in general, M&A activity is driven by external as well as internal forces.
2.3.2.2 Motives for M&A
The motives for M&A can be divided into economic and non-economic motives. Motives for M&A are different for each transaction and depend on the situation.[27] In most cases, the motives for a transaction are a combination of several motives.[28]
2.3.2.2.1 Economic motives
One reason for M&A is time. Compared to organic growth, M&A allow a quick expansion of a company's business, which additionally leads to immediate income, as the business is already in operation. Time is an important factor, especially in conjunction with external time constraints (e.g. patents) or competition.[29]
M&A are a way to acquire specific tangible or intangible assets, which can not (or only difficult) be acquired in another way or when no suitable substitute for such assets exists.[30]
A standard reason for M&A is that the two companies will create synergies.[31] The basic meaning of synergy is that the sum is more than the sum of the parts, a feature which is often described with the equation 2 + 2 = 5.[32] Synergies can be divided into operational and financial synergies.[33] Operational synergies include economies of scale, economies of scope and a reduction in transaction costs. Economies of scale result from a larger company, which is able to cut average costs, especially average fixed costs, due to an increase in production. Economies of scope are cost advantages as a result of increasing the number of different goods produced, thus being applicable for multi-product companies. Another reason for M&A are transaction costs. Coase noted that transaction costs are the reason for the formation and the size of companies.[34] "Outside the firm, price movements direct production, which is coordinated through a series of exchange transactions on the market. Within a firm, these markets transactions are eliminated and in place of the complicated market structure with exchange transactions is substituted the entrepreneur co-ordinator, who directs production."[35] As costs incur for both market transactions and the entrepreneur, the entrepreneur has to carry out his function at less cost than market transactions because otherwise the company would revert to the open market.[36] Therefore, decisions about M&A should be determined by the relative transaction costs within and outside the company.[37] As stated by Lewellen, M&A can create financial synergies due to reduced risk and the potential for greater leverage, hence leading to greater tax benefits.[38]
Other motives for M&A lie in the competitive situation of a company. M&A are a way to win market shares, to expand into new markets or to reduce competition via neutralising a competitor.[39] Further reasons for M&A can be tax or speculative reasons.[40]
2.3.2.2.2 Non-Economic motives
Non-economic motives for M&A lie in the interests of the management, such as power, influence, prestige or reputation.[41] As noted by Ross, manager hubris is an explanation for the occurrence of M&A. In his view, the manager who has the most optimistic forecast of the target company's value falls prey to the winner's curse in a bidding competition.[42] Based on the Agency Theory, the Free Cash Flow Hypothesis and the Corporate Control Hypothesis are further explanations for M&A. The Free Cash Flow Hypothesis states that managers favour to invest free cash flows also when there is a lack of profitable investment opportunities. Managers are reluctant to pay money to the shareholders as this reduces their influence and their income level. The Corporate Control Hypothesis states that management teams are competing in their right to manage companies. Therefore, management teams search for undervalued companies with inefficient management to replace them.[43]
2.3.3 Organic growth vs. M&A
After analysing the motives for organic growth and M&A, this section will briefly assess the suitability of these two growth strategies.
Organic growth is a feasible option, when growing through M&A is not possible. This can be the case for product development via innovation, as this can only be done organically in many cases. M&A are not a feasible growth option if the company is restricted in its financial resources or does not have sufficient management capacities for a rapid expansion. Furthermore, organic growth can be a more economical growth option in an expanding industry as growing organically can be cheaper than M&A in such a situation. In such cases, market shares can change rapidly depending on technological developments or marketing actions.[44]
When time is an important determinant in corporate development, M&A are often the only feasible way. In a stagnating market, M&A can be the only way to increase the capacity of a company, as the capacity of the industry can not be increased. Furthermore M&A are an option to eliminate a competitor or to acquire unique assets. In industries with high barriers to entry, M&A are often the only method to enter the market.[45]
Overall, it can be concluded that the decision between organic growth and M&A depends on the situation. It is the management that has to assess the feasibility of these two options once a decision for a growth strategy has been made.
Based on the external audit for logistics companies in chapter 4, this thesis will assess whether a growth strategy is feasible for logistics companies and if appropriate, whether M&A are a suitable growth strategy in the logistics industry.
3 Logistics market
This chapter describes the logistics market and its main participants. It describes the different sub-industries freight forwarding and contract logistics as well as related industries and focuses on the linkages between these industries. The related industries are described as they influence logistics companies in several ways. Those companies have business relationships with logistics companies and have the possibility to expand into logistics. This chapter can be seen as an introduction for the external audit in general and for competitive forces in particular. In this thesis, this chapter is placed previous to the external audit to give the reader a better understanding of the underlying market.
3.1 Market overview
"Logistics is concerned with physical and information flows and storage from raw materials through to the final distribution of the finished product."[46] It includes supply, materials management and distribution. Supply represents the storage and flows into the production process, while materials management represents the storage and flows through the production process. Distribution represents the storage and flow from the final production point through to the end user.[47] Additionally, reverse logistics can be added to this definition. "Reverse logistics is the process of moving goods from their typical final destination for the purpose of capturing value, or proper disposal."[48]
In this thesis, European logistics companies are defined as European companies active in the freight forwarding and contract logistics industry.[49] The thesis focuses on large logistics companies with annual revenues over € 500m. As the terms third-party logistics provider (3PL) and fourth-party logistics provider (4PL) are not applied in the same way within the industry,[50] these terms are used the following way in this thesis: 3PL organise logistics services for another party, whereas it is irrelevant whether the provider utilises own assets or others' assets. 4PL should refer to the term lead logistics provider (LLP), a concept in which a single logistics provider organises all other logistics companies of a company.
For individual companies, logistics is an important cost factor which is estimated at about 10% of sales. 58.4% of these costs are for transportation, 7.9% for warehousing, 4% for administration and the remainder are inventory carrying costs.[51] The European logistics market in the 15 old EU member states[52] plus Norway and Switzerland is estimated at approximately € 585bn annually. Of this market, 44% is covered by 3PL, while 56% of the market is in-sourced by companies. In the field of contract logistics, 3PL cover 25% of the market.[53] Backed with advantageous external forces and an ongoing trend for outsourcing of logistics activities, logistics companies are currently experiencing a phase of expansion and concentration worldwide. Large corporations, but also thousands of small and medium-sized companies are engaged in the logistics industry.[54] The leading logistics companies have emerged from various backgrounds, such as post offices (e.g. DHL), railways (e.g. Deutsche Bahn), freight forwarders (e.g. Kühne + Nagel), truckers or former in-house logistics companies (e.g. Wincanton).[55] Therefore, it is important to understand related industries when dealing with the logistics industry. For this reason, this chapter introduces the logistics industry and related industries.
3.1.1 Sub-industries
The following figure shows an overview of the logistics market with focus on Europe showing the different sub-industries in a typical trade flow.[56] The sub-industries will be described later in this chapter.[57]
Figure 5 Overview of logistics market
illustration not visible in this excerpt
Source: Own figure with inputs from JPMorgan (2007A), p. 11 and Loxxess (2007)
3.1.2 Modal split
A distinction of transport by transport modes (modal split) gives useful information about the transport and logistics sector. The following diagram gives an overview of the modal split in Europe (EU-25).
Figure 6 EU-25 modal split for freight transport (in %, based on tkm, 2005)
illustration not visible in this excerpt
Source: Commission of the European Communities (2007B), p. 62
It can be seen that road (44.2%) and sea (39.1%) have by far the largest market share in European freight transport. Rail transport showed a declining market share over the past decade and had a market share of 10% in 2005. Inland waterways (3.3%), pipelines (3.4%) and air cargo (0.1%) play a minor role.[58]
3.2 Shipping lines
About 95% of intercontinental goods flows are transported on the sea, showing the importance of shipping for international trade.[59] In 2005, global seaborne trade reached a volume of 7.11bn tonnes.[60] The following table splits the total volume in different product groups.
Table 1 Volume of seaborne trade (2005)
illustration not visible in this excerpt
Source: Own table based on data from Vernimmen B., Notteboom T. (2007), p. 10
These different product groups need different types of ships to be transported with.[61] This thesis focuses on the product group other dry cargoes, with emphasis on containerised cargo. In contrast to the bulk cargo market (either liquid or dry), the products in this group are usually not big enough to fill an entire ship. The product group other dry cargoes can be divided into three subcategories namely containers, RoRo (Roll-on / Roll-off) and conventional general cargo. The latter one, also called break bulk, refers to cargo that is packed, bundled or unitised in another way than in containers. Examples are project cargo (e.g. power generation plants), iron and steel products, forest products etc.[62] RoRo refers to wheeled cargo, whereas it can either be wheeled by itself (e.g. cars) or placed on a trailer-type unit and then towed on board (e.g. machinery).[63] Containerised transport was first introduced in the 1950s and emerged as the dominant method for international transportation of a broad spectrum of industrial and consumer goods, including agricultural products, raw materials, semi-manufactured and finished consumer goods since then.[64] Container shipping has been one of the main beneficiaries of increasing economic activity, trade liberalisation, reduced import tariffs, globalisation and outsourcing. Furthermore, break bulk cargo is increasingly carried in containers.[65] As a result, container shipping has been the fastest growing sector of the maritime industries during the last two decades.[66] According to Drewry, a shipping consultancy, global container trade volume reached 128.2 million TEU[67] in 2006, growing at a compound annual growth rate of 11.7% since 2003.[68] As a result of this growth, both the number of ships as well as the average vessel size increased in recent years. This development is expected to continue in future. Average vessel size increased from 1,518 TEU to 2,425 TEU between 1995 and 2007.[69] About half of newly ordered container ships have a capacity of over 6,500 TEU,[70] which enables shipping lines to benefit from economics of scale.[71]
To get an overview of the container shipping industry, the following table lists the ten largest container shipping lines in 2006:
Table 2 Leading container shipping lines
illustration not visible in this excerpt
Source: Dubai Ports World (2007), p. 108 based on Drewry Shipping Consultants
In 2006, the ten largest shipping lines controlled approx. 47% of the global market. Between 2003 and 2006, the top-10 shipping lines grew significantly faster than the remaining shipping lines, mainly due to M&A activity. A main challenge for container lines is that the industry is susceptible to boom and bust cycles driven by overcapacity resulting in a high volatility of freight rates.[72]
As shown below, Drewry defines seven major trade routes, which are characterised by different market structures. While the Trans-Pacific and Europe-Far East routes are typically served by large ships and global carriers, the Trans-Atlantic route is typically served by medium-sized ships. Intra-Asia and Intra-Europe routes are dominated by smaller tonnage. North-South routes (connecting developing countries with Europe, Far East and North America) are typically served by small and medium-sized ships.[73]
[...]
---
[1] Harrison J., St. John C. (2001), p. 4. This thesis will not deal with the questions whether a company should satisfy their stakeholders or only their shareholders.
[2] David F. (2005), p. 5. Different authors use different words to describe the same concept. In this thesis, strategic management and strategic planning will be used synonymously.
[3] Wöhe G., Döring U. (2002), p. 105
[4] David F. (2005), p. 8. Competitive advantage can be defined as "anything that a firm does especially well compared to rival firms." David F. (2005), p. 8
[5] David F. (2005), p. 5. Other literature uses other distinctions with more stages, however, some stages can be summarised in the above mentioned three: Hinterhuber H. (2004), p. 41 (Hinterhuber separates the formulation stage in several stages); Kotler P. et. al (2003), p. 161 (Kotler distinguishes between analysis and planning stage, which equals the strategy formulation stage of David); Wheelen T., Hunger J. (2000), p. 9 (Wheelen and Hunger differentiate between environmental scanning, strategy formulation, strategy implementation and evaluation / control)
[6] David F. (2005), p. 5f
[7] Wöhe G., Döring U. (2002), p. 106
[8] David F. (2005), p. 76, 117
[9] Hinterhuber H. (2004), p. 23
[10] Hinterhuber H. (2004), p. 31; Wöhe G., Döring U. (2002), p. 121
[11] David F. (2005), p. 74
[12] David F. (2005), p. 75. Other literature uses different categorisation, however, in fact they categorise the same content in more or less points. Kotler P. et. al (2003) distinguish between micro-environment and macro-environment, whereas the micro-environment includes organisations/forces, which are affected by the macro-environment (e.g. competitors, suppliers, customers etc.). Hinterhuber H. (2004) distinguishes between external forces, industry analysis (can be treated equivalent with competitive forces as displayed above) and market position of the company (connects internal and external audit). Wheelen T., Hunger J. (2000) distinguish between societal environment (economic, technological, political-legal, sociocultural forces) and task environment (competitive forces). David's approach to focus on the macro-environment and deal with the effects on the micro-environment will be used in this thesis.
[13] David F. (2005), p. 75, 89
[14] David F. (2005), p. 92
[15] Wheelen T., Hunger J. (2000), p. 60; David F. (2005), p. 94
[16] Wheelen T., Hunger J. (2000), p. 60. Wheelen and Hunger state that profit potential according to Porter is measured in long-run return on invested capital.
[17] This thesis does not focus on a detailed description of Poter's Five Forces. For additional information confer to QuickMBA (2007) or Wheelen T., Hunger J. (2000), p. 60ff
[18] Wheelen T., Hunger J. (2000), p. 134
[19] Wheelen T., Hunger J. (2000), p. 134ff
[20] Weston F., Mitchell M., Mulherin H. (2004), p. 6ff
[21] Wheelen T., Hunger J. (2000), p. 138ff
[22] Waldecker P. (1994), p. 14
[23] Waldecker P. (1994), p. 73ff
[24] Jansen S. (2000), p. 37. Definitions in brackets: Reed S., Lajoux A., Nesvold H. (2007), p. 4f
[25] Weston F., Mitchell M., Mulherin H. (2004), p. 15
[26] Weston F., Mitchell M., Mulherin H. (2004), p. 3
[27] Waldecker P. (1994), p. 83
[28] Jansen S. (2000), p. 69
[29] Waldecker P. (1994), p. 84f
[30] Waldecker P. (1994), p. 93
[31] Weston F., Mitchell M., Mulherin H. (2004), p. 133
[32] Waldecker P. (1994), p. 86
[33] Leland H. (2005), p. 2
[34] Jansen S. (2000), p. 64f
[35] Coase R. (1937), p. 2
[36] Coase R. (1937), p. 5
[37] Weston F., Mitchell M., Mulherin H. (2004), p. 133
[38] Leland H. (2005), p. 2
[39] Waldecker P. (1994), p. 92
[40] Waldecker P. (1994), p. 96f
[41] Waldecker P. (1994), p. 99
[42] Weston F., Mitchell M., Mulherin H. (2004), p. 135
[43] Jansen S. (2000), p. 67f
[44] Waldecker P. (1994), p. 143ff for the whole paragraph
[45] Waldecker P. (1994), p. 145ff for the whole paragraph
[46] Rushton A., Croucher P., Baker P. (2006), p. 4
[47] Rushton A., Croucher P., Baker P. (2006), p. 4f
[48] Rogers D., Tibben-Lembke R. (1999), p. 2. Reverse logistics e.g. includes recycling packaging materials and processing returned merchandise due to damage, salvage, recalls etc.
[49] Courier, express and parcel (CEP) companies are excluded from this thesis.
[50] For the different usages of the terms confer e.g. to Zimmermann B. (2004), p. 34; Tripp C. (2004), p. 5ff; Global Logistics & Supply Chain Strategies (2007D), p. 36
[51] Denali Consulting (2002), p. 2
[52] Austria, Belgium, Denmark, Finland, France, Germany, Greece, Ireland, Italy, Luxembourg, Netherlands, Portugal, Spain, Sweden, United Kingdom
[53] ABN Amro Bank (2007), p. 9 based on Fraunhofer Institute
[54] Deutsche Bahn AG (2007C), p. 5
[55] Transport Intelligence (2007A), p. 10
[56] The figure should be seen for illustrative purposes. In the real world supply chains are more complex. Parts of the chain, reverse order or combinations of the different transport modes are common.
[57] Starting from the overseas port, therefore excluding land transportation overseas.
[58] Air transport's market share would be bigger if the modal split would be measured in Euros, and not in tkm (weight in tonnes x distance in km), as air freight usually has high value, but low weight (or is time sensitive). Reynolds, Smith and Hills, Inc (2002), p. 4. Research suggests that goods with a value greater than US$ 16 per kilo could potentially be transported by air. Transport Intelligence (2007B)
[59] Frankfurter Allgemeine Zeitung (2008), p. B3
[60] Vernimmen B., Notteboom T. (2007), p. 7
[61] Dubai Ports World (2007), p. 100
[62] Vernimmen B., Notteboom T. (2007), p. 61
[63] Vernimmen B., Notteboom T. (2007), p. 65
[64] Dubai Ports World (2007), p. 100
[65] Vernimmen B., Notteboom T. (2007), p. 19
[66] Vernimmen B., Notteboom T. (2007), p. 7
[67] TEU is a measurement used for containers and is a twenty-foot equivalent unit that is based on the dimensions of a standard container with a maximum load of 24 tonnes. Dubai Ports World (2007), p. ix
[68] Dubai Ports World (2007), p. 107
[69] Vernimmen B., Notteboom T. (2007), p. 38 based on AXS-Alphaliner
[70] Hamburger Hafen und Logistik AG (2007), p. 116 based on Drewry Shipping Consultants
[71] Cullinane K., Khanna M. (1999), p. 201
[72] Maxim Group (2007), p. 9
[73] Dubai Ports World (2007), p. 108 based on Drewry Shipping Consultants
Details
Seiten

105

Jahr

2008

ISBN (eBook)

9783656457862

ISBN (Buch)

9783656458302

Dateigröße

1.2 MB

Sprache

Englisch

Katalognummer

v229999

Institution / Hochschule

Fachhochschule Kufstein Tirol

Note

Schlagworte