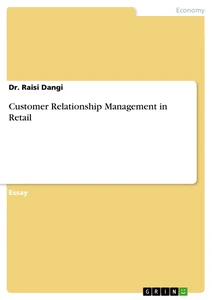 Customer Relationship Management in Retail
Essay 2011 12 Seiten
Leseprobe
Abstract:
This paper will talk about the prospects of CRM in Retail Industry. The paper will highlight the need and evolution of CRM. A look towards as how at most industries are showing that each of them in turn is doing their utmost to gain customer focus. It will reveal how retailers experience a vast difference when they treat their customers as a partner.
The importance of CRM in retail lies in their partnership as it prove and aims to success. Market analysts' disputes about the correct figure but all are of opinion that companies are pouring billions of dollars into CRM and this is certainly because of maneuver of customer relationships in the direction of profitability, support marketing, sales and work processes. The author will also examine the critics to this approach before switching to the prospects .The paper will help to overcome the traditional product centric and mass marketing mentality. The past few years has witnessed a strong upsurge in the number of retailers looking for a lifetime strategy that will cater to their customer requirements. The paper will answer to the questions like Why should retailers opt for CRM? What does it offer the retail industry?
The bottom line of paper is that, that retailers need CRM!! This is one strategy that the retail industry cannot afford to gloss over because of the rewards that are huge and needed in this competitive world.
PAPER: Customer Relationship Management in Retail.
The retail industry is India's largest industry and accounts for over 10 percent of the country's GDP and account 8 percent of employment. Retailing has emerged as one of the most dynamic industries in the country with several players trying to establish themselves in the market. Store operations have never been as important to retailers as they are now. Successful retailers are those who know that the battle for customers is only won at the frontline, which in case of a retail chain is at its stores. Today, consumers are more educated, better informed, more technology savvy, and hence, more demanding in the products and services they buy. Couple this with increased competitive offerings in the marketplace, with little or no differentiation, and what many marketers face is a new reality where consumers have more purchasing power than ever before.
So how do you attract profitable customers? How do you hold on to your customers who are buying from you today but are showing signs of defecting to the competition? And how do you figure out which products and services you should bundle together to increase customer profitability? These are the challenges that business managers face today. For example, a communications services provider identifies a segment of high profitable, technology savvy, upper income customers and prospects. It then studies their behavior, and better understands the types of services they want. The company next bundles a convenience package of products and services under a single name, a single marketing campaign, and what's more, a single bill. They would very effectively meet that segment's complete communications needs and foster customer loyalty.
A look at most industries will show that each of them in turn are doing their own little bit towards understanding the importance of customer focus. What is the retail industry doing on its part? What efforts are they making to interact with their customers? Several retailers have endeavored to add that extra personal touch and several more have not. The need for focusing a whole lot more on the customer has been acutely felt by them and they have tried to accommodate it. The past few years has witnessed a strong upsurge in the number of retailers looking for a lifetime strategy that will cater to their customer
[...]
Details
Seiten

12

Jahr

2011

ISBN (eBook)

9783656483595

ISBN (Buch)

9783656483663

Dateigröße

508 KB

Sprache

Englisch

Katalognummer

v231552

Note

none

Schlagworte