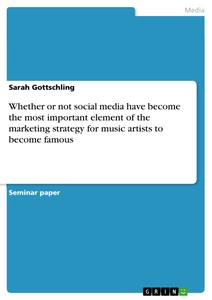 Leseprobe
Contents
1 Introduction:
2 Conceptual basis for the explanations
2.1 Social Media
2.1.1 Definition Social Media
2.1.2 Social Media Platforms
2.2 Marketing
2.2.1 Definition Marketing
2.2.2 Viral Marketing
2.2.3 Self Marketing
3 Potentials in Social Media for artists and labels
3.1 Benefits of social media for artists
3.1.1 Social Media in general
3.1.2 Facts about Facebook
3.1.3 Facts about YouTube
3.2 Presenting oneself on social networks
3.2.1 Facebook
3.2.2 YouTube
4 Music Artists who have become famous with Social Media
4.1 Justin Bieber
4.1.1 Profile and career
4.1.2 Appearance on Social Media
4.2 Lana Del Rey
4.2.1 Profile and career
4.2.2 Appearance on Social Media
5 Social Media as the most important element of a musician's marketing strategy - currently and prospectively
Index of Appendices
Index of Figures
Index of Literature
Internetsources
1 Introduction
The classical way music artists have to go to become successful is to convince the guard of a music label to get a chance to convince millions of people with their music afterwards. The labels then contrive a marketing-strategy for the new artists and arran­ge live-concerts in front of small audiences, which are a good medium to give the world a first impression of the artists talent and style of music.
In the era of web 2.01,the way goes the other way around: Through social media they can create their music career vast on their own and can profile themselves. Uploading a music video, e.g. on YouTube, and convincing millions of people can be the key to call the labels attention to the unknown artists.
The music labels work has also changed: Scouts search for talents on social media platforms. On the basis of users feedback, they can analyse, whose music runs and so which artists they want to contract. But often the labels look for artists, who are really talented and already have a self-marketing-strategy.2 That shows some kind of a new era in the social media, because during the last years, the term social media marketing was formed and operated. In the first period, after the entrance in the web 2.0, people didn't know about the spheres and possbilities of social media. Using it as a marketing tool has opened new gates for musicians to create the first buzz.
The following explanations demonstrate the effectiveness of marketing in social media on the basis of the world's largest social platforms, Facebook and YouTube. Addition­ally, two cases of successful self-marketing through social media are exemplified in the end: the story of success of Justin Bieber and Lana Del Rey. Their appearance on Facebook and YouTube will be analyzed with the help of numbers and figures.
2 Conceptual Basis for the explanations
2.1 Social Media
2.1.1 Definition Social Media
Social Media is a very far-ranging term, because it rather defines a whole world in the era of the web 2.0. But shortly it can be recorded, that social media are personally cre­ated shares with the intent of interaction. The shares can be text, pictures or videos, which the user can upload on platforms. These platforms are transparent for the whole community, so all users can see the shares. Through the social media it is possible to convey something to a wide range of people and to communicate in online-platforms.
With several tools the user is able to create personal shares, such as picture- or video­galleries, expressions of opinion, podcasts, etc. But social media also means the tech­nology, which is behind those tools.
In the social media, the user does not only act in a passive way anymore. He uses the internet in an active way by creating an own, personal content and by commenting on existing contents (user generated content).3
2.1.2 Social Media Platforms
Picture- and Videosharing Platforms give users the ability to upload videos and pic­tures in an own gallery. Other users have the possibility to comment on the contents. The world's largest video-sharing-portal is YouTube. Users can watch videoclips and embed them on otherwebsites and they can also upload own videoclips.
The clue about YouTube and other platforms as well is that videoclips can be passed on to other social media channels, such as Facebook and twitter.4
All the user has to do is to press the ,,share"-button and to select the channel (emblem of facebook, twitter and others) and the videoclip appears on the pin board of the ac­count the user is registered. So all the user's "friends" can see that something is pos­ted on the pin board. With adding a positive rating to the clip, it can be noticed as a re­commendation for others. When the video is now clicked on Facebook for example, the user directly gets linked to YouTube and can watch it.
Social Networks are online communities of people, who share a common interest. They use the network for communication with other users and share information and other content with each other.
Social Networks include platforms and online profiles, which target the composition and care of relationships and the corresponding exchange of information.5 One of the most popular networks is Facebook. Once created for students only, it now has users in nearly every age.
2.2 Marketing
2.2.1 Definition Marketing
Marketing is not only a term, it is more a set of processes for creating, communicating and at least for delivering value to consumers. Its main aim is satisfying customer needs. Marketing starts long before launching a product or even having an idea of a new product and it continues with the launch. In addition to that, it means management and care of consumer relationships.6
In its rudiments, marketing means to focus on the markets needs. The consumer's needs have to be the centre of all thoughts with regard to all corporate activities.7 It is more than just a tool, it is rather a complex task which first of all includes assessing needs and measuring their extent and intensity. The next step is to determine whether a profitable opportunity exists or not.8
Marketing tactics include branding, advertising, PR, informercials, and a lot more. The company or person, who wants to get active in marketing, has to find an own marketing strategy to get the aimed popularity.
2.2.2 Viral Marketing
Basically, viral marketing simply means word of mouth marketing over the internet.9 But viral marketing includes more than spreading information over the internet. Using it as a marketing strategy, it has an exponential growth potential. Bryce defines viral market­ing in a firm way:
"Viral marketing is a marketing technique that aims to exploit the network effects on the Internet by offering a selected target audience an incentive relevant to their needs that encourages them to voluntarily pass on an electronic message to peers with similar in­terests, thereby generating growing exposure of the message."10
Bryce already brings up the characteristics of viral marketing in social networks. The basic principle of social networks is homophily, which means that people tend to like and associate with people who share the same interests.11 The information, which shalt reach as many people as possible, travels between different social groups with related interests. Therefore viral marketing has become an important marketing tool - because it ususally generates a wide range of people and thereby success. "[...] it offers con­sumers incentives which encourage them to spread a message voluntarily within their personal social network", so consumers are like intermediaries.12 The supplying com­pany or artist has to contact only the first few adopters to get the ball rolling.
2.2.3 Self Marketing
Self Marketing is coequal to the term "self promotion". So in a short way, self marketing can be defined as a promotion of oneself, effected by oneself. The marketing includes advertising and publicity and aims popularity through effectively staging oneself.13
3 Potentials in Social Media for artists and labels
3.1 Benefits ofsocial media for artists
3.1.1 Social Media in general
Acting in social media means being close to their potential consumers for the artists and the labels as well. They can be connected to the fans and the prospective fans as well. The Labels get information about trends and needs directly.14 They are that close to the market, so that on one hand, they can use social media for talent-search, and on the other hand, they can use the platforms to test new products (in that case songs).15 And the unknown artists can build a connection to the potential consumers through so­cial media.
The very positive aspect about marketing in social media is that the single artist does not have to pay anything and that in addition he/she has no risks to follow that strategy. It is an efficient first step to catch some attention. 80% of the online-users in the USA are reached by social media platforms and blogs.16
The labels on the other side now expect more than just a talent - some labels expect an elaborated marketing-concept from the artist as well.17 With that requirements the artist has a chance to get a contract. The labels can get a general idea of the artist's previous "success" on the basis of for example "likes" on Facebook and clicks on You­Tube.
With or without being signed, the artist has to fit a lot of power into his/her self-market­ing. The Homepage itself is not a fast-selling item. Marketing still means the whole package: it includes web-activities, print-campaigns, public relations, connections, and more. But in the era of the web 2.0 the artist has to put a special focus on the social media, because they have more influence than a lot of people think they have.18
3.1.2 Facts about Facebook
Facebook is the strongest social network worldwide.19 In 2012 Facebook lists more than 950 million active users worldwide.20 Facebook has already surpassed google in traffic levels, so it is obvious that there are millions of activities on Facebook every day.
An average User on Facebook has 190 friends and is connected to 80 pages, events and groups.21
Being present in social media is an effective marketing-strategy, only the music-busi­ness uses. Facebook is the most popular platform for companies for their social media strategy.22 Other numbers are indicators for the influence of fan-pages, for example 77% of the consumers mainly use the posts and updates of the companies for an inter­action.23 And 45% use the platform for newsfeed, which includes posts of friends and brand-pages as well.24
3.1.3 Facts about YouTube
YouTube is the second strongest network worldwide.25 In 2012, more than 800 million users visit the platform each month and watch 4 billion hours of video. 100 million people take social actions on the platform weekly, such as commenting and liking videos. Besides, the number of "likes" have doubled since its launch in 2011 and that shows a relation often to one compared to the "dislikes".26
Another positive aspect for marketing on the platform is the connection to othe social platforms, like Facebook and Twitter. Daily, the Facebook users watch 500 years of YouTube video on the Facebook platform. On Twitter the users share more than 700 YouTube videos in one minute.27
Those numbers show the immense traffic, YouTube registers, and thereby the potential for self marketing on the platform.
3.2 Presenting oneself on social networks
3.2.1 Facebook
So to come up with a social media strategy, it is essential to be present on Facebook as an artist. The first step for ones digital presentation is creating a profile, which will be some kind of an extension of ones personality.28 With tools such as uploading photos and videos the artist has many possbilities of self-presentation. Facebook also offers tools like RSS Feeds, Discussion boards, and some others, which the artist can benefit from.29 The artist can use racks, but especially for promotion it is better to design own applications.30
In the second step, the artist has to make sure that his or her name is to be found in facebook. So he/she has to focus on keywords and content while creating the profile. It is very important for new and old users to find the artist's profile.31
The third step includes the care ofthe profile. A profile should live, that means the artist has to post interesting and exclusive contents regularly. In addition to this, fans want special offers, for example competitions for concert-tickets.
Another important point is that the Facebook-Profile is connected to the artist's offficial Homepage. Because Facebook is just an additional tool for the marketing-strategy. It allows to communicate to fans directly. But the artist should not copy and paste content from the Homepage and post it on Facebook - each post on the social network's pro­file should be specific, users expect to listen to their demands.32
Now the question is, how the Facebook-users can be reached? Users spend a lot of free-time on Facebook. Some have mutated into "super-users", who spend more time in the networks than other people do. Those users have to be caught, because they will be the ones that spend a few minutes of their time on the profile - but those minutes help gaining buzz, clicks etc. They are the spectators and joiners in social media and represent the largest percentage of users in the social web.33 The artist needs a first impuls to leverage the viral effect in the network - it is possible to start that with only one click on the "like-button". The user just has to add the artists page to his list of in­terests and creates a link on his profile simultaneously. His "friends" directly see that link on the profile and maybe their attention can be caught. So, when they also "like" that link, other users notice the link and the artist, too, and more and more people are going to share it.
In summary, two elements of Facebook-Marketing can be accentuated: Firstly, the im­portance of the profiles care. Fans do not want a half hearted profile, so the artist has to post regularly and feed the fans with useful content, such as promoting concerts and other added value34. Fans expect content they are not able to consume elsewhere, like uploading interviews and something near it. The artist has to stay in interaction with the fans constantly. Secondly, a viral impuls is required to get the ball rolling. Not only the profile forms the social media marketing on Facebook, equally the viral marketing does.
3.2.2 YouTube
YouTube is one ofthe most popular websites worldwide: in 2011, it registered 800 mil­lions of unique users.35 But YouTube does not only emerge with a widespread use, it is also a community that allow users to connect with each another. It offers many fea­tures, for performers and spectators (passive users) as well. The passive users have the possibility to rate, tag and comment and designate a video as a favorite. Addition­ally, he or she can subscribe a YouTube channel, which means, the user can follow the video series by a favourite producer.
Another characteristic, which makes YouTube unique, is the integration with blogging and social network sites such as myspace and Facebook.36 A user, who is registered in Facebook and in YouTube too, can click on the "like"-button below a video and its link directly appears on the Facebook profile. The video now gets a lot more attention, be­cause it is like a recommendation for the users "friends" - so the "like" can evoke the viral effect for a producers video.
YouTube requires a creative concept - in some cases it can also be a solid marketing strategy. An artist, who wants to present himself/herself with a music video, can be­come a sensation attracting a large number of visits and comments. Unknown people can find a more significant fan base on YouTube.37 Mostly, the videos are home made. The videos and the artist's talent as well can be rubbish in many cases - but in other cases, a lot of artists became famous through that way of marketing. The strategy is now, to upload the video and thereby present it for voting in the web 2.0. When the platform's users like the song and maybe the musicians whole appearance, they will comment it positively and will share it with other users.38
Those other users may also like it, and then they divide it with other users, and so on, it is called multilevel selling. During some time hundreds of users have seen the video and maybe commented it on the platform. This is the principle of viral marketing, which has become essential for an unknown artist over the last years. The viral effect was strengthened with the rise of the social web. Artists, who want to become famous without a label's help firstly, rely on the viral effect. Uploading a video is the first step. In some cases talent-scouts spot the artist's video accidentally by combing through the spheres of the video platform.
The artist has to be larger-than-life in one point at least to catch the scout's interest: voice, song and appearance. When they are convinced of the artist's talent, the label can really see a chance in showcasing him/her.
4 Music Artists who have become famous with Social Media
4.1 Justin Bieber
4.1.1 Profile and Career
Justin Bieber is a Canadian songwriter, singer and actor. He has become eighteen years old this year and is already one of the most popular young stars. During his short career, which begun in 2008, he has received numerous awards, has recorded two stu­dio albums and has published a movie about his tour "Never say never".39 But he has become that popular through YouTube. Justin sang for his family, friends and last but not leastjust because of fun. He covered popular songs with an expressive voice and a positive appearance. His mom always filmed his performances and up­loaded some videos on YouTube.
[...]
---
1 Web 2.0 = changed use of the internet. The users do not only consume contents anymore, they also create content and use the internet in an active way.
2 Cf. Kolonko (2012): Selbstvermarktung Musiker, musik-marketing.net.
3 Cf. Hettler Social Media Marketing, 2010, p. 14 ff.
4 Cf. Hettler Social Media Marketing, 2010, p. 63.
5 Cf. Hettler Social Media Marketing, 2010, p. 54.
6 Cf. Kotler/Armstrong: Principles of Marketing, 2008, p. 6f.
7 Cf. Kirchgeorg (n.d.): Marketing, Marketing on wirtschaftslexikon.gabler.de.
8 Cf. Hettler Social Media Marketing, 2010, p. 37f.
9 Cf. Bryce Viral Marketing, 2011, p. 23.
10 Cf. Bryce Viral Marketing, 2011, p. 17.
11 Cf. Bryce Viral Marketing, 2011, p. 28f.
12 Cf. Bryce Viral Marketing, 2011, p. 14f.
13 N.u. (2010): Self-promotion, self-promotion on www.yourdictionary.com.
14 Cf. Kreutzer/Merkle: Web 2.0, 2008, p. 156.
15 Cf. Kreutzer/Merkle: Web 2.0, 2008, p. 157f.
16 IGB Group, Barr, R., (2011): Social media, www.prweekus.com.
17 Cf. Kolonko (2012): Selbstvermarktung Musiker, musik-marketing.net.
18 Cf. Kolonko (2012): Selbstvermarktung Musiker, musik-marketing.net.
19 S. Appendix B: Most popular websites worldwide.
20 S. Appendix C: Active Facebook users.
21 Backstrom, L. (2011): Anatomy of Facebook, www.facebook.com.
22 Miller, M. (2011): Social Media is Serious Business searchenginewatch.com.
23 S. Appendix D: Fans of brands.
24 S. Appendix E: Where Facebook users spend their time.
25 S. Appendix B: Most popular websites worldwide.
26 N.u.(n.d.): Youtube Statistics, www.youtube.com.
27 N.u. (n.d): Youtube Statistics, www.youtube.com.
28 Cf. Zarrella, D. a. A.: Facebook Marketing Book, 2011, p. 9.
29 Cf. Zarrella, D. a. A.: Facebook Marketing Book, 2011, p. 45.
30 Cf. Zarrella, D. a. A.: Facebook Marketing Book, 2011, p. 51.
31 Cf. Zarrella, D. a. A.: Facebook Marketing Book, 2011, p. 55.
32 Cf. Zarrella, D. a. A.: Facebook Marketing Book, 2011, p. 7.
33 S. Appendix C: Active Facebook users.
34 Cf. Zarrella, D. a. A.: Facebook Marketing Book, 2011, p. 65.
35 S. Appendix B: Most popular websites worldwide.
36 Cf. Zarrella, D. a. A.: Facebook Marketing Book, 2011, p. 63f.
37 Cf. Burns Celeb 2.0, 2009, p. 61.
38 Cf. Kreutzer/Merkle: Web 2.0, 2008, p. 155.
39 Cf. Hombach Justin Bieber, 2012, p. 8f.
Details
Seiten

31

Jahr

2013

ISBN (eBook)

9783656523598

ISBN (Buch)

9783656525196

Dateigröße

2.5 MB

Sprache

Englisch

Katalognummer

v263476

Institution / Hochschule

Rheinische Fachhochschule Köln

Note

2,0

Schlagworte