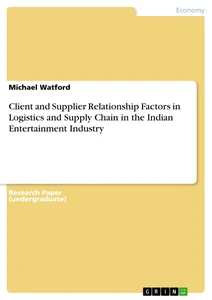 Client and Supplier Relationship Factors in Logistics and Supply Chain in the Indian Entertainment Industry
Studienarbeit 2013 49 Seiten
Leseprobe
Table of Contents
Abstract
Introduction
Aims and Objectives of the Research
Review of Literature
Methodology of Research
Research Approach
The Research Process
Research Philosophy
Data Collection
Data Validity and Reliability
Reasons for relying on Secondary research
Discussions
Emerging Trends in Indian Event Management Industry
Key strengths of the Indian Event Industry
Key challenges
Arduous regulations
Manpower challenges
Sponsorships Challenges
Scarce infrastructure
Demonstrating return on event investment (RoI)
What is an ideal approach to demonstrate RoI and meet a variety of challenges
Types of Events
Personal events
Corporate events
Political Events
Promotions and brand activations
Other types of events
Range of Equipment and Vendors
Logistics and Supply Chain Management – An Overview
Review of the performance indicators
Customer Service levels – Focus in SCM.
Fill rates
On-time-delivery
Relationship between Vendors and Clients – Key Factors
Conclusion
Bibliography
Introduction
Event management as an industry globally has matured differently in different economies but has certain commonalities across different countries. Event Management industry is possibly one of the most understudied industry and has extremely limited access to professional management methods, processes, and structures in the industry. Event management industry is possibly the most intermittent in its functioning, hardly visible to the public eye, and event managers hardly recognized anywhere globally (Krishna 2013).
The few professional event managers in the industry dole out extremely sophisticated events starting from the world famous Academy Awards, starting and closing ceremonies of various international sporting events like the Olympics, Asian Games, World Cup Soccer, among others. Event management in different countries have played varied roles and provides certain amount of employment at different economic levels. There are hardly any established players and this industry does not attract the attention of large businessmen or for that matter, does not attract intense academic attention. A detailed and laborious research on the internet yields hardly any scholarly articles or established research findings relevant to this industry which is stark in this event of acute management sophistication and practice. This is possibly because of limited utility of this industry as well as localized intense competition among players who seem to enter and exit this industry at will as there are very limited entry barriers and exit barriers. There are numerous individual and small time players who are satiated, working with limited number of clientele over a period of time and exit the industry when the limited clientele reduces the business levels. There are very few players who have made serious investment into procuring and maintaining sophisticated equipment required for the success in this industry.
Quickly bringing in a focus into the local Indian economy, a national survey of the players in the industry shows there are very few established stand-alone corporate entities that have made serious investments in the country in this particular business. More often than not, it is almost a trend in India that large advertising firms have event management set-ups to support their clientele as an extension of their advertising business in doing product promotions and brand activations. There are no companies that have reported revenues of over USD 200 million (the benchmark is turnover of 1000 crore in Indian Rupees). Notable large organizations in the country today are 360 Degrees, Percept D Mark, Wizcraft, DNA Networks, and Cine Yug Entertainment among others. There are extremely large numbers of localized players who have made a mark in the industry. Some of the serious entry barriers for this industry are extremely high levels of physical investment requirement initially to create an inventory of equipment to conduct events successfully. The variety of sound, lighting, stage, power generation equipment, etc., that are required to present a highly professional impact and delivery of events is extremely large. PWC (Price Waterhouse Coopers) in its 2006 white paper along with FICCI has created a perception that event management industry is synonymous with the entertainment industry (PricewaterhouseCoopers Pvt. Ltd 2006). However, this could be slightly erroneous in inferring so because the industry goes way beyond mere entertainment and has many streams of activity going beyond pure entertainment. This dissertation predominantly seeks to identify and analyse the various issues that exist between the clients and vendors in the logistics and supply chain of the Indian event management industry.
Logistics and Supply Chain Management – An Overview
The business environment for corporate organizations is becoming increasingly challenging. Today, firms have to deal with several bottle necks such as outdate technology, underdeveloped infrastructure, inappropriate payment systems and ineffective scheduling and control systems, which have hampered their progress. Many organizations now recognize the importance of automation, optimization of scheduling and a proper inventory management system, and are incorporating total quality management and total quality control in their operations.
Logistics is the process of getting products and services where they are required and when they are desired. Transportation forms the key aspect of the logistics system. Delivery of goods and services from those who want them has been taking place since the beginning of civilization (Ernst 1998). However, since the modern day customer expects products to be available at all times and with the maximum freshness in case of perishable good, companies need to ensure that their logistics process matches the highest standards. Global companies operate in an intensely competitive environment and hence they try to offer customers the best products and services with a competitive advantage. This situation has benefited the customers who now have access to world-class quality products and services. With the passage of time, operations management has undergone a considerable change. Now-a-days most organizations are adopting new technologies in their manufacturing processes to improve productivity, reduce labor cost, provide safe work environment for their workers, improve material handling and manage inventory better. In studies conducted to find the relationship between financial performance and the investment in technology, it was found that organizations which invested more on technology performed better than the organization will less investment in technology and R&D (Dilworth 1992). Modern logistics management is based on serving the customer in an efficient manner (Schonberger 1998).
Today, the ordinary customer has become more sophisticated and demanding, and expects more variety, lower costs and better quality. Customers therefore drive demand and the industry has to meet this demand. Inter-firm rivalry and competition have also increased manifold. In line with these changes, organizations are replacing production-driven systems involving mass production, by market-driven systems to enable them to corner market share. In view of these, many new developments are taking place in the field of operations management every day. One such new development is third party logistics. Third party intervention in the transport industry is a new and very important development in the field of transportation today. This aspect of third party logistics can be considered as both an operational and a strategic function. As an operational function, third party logistics includes all activities of logistics which are actually outsourced to a logistics service provider. Outsourcing is nothing but getting certain types of the company done by people who are not actually part of the company (Limitedmanagement.com 2008).
Usually, companies outsource certain specific works in which the company is not strong to people who are experts in that particular job. Global sourcing is now a competitive requirement of doing business. This perceived survival imperative has created an extended supply chain, as to distance and time, which has a menu of supplier and logistics demands. Directing the logistics task to a third party, as to costs, performance, inventory, visibility, collaboration and integration is an imperative for corporate success (Limitedmanagement.com 2008).
The logic of this trend is that the company will increasingly focus on those activities in the value chain where it has a distinctive advantage and everything else it will outsource. Hence, strategic decisions need to be taken centrally with the monitoring and control of supplier performance and day-to-day liaison with logistics partners being best managed at a local level.
A recent survey that was conducted on outsourcing revealed certain interesting facts as under (Craig 2005):
- 42% outsource half or more of their logistics activities to third parties. This is a significant percentage and shows the degree of outsourcing acceptance, development and penetration.
- While the function or activity is outsourced to a third party logistics supplier is broad, 59% outsource supplier management. It also shows recognition that supply chain importance and success begins with suppliers, who can be difficult to manage, especially those thousands of miles away.
- 56% import some or all of their finished products or materials. This also shows the expanding opportunities for outsourcing of offshore logistics.
Companies usually design their logistics system either to meet the average service requirements of all customers or to satisfy the toughest requirements of a single customer. The importance of third parties in the transportation activities is growing every day as it has got a bunch of benefits added to it. Most importantly, third party logistics is a durable relationship in which solutions are worked out and such solutions are actually customized. The solutions are designed with a mutual sharing of benefits and burdens. Third party logistics are also known as contract logistics, dedicated contract distribution etc. This trend and growing importance of third parties in the transportation activity of a firm has made organizations highly flexible on contrast with the tradition system of organization which is based on core-competencies of the organization and a long-term relationship between the parties which is mutually beneficial.
Logistics certainly is a critical component for a firm to succeed in a plethora of business areas (P.J. Daugherty 2005). However, in contrast to the significance of reverse logistics in the supply chain management, and the pivotal role that is being played by the same in the overall performance and customer relations of the company, (C.W. Autry 2001) C.W. Autry, noted that reverse logistics is too often ignored and its strategic value is also overlooked by many firms.
The disinclination to pledging resources to the return portion of the supply chain gives rise to an opportunity for the firms to either remedy or improve their strategy of business. Stock, Speh, and Shear (J. Stock 2002). Advocate that even though reverse logistics is mostly regarded as a "costly sideshow" to the usual business operations, it should however become much more aware than the existing degree of awareness. It is also advocated that reverse logistics shou ld "be seen as an opportunity to build competitive advantage" (J. Stock 2002). Richey et al (P.J. Daugherty 2005) proposed that if companies want to increase their competitive advantages with an objective to enhancing their operational performance and financial benefits, they must allot increased amounts of resources toward reverse logistics.
Review of the performance indicators
Customer Service levels – Focus in SCM
In the supply chains, new areas of competition are emerging that go beyond manufacturer vs. Manufacturer, distributor vs. Distributor and retailer vs. Retailer tussles. Organizations are now competing on flexibility, speed and productivity and focusing on meeting consumer demand. Today's competitive environment is the result of the convergence of forces on all members of the supply chain. These forces are the development of new technology, increase in communication capabilities, increasing demand for better quality and customer services and demand for quick and efficient response to market.
Earlier, many supply chain members, especially the ones who were the farthest from end consumers, gave attention only to those factors that directly affected their immediate customer and supplier. However, for survival in today's highly competitive environment, organizations need to focus on end customers and see how these forces affect their end customers. The key to survival will depend on the supply chain members' focus on the demand side of the supply chain equation. From a corporate point of view, the end-use forces will influence the method things are executed in the supply chain. Thus, the objectives and goals of supply chain activities will be influenced by customer focused analysis. Management professionals have often debated the effectiveness of "push" and "pull" strategies. In the current scenario, the consumer provides both the push and the pull, in a process known as demand- chain management.
Fill rates
A supply chain's fill rate can be defined as the fraction of demand which is met from on-hand inventory. It is considered to be one of the key performance indicators of a supply chain. Instead of building and operating a supply chain from manufacturer to market, demand-chain leaders focus on developing alliances with those channel partners who are in the best position to meet the requirements of their customers. The focus on end-users has directed the attention of all supply chain partners to the demand side of the supply chain equation and caused them to re-examine their roles in the supply chain. The players existing in today's emerging demand chains are the same as those in traditional chains, but their respective roles and responsibilities have changed.
Inventory includes raw materials, work-in-progress, and finished goods in the supply chain. Inventory decisions have considerable influence on the supply chain management system. Inventory exists in organizations due to a mismatch between demand and supply. Inventory is also maintained to increase the responsiveness of organizations to sudden increase in customer demand. As inventory is a major source of cost in the supply chain, organizations need to decide how much inventory they need to store at each level of the supply chain. A manufacturer will be more responsive to customer demand if he has the stock with him that will allow him to meet his demand. But, on the other hand, if the manufacturer has large stockpile of inventory, the holding cost will increase. So, the objective of the supply chain management should be to reduce the inventory cost without compromising the responsiveness of the organizations.
On-time-delivery
As already stated above, Inventory includes raw materials, work-in-progress, and finished goods in the supply chain. Inventory exists in organizations due to a mismatch between demand and supply. Inventory is also maintained to increase the responsiveness of organizations to sudden increases in customer demand. The order-to-deliver process defines how effectively an organization can direct the flow of products from suppliers to the company. It includes certain processes such as order releases, receiving, inspection of incoming material, accounts payable, and materials handling. By automating and simplifying the order-to-delivery process, organizations can reduce order time significantly. The order-to-delivery process can be used to evaluate suppliers' performance on the basis of certain criteria like on-time delivery, cost, defects, lead time, and flexibility in scheduled time, etc. Significant cost advantages can be derived if a strong and long-term healthy relationship is maintained with suppliers. Organizations should demand the highest level of service from their suppliers, but they should not forget that their suppliers also play a significant role in reducing cost (Craig, 2005). On the basis of market positions and industry structure, manufacturers can decide how to approach suppliers – invite competitive biddings, enter into long-term contracts, make strategic alliances, outsource etc.
In order to service the ever increasing and equally demanding needs of the patrons and fulfilling their expectations in the best possible manner as well as to meet the growth and profitability objectives of the organizations, it is important that companies concentrate on improving the effectiveness of the overall supply chain. If an organization follows all the various principles of the supply chain management, it can certainly achieve a balance amid the expectations of the clients as well as the organization's growth and profitability objectives.
Risk and business are terms which are actually inseparable. Outsourcing is not an exclusion of this fact and there are yet certain ways in which these risks can be handled and mitigated. Quantifying and assigning risk is a crucial factor in the supply chain. From the perspective of a buyer, there are mainly five types or risks involved in outsourcing with relevance of Supply Chain Management. They are financial risk that could change the expected financial outcome of the solution; Operational risk because of which the solution would prevent the business from meeting current or evolving requirements, Organizational risk that hinders the organization's ability to enable the desired outcomes; Legal risk that creates legal penalties and finally Strategic risk which means the solution would not support the strategy of the organization (Samuel 2004). Sometimes, the buyer might have to face risk of non-performance or poor performance. This further will lead to two other problems for the buyer. One is the delay to market the product or service and the second the increase in the cost of development which actually acts as a remedy for the non-performance.
From the perspective of the seller, all the risks that were discussed from the buyer perspective apply as well. Additionally, the risks from the sellers' perspective include risk associated with the transition process, technology, the provider, the relationship, outsourcing itself and more (Pretium Partners Inc. 2002). Also, apart from the various risks discussed above the seller also faces risks involved in the process of decision making are the main risk. Sellers' risks include principally under-charging as a result of contracting error, though other risks exist (Eric K. Clemons 1997). Non-payment of services is another important risk that the seller might have to face. A huge amount of time and effort is invested by the seller in delivering the product or service. This service takes time to be compensated. Often, it may also so happen that the seller might not get paid at all (Offshore Outsourcing World 2003). As far as the seller is concerned, in order to neutralize the amount of risk, the seller needs to look for creative strategies of outsourcing. Such strategies should always be proposed keeping the buyer in view so that if a creative and risk eliminating outsourcing contract is proposed to be buyer, then such a seller would obviously stand apart and gain from the contract (Abhijeet Ghadge 2011).
Risk is something which is associated in all aspects of business. As this is the fact, outsourcing and supply chain management is not exclusion for this. Prior to getting into outsourcing, both buyers and sellers need to do a risk analysis and then go ahead with the outsourcing. This will help them in mitigating the risk however not in avoiding it. There are some possible ways to mitigate and mutually handle the risk. Risk premiums are a significant factor in supplier cost models. Price will follow assumption of risk. If both sides can't mitigate the risks, buyers and suppliers should assign risk fairly. Fair pricing and good governance will result. Both parties need to discuss and understand risk during the solution development phase so that the solution design will mitigate service delivery (and pricing) risk.
Transportation in the events management, as well as timely delivery of required good and services is the main factors, which enhances the success of businesses. Whether it is the transportation of raw material to manufacturers or finished products to consumers, effective and efficient logistics play major role for growth of business. A healthy logistics offers rapid expansion to any given business, due to enhance as customer satisfaction levels. Stock & Lambert (Lambert 2001) confirms that logistics is a part of supply chain management, which plans, implement and controls effective and efficient flow and storage of products and services and associated information from point of origin to point of consumption, with the main aim of meeting the customers' needs. Logistic incorporates warehousing, transport, material handling, packaging, information and related security. Generally, logistic has greatly evolved due to increasing complications of many business sectors and raised demand for shipping hence increasing business concept. Today, the complexities of production logistic can be analysed, modelled, optimized and visualized by simulation software, which keeps on changing with technological improvement. To manage the entire logistic system well, effective and efficient logistic management systems should be embraced to ensure that goods and services are available the required destinations at required time to cater for consumers' needs.
[...]
Details
Seiten

49

Jahr

2013

ISBN (eBook)

9783656605447

ISBN (Buch)

9783656605430

Dateigröße

988 KB

Sprache

Englisch

Katalognummer

v269423

Institution / Hochschule

Stanford University

Note

B

Schlagworte