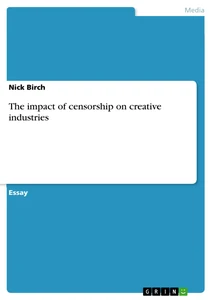 The impact of censorship on creative industries
Essay 2009 16 Seiten
Leseprobe
INTRODUCTION
Censorship can be a grey area and that is usually because what is under contention of being censored is far from black and white. The ramifications of this contention is of most interest to the Creative Industries as it may have a direct effect on the kind of content that governing bodies allow to be distributed, which in turn affects commercial viability and therefore production. There are the artists who may produce art for art's sake, though there remains an indeterminate amount seeking remuneration from their efforts through sales and exhibitions. When their work or part of their work is suddenly deemed inappropriate by the law, the resulting controversy often results in publicity, a concept Art Photographer Bill Henson is no stranger to.
It is somewhat difficult to comprehend who or what is controlling the definition of art and its place in the cultural life of Australia. The manifestation of governmental and public opinion surrounding specific case studies can distinguish publicity from the constant reconstruction of culture, apropos the importance of the re-educating of governing bodies upholding the opinion of the public by the public themselves. Representing a fair spectrum, we have the publicly denounced work of Bill Henson and arguably one of the most controversial films of the decade, Ken Park, with its positive appraisal fiercely contesting only recently updated censorship laws. The battleground for these fights for cultural integrity is the media, the most public and least bias of course being the internet, though the internet in Australia is currently in the process of becoming censored itself! As though product from the creative industries were not being censored enough, the almost alarming concern the government is so compassionately exhibiting for all of our welfare may just be impacting industries in more ways than just what is appropriate to expose to a morally deteriorating or protection-dependant public.
CLASSIFICATION AND CENSORSHIP
Classification is important. It guides unsuspecting consumers with a generic and somewhat arguable sense of morality. The argument here is what drives us to update old-fashioned opinions and reconstitute laws. Regardless of the outcomes, it is imperative for a country to retain the right to be able to enjoy the journey in order to fairly define a sense of cultural identity - the journey being the discussion, the sharing of ideas and the free expression of opinion.
Under the provisions of the Classification (Publications, Films and Computer Games) Act 1995, the Film Censorship Board was replaced by the Classification Board. This body is responsible for the classification of films, videos, publications and computer games according to criteria set out in the National Classification Code (part of the Act) and the Classification Guidelines which are approved by the Commonwealth, State and Territory Ministers responsible for censorship.(Jackson, 2001)
In an address to Murdoch University by the Attorney-General, the Hon. D. R. Williams AM QC in 1997, these reforms were based on the principles that 'adults are entitled to read, hear and see what they wish in private and in public; people should not be exposed to unsolicited material offensive to them; and children must be adequately protected from material likely to harm or disturb them'. A fourth principle, enunciated by Minister for Customs and Excise, Don Chipp in 1970, was that 'censorship should be open to public scrutiny' (D Chipp, 'Statement on Censorship', June 1970, p 8). (Griffith 2002, p. 6).
So censorship in film and television has adopted the much less oppressive-sounding alias of "Classification", where offense is considered in terms of what a "reasonable adult" might deem offensive. The persons responsible for these definitions are members of the Classification Board and Williams showed somewhat obvious insight when he mentioned that '[t]here is a need, therefore, to ensure that those who are appointed are capable of making decisions on classification that will withstand all scrutiny and be good at law.' (Parliament of Australia, 2008)
The film and television industries are always impacted heavily by these changes in law, as new classifications may affect how they may pander to their key demographics. This outline of these most recent updates regarding classification 'speaks of orderliness not order and it does so in the language of what might be called cultural management – a place for everything and everything in its place'. (Griffith 2002, p. 11)
Addressing the works of the more controversial artists that are seen to be damaging to audiences in a way that is not in itself commercially damaging is challenging for policy makers like the Board of Classification. There seems to be a fine, yet clearly defined line between oppressive censorship and accountability, which can easily be observed in the age-old (yet of particularly recent media attention) topic of the inappropriate depiction of children.
[...]
Details
Seiten

16

Jahr

2009

ISBN (eBook)

9783656609544

ISBN (Buch)

9783656608783

Dateigröße

957 KB

Sprache

Englisch

Katalognummer

v269669

Institution / Hochschule

Central Queensland University

Note

1.3

Schlagworte