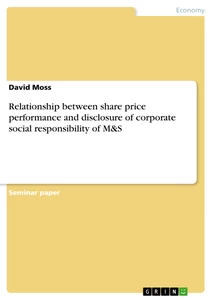 Relationship between share price performance and disclosure of corporate social responsibility of M&S
Hausarbeit 2012 20 Seiten
Leseprobe
Table of content
Introduction
Research objectives
Research questions
Literature Review
Corporate Social Responsibility
Corporate Social Responsibility and Capital Markets
Corporate Social Responsibility Disclosure
Methodology
Types of research
Primary research
Secondary research
Scope of qualitative research approach
Scope of quantitative research approach
Ethical issues in research approach
Data sources (income statement of Mark & Spencer
Profit and dividends. 17
Time Framework
Reference
Relationship between share price performance and disclosure of corporate social responsibility of M & S
Introduction
Corporate social responsibility (CSR) and share price performance are strategic in nature. As a result, organizations must give disclosure and report such initiatives to stakeholders as well as shareholders. The value is revealed in the share price of the public organizations (Bevan, 2010). The boost in share value of socially responsible companies surpasses companies which don't involve in any reporting of corporate social responsible activities (Robinson, 2010).
In this report, we will talk about the relationship between share price performance and disclosure of corporate social responsibility in Mark & Spencer (Robert, 2009).
Marks and Spencer is one among the dominant retailers of clothing, home products, food, and financial services of United Kingdom. 10 million people do shopping every week in more than 375 Marks and Spencer stores in the United Kingdom (Goldenberg, 2009). Additionally the Company has 155 stores run under franchises in twenty eight countries, generally in European, the Middle Eastern, Asian and the Far Eastern countries, and stores in the Republic of Ireland, Hong Kong and the United States supermarket group, Kings Super Markets. Marks and Spencer is formed in business units that cover food and general products (Retail Technology, 2012). The general products unit has been further divided into clothing of women, menswear, beauty, home etc.
In proportion to the current focus on the advantages of Corporate Social Responsibility, it is argued that Marks and Spencer's social commitment with its stakeholders produces resources which create durable benefits for the company (Bookbinder, 2010). In this study, CSR is viewed as an important resource for Marks and Spencer and it makes possible better lasting share price performance. Corporate Social Responsibility is the valuable resource for Marks & Spencer, it is found that CSR-linked shareholder proposals which are implemented by the small margin of votes produce better financial performance (Stokes, 2012).
We argue that the effect of CSR on financial performance is larger for Marks and Spencer operating in industry with higher institutional norms of CSR ('clean' industries) (Stokes, 2012). Arguably, in such industry stakeholders are more sensitive to company' social engagement, which may translate in higher payoffs of CSR initiatives.
Research objectives
- To examine the association between CSR disclosure and the share price/market value of equity of Marks and Spencer
- To establish the extent to which disclosures affected profitability number of shareholders and employees
- To evaluate the benefits of CSR on share price performance of the Company
Research questions
- May any advantages of increased CSR disclosure accrue from the capital markets?
- Are higher levels of CSR disclosure by Marks and Spencer associated with higher share prices?
- Does combined effect of CSR disclosure with financial accounting information explain market attributes better than an exclusive focus on financial accounting information of Company?
Literature Review
The U.K. retailer Marks and Spencer implemented an ambitious CSR program in 2007, 'with the ultimate goal of becoming the world's most sustainable major retailer' (Stokes, 2012). Five years later, this program turned out to be very profitable. More generally, recent surveys indicate that a large majority of CEOs believe that CSR can improve a firm's competitiveness and is critical to its future (Stokes, 2012). Marks & Spencer see the benefits of creating 'shared value' and, in particular, expect to gain a competitive advantage from CSR initiatives. Similarly, shareholders from Marks & Spencer seem to value not only the social, but also the economic benefits of CSR policies. In line with the recent emphasis on the benefits of CSR, we argue that Marks & Spencer's social engagement with its stakeholders generates resources that create long-term benefits for the firm (Goldenberg, 2009). Accordingly, viewing CSR as a valuable resource, we hypothesize a positive relationship between corporate social and share price performance.
Corporate Social Responsibility
Corporate Social Responsibility (CSR) can be broadly understood as the way firms integrate social, environmental and economic concerns into their values, culture, decision making, strategy and operations (Wier, 2009). CSR is an evolving concept and its underlying construct has changed over time. Such integration must be accomplished in a transparent and accountable manner, thereby leading to the implementation of better practices within the firm, creating wealth and improving society (Hart, 2010). The World Business Council for Sustainable Development describes CSR as the business contribution to sustainable economic development. Beyond complying with legislation and regulations, CSR typically includes commitments and actions related to (not an all-inclusive list):  (Kotler, 2012)
[...]
Details
Seiten

20

Jahr

2012

ISBN (eBook)

9783656624387

ISBN (Buch)

9783656624370

Dateigröße

621 KB

Sprache

Englisch

Katalognummer

v270814

Institution / Hochschule

King`s College London

Note

B

Schlagworte