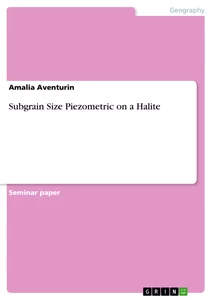 Subgrain Size Piezometric on a Halite
Hausarbeit 2013 16 Seiten
Leseprobe
Table Of Contents
I. Description of the used method
II. Calculation Results of all Pictures
III. Error calculation
IV. Palaeo-stress
V. References
I. Description of the used method
The Subgrain Size Piezometric is done by a Triassic halite from the upper bunter formation in Hengelo, Netherlands. The rock salt halite is white and normally in thin sections are no crystal boundaries observable, because of the cubic crystal structure and its optical isotropy. To make even the sub grain boundaries visible, the sample has to prepared in a special way, where the crystals appear blue and the boundaries white.
For the Subgrain Size Piezometric we uploaded first a picture 430.9-1, which we took as an example, in the program "ImageJ" and changed the type to 8-bit. The next step is adjusting the threshold. The program allows an automatically threshold, but for a better analysis it does be done manually. Figure 1 shows the converted image. Other programs for example MATLAB or ArcGIS can be used as well.
illustration not visible in this excerpt
Fig. 1: Converted threshold of picture 430.9-1.
The aim of adjusting the threshold is to create the sub grain boundaries most visible. For this you can "dilate binaries", which add always one pixel to the picture. With "erode binaries" it will be canceled for one pixel. Even with this function not every boundary got visible, so the boundaries have now to be drawn by hand what is shown in figure 2.
illustration not visible in this excerpt
Fig. 2: Picture 430.9-1 after drawing the crystal boundaries with hand.
[...]
Details
Seiten

16

Jahr

2013

ISBN (eBook)

9783656644729

ISBN (Buch)

9783656644705

Dateigröße

3 MB

Sprache

Englisch

Katalognummer

v272601

Institution / Hochschule

Rheinisch-Westfälische Technische Hochschule Aachen – Lehr- und Forschungsgebiet Geologie - Endogene Dynamik

Note

1,7

Schlagworte