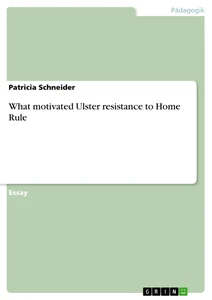 What motivated Ulster resistance to Home Rule
Essay 2010 10 Seiten
Leseprobe
What motivated Ulster resistance to Home Rule?
When Irish nationalists wanted to introduce Home Rule, Ulster Unionists found a variety of reasons to prevent it. There were both moderate opponents to Home Rule as well as rather radical ones. Therefore, various arguments can be found, some of which are based on an objective examination of the Irish question, while others rely on subjective views and personal feelings. Among the arguments that were based on rather individual perceptions was the probably most salient argument: the religious objection to Home Rule. Loyalty towards the Protestant British monarchy and family ties resulting from British or Scottish ancestors were further reasons to resist Home Rule. As a result of the family ties within the Union, many Ulster Unionists felt that there were two nations in Ireland, which strengthened their opposition to the Nationalists' demands even more. Apart from these arguments which are based on the Unionists' individual perceptions, there were also objections which were based on a fear of the consequences for an independent Ireland both in terms of domestic matters and in terms of foreign policy. These rather objective arguments involve economic and financial objections to Home Rule as well as concerns about Ireland's military position.
This essay will first examine the objections that were based on Ulster Unionists personal fears then go on by observing the concerns about the consequences for a self-governed Ireland in terms of domestic matters and foreign policy and finally conclude by judging about the validity of the arguments.
The most obvious reason against Home Rule was a religious one: Ulster Unionists feared the suppression by Roman Catholics if they succeeded in introducing Home Rule. For several decades there had been religious animosity between Protestants and Catholics. As a result, the political affiliation of many people in Ireland coincided with their religious denomination. Therefore, Ulster Unionists, who were commonly Protestant, were afraid of being a minority in an independent Ireland. Various concerns about possible consequences resulted from the fear of being a religious minority. According to Sinclair, the Protestants feared that 'each Roman Catholic member would be bound to act under the dread of excommunication if he voted for or condoned any legislation contrary to the asserted rights of his Church, or which conflicted with his claims.'[1] Thus, Ulster Unionist feared that a government consisting of Roman Catholics would rather act according to the principles of their church than do what is best for their country. Moreover, Protestants were afraid of being discriminated against if the government was led by Roman Catholics, since 'under an Irish Parliament all offices of profit [would] be awarded to Roman Catholics.'[2]
In addition, Ulster Unionists feared that a Roman Catholic government would have serious impacts on the education system of their country. Therefore, anxiety was raised that gradually a sectarian system of education would be developed, should the Roman Catholic Church be able to influence the Irish education system.[3] A common fear was that 'the management of education would be so conducted as gradually to extinguish Protestant minorities in the border counties of Ulster and in the provinces of Ireland.'[4] Thus, many Ulster Unionists were afraid of being discriminated against by a Roman Catholic government both in terms of employment and in terms of education. They were concerned that neither their religious liberty nor their civil rights would be safe under an Irish government.[5] However, the fact that Ulster Unionists were commonly Protestant provided further arguments against Home Rule.
[...]
---
[1] Sinclair, Thomas, 'The Position of Ulster' in Rosenbaum, S. (ed.), Against Home Rule: The Case for the Union (London, 1912), p. 176.
[2] Arnold, J.C., 'The Ulster Unionists' Objection to Home Rule' in Williams, Basil (ed.), Home Rule Problems (London, 1911), p.181.
[3] cf. Sinclair, Thomas, 'The Position of Ulster' in Rosenbaum, S. (ed.), Against Home Rule: The Case for the Union (London, 1912), p. 177.
[4] Sinclair, Thomas, 'The Position of Ulster' in Rosenbaum, S. (ed.), Against Home Rule: The Case for the Union (London, 1912), p. 177.
[5] cf. Law, A. Bonar M.P., 'Preface' in Rosenbaum, S. (ed.), Against Home Rule: The Case for the Union, (London, 1913), p. 11.