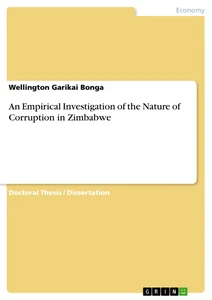 An Empirical Investigation of the Nature of Corruption in Zimbabwe
Doktorarbeit / Dissertation 2014 88 Seiten
Leseprobe
TABLE OF CONTENTS
DEDICATION
ABSTRACT
ACKNOWLEDGEMENTS
LIST OF TABLES AND FIGURES
LIST OF TABLES
LIST OF FIGURES
CHAPTER ONE INTRODUCTION
1.0 INTRODUCTION
1.1 SIGNIFICANCE OF STUDY
1.2 RESEARCH PROBLEMS
1.3 RESEARCH QUESTIONS
1.4 RESEARCH OBJECTIVES
1.5 HYPOTHESIS
1.6 SCOPE OF THE STUDY
1.7 LIMITATIONS OF THE STUDY
1.8 OUTLINE OF THE STUDY
CHAPTER TWO BACKGROUND OF THE STUDY
2.0 INTRODUCTION
2.1 CONSEQUENCES OF CORRUPTION
2.2 BASIC CORRUPTION MODEL
2.3 CORRUPTION LEVELS IN AFRICA
2.4 CORRUPTION LEVELS IN ZIMBABWE
2.5 ZIMBABWE ANTICORRUPTION COMMISSION
2.6 DEFINITIONS AND TYPES OF CORRUPTION
2.6.1 SYSTEMIC CORRUPTION
2.6.2 SPORADIC (INDIVIDUAL) CORRUPTION
2.6.3 POLITICAL (GRAND) CORRUPTION
2.6.4 PETTY CORRUPTION
2.6.5 LEGAL AND MORAL CORRUPTION
2.7 FORMS OF CORRUPTION
2.7.1 BRIBERY
2.7.2 GHOSTING
2.7.3 NEPOTISM
2.7.4 PATRONAGE
2.7.5 BID-RIGGING
2.7.6 GRAFT
2.7.7 EMBEZZLEMENT
2.7.8 BLACKMAILING
2.7.9 CRONYISM
2.7.10 EXTORTION
2.7.11 KICKBACK
2.7.12 FRAUD
2.7.13 KLEPTOCRACY
2.7.14 SPOILATION
2.7.15 GIFTS
2.7.16 CARTELS AND COLLUSION
2.7.17 LENIENCY
2.7.18 TRADING IN INFLUENCE/INFLUENCE PEDDLING
2.7.19 CLIENTELISM
2.7.20 FAVOURITISM
2.8 CONCLUSION
CHAPTER THREE THEORETICAL AND EMPIRICAL LITERATURE REVIEW
3.0 INTRODUCTION
3.1 THEORETICAL LITERATURE REVIEW
3.1.1 X-INEFFICIENCY THEORY
3.1.1 NEOCLASSICAL THEORY
3.1.2 DIFFERENTIAL ASSOCIATION THEORY
3.1.3 SOCIAL LEARNING THEORY
3.1.4 A PRINCIPAL-AGENT MODEL OF CORRUPTION
3.2 EMPIRICAL LITERATURE
3.3 CONCLUSION
CHAPTER FOUR METHODOLOGY
4.0 INTRODUCTION
4.1 RESEARCH DESIGN
4.2 QUALITATIVE APPROACHES
4.3 SUBJECTS/POPULATION
4.4 RESEARCH INSTRUMENTS
4.5 DATA COLLECTION AND COLLECTION PROCEDURE
4.6 PRESENTATIONS AND ANALYSIS PROCEDURE
4.7 QUESTIONNAIRE DISCUSSION
(a) DEMOGRAPHICS
(b) NATURE OF CORRUPTION
(c) SECTORAL CORRUPTION
(d) CORRUPTION AND AGE GROUPS
(e) CORRUPTION AND GENDER
(f) CORRUPTION NETWORKS
(g) CURBING CORRUPTION
(h) DETERMINANTS OF CORRUPTION
(i) IMPACT OF CORRUPTION
(j) ANTI-CORRUPTION BODY EFFICIENCY ASSESSMENT
4.8 CONCLUSION
CHAPTER FIVE DATA ANALYSIS, PRESENTATION AND INTERPRETATION
5.0 INTRODUCTION
5.1 SAMPLE SIZE
5.2 DEMOGRAPHICS
5.3 NATURE OF CORRUPTION
5.4 SECTORAL CORRUPTION
5.5 CORRUPTION AND AGE GROUPS
5.6 CORRUPTION AND GENDER
5.7 CORRUPTION NETWORKS
5.8 CURBING CORRUPTION
5.9 DETERMINANTS OF CORRUPTION
5.10 IMPACT OF CORRUPTION
5.11 ANTI-CORRUPTION BODY EFFICIENCY ASSESSMENT
5.12 CONCLUSION
CHAPTER SIX SUMMARY, CONCLUSION AND RECOMMENDATIONS
6.0 INTRODUCTION
6.1 SUMMARY
6.2 CONCLUSION
6.3 RECOMMENDATIONS
6.4 FUTURE AREAS OF RESEARCH
REFERENCES
APPENDIX I: QUESTIONNAIRE
ABSTRACT
Corruption has become one of the most notoriously persistent and progressively worsening social problems afflicting Zimbabwe today, and this is indisputable. Corruption is most unwanted in the society especially by those not involved, but it is blamed by those who practice it, just to divert attention. Important to note is that corruption is as old as the government, total elimination is impossible, but it should be barred to reach serious levels. This study seeks to empirically investigate the nature of corruption in Zimbabwe. The study uses a questionnaire approach to explore various dimensions of existing corruption and its impact on the society. A total of 835 participants countrywide correctly completed the questionnaire and electronically submitted. Included in this total are questionnaires that were hand distributed. The study utilises the weighted average approach to design various indices for policy derivation. On a scale of 1-10, the corruption index intensity was found to be 6.8 indicating serious levels of corruption in the economy. Nepotism/Favouritism/Cronysim and bribery/kickbacks/gifts have been found to be the major corruption forms in the society. Corruption networks have been confirmed to exist in society and commonly emanates from school and work; this is in line with the Social Learning theory. The study also found out that the Anti-Corruption body is ineffective to address corruption issues, and it is not autonomous from politics, and therefore concentrate on petty corruption rather than grand corruption. Determinants of corruption include poor remuneration, income inequality, job insecurity, greediness and economic instability. The best ways to harness corruption is to improve the political will, individual solutions and law enforcement.
ACKNOWLEDGEMENTS
Firstly, my gratitude goes to Almighty God for granting me the patience, wisdom, serenity, and knowledge I needed to make this assignment a success. Writing a doctoral dissertation has been an absorbing, yet not an easy assignment. Therefore, I would like to thank everyone who assisted me to accomplish this thesis. I know that I cannot remember every one of such individuals here. However, I am sincerely grateful to all such wonderful people.
I am indebted to the staff at Atlantic International University for making my dream come true. All their effort has been noticed through encouragement, fast response to my needs, information update and relevant assessment. My academic advisers Dr. Ericks Vazquez Guzman and Linda Collazo and my tutor Jaime Rotlewicz, I thank you for your concern.
Though performing research is in essence hard individual labour, it wouldn't have been possible without the continuous support of a number of people to whom I am greatly indebted. I would like to express my gratitude to my friends Johannes Chiminya, Frank Chirowa, Calvin Mudzingiri, Simon Munongo, Lazarus Muchabaiwa and Fungayi Mawire-Van Strien for the useful comments and suggestions which improved the dissertation considerably. The support of friends and colleagues has made this whole endeavour more than worthwhile though, and I am very grateful to them all.
Surprising to acknowledge is Dr Ronald Chifamba (though he did not supervise this thesis), for his constructive suggestions during my MSc Economics thesis at University of Zimbabwe 2009. Through his professionalism and vast knowledge in research, he has inspired me and led me into loving research, of which the skills taught am applying. In that regard I will acknowledge my co-authors in selected researches J. Chiminya, C. Mudzingiri, N.L Dhoro, F. Mawire-Van Strien, F. Chirowa and I.M Mavesere. With you guys, research has been an interesting field.
Finally, I want to acknowledge every member of my family, especially my wife Elsie, little troublesome daughter (Praise), mother (Beauty), my brothers (Kassian, Robert and Moses) and my sisters (Tendai and Ellen) for their love, hope, encouragement and tireless effort in making this journey a success. I love you all. This thesis and achievement will raise the family flag high.
LIST OF TABLES
Table 1: Study Sample Size Distribution
Table 2: Demographics Responses Distribution
Table 3: Corruption Index
Table 4: Prevalence of Corruption Types
Table 5: Rankings of Corruption Forms
Table 6: Distribution of Responses on the Impact of Corruption Forms
Table 7: Rankings of Corruption Forms
Table 8: Intensity of Sector Corruption
Table 9: Sector Corruption Rankings
Table 10: Females and Corruption
Table 11: Determinants of Corruption
LIST OF FIGURES
Figure 1: Distribution of Participants by Age
Figure 2: Distribution of Participants by Education and Work experience
Figure 3: Distribution of Participants by Province
Figure 4: Intensity of Corruption on a Scale
Figure 5: Sector Corruption Intensity
Figure 6: Corruption and Age Groups
Figure 7: Female Common Corruption Index
Figure 8: Impacting Corruption Network Source
Figure 9: Best Solution to Curb Corruption
Figure 10: Determinants of Corruption (Index)
Figure 11: Why Corruption not detected
Figure 12: Impact of Systemic Corruption in Organisations
Figure 13: Effectiveness of Anti-Corruption Body
Figure 14: Anti-Corruption Body and Politics
Figure 15: Efficiency towards Petty and Grand Corruption
CHAPTER ONE INTRODUCTION
1.0 INTRODUCTION
Corruption is a worldwide disease, and is as old as the government. It involves two parties, one willing to give and one willing to receive bribes at the expense of the economy, hence difficult to detect. Corruption, by its very nature is illicit and secretive, Banerjee (2012). Corruption can be noticed but is difficult to prove in the courts of law. It harms the society and the economy through its effect on income distribution and market prices distortions. It affects innovation by bringing into play another cost competitive dimension. The more people are involved in corruption, the more harm extended to the economy.[1] The act of corruption is ordinarily referred to the public sector, but however the private sector should not be excluded.
Corruption is widespread in many poor countries, and as such, anti-corruption policies linger to be a central component of development strategies, Barnejee et al (2012).[2] Corruption is like language, one generation's slang (colloquial) may be next generation's formal language (it becomes acceptable). However, the origin is crucial to strengthen acceptability, and ensure discard. Corruption should not be left to prevail, hence there is need to explore its nature, intensity and source so as to harness it. Fitzsimons (2011), indicated that whilst corruption is undoubtedly being economic in its nature and principle motivation, that of personal advantage, it is also clearly determined by a range of institutional, psychological, cultural and social factors which contest the narrow assumptions that economics uses to model economic behaviour.
As supported by Dube (2011), the impact of systemic corruption on economic development and the well-being of the public is no longer questioned. Corruption disproportionately impacts on the disadvantaged, hinders economic development, reduces social services, diverts investments in institutions critical to the existence of the nation (UNDP 2004:1). Corruption could be described using an intensity scale; as rare, wide spread and systemic; the intensity of corrupt activities is different at each level. Tanzi (1997) defined corruption as follows; "Corruption is the intentional non-compliance with the arm's-length principle aimed at deriving some advantage for oneself or for related individuals from this behaviour."
Zimbabwe's economy has suffered a lot due to corruption. The nation is just coming from a depression and has to achieve full recovery.[3] Without addressing issues of corruption, the nation will hardly become stable. Corruption diverts resources from economic sectors and creates market distortions. Economic stability is desirable because it encourages economic growth that brings prosperity and employment, European Commission (2014). In order to harness corruption, there is need to understand the nature of corruption, hence this study seeks to explore the nature of corruption and determine what is expected to be done.
1.1 SIGNIFICANCE OF STUDY
Research on the nature of corruption faces two important obstacles; one being empirical and the other being theoretical, Barnejee et al. (2012). On the empirical side, the primary challenge is measurement. This study is of crucial importance as it adds to the empirical literature on the Zimbabwean context. It extends the knowledge base that currently exists in that field. Corruption differs according to place, what is defined as corruption in one state may be acceptable in other states.[4] Hence there is need for Zimbabwean corruption to be explored, and related solutions determined.
The existence of corrupt activities is acknowledged in the Zimbabwean economy, through media (both print and electronic) and radios. However, corrupt individuals/institutions put the blame on others to drive attention from their activities. The study explores the type of corruption and sectors associated. Institutions explored are (Judiciary, Government, Public sector, Hospitals, Customs and Taxes, Schools and Universities). A look at the driving forces will be undertaken.
The private sector has now resorted to corruption related competition. Destructive institutional unethical involvements have resulted in public officers failing to observe principles of effective governance, transparency, equity, accountability, responsibility, independence, fairness, discipline and respect. The practice has permeated virtually all institutions public and private, governmental and non-governmental. Having reached endemic magnitudes, corruption has become not only a way of life but also a principal mode for the accumulation of private personal property.
1.2 RESEARCH PROBLEMS
The current study seeks to investigate the nature of corruption in Zimbabwe through finding answers to the following questions, which are deemed problems facing the nation.
- Why do people/institutions blame others on corrupt activities that they are also practicing? There is sector by sector blaming on corruption in the economy.
- Can individuals and institutions not survive by operating uncorruptly? A corrupt free market is missing in the Zimbabwean economy.
- Is the government responsive to the social and economic indicators interpretation on the state of the economy? There is low GDP growth, skewed income distribution, high unemployment rates, increased corruption cases, crime rates on the rise, sinking Freedom Index (FI) and low Human Development Index (HDI).
- What purpose does the Anti-corruption body fulfil in the economy? The anti-corruption body has proved to be ineffective and not autonomous to politics.
The problems has resulted in misery, increased poverty and degradation of the mass of society amidst the accumulation of enormous wealth by the ruling and corporate leaders.
1.3 RESEARCH QUESTIONS
The research questions of the study are as follows;
- What is the intensity of corruption? (On a designed scale).
- What are the common forms of corruption prevailing?
- Which form is easily detected and easily harnessed?
- How can corruption be addressed (on a scale)?
- Which age group is more corrupt?
- What form is common among females?
- Do corruption networks exist? And what forms do they take? How can they be harnessed?
1.4 RESEARCH OBJECTIVES
The research objectives of the study have been crafted as follows;
- To explore the intensity of corruption.
- To explore the types of corruption.
- To rank corruption forms as they prevail.
- To determine the easiness of forms of corruption.
- To explore corruption networks.
The ability of the study to attain these objectives will enable the study to fully investigate the nature of corruption in the economy.
1.5 HYPOTHESIS
- Corruption exist in various forms and impact differently.
- Easiness of corruption harness is form related
- Young people are more corrupt than the elderly
- Corruption networks prevail.
1.6 SCOPE OF THE STUDY
The study used primary data from questionnaires. Questionnaires were distributed to various sectors of the economy namely government institutions, universities, hospitals and schools. More than 1000 questionnaires were distributed to understand corruption from different perspectives.
1.7 LIMITATIONS OF THE STUDY
The study of the nature of corruption is too broad and hence some issues were generalized which may need a deeper analysis. The study also demand resources which in this case are limited, it lacks funding. The nature of the study requires sensitive responses which results in unanswered questions, or bias in answering questions. Hence to control for such limitations, a large population survey was considered.
1.8 OUTLINE OF THE STUDY
The study is made up of six chapters. The introduction is well presented in this first chapter. The second chapter contains the background of the study which is rich in various issues related to corruptions. Theoretical and empirical literatures are reviewed in the third chapter. The fourth chapter presents the methodology to be used while the fifth chapter dwells on data presentation and analysis. Finally, the sixth chapter contains the conclusion, policy recommendations and future research areas.
CHAPTER TWO BACKGROUND OF THE STUDY
2.0 INTRODUCTION
This chapter attempts to discuss various issues of corruption in the Zimbabwean context. The study has looked at the levels of corruption as seen in Africa, and this has allowed a comparison among African nations to be made. Nature of corruption prevailing has also been explained in this chapter. Policies in place to harness corruption have been looked at, with special attention to the Anticorruption body and its usefulness. The chapter is very dense with many issues of corruption in the Zimbabwean context.
2.1 CONSEQUENCES OF CORRUPTION
There is need to eliminate corruption in the economy. It should not be left to prevail, worse to graduate to highest levels. Corruption is wicked in the economy and is generally responsible of the following;
- Undermines economic, political and social development (Makumbe 1994; Osoba 1996; Ayittey 1992; Hope 1997).
- It hinders administrative development and administrative performance (Hope, 1997),
- Undermines political stability and government legitimacy (Mulinge and Lesetedi, 1998)
- Impairs economic efficiency (Gould and Amaro-Reyes 1983)
- Corruption jeopardizes the allocation of resources to sectors crucial for development
- Corruption encourages and perpetuates other illegal opportunities
- Legal violations
- Stifles local initiative and enterprise (Ouma 1991; Hope 1997)
- High transaction costs in business (Boris, 2005).
- Undermines a healthy free-market system by eliminating security of private property rights, discouraging potential investors, and driving entrepreneurial energy towards redistributive activities,
- Artificial shortages.
All such effects of corruption should not be welcomed in the economy. Policy makers (relevant authorities) are to act accordingly to harness corruption at all levels - addressing needs strengthening anti-corruption bodies, empowering legal systems and limiting loopholes in the government institutions is essential. Private companies should also preach the gospel of transparency, fairness and integrity.
2.2 BASIC CORRUPTION MODEL
As indicated by Bonga, Chiminya and Mudzingiri (2014), the players in the corruption field are the general public, the bureaucrats and the firms. It is how they interact that defines any misbehavior to be taken for personal benefits. The misconduct behaviour distort the competitive nature of the market, since there will be no level playing ground with other innocent agents. Bonga et al. (2014) further indicated that from these players, the solutions to corruption becomes of three approaches; the lawyer's approach, the economist's approach and the business approach. As supported by Di Tella (1997), the approaches simply defined include tighter enforcement of laws, higher wages in the bureaucracy and more competition in the product market.
To demonstrate the basic corruption model; most cases of corruption occurs in a similar structure as follows;[5]
illustration not visible in this excerpt
The above table presents the corruption process. It clearly shows what each player wishes to attain and at the same time what factors it meets in the process, hence there is an issue of probability of success and failure to engage in corruption. The bureaucrat is at the center stage as he/she can decide to participate or not. However depending on laws governing mischief the public and firms may also decide whether to participate or not.
2.3 CORRUPTION LEVELS IN AFRICA
According to Robb (1992), the very initial historical basis for the emergence of corruption appears to have been the industrial revolution of the nineteenth century. The financial growth which accompanied this historical episode was accountable for the birth of white collar crime which partly involves corruption. Robb (1992) argues that the industrial revolution gave birth to a complex economy characterised by an increasing dependence on finance and investment and, consequently, enormous banking networks, stocks and credit and a complicated legal system. Mulinge and Lesetedi (1998) blamed the increase in lawyers, financiers and other professionals, that they have greatly aided the expansion and the potential for white-collar crime.
Transparency International (2014) indicated that nearly 80% of African people live on less than US$2 a day. The report indicated that corruption is one factor perpetuating poverty. Corruption and poverty combine to coerce people to make awkward choices. Underprivileged people often have little access to education and can remain unaware about their privileges, leaving them more easily subjugated and excepted. In order to fight against their social exclusion and marginalisation, poor citizens need a space for dialogue with the authorities.
According to an Afrobarometer report (2013) released in Senegal, corruption in Zimbabwe was found to be at 81 percent while both Egypt and Nigeria were at 82 percent.[6] As indicated by the same report Zimbabwe corruption increased by 43% for 2002-2012 period, implying corruption is on the rise and hence more harm to the economy.
As noticed in the Afrobarometer report (2013) corruption is widespread in Africa to the extent that 1 in 5 people indicated that they have paid one or more times for a favour to a government official in the last year. The report added that in 34 countries the public perceive the police and government tax officials to be the most corrupt. The report extended corruption to the whole world. The report singled out the police as the most corrupt government department. Denmark, Finland and New Zealand were rated as the least corrupt, while Afghanistan, Somalia and North Korea were categorised as the most corrupt in the world.
In Africa there is a neglected corrupt group of people and these are the white men who have plundered the wealth of Africa (The White Robber Barons).[7] For years, the so-called "White Robber Barons" are exploiting African people and drying out African land with no sympathy. The barons are trading, committing fraud, bribing, stealing, killing, breaking sanctions, dealing in arms and are doing whatever they want.[8] In Africa and beyond, their business is no secret. Everyone knows how they run it and with whom they run it. The media knows about it, governments know about it, but it seems like no one cares. The rulers of Africa behave like nothing can stop them, nothing can touch them; they simply feel invincible.
The African Union Convention on Preventing and Combating Corruption was adopted in Maputo (11 July 2003) to fight booming political corruption in Africa. The convention represented regional consent on what countries should do in the areas of preventing corruption, criminalization corrupt individuals, international collaboration and asset retrieval. A wide range of offences are covered by the convention which includes bribery (foreign or domestic), diversion of property by public officials, trading in influence, money laundering, illicit enrichment and concealment of assets and primarily comprises of obligatory provisions. As reported in 2007, following 9 countries had legal holes relating to this Convention and United Nations Convention against corruption: Algeria, Kenya, Liberia, Burundi, Nigeria, Sierra Leone, Togo, Uganda and South Africa. As of this year (2014), the accord had been endorsed by 35 states.
Concerning SSA in particular, however, corruption seems to be a social issue deeply rooted in the historical passage of colonialism. Consistent with Osoba (1996: 372), the practice is viewed here as a by-product of traits of fraudulent antisocial behaviour derived from French, British and other rulers. This behaviour was implanted into the colonial peoples during the colonial era and was passed into the post-colonial era, Mulinge and Lesetedi (1998).
2.4 CORRUPTION LEVELS IN ZIMBABWE
Corruption in Zimbabwe has become rampant within its political, private and civil sectors, Transparency International (2012). Zimbabwe has been ranked joint 163 out of 176 countries in the 2012 TI Corruption Perceptions Index. On a scale of 0 – 10 (highly corrupt - very clean), the Corruption Perceptions Index marked Zimbabwe 2.0, and this marks an increase in corruption since 1999, when the country was ranked 4.1.
In September 2013, the Anti-Corruption Trust (ACT) of Southern Africa published another damning report citing high levels of corruption in Zimbabwe, particularly in the diamond mining sector. Some of the corruption cases cited by ACT are the War Victims Compensation Fund, Zimbabwe Iron and Steel Company (ZISCO) scandal, VIP housing scam and the Zimbabwe United Passenger Company (ZUPCO) scam, amongst others. The report revealed that in most cases the culprits (mostly top government officials) were not brought to book.
Zimbabwe and Angola are the two Southern African countries that faired the worst in TI's Corruption Perception Index for 2003 (Johannesburg, 8 October 2003- IRIN). The CPI charts the level of corruption in 133 countries and ranks them according to a CPI score built on perceptions of the intensity of corruption, ranging from 10 (highly clean) to 0 (highly corrupt), by business people, risk analysts and academics. Zimbabwe and Angola faired worst in the ranks, with CPI scores of 2.3 and 1.8 and respectively, followed by Zambia (2.5), Madagascar (2.6), Mozambique (2.7) and Malawi (2.8).
In 2011, the then Finance Minister (Tendai Biti) claimed that at least US$1 billion in diamond-related revenue owed to the national treasury remains unaccounted for. The minister blamed corruption, misappropriation and a lack of transparency for the systematic underselling of diamonds and the failure to recoup losses. The Finance Minister further elaborated that there was no linking whatsoever between diamond exportation made and the revenues realised.
2.5 ZIMBABWE ANTICORRUPTION COMMISSION
In an effort to curb corruption in the economy, an independent body was set for such purpose, and the body is powered by some Acts of law. However the autonomous level of the body is questioned and its efficiency have been highly criticized. The body is still underpinned by political power which makes it worthless to harness highly ranked corruption. The body concentrates on minor issues and lowest levels of corruption and general populace. Given that the body relies on government resources to function, its efficiency is highly encouraged.
In Zimbabwe, Anti-corruption efforts are governed by the following legislation:
- The Prevention of Corruption Act (1983);
- The Ombudsperson Amendment Act (1997);
- Anti-Corruption Commission Bill (2004);
- Public Service Act (1995);
- The Criminal law (Codification and Reform) Act (2004);
- Criminal Procedure and Evidence Amendment Act (2004);
- Bank Use Promotion and Suppression of Money Laundering Act (2004) and
- Criminal Law (Codification and Reform) Act of 2006
The Zimbabwean Anti-Corruption Commission (ACC) was established after the passing of the Anti-Corruption Commission Bill in June 2004. According to a 2009 report by Global Integrity, the Commission is highly inefficient and "has very little authority to take steps aimed at stopping corruption in Zimbabwe". Only four cases were completed out of 147 corruption cases reviewed by the Commission in 2006.
2.6 DEFINITIONS AND TYPES OF CORRUPTION
As supported by Henry Grattan (2009), to be able to understand how to prevent corruption, it is important to correctly define it.
2.6.1 SYSTEMIC CORRUPTION
Systemic or endemic corruption is when corruption is an integrated and essential aspect of the economic, political and social system, when it is implanted in a wider situation that helps sustain it. Systemic corruption is not a special type of corrupt practice, but rather a situation in which the key institutions and processes of the state are routinely conquered and used by corrupt people and groups, and in which most people have no options to dealing with corrupt officials.[9] In Zimbabwe it now seems a right to undertake corrupt activities to earn a living. Some bribes are demanded openly for a service to be rendered. Individuals who do not want to pay bribes usually suffer delays or risk losing the service. In some organisation there is now a standard fee for an act to be done e.g fee for obtaining a driver's licence, public drinking, overloaded vehicles, traffic fines, jumping ques at the clinic or customs duty violation. It seems there is a designed formula to calculate the amount of bribe needed.
2.6.2 SPORADIC CORRUPTION
Sporadic (individual) corruption is the opposite of systemic corruption. This type of corruption does not occur regularly and therefore does not threaten the mechanisms of control nor the economy as such. Though not crippling, sporadic corruption can seriously undermine morale and sap the economy's resources.
2.6.3 POLITICAL AND GRAND CORRUPTION
Any transaction between private and public sector actors through which communal goods are illegally converted into private-regarding payoffs, is regarded as political corruption. This type of corruption is often used synonymously with grand (high level) corruption, distinguished from petty or bureaucratic corruption because it involves political decision makers. Political or grand corruption takes place at the high levels of the political system, when politicians and state agents entitled to make and enforce the laws in the name of the people, are using this authority to sustain their power, wealth and status. Political corruption is when the laws and regulations are abused by the rulers, side-stepped, ignored, or even tailored to fit their interests. It is when the legal bases, against which corrupt practices are usually evaluated and judged, are weak and furthermore subject to downright encroachment by the rulers.
Militarization is a common example. This refers to when some retired generals from the army are deployed at some public organisations to manage and monitor activities and fully paid. This is mainly for political protection and support. This undermines quality of performance of the parastatals, and this defines the fall of National Railways of Zimbabwe (NRZ).
2.6.4 PETTY CORRUPTION
Petty corruption (bureaucratic or small-scale) is the everyday corruption that takes place at the implementation end of politics, where the public officials meet the public. Petty corruption refers to bribery in connection with the implementation of existing laws, stipulated rules and regulations. Petty corruption therefore refers to the modest sums of money or gifts usually involved. Such type of corruption has also been called "low level" and "street level" to name the kind of corruption that people can experience more or less daily, in their encounter with public administration and services like schools, police, hospitals, local licensing authorities, taxing authorities and so on. Such small scale corruption has grown to high levels as many people get involved. It has become a tradition and summing it result in greater effect to the economy.
2.6.5 LEGAL AND MORAL CORRUPTION
To understand legal and moral corruption, it is worth to note that the word corruption is derived from the Latin verb rumpere, which means to break. From this phrase it simply means that, corruption is when the law is clearly broken. For corruption to be noticed it requires that all laws must be precisely stated, leaving no doubts about their meaning and no discretion to the public officials. Corruption when legally interpreted provides a clear defined boundary between what is a corrupt activity and what is not. An official's act is corrupt only when it is prohibited by laws established by the government; if the act is not prohibited, it is not corrupt even if it is abusive or unethical', John A. Gardiner (1993). Such loopholes in law equip a lot of people to involve themselves in unethical practices. There is need for laws to be revised.
2.7 FORMS OF CORRUPTION
2.7.1 BRIBERY
Bribes are too common in Zimbabwe. Bribery is a criminal offence and often occurs together with nepotism. According to Bauer and Van Wyk (1999), bribery refers to the offering of money or other inducements to secure the desired action from a public of official and even from a political office bearer. Important to note is that bribes can be paid before or after the deed or favour, or a part before then balance thereafter. Levels of bribery in a country are determined by the strength of government and political institutions. Bribery in its highest level is difficult to detect and prove. Some institutions have now involved intermediate persons, who collect bribes on behalf for a designed commission, and everything else, operate as normal. This has been made possible through increased interaction and the need to match economic conditions. Bribery is also linked to nepotism; there is need for someone to link for efficient service offering or is turned away taken as a trap from corruption controlling units.
Bribery can be active or passive. Active bribery refers to the offence by the person who gives the bribe or promises, while passive bribery refers to the offence committed by the official who receives the bribe. Active bribery occurs on the supply side, while passive occurs on the demand side. Worth to note is that active bribery does not always imply that the briber has taken initiative.
2.7.2 GHOSTING
Ghosting refers to the payment for services never rendered and goods never supplied, but for which receipts and invoices issued, Business Corruption Vocabulary (2014). The case also refers to ghost employees where the person either does not exist or has left the job but still receiving salary. This is common in government institutions, and salary offering departments.
2.7.3 NEPOTISM
Nepotism refers to the preferential treatment given to a member of an official's family, BCV (2014). Nepotism is not illegal, but it is a corrupt act because it is unethical and irregular. The inevitable result of nepotism is the exodus of good, qualified public servants, because their chances of promotion are hampered as they are not tribally connected to officials nor are they relatives. Nepotism is the one that creates a lot of linkages among people and ensures success in corrupt activities. It lowers the probability of corruption detection.
2.7.4 PATRONAGE
Patronage refers to a system whereby government positions are given to individuals as a reward for party political support, Grobbler (2002). It can be referred to as employment of friends and relatives without meritorious considerations. It results in the appointment of inferior quality administrators which leads to poor quality of service being rendered. Political players benefit in terms of power and job security, while non-political players receive lucrative contracts or salaries in return for their continued support for a particular political party.
2.7.5 BID-RIGGING
Bid rigging refers to officials who have already decided on a successful bidder for a government contract, as well as the price, before the contract is put out to tender. It can also refer to situations where a public official has to lent-out goods that belong to his department and then hired the equipment back from the lender for fee.
2.7.6 GRAFT
Bauer and Van Wyk (1999) defined graft as the misappropriation of public resources (money, property, or opportunities) for personal enrichment. Graft can be applied for an official who requests an additional fee for performing a function that is part of his job.
2.7.7 EMBEZZLEMENT
Embezzlement refers to the fraudulent appropriation of money or property by a person entrusted to safeguard the assets in another's interests, BCV (2014). According to LII (2014) embezzlement is the fraudulent taking of personal property by someone to whom it was entrusted. In most cases embezzlement is associated with the misappropriation of money. Embezzlement can occur irrespective of whether the defendant keeps the personal property or transfers it to a third party. A person entrusted with private or public resources can commit embezzlement. This type of corruption is common in law firms which run Unit Trusts. A lot of cases have been reported when public funds have been abused. Housing cooperatives are not spared on this type of corruption. Bogus microfinance institutions have been closed due to abuse of public funds.
2.7.8 BLACKMAILING
Blackmail is the crime of threatening to reveal potentially damaging information about a person to the public, a family member, or associates unless a demand made upon the victim is met, BCV (2014). Such information is usually of a socially damaging nature, embarrasing and/or criminally incriminating nature. Blackmail is almost the same with extortion. The only difference is that extortion involves an underlying, independent criminal act, while blackmail does not. This type of act is common in law enforcement agencies (police, intelligence department and anti-corruption bodies). The media is not spared in this type of corruption, they demand money or other benefits at the expense of publishing private issues pertaining individuals.
2.7.9 CRONYISM
Cronyism is a form of favouritism shown to close friends, BCV (2014). To explore cronyism a common situation is the political appointment of a friend without concern of qualifications. Such form is very harmful to the smooth flow of business. Incompetent staff is appointed and hence quality of service is compromised at the expense of political security of a few individuals. This is the same as militarisation in government parastatals. This type of corruption is also common in the private sector, where relatives of certain influential bosses are called for interviews.
2.7.10 EXTORTION
Extortion refers to the unlawful use of one's position or office to acquire money through coercion or threats, BCV (2014). This form of corruption is common also in law enforcing organisations. Customs officials will not be spared in this type of corruption; one might request undue 'customs duties' from importers as a condition to clear their goods. According to Legal Dictionary (2014), extortion is the obtaining of property from another induced by wrongful use of actual or threatened force, fear or violence, or under colour of official right. This type is almost similar to blackmailing which is extortion by a private person. As a crime of theft, extortion is closely related to robbery and false pretenses. However, robbery is a bit different from extortion in that the property is taken against the will and without the consent of the victim, unlike extortion, where the victim consents, although unwillingly, to surrender money or property, LD (2014). In the case of false pretenses, the property is obtained by a lie rather than a threat.
2.7.11 KICKBACK
A kickback is a bribe to obtain an undue advantage, where a portion of the undue advantage is 'kicked back' to the person who gave or is supposed to give the undue advantage, BCV (2014). Payment of kickbacks is purely a corrupt practice and typically occurs in connection with a public procurement process when an organisation pays a procurement officer to illegally award the contract in return for a fee.
2.7.12 FRAUD
In most jurisdictions fraud is a criminal offence. Fraud involves the use of trickery, deception, and breach of confidence to gain some unfair or dishonest advantage, BCV (2014). An actual fraud is motivated by the desire to cause harm by deceiving someone else, while a constructive fraud is a profit made from a relation of trust.
2.7.13 KLEPTOCRACY
According to BCV (2014), a kleptocracy is a political system dominated by those who steal from the state coffers and practice extortion as their modus operandi. In Africa the most well-known former kleptocrats include Duvalier (Papa Doc) of Haiti, Bokassa of the Central African Republic, Suharto of Indonesia and Mobutu of Zaire, BCV (2014).
2.7.14 SPOILATION
Spoilation refers to the intentional destruction or alteration of a document required for evidence. In broader terms it refers to the destruction or plunder of something valuable. This type of corruption is common in police, judiciary and government officials. Spoilation usually occur when high-ranked officials loot the wealth of their states. The benefits reaped, the booty, rewards and profits from corrupt acts are termed spoils.
2.7.15 GIFTS
A gift refers to a financial or other material benefit or promise offered, solicited, given or received with an obligation to provide any benefit in return. Gifts are acceptable in some states. However, gifts may be used to enable corruption, or may give the appearance of corruption. Gifts in many cases include cash or assets given as presents, and political or charitable donations. To avoid corruption, many organisations cover the use of gifts in their codes of conduct. In general most organisations state that gifts should be identifiable and only of nominal value if given in the name of the company. To rule out corruption some organisations prohibit gifts to employees, and employees should not accept gifts, except small gifts in special situations, such as anniversaries. Repetitive gifts may lead to friendship which will later be abused for corruption activities. The gift giver maybe investing in the bureaucrat for future favours.
2.7.16 CARTELS AND COLLUSION
A cartel refers to an agreement (whether formal or informal) among competing companies to coordinate prices, marketing and production. Members of the cartel may agree on matters which include fixing of prices, industry output, market shares, customer allocation, territory allocation, bid rigging, common sales agencies establishment, and the division of profits or any combination of these. The concern of such collusion is to raise each individual member's profit through competition reduction.
Collusion refers to an agreement, which is usually secretive, occuring between two or more persons in an effort to limit open competition through misleading, deceiving or defrauding others of their legal rights. Collusion also refers to the act of obtaining an objective forbidden by law typically by defrauding or gaining an unfair advantage, BCV (2014). Collusion involves an agreement among companies to divide the market, set prices, or limit production. It some cases it involves wage fixing, kickbacks, or misrepresenting the independence of the relationship between the colluding companies.
2.7.17 LENIENCY
Leniency is one of the smartest way of corruption done especially by judiciary and members of company disciplinary committee. According to the BCV (2014), leniency for participation in a crime is a blanket term covering either immunity from prosecution (dismissal of all charges) or reduction of penalties. This type of corruption is done by judiciary. Judiciary may also operate under political influence to discharge cases. Immunity from prosecution implies that no charge is brought at all, for example, the undertaking or person concerned is not punished at all for having participated in the crime. While, reduction of penalties means that the penalty charged against the undertaking or person concerned is reduced.
2.7.18 TRADING IN INFLUENCE (INFLUENCE PEDDLING)
Trading in influence or influence peddling occurs when an individual who has real or apparent influence on the decision-making of a public official exchanges this influence for an undue advantage. As supported by BCV (2014), there are demand and supply sides to this type of offence. An individual (briber in this case) is guilty of such offence if the individual offers promises or gives an undue advantage to another individual in order that the recipient exerts influence on the decision-making of a public official. Therefore an influence peddler is guilty if he/she requests, receives, solicits or accepts an undue advantage from a person in order that he/she exerts his/her influence on the decision-making of a public officer.
2.7.19 CLIENTELISM
Clientelism refers to an informal relationship between people of different social and economic status. As an example a patron (boss, big man) and his clients (dependents, followers, proteges) may have an informal relationship. Such a relationship includes a mutual but unequal exchange of favours, which can be corrupt. Clientelist and patrimonial practices can institutionalise hegemonic leaders and political corruption, often reaching the highest ranks of government power.
2.7.20 FAVOURITISM
Favouritism is very common in many facets of the economy both private and public sectors. The nature of favouritism seems acceptable but has various effects to the allocation of resources and affects social morale for the unflavoured. Favouritism, generally expressed refer to the normal human inclination to prefer acquaintances, friends and family over strangers. Favour may not be cash or bribe related, but however it causes one to be more preferred than the other. When a private officer or a public office demonstrate favouritism to unfairly distribute positions and resources, they are guilty of cronyism or nepotism, depending on their connection with the person who profits.
2.8 CONCLUSION
The background chapter is rich with various issues pertaining corruption, not only in Zimbabwe but Africa particularly Sub-Saharan Africa (SSA). This will help in exploring the nature of corruption in Zimbabwe with the aid of previous chapter and following chapters.
CHAPTER THREE THEORETICAL AND EMPIRICAL LITERATURE REVIEW
3.0 INTRODUCTION
This chapter reviews the theories related to corruption, economic and social models of corruption, and empirical literature on corruption issues. Reviewing literature will help the study in strengthening the modelling of collected data for a sound analysis.
3.1 THEORETICAL LITERATURE REVIEW
Corruption though it has an economic dimension, it also include political and social aspects in it which should not be undermined. Hence to analyse corruption effectively there is need to bring all aspects together. As indicated by Almond and Verba (1965), the study of corruption is not new and hence a lot has been explored concerning corruption especially its determinants. As indicated by Almond and Verba (1965) and supported by Huntington (1968) modern scholarly study of political corruption began in the 1960s and 1970s, and it was spurred by the inclusion of corruption as an important factor in early modernization and democratization studies. There have been hundreds of scholarly studies since 1960s in the academic fields of anthropology, criminology, economics, international relations, development studies, financial management, public administration, sociology and political science, all trying to explain the causes and consequences of political corruption. A variety of theoretical approaches have been adopted by such studies. Hundreds of mostly single discipline corruption studies have produced rigorous theorizing and many useful case studies; however the overall findings about the causes and consequences of corruption have been quite contradictory (Johnston 1986).
The dearth of quantitative empirical studies on political corruption was mainly caused by the lack of an accepted measure of the levels of political corruption in various countries aroung the globe. In the late-1990s, the situation changed, when TI began to publish an annual "CPI" for a limited number of world economies.[10] Over the past decade, TI and the World Bank have advanced the techniques for measuring the perception of corruption and have continually added new countries to their indexes, such that by now there are good comparative corruption perception measures for most world independent economies (TI 2001; Kaufmann et al. 2002).
Consistent with the purpose of the study, the study will look at the following theories; X-inefficiency theory, Neoclassical theory, Differential Association theory, Social learning theory, and Principal-Agent theory.
3.1.1 X-INEFFICIENCY THEORY
One of the important theories explaining the nature of corruption is the X-inefficiency theory. As indicated by Lambsdorff (2002), X-inefficiency theory is a neoclassical economic theory of X-inefficiencies. Leibenstein (1966), indicated that corruption theorists now point to the inefficiencies that corrupt government officials involved in policy-making and policy-execution create in a socio-economic system in order for the officials to benefit personally from their positions. Important to note is that the theory of X-inefficiencies offers that countries with high corruption levels will experience significant self-imposed (X) inefficiencies in the use of country resources resulting in macroeconomic mismanagement, loss of competitiveness, lack of organizational innovation and overall collective non-performance. Systems with large X-inefficiencies are driven more by the 'grabbing hand' or 'invisible foot' of the governing leaders and less by the 'invisible hand' of market mechanisms as theorized by Adam Smith and others of the neoclassical economic school. The X-inefficiency theory indicates that corruption creates distortions in a socio-economic system that benefits the governing elite and government bureaucrats, and only those individuals connected closely with them, at the expense of the general populace.
Gross Domestic Product (GDP) per capita under a corruption free economy becomes a logical indicator of development (societal output). The theory propose that states with high levels of economic X-inefficiencies created by a self-interested governing leaders and government bureaucrats will display lower levels of economic growth.[11] The country X-inefficiencies also predict that the available capital to the country would be inefficiently used, and hence affecting not only the overall economic output, but also hold back the creation of infrastructure crucial to sustained economic growth. This fact is particularly true of governments that regularly support 'white elephant' schemes with public resources because they provide the governing elite more chances for earning economic rents (in form of payoffs, kickbacks, bribes or speed money) than do more productive projects, such as building capital infrastructure and improving public welfare programs in education and health care.
X-inefficiency theory is based on the supposition that the governing elite, government bureaucrats, and those individuals connected with these groups, will heavily benefit from the self-inflicted inefficiencies they impart on the country's economic system and public overheads. Others from the society really suffers while these groups benefit from corruption.
The theory clearly indicates that those in power do abuse their office by creating system loopholes that they use to enrich themselves. The people involved create their groups of which they support themselves in corrupt activities. Corruption detection will then be difficult as probability is lowered through their linkages in corruption. Anyone not linked to such groups will suffer the consequences. The theory relies on the economic indicators to show the presence of corruption; distribution of income in the economy will show the disparity caused by corruption. Country problems are self-inflicted by the elites so as for them to benefit.
3.1.1 NEOCLASSICAL THEORY
Neoclassical economic theory postulates that high investment levels are key to a country's economic growth. Mauro (1995) was one of the first researchers to show that corruption negatively impacts investment levels. The researcher (Mauro, 1995) indicated that corruption increases investors' risk in various investment sources. Resources for any economy come from several investment sources, which include foreign direct investment, international aid, portfolio investments, domestic savings, and state budgets. Most corruption studies refer to foreign direct investment. The studies by Wei (1997), Mauro (1995, 1997, 1998) and Wheeler and Moody (1992) all show the strong correlation of corruption to foreign direct investment levels (where foreign companies acquire ownership or control over a country's firms). Domestic savings have also not been a topic of empirical corruption studies, however, it is a topic of some theorizing. In their study, North and Weingast (1989) argued that domestic savings require trust in a country's banking system. If the trust does not exist, domestic savings will either not be deposited in local banks, or will be transferred to foreign banks. Countries with higher levels of corruption will also have higher levels of debt. An assumption has been made that countries with higher levels of corruption will borrow more in order to provide supplementary sources for the governing elite's rent-seeking. Furthermore, countries with high levels of debt will have fewer domestic resources to commit to infrastructure building or public welfare programs in education and health care.
3.1.2 DIFFERENTIAL ASSOCIATION THEORY
The differential association theory relates to the concept of subculture where the primary peer group learn definitions. As indicated by Alpert and Dunham (1997), one of the most profound pressures operating in certain groups of people is peer influence.[12] The subculture may facilitate non-standard behaviour by transmitting the beliefs, definitions, values, and manners of expression that depart from acceptable behaviour. This is made possible because the subculture shared value system permits them the chance to rationalize, excuse, and justify deviance (Kappeler et al. 1998). In their study Alpert and Dunham (1997) maintain that since social isolation is a feature of the subculture, group of individuals are likely to withdraw into the subculture for support and approval. The end result is that the group member is 'subjected to deep peer influence and control,' and this may involve the acceptance of deviance (Kappeler, Sluder, and Alpert 2001).
Because of the isolation that some groups of people often experience, they tend to spend more time with one another, particularly for social drives. Therefore, it then becomes more essential for the group member to feel recognised by the peer group for the development of a satisfactory self-concept (Conser 1980). A study by Skolnick (1966=1994) found that the strength of the organizational culture in a department was so salient that regardless of personal differences, individuals adopted the beliefs and definitions of the department.
Kappeler et al. (1998) indicated that subculture provides a chance to learn deviant activity because in a learning process attitudes, values, and beliefs are transmitted from one generation to another. In a study Skolnick (1966=1994) asserts that the members develop 'cognitive lenses' through which to view the world. Sherman (1978) further contends that group member corruption may be expounded as the diffusion of cultural values through the reference group's influence.[13]
3.1.3 SOCIAL LEARNING THEORY
Akers' social learning theory posits that peer associations, attitudes, reinforcement, and modelling are in general forecasters of delinquency and crime. Social learning theory was developed as an extension of Sutherland's Differential Association theory to explain acts that violate social norms (Akers 1998, 2000). Social learning theory is backed by the assumption that the same learning process can produce both conforming and deviant behaviour. According to Akers four variables function to instigate and strengthen attitudes toward social behaviour and these include: differential association, reinforcement, definitions, and modelling. It is indicated that the balance of these influences determines whether one will be prone to engage in conforming or deviant behaviour. In social learning theory, differential association, or the influence of those with whom one associates frequently is the central variable. Akers argues that people develop favourable or unfavourable definitions to deviance in interactions with their peers. Definitions of this nature are then reinforced, positively or negatively, by the rewards or punishments (either real or perceived) that follow their behaviour. Moreover, peers offer models of behaviour to follow.
Considerable scholarly attention and empirical support on social learning theory has been received; however, its focus tend to be on explaining crime and delinquency more generally, and not misconduct in particular.
3.1.4 A PRINCIPAL-AGENT MODEL OF CORRUPTION
Principal-agent model (PAM) of corruption is based on the fact that there are two principals (corrupting principal), and one agent (corrupted principal). It is a game theoretical approach to corruption. According to the PAM the behaviour of the principals and agent is analysed in terms of the benefits and costs associated with different actions. Although in comparative research corruption is generally analysed as a social phenomenon, corruption stems from the decisions of individuals.
As supported by Groenendijk (1997), in the principal-agent branch of neo-institutional economics (agency theory) elements of both the property rights theory and the transaction costs theory are integrated and used to model relationships between principals and agents. Groenendijk (1997) further indicated that PAMs assume that the interests of principal and agent diverge, that there is informational asymmetry to the advantage of the agent, but that the principal can prescribe the pay-off rules in their relationship. An important feature of the agency literature is that decisions are considered to be trade-offs between different kinds of costs (monitoring costs, bonding costs and residual loss), Groenendijk (1997).
Important to note is that there exist an element of considerations that of personal gain. In economics terms, the behaviour of an individual is assumed to be brought about by his looking after his own interests. What these interests are is for the individual to decide; the person can be a materialist or an idealist, an egoist or an altruist, a crook or a saint, or (like most people) a little bit of all of these. From the neo-institutional economics point of view the element of personal gain in a definition of corruption is a superfluous one. In actual fact, this is more important than it may seem at first glance.
3.2 EMPIRICAL LITERATURE
Reviewing empirical literature is equally important in the study. As supported by Morris (2011), much of the literature on corruption explores the underlying causes and consequences of corruption. Morris (2011) further indicated that the various literature, however fail to differentiate forms of corruption and hence corruption, is treated generically as a singular class of political behaviour. Such fact is especially true of the bulk of the quantitative, cross-national studies because of the way they normally measure corruption.
With support from Banerjee, Hanna and Mullainathan (2012), early studies concentrated on anticorruption policies. A study by Klitgaard (1988) provides many case studies of successful elimination of corruption, such as in the Singapore Excise Department, Hong Kong Police Force and the Bureau of Internal Revenue of the Philippines. As indicated by Banerjee et al. (2012), the levers used in the various studies are intuitive from an agency theory perspective (more intense or better monitoring, replacing individual actors). The explored studies seem to involve a person at the top of each institution who was eager to implement these changes. Although the studies spark hope that corruption can be fought, Banerjee et al. (2012) indicated that these examples leave lingering questions about why conditions were ripe for these interventions, but not for those elsewhere. An important question to ask is that; should we expect the same consequences of similar anticorruption policies in different settings?
A corruption study by Wade (1982) for a village in South India provides a detailed description of how irrigation engineers reap revenue from the distribution of water and contracts in a village in South India. The study noticed a fascinating aspect which was the documentation of a fairly formal system in which revenue was redistributed by the engineers to superior officers and politicians. For transfers to lucrative posts to be obtained, the junior officers paid bribes based on expectations about the amount of bribe money that can be collected from the post, Barnejee et al. (2012). Hence, the value of the bribe payment in the transfer process was higher for jobs that had greater potential for bribe extraction. In fact, the ability to take bribes in a job induces bureaucrats to bribe others to get it. This highly detailed study by Wade (1982) gives a glimpse into the pervasiveness of corruption in this area and the mechanics of how it operates. In addition, the study also illustrates how corruption is interconnected throughout the entire organization and raises the possibility that rather than trying to remove one aspect of corruption, it may be necessary to invoke coordinated policies to stamp it out throughout the system. Nevertheless, like all case studies, the study raises questions of generalizability. Is there as much corruption in other contexts? Under what set of circumstances do these systems come into being?
A study of waste in government procurement in Italy done by Bandiera et al. (2009). Worth to note is that Italy is one of the countries in Europe that is often rated as one of the highly corrupt. Using detailed data, the authors show that different arms of government pay differing prices for the very same commodity. The price discrepancies were found to differ by 50% or more. The study estimated that the government could save up to 2% of GDP if most purchase officers go for the same price as that obtained by the most frugal officers. The study therefore indicate the effect of corruption in the economy, price disparity has been indicated which in turn leads to unfair competition in the market. In such cases, business competition is hampered as cost of production is not efficiency based but self-inflicted.
A study by Bardhan and Mookherjee (2006) is a model based study. Their study model captures the important and basic fact that communities may have an informational advantage in monitoring (and therefore in controlling) corruption. The study clearly explore that individuals have the power to control corruption, hence it calls for individual participation to harness corruption. There exist a crucial theoretical literature that emphasize the endogeneity of the effectiveness of monitoring corruption by Lui (1986). The author Lui (1986) makes the point that corruption may be harder to detect when the majority is corrupt; it becomes a tradition and seems acceptable. A study by Tirole (1996) shows that in a model where experimentation is costly, significant number of bureaucrats being corrupt, everyone acts as if they were all corrupt, which removes the motive to be frank. In actual fact, there prevails an idea that people feel less bad about being corrupt when everyone else is engaging in corrupt activities. Such literature is crucial as emphasise levels to be kept low.
[...]
---
[1] Corruption becomes systemic, when the majority are now into practice and becomes traditional and more difficult to harness.
[2] Zimbabwe is not an exception.
[3] Zimbabwe Economic Review (2013) referred to the "lost decade" (1998 – 2008) when the average GDP growth rate was -5.3% p.a.
[4] This is very true in the case of gifts. Some states call them bribes.
[5] The idea was borrowed from a research done by Albeto Ades and Rafael De Tella in 1997.
[6] Afrobarometer is a research project which measures public attitudes on socio-economic and political issues in SSA. The project surveyed people more than 51,000 from October 2011 to June 2013. Anyway Chigwede (Project Manager), said participants were adults 18 years and above and 50-50 gender balance.
[7] Names withheld in the study, but some sites mention the whole lot.
[8] They indirectly rule Africa.
[9] Examples might include contemporary Bangladesh, Nigeria, Kenya, Cameroon, Zimbabwe and many others.
[10] Transparency International is a Berlin based non-governmental organization that addresses corruption issues across the globe.
[11] Economic growth is measured by GDP per capita in this case.
[12] In this vein, most researchers and police officers acknowledge the existence of a police subculture (Conser 1980).
[13] Savitz (1970) looked at police recruits' attitudes toward police deviance at three different time periods. He found that as recruits advanced from the police academy to the streets, exposure to the police subculture increased, and their attitudes became more permissive regarding deviance. The officers began to favour less severe punishments for various forms of misconduct, such as accepting bribes and theft (Savitz 1970).
Details
Seiten

88

Jahr

2014

ISBN (eBook)

9783656767176

ISBN (Buch)

9783656767183

Dateigröße

1.3 MB

Sprache

Englisch

Katalognummer

v282390

Institution / Hochschule

Atlantic International University

Note

B

Schlagworte