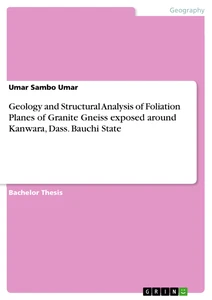 Leseprobe
TABLE OF CONTENT
Declaration
Dedication
Acknowledgement
Abstract
List of Figure
List of Tables
List of Plates
CHAPTER ONE: INTRODUCTION
1.1 Aims and objectives
1.2 Location and Accessibility
1.3 Relief and Drainage
1.4 Climate and Vegetation
1.5 Settlement and Land Use
CHAPTER TWO: Review of the Geology of the Precambrian to lower Paleozoic rocks of northern Nigeria
2.1 The palaeozoic and precambrian rocks in northern Nigeria
2.1.1 The Basement Complex (Senso Stricto);
2.1.2. Younger Metasediments;
2.1.3. The Older Granite Series;
2.1.4. Younger Volcanic Rocks;
2.2 Intermediate rocks from older granite complex of the Bauchi area, northern Nigeria
2.3 Field relations at Dass
CHAPTER THREE: MATERIALS AND METHODS
3.1 Field Methods
3.1.1 Field Equipments
3.1.2 Sample Collection
3.1.3 Measurements of strikes and dips.
3.2 laboratory methods
3.2.1 Microscopic Study of Rock Samples
3.2.2 Procedure for generating data for statistical analysis
3.3 Procedures for structural analysis using stereographic projections
3.3.1 The materials needed are;
3.3.2 General Procedures for plotting of foliation planes
3.3.3 Procedures for plotting poles
3.3.4. Procedure for using counting Net
3.3.5 Procedure for contouring the points
CHAPTER FOUR: MACROSCOPIC AND MICROSCOPIC STUDIES
4.1 Macroscopic study of sample A
4.1.1 Microscopic study of sample A (plate I)
4.1.2 Statistics of sample "A" (plate I)
4.2.1. Macroscopic study of sample B
4.2.2 Microscopic study of sample B (plate II)
4.2.3 Statistics of sample B (plate II)
4.3. Macroscopic study of sample C
4.3.1 Microscopic study of sample C. (plate III)
4.3.2 Statistics of sample "C" plate III
4.4 Macroscopic study of sample D
4.4.1 Microscopic study of sample D (palte IV)
4.4.2 Statistics of sample "D"
4.5 Macroscopic study of sample E
4.5.1 Microscopic study of sample E. (plate IV)
4.5.2 Statistics of sample "E"
4.6 Structural Geology
4.6.1 Joints
4.6.2 Lineation (Foliation)
4.6.3 Minor Folds
4.6.4 Dykes (Pegmatite/Aplite) and vein (Quartz)
4.7 Structural analysis
4.7.1 Point or pole Diagram
CHAPTER FIVE: RESULTS AND SUMMARY
5.1 Petrography
5.1.2 Interpretation of diagrams (structural analysis)
Conclusion
Geological Map of the study area
Recommendations
References
Declaration
illustration not visible in this excerpt
Dedication
Dedicated to the memory of my late grand father Alhaji Umar Jumberi. May his soul continue to rest in Peace, Ameen.
Acknowledgement
All praise is to Allah, the Beneficent, the merciful, and the Cherisher of the universe. I thank him for the thought I am induced with, the charisma, the courage, the wisdom, the enthusiasm that warrant my successes, of which this project is among.
Most sincere appreciation to my parents, Alhaji Sambo Jumberi & Hajiya Dada Sambo, for their prayers, support, cares, and assistance. In fact everything they been doing for me.
My appreciation to my supervisor Mal. Ahmad Isah Haruna for the assistance, advises and for his effort by guiding us to the field.
Thanks to all staff of Geology Programme ATBU, especially the Programme Co-ordinator Dr. A.S maigari and staff; Prof. E.F.C. Dike, Prof. D.M.Orazuluke, Associate Professor N.K.Samaila, Dr. M.B.Abubakar, Malam Amadu Tukur, Malam M.T.Isah and Mr. T.P.Bata.
I also appreciate your cares and concern, my dear brothers and sisters Hajiya Amina Sambo, Hajiya Aisha Sambo, Muhammadu Sambo, Hadiza Sambo, Asma'u Sambo, Sadiq Sambo, Maryam Sambo, Aliyu Sambo and my wife Hasana Ibrahim.
My dear friends and colleagues at home and in school, I sincerely acknowledge your prayers and cares all this while, especially my co-workers Abdul-Smart and Nazif Umar.
Abstract
This work produces some vital geologic information on the geology and structural analysis of rocks mapped around Kanwara, Dass local government area of Bauchi State. The mapped area is located between longitude N10001'09" and N1O000'09"and latitude E9032'42" and E9031'26". Exposure of rocks in the area were mostly high level and medium level outcrops with only a few low level outcrops, the high level outcrops were conically shaped with height ranging between 400m to 700m above sea level while the inselberg was about 900m. The predominant rock types in the area were granite gneiss, biotite granite and migmatite, under thin section, minerals were identified via their respective optical properties under both plane polarized light and cross polarized light, the major minerals associated with the rocks were; biotite, quartz, feldspars, (orthoclase & plagioclase), muscovite and microcline. Based on field observations, the geologic structures found on the rocks include; joints, foliations, minor folds, ghost schist, dykes and veins. The joints indicate the masking effect of the pan African orogeny on the older granites (trending NW-SE). The shape of the girdle from the structural analysis conducted indicates that the rocks of the mapped area were subjected to medium grade metamorphism.
List of Figure
Figure 1, Geological map of Bauchi State showing the location of the mapped area (Adapted from B.S.A.D.P. 1983)
Figure 2a, Map of Nigeria showing the Nigerian Basement comlpex
Figure 3, Granitic and intermediate Rocks of Dass Area (After E.P.Wright, 1971)
Figure 4, Schmidt net
Figure 5, S-Poles diagram for Migmatites
Figure 6, S-Pole diagram for the Gneisses
Figure 7, S-Pole diagram for Biotite Granite
Figure 8, S-Pole diagram for all the 73 attitude readings
Figure 10, Points plotted within Hexagons
Fig. 11 Devlopement of S-pole during folding
Fig. 13; Geological map of the study area (Kanwara, Dass LGA, Bauchi State-Nigeria)
List of Tables
Table 1, Generalized Succession of Paleozoic – Precambrian rocks of Northern Nigeria (After McCurry, 1972.)
Table 2, Statistics of sample "A" (plate I)
Table 3, Statistics of sample B (plate II)
Table 4, Statistics of Sample C (plate III)
Table 5, statistics of Sample D (plate IV)
Table 6, Statistics of sample "E"
List of Plates
Plate 1, Photograph of Hand sample "A"
Plate 2a, Photomicrograph of sample A under cross polarized light
Plate 2b, Photomicrograph of sample A under plane polarized light
Plate 3, Photograph of Hand Sample "B"
Plate 4a, Photomicrograph of sample B under cross polarized light
Plate 4b, Photomicrograph of sample B under plane polarized light
Plate 5, Photograph of Hand Sample "C"
Plate 6a, Photomicrograph of sample C Under cross polarized light
Plate 6b, Photomicrograph of sample C under plane polarized light
Plate 7, Photograph of Hand Sample "D"
Plate 8a, Photomicrograph of sample D Under cross polarized light
Plate 8b, Photomicrograph of sample D under plane polarized light
Plate 9, Photograph of Hand Sample "E"
Plate 10b, Photomicrograph of sample E under plane polarized light
Plate 11, Tree growing in a Joint within Granite Gneiss
Plate 12, foliations within Granite Gneiss
Plate 13, minor folds within Granite Gneiss
Plate 14, Pegmatite dyke hosted by Biotite Granite
Plate 15, Quartz Vein within Biotite Granite
CHAPTER ONE: INTRODUCTION
1.1 Aims and objectives
1. To produce some vital information on the Geology of the area around kanwara, Dass. This information comprises the structural Geology, major rock types following evidences from petrography, field relations, and mode of occurrence, colours and observable mineralogy of the rock samples.
2. To suggest the type and level of deformation in the area using stereographic projections.
3. To produce the geologic map of the area, this comprises of the major rock types and topography. Cross section on the map will then be produce which further provides clarification on the geology of the study area.
4. To review some of the works earlier done in the area around 1960 to 1980 and to present, hence builds on what is known.
5. In partial fulfillment for the award of degree Bachelor of Technology (B.TECH) Honours in Applied Geology.
1.2 Location and Accessibility
Though the field work was done during the beginning of the raining season, the area was quite accessible. The road linking Bauchi-Dass passes through NW to SE part of the portion (see figure 1, below), and footpaths and cattle tracks crosses all over, linking nearby villages. However, climbing the outcrops was very tedious as most of the outcrops were conically shaped.
illustration not visible in this excerpt
Figure 1, Geological map of Bauchi State showing the location of the mapped area (Adapted from B.S.A.D.P. 1983).
1.3 Relief and Drainage
The area has appreciable relief, as the outcrops were not uniformly shaped ranges are; 600m, 650m, 700m and 720meters above sea level. The inselberg may rich up to 900m, based on deduction from topographic map.
The drainage pattern was therefore, dendritic type of stream which form branches (tree like) and directed by the ridges of the outcrops. The streams drains to a River called (River Sala).
1.4 Climate and Vegetation
The climates of the area consist of a rainy season (extending from May/June to October/November) and a dry season which was characterized by the Harmattan from November/December to April/May.
The vegetation type is Savannah composed of scattered trees, Shrubs and mainly flat lying grasses. The grasses along the river band tend to be greenish all year round (according to one peter who is living there, I did not see it during dry session).
1.5 Settlement and Land Use
The major land use in the area is farming and cattle rearing (Grazing) in some place not used for farming activities. The product of rock weathering in the area provided fertile soil and the drainage systems provided soil moisture. These two factors made the area agriculturally lively and very viable. Along the river bands, Fadama farming like tomatoes were planted and rice while in other places cereals are planted which are mostly maize and guinea-corn.
CHAPTER TWO: Review of the Geology of the Precambrian to lower Paleozoic rocks of northern Nigeria
Northern Nigeria is underlain by gneisses, migmatites and metasediments of Precambrian age which have been intruded by a series of granitic rocks of late to lower palaeozioc age. The oldest rocks are represented by a series of older metasediments and gneisses believed to be of Birrimian age and older. These rocks have been variably metamorphosed and granitised through at least two tectonic – metamorphic cycles so that they have been largely converted to migmatites and granite – gneiss. Younger metasediments, believed to be upper Proterozoic in age, were deposited on this granitised basement and filled along with it during the pan – Africa orogeny. They are of low metamorphic grade and are now represented as synclinal trough among older rocks in north – west Nigeria. Intrusive into both the basement and the younger super crustal cover is a series of basic, intermediate and acid plutonic rocks known as the Older Granites. The youngest rocks in the area belong to a suit of volcanic rocks intruded into Older Granite bodies during Lower Palaeozioc epirogenic uplift following the Pan – African orogeny
2.1 The palaeozoic and precambrian rocks in northern Nigeria can be divided into four major groups:
2.1.1 The Basement Complex (Senso Stricto); underlies the entire area and includes all rocks older than the Late Palaeozioc metasediments. It includes metasediments of high metamorphic grade such as paragneiss, basic and Calcareous Schist, marble and quartzite, as well as orthogneiss and possible early (Ebunian) granite. The whole Basement complex has been through at least two tecto – metamorphic cycles, and consequent metamorphism, migmatisation and granitisation has extremely modified the Original rocks so that they generally occur as relief rafts and xenoliths in migmatites and granites. More extensive areas of gneiss and ancient metasediments recognized within the Basement complex are believed to be reliefs of an old super crustal cover of probable Birrimian age, and are termed older metasediments in order to distinguish them from late palaeozioc super crustal sediments which are known as the Younger metasediments.
2.1.2. Younger Metasediments; From well – defined, approximately north – south trending belts which are extremely developed in the north – west. They are not recorded east of longitude 80but it is believed that they represent the remnants of a once more extensive super crustal cover. The rocks types are varied, ranging from psammitic to pelitic sediments of low metamorphic grade, with occasional conglometric Facies and inter bedded lavas. They have been steeply folded along with the Basement complex during the Pan – Africa Orogeny, so that they now occur in synclinarial keels in a sea of granitic material, resembling the greenstone migmatites association of cratonic regions (Wright and McCurry 1970a).
2.1.3. The Older Granite Series; Involves rocks intruded during the Pan – African orogenic cycle. The earliest rocks appear to be small, irregular bodies of quartz and pyroxene diorite, and gabbro. In the north – west, south basic rocks have been extensively intruded by later acid rocks so that they now form part of an acid – basic complex. Granitisation on an extensive scale profoundly modified earlier rocks and resulted in widespread migmatites and granitic rocks. This granitisation culminated in the intrusion of a diverse and widespread suite of syn to late – tectonic granites, granodiorites and syenites.
2.1.4. Younger Volcanic Rocks; are the youngest rocks recognized in both north – west and north – east Nigeria. They belong to a post – older Granite episode of high – level magmatic activity. Preliminary age determinations suggest that these rocks were intruded during epirogenic uplift and fracturing in the final stage of the Pan – African Orogeny. For this reasons, they are included in a description of the 'basement' rocks and not with the other volcanic rocks of Nigeria.
Table 1, Generalized Succession of Paleozoic – Precambrian rocks of Northern Nigeria (After McCurry, 1972.)
illustration not visible in this excerpt
2.2 Intermediate rocks from older granite complex of the Bauchi area, northern Nigeria
Previously unmapped area around Bauchi (Survey sheet number 149) have been mapped and some areas previously mapped by Basin (1926) and Oyawoye (1958, 1961, 1962) have been reinvestigated. The area consist of amphibolite Facies Basement migmatites and biotite gneiss with ancient metasediments remnants, occasionally of granulite Facies, and older Granite complexes of acid and intermediate rocks – Bauchite and quartz diorite of Bauchi and Bununu Dass (hearafter referred to as Dass) are described, and some new data and interpretations are presented.
The unusual fayalite quartz monzonite at Bauchi town was first described as a coarse grained augite syenite by Falconer (1911). Basin (1926) also described as syenite from Bauchi, but the distinctive features of the rocks were first emphasized by Oyawoye (1958, 1961) who named it Bauchite (1965). There are four main occurrences of Bauchite in the area, at Bauchi, Yelwa, margas and south of Kangere. In earth case biotite hornblende granite forms a large part of the complex, and quartz diorites are also common. Fresh specimens of bauchite are dark green due to the green or brown colour of quartz and feldspar, the most conspicous crystal being twinned alkali feldspar up to 5cm long. Bauchites usually are small, approximately circular.
Quartz diorites are found in and near to the intrusions (1km across) or as dykes in the bauchite. They are dark green and vary in grain size, but the larger intrusions, e.g. Inkil Hill, have feldspars up to several centimeters in length and appear rather similar to bauchite. All diorites are quartz bearing and most contain at least 10% hypersthene. In bauchite areas diorite forms topography similar to the bauchite, but elsewhere the only endure diorite may be the characteristically spherical, deeply weathered boulders scattered over flat, low – lying ground often adjacent to impressive hill, as at Dass and Kir.
illustration not visible in this excerpt
Figure 2a, Map of Nigeria showing the Nigerian Basement comlpex
2.3 Field relations at Dass
At Dass area of diorite forms the eastern edge of an older Granite complex of various types of biotite granite and biotite hornblende granite. Although the hornblende is less abundant than biotite in the latter, unlike the granites associated with bauchite. Rocks of bauchite composition and mineralogy have been found at Dass. The western side of the complex has been described by E.P Wright (1971) and is shown on the Geological survey of Nigeria map sheet 140 (Toro) and 169 (Maijuju) as undivided 'porphyritic biotite and biotite – hornblende – granite'. The main Dass diorite has field relationship with surrounding rocks in some ways similar to those of bauchite with biotite hornblende granite. Diorite is the more basic core of the complex, and grades outwards into a less mafic rock.
illustration not visible in this excerpt
Figure 3, Granitic and intermediate Rocks of Dass Area (After E.P.Wright, 1971)
CHAPTER THREE: MATERIALS AND METHODS
Reconnaissance survey was done in the mapped area, as I was mapping along the flanks of the outcrops and on the rocks, fresh rock samples were obtained and it was completed by studying the samples petrographically in the laboratory and the geological map was also produced to explain the lithology of the rock types encountered. Hence the Methods used in this study are divided into two; Field Methods and Laboratory Methods
3.1 Field Methods
Field methods explain the procedure for sample collection, sample preparation and the equipments used for the field work.
3.1.1 Field Equipments
The field equipments used were
Geographic positioning system (GPS)
Geologic Compass
Geologic Hammer
Field measuring tape
Camera
Field note book
Sampling Bag
Topographic Sheet (Sheet 169, Maijuju).
3.1.2 Sample Collection
Fresh samples of different rock types were obtained from the field, because weathered samples can hardly yield us any information.
These samples were labeled (the location number) bagged and brought to school for further analysis (petrography).
3.1.3 Measurements of strikes and dips.
Geologic compass was used in measurements of strike and dip of the foliation planes and of lineaments such as pegmatite dykes.
3.2 laboratory methods
Laboratory methods explain the laboratory procedures for thin section and stereographic projections.
3.2.1 Microscopic Study of Rock Samples
The rock samples were studied macroscopically and microscopically. Macroscopic study involves studying the rock samples without the aid of the hand lens, the colour and the texture were all observed and the samples were named based on field data.
Microscopic study of the rock samples is done in laboratory using the petrographic microscope. In petrography, the minerals were identified via their optical properties under both plane polarized light and cross polarized light.
3.2.1(a) Plane polarized light
Under plane polarized light, the following properties were identified
Colour of mineral
Cleavage
Form
Relief
3.2.1(b) Cross polarized light
Under cross polarized light the following properties were observed.
[...]
Details
Seiten

76

Jahr

2011

ISBN (eBook)

9783656846017

ISBN (Buch)

9783656846024

Dateigröße

5.1 MB

Sprache

Englisch

Katalognummer

v284388

Institution / Hochschule

Abubakar Tafawa Balewa University – FACULTY OF SCIENCE

Note

A