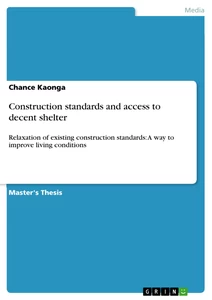 Construction standards and access to decent shelter
Relaxation of existing construction standards: A way to improve living conditions
Masterarbeit 2012 115 Seiten
Leseprobe
Table of Contents
Dedication
Acknowledgements
ABSTRACT
CHAPTER ONE
1.0 INTRODUCTION
1.1 Shelter as a Basic Human need.
1.1.1 Vancouver Declaration:
1.1.2 Istanbul Declaration on Human Settlement, 1996
1.2 Research Problem/Statement
CHAPTER TWO BACKGROUND AND CONTEXT OF STUDY
2.0 COUNTRY PROFILE
2.1.1 Geographical Location
2.1.2 Population
2.1.3 Politics and Administration
2.1.4 Economy
2.1.5 Poverty
2.1.6 Employment
2.2 Urbanisation in Zambia
2.2.1. Historic Perspective and Pre independence era
2.2.2 Post Independence era
2.3 Land Tenure.
CHAPTER THREE
3.0 RESEARCH METHODOLOGY
3.1 What is Research?
3.2 Research Approach
3.3 The Research Process
3.3.1 Controlled
3.3.2 Rigorous
3.3.3 Systematic
3.3.4 Valid and verifiable
3.3.5 Empirical
3.3.6 Critical
3.4 Data Sources and Collection
3.5 Choice of Research Location
3.6 Limitation of Research
CHAPTER FOUR
4.0 CONCEPTUAL AND THEORITCAL FRAMEWORK
4.1 Contextual Approach
4.2 Development
4.2.1 Capacity
4.2.2 Responsibility
4.2.3 Sustainability
4.2.4 Challenges
4.2.5 Opportunities
4.3 What is Housing?
4.4 Genesis of the Development Control
4.5 Planning for Housing Development in Post Independence Era
4.5.1 Transitional National Development Plan (1965-1966)
4.5.2 First National Development Plan (1966-1970)
4.5.3 Second National Development Plan (1972-1976)
4.5.4 Third National Development Plan (1979-1983)
4.5.5 Fourth National Development Plan (1989-1993)
4.6 Overall Performance of the National Development Plans
4.7 National Housing Authority
4.8 Zambia National Building Society
4.8.1 What is a Mortgage?
4.9 Privatisation of Housing
CHAPTER FIVE PARADIGM CHANGE TOWARDS INFORMAL HOUSING STOCK
5.1 Recognition of Informal housing as a social and economic asset
5.2 Urban Upgrading of unplanned Settlements
5.3 Site and Service Scheme
5.4 Core Housing Scheme
5.5 Implementation of Programme
5.6 The Project Scope
5.6.1 Squatter Upgrading
5.6.2 Site and Services
5.6.3 Building Materials Loans
5.6.4 Primary Infrastructure
5.6.5 Community Facilities
5.6.6 Technical Assistance
5.6.7 Land
5.7 Repositioning of project administration
5.7.1 The Housing Project Unit
5.7.2 The World Bank
5.7.3 The Government
5.8 Standards of Construction for the Project
5.9 Cost recovery for the Programme
5.10 Lessons learnt
5.11 Project realisation
CHAPTER SIX
6.0 COST APPRAISAL AND HOUSING DEVELOPMENT
6.1 Construction Cost and Selling Price
6.2 Development Control
6.3 Housing Production and Constraints
6.3.1 Formal or Conventional
6.3.2 Unconventional or Informal
6.4 Challenges to Housing Development in Zambia
6.4.1 Population
6.4.2 Existing housing situation and rate of supply
6.4.3 Access to land and land tenure
6.4.4 Infrastructure
6.4.5 Legislation and housing
6.4.6 Housing standards
6.4.7 Building materials
6.4.8 Housing finance
6.4.9 Institutional Housing
6.4.10 Informal housing
6.4.11 Housing for the Disadvantaged
6.4.12 Rural housing
6.5 Award Winning Policy
CHAPTER SEVEN HOUSING FINANCE AND ECONOMICS
7.1 Financing Housing Acquisition
7.2 Affordability
7.3 Housing Financial Sector in Zambia
7.3.1 Historical evolvement of the housing finance
7.2.2 Challenges in housing finance
7.2.3 Income distribution in Zambia
CHAPTER EIGHT EMPIRICAL ANALYSIS AND APPROACHES TO COST REDUCTION
8.1 Savings and Savings Ratio
8.2 Model and Simulation
8.3 The Saving Model
8.4 The Loan Repayment Model
8.5 Feasible Approaches towards Cost Reduction
8.6 Vernacular and Traditional materials and construction methodologies
8.6.1 Earth
8.6.2 Clay bricks
8.6.3 Timber and pole
8.7 Alternative Building Materials versus Construction Cost
8.8 Building maintenance
8.9 The benefits of local materials Development and utilisation
8.10 Revision of building regulations and standards
CHAPTER NINE CONCLUSION AND RECOMMENDATIONS
9.1 What next for Housing the Poor.
9.2 Looking Back at the Problem
9.2.1 Will relaxation of existing construction standards improve living conditions in the long run?
9.2.2 Why is the housing deficit increasing?
9.2.3 Is the State playing its rightful role of enabler?
9.2.4 What about the Private sector?
9.2.5 And what about the actual potential consumers of housing, are they contributing?
9.2.6 What has been the performance of houses built outside the prescribed standards?
9.2.7 Is there any recognisable health or physical complications suffered by people in these houses?
9.2.8 How long have these houses been standing through the extremes of tropical climate?
9.2.9 What construction materials and techniques have been used in their production?
9.3 Recommendations
Appendix 1
Appendix 2
Appendix 3
Appendix 4
Dedication
This thesis is dedicated to:
My Wife, Dorah, for her love, patience, hard work and care; and my children, Tabene, Towela and Sangwani.
Acknowledgements
I wish to express my sincere gratitude and appreciation to the People of Belgium, through the Flemish Inter-University Council (VLIR-UOS) for granting me the scholarship to study for the Master of Architecture in Human Settlements Programme at Katholieke Universiteit (K.U), Leuven. This indeed is in tune with the slogan of "Sharing minds, changing lives".
I also acknowledge the collective and individual effort and assistance that was rendered to me during the whole period of study at KULeuven and the preparation of this Research. Whereas it is not possible to mention all the persons that contributed towards the successful completion this research, I wish to mention but a few:
My special gratitude goes to my Promoter, Professor Frank De Troyer, for his valuable guidance and patience. He read through my entire manuscripts with great keenness and with affectionate attention to detail, including the letter cases. This gave me the benefit of being thorough with all my submissions to him. As He said during his lectures that it is not only good to give a person fish and the tools for fishing, but it is better to teach the person how to make tools for fishing. And true to the saying, I have acquired the skills not only for fishing but most importantly, making tools for fishing.
I extend my appreciation to the Department of Architecture, Urban Design and Planning for creating such a favourable learning environment. I thank Ms. Maura Slootmaekers ( MaHS/MaUSP – Administrative Coordinator) for keeping us posted and updated during study period. I also wish to thank Mr. Mathias Groenweghe, from the International Office, for facilitating our pleasant settlement and stay in Belgium. To the MaHS/MaUSP colleagues; I am exceedingly humbled to have been a part of the International community at KULeuven. To you all who helped me in different ways, I say thank you most sincerely and deeply indebted to you all.
I wish to extend my appreciation to the Board of the National Council for Construction (NCC), my Employer, for their firmness that I pursue this relevant study programme. I also wish to thank the Staff at the Zambian Embassy in Brussels, the Zambian community living in Belgium and my fellow Students Mulenga Kalumba, Steve Siwale, Lizzy Muzungaire, Chilanga Moonga and Davies Mwanza for the valuable moments we spent together and shared.
Finally but of course not the least, I wish to pay special recognition and tribute to my Wife, Dorah, for her love, patience, understanding and encouragement. And to my Daughters, Tabene and Towela, and my son, Songwani, I thank you for putting up with my prolonged and regular absence from home especial for the last decade. I also thank my father, an Educationist, for his valuable advice and encouragement to purse this programme.
To God, be the glory and honour.
June 2012
ABSTRACT
This research examines the standards of construction and regulations in Zambia, in light of their effect on the attainment of the acclaimed international rights to adequate shelter for all and development of sustainable human settlements in an urbanising world (UNCHS, 2003). The right to adequate shelter has been advanced by numerous international organisations including UN-HABITAT, as part of cultural, economical and social rights.
As argued by Rafael Tuts (1996), that the prohibitively high building and planning standards are often considered as one of the main obstacles to the provision of low-cost housing in developing countries. He further stated that the more and more agencies and stakeholders advocate the relaxation of these standards; the major motivation is the anticipated initial cost reduction1.
The statutes governing the development of infrastructure have a genesis from the British system and fundamentals; Zambia was a British colony until 1964. The principal law governing the development control is Chapter 283 of the Laws of Zambia; The Town and Country Planning Act.
As the population of the country grows, the number and size of squatter settlements correspondingly increase. Most of the houses in the squatter settlements are built using construction materials and methods that are not recognised by the statutes. These settlements lack basic infrastructure services such as generous access roads, piped water, sanitation and electricity. The plot lay-outs are usually irregular and of unsecure tenure.
The focus will be on examining the low and medium cost housing schemes implemented thus far and access to such housing over the years. The intervention of some civil society organisations to help provide affordable and decent shelter to the poor and disadvantaged people shall also be delved into. The methods of house production shall be evaluated to determine their performance and appropriateness and adequacy.
Focus shall also be on the construction methodologies and materials used in squatter settlements that have been in existence for over 30 years. The performance of such houses shall be evaluated to determine their suitability and affordability.
An attempt to evaluate the use of local materials in vernacular /traditional setting shall be done with a view of determining their performance and durability.
The study closes by looking at the land administration of the country and access to the basic infrastructure and social service as they impact on the quest for adequate shelter for all.
CHAPTER ONE
1.0 INTRODUCTION
1.1 Shelter as a Basic Human need.
Zambia is a highly urbanised country in Sub-Sahara Africa, apart from South Africa. A year before independence in 1963, only 23% of the Zambians were living in urban areas. The proportion had more than doubled to 43% in 1980 (Rakodi, 1990).
Developing countries today are experiencing urbanisation at a rate unprecedented in the history of nations. In the last 25 years, the urban population of developing countries has increased close to 5% per annum, nearly twice the rate of overall population growth.2
Shelter is one of the physical basic needs of human beings in addition to food and clothing. The non physical needs include respect, sense of security and love among others (Denton, J.A. 1990).3
According to Rafael Tuts, Human settlements issues were for the first time integrated in the international policy development agenda in the 1970's, with the Habitat Conference in Vancouver in 1976. This conference laid the basis for the United Nations Centre for Human Settlements, which later became UN-HABITAT4.
The conference made a number of declarations and recommendations to member States, among them were:
1.1.1 Vancouver Declaration:
Paragraph III.6
Human settlement policies and programmes should define and strive for progressive minimum standards for an acceptable quality of life. These standards will vary within and between countries, as well as over periods of time, and therefore must be subject to change in accordance with conditions and possibilities. Some standards are most appropriately defined in quantitative terms, thus providing precisely defined targets at the local and national levels.
Others must be qualitative, with their achievement subject to felt need. At the same time, social justice and a fair sharing of resources demand the discouragement of excessive consumption.
Paragraph III.8
Adequate shelter and services are a basic human right which places an obligation on Governments to ensure their attainment by all people, beginning with direct assistance to the least advantaged through guided programmes of self-help and community action. Governments should endeavour to remove all impediments hindering attainments of these goals of special importance is the elimination of social and racial segregation, inter alia, through the creation of better balanced communities, which blend different social groups, occupation, housing and amenities.
Paragraph III.10
Basic human dignity is the right of people, individually and collectively, to participate directly in shaping the policies and programmes affecting their lives. The process of choosing and carrying out a given course of action for human settlement improvement should be designed expressly to fulfil that right. Effective human settlement policies require a continuous co-operative relationship between a Government and its people at all levels. It is recommended that national Governments promote programmes that will encourage and assist local authorities to participate to a greater extent in national development.
Recommendation B.2:
Indigenous planning models
(a) The character of a nation is made visible in its settlements. Foreign models must not dominate planning decisions which should be guided by national goals and implemented by local people making the best possible use of indigenous resources, within the context of local culture and environment.
With the passage of time, the actualisation of the Vancouver Conference resolutions was not attained. 20 years down the line, 1996, another conference was called in Istanbul, Turkey, where the Habitat Agenda was adopted by the United Nations Conference on Human Settlements (Habitat II).
1.1.2 Istanbul Declaration on Human Settlement, 1996
Gathered on 3-14 June 1996 in Istanbul, the United Nations Conference on Human Establishments (Habitat II), known as the City Summit, was the last conference in a series of world summits which, over four years, have enabled the international community to adopt international action programmes and instruments designed to meet some of the most significant challenges at the beginning of the 21st century. The summits focused in particular on the environment and development (Rio de Janeiro, 1992), human rights (Vienna, 1993), population and development (Cairo, 1994), social development (Copenhagen, 1995) and women (Beijing, 1995).
The Habitat II Conference adopted a worldwide plan of action, the 'Programme for Habitat', and a statement on human settlements by the heads of State and Government, known as the Istanbul Declaration. Twenty years after the Vancouver Conference (Habitat I), which did not focus specifically on cities but on the theme of 'a shelter for all', Habitat II brought together 185 delegations on the theme of cities and their future. Two major themes had been selected to guide the work of the participants: 'Adequate Shelter for All' and 'Sustainable Human Settlements in an Urbanizing World5.
"We, the Heads of State or Government and the official delegations of countries assembled at the United Nations Conference on Human Settlements (Habitat II) in Istanbul, Turkey from 3 to 14 June 1996, take this opportunity to endorse the universal goals of ensuring adequate shelter for all and making human settlements safer, healthier and more liveable, equitable, sustainable and productive. Our deliberations on the two major themes of the Conference - adequate shelter for all and sustainable human settlements development in an urbanizing world - have been inspired by the Charter of the United Nations and are aimed at reaffirming existing and forging new partnerships for action at the international, national and local levels to improve our living environment. We commit ourselves to the objectives, principles and recommendations contained in the Habitat Agenda and pledge our mutual support for its implementation (Habitat Agenda, 1996).
This document emphasizes the importance of local authorities in human-settlements planning and management, and identifies adequate shelter for all and more sustainable human settlement as international priorities. These were reaffirmed by the UN General Assembly Special Session in 2001 (Rafael Tuts, 2008).
1.2 Research Problem/Statement
According to Kerlinger (1986), he asserts that 'if one wants to solve a problem, one must generally know what the problem is. It can be said that a large part of the problem lies in knowing what one is trying to do.'6
In 1996, the Zambian Government recognised the importance of housing as a pre-requisite to national socio-economical development. A National Housing Policy Document, the first ever since independence, was formulated whose implementation was deemed to be the starting point for Zambia's sustainable march with the rest of the world towards "Shelter for All" by the year 20107.
Despite all the above declarations, recommendations and resolutions, the number of people found outside the defined housing parameters is getting no better. In the year 1996, the national housing deficit was estimated at 846, 000 units, requiring an annual building rate of 110, 000 units to be cleared in a decade (GRZ, MLGH, 1996).
In that same year, the housing policy document resulted in the United Nations Centre for Human Settlements (UNCHS) bestowing on the Country the award of "Habitat Scroll of Honour" due to the participatory and innovative approach towards the formulation of the housing policy.
Alas, within a time frame of a decade and a half from the launch of the above National Housing Policy Document, and contrary to common expectation, the national housing deficit continued to grow; more than three fold over the period i.e. to 2011.
Zambia has currently an estimated 3,000,000 housing unit deficit, which will require an aggressive approach to bridge the gap8.
It is imperative at this moment to contextualise the term "housing deficit" as this term usually tends to create some misunderstandings and controversies. As expounded by Mabogunje and in line with Turner, the term deficit is commonly taken to imply an inadequacy in production, when in fact; the main problem in the area of housing construction is inadequacy in consumption capacity. He further clarifies that the housing problem is just another manifestation of the poverty of large portions of the working class in these countries and that however, in these countries the vast majority of the population does not live and sleep out in the open. The term "deficit", therefore, entails the use of some standards, however implicit, that define dwellings which are inadequate in that they have characteristics qualitatively considered to be lower than other dwellings that meet these standards.
In line with the above definition, the focus shall, therefore, be on houses that are not approved officially as they fall short of minimum prescribed standards as contained in the statute books.
To that effect, certain questions naturally need answers:
1. Will relaxation of existing construction standards improve living conditions in the long run?
2. Why is the housing deficit increasing?
3. Is the State playing its rightful role of enabler?
4. What about the Private sector?
5. And what about the actual potential consumers of housing, are they contributing?
6. What has been the performance of houses built outside the prescribed standards?
7. Is there any recognisable health or physical complications suffered by people in these houses?
8. How long have these houses been standing through the extremes of tropical climate?
9. What construction materials and techniques have been used in their production?
It is, therefore, the intention of the research to look at the standards contained in the official building codes and regulations and contrast them with those used in the informal sector; analyse the performance and construction techniques employed in the production of the houses and the subsequent effect on the overall cost of production.
CHAPTER TWO BACKGROUND AND CONTEXT OF STUDY
2.0 COUNTRY PROFILE
2.1.1 Geographical Location
Zambia is located in the Central Southern Africa. It lies between latitudes 8º and 18º 00´ south of the equator and Longitudes 22º and 34º 00´ east of Greenwich. It is a landlocked country with eight neighbouring countries i.e. Angola to the west, Botswana and Namibia to the south west, Democratic Republic of Congo to the north and north west, Malawi to the east, Mozambique to the south east, Tanzania to the north east and Zimbabwe to the south.
illustration not visible in this excerpt
Figure 2.1 Zambia's location in Africa
Source: http://www.zambiatourism.com/media/Africa-with-zambia2.gif
Zambia has a land mass of approximately 752,614 square kilometres. She had until last year, nine (9) provinces, i.e. Central, Copperbelt, Eastern, Luapula, Lusaka, Northern, North-Western, Southern and Western Provinces. A tenth province, Muchinga Province, has since been created. Lusaka is the capital city of the country. There are three other major cities and these are Kitwe and Ndola (on the Copperbelt province) and Livingstone in southern province.
2.1.2 Population
The population of Zambia has been steadily increasing from 7,759, 161 in 1990 and 9, 885, 771 in 2000. In the 2010 population of census recorded a population of 13, 040,508. The results indicate an average annual growth rate of 2.8% between 2000 and 20109.
Despite the population growth rate between 1990 and 2000 being 2.6%, the rate of increase in housing was projected to be less than 1% of the estimated housing needs (OPIC, 2006).
The total housing stock in 2001 showed an increase from 1991 figure, resulting in 4.4persons/dwelling (GRZ, MFNP, 2006).
illustration not visible in this excerpt
Table 2.1 National housing stock
Source: NHA (2001); GRZ, FNDP (2006)
illustration not visible in this excerpt
Table 2.2 Progression of Zambia's population from 1980 - 2010
Source: CSO, 2010, Census of Population and Housing Preliminary Results
Lusaka has the largest number of inhabitants at 2,198,996 and followed by the Copperbelt province at 1,958,623 inhabitants. This scenario has been reflective of the historical trend, where Lusaka and Copperbelt have always had the largest population as compared to the other towns. The results indicate further that 7,978,274 persons (61%) were in rural areas while 5,068,234 persons (39%) were in urban areas.
illustration not visible in this excerpt
Figure 2.2 Population distribution by Province, 2010
Source: GRS,CSO,2010
2.1.3 Politics and Administration
Zambia, formerly Northern Rhodesia, is a unitary and indivisible State10. She was a British Colony from 1891 until October 24, 1964, when she attained independence.
Since independence, the country's governance system has undergone three rapid and radical political and socio-economic changes. These phases, First, Second and Third republics have been dictated by ruling Government's political ideology and in turn affected the type of socio-economic policies instituted (IMF, 2002; 2004; Rakner, 2003; Noyoo, 2008).
The first republic covered the period from 1964 -1972, during which Zambia was a multiparty state as inherited from the colonial government. Dr. Kenneth Kaunda was the first Republican President under United National Independence Party (UNIP). From 1972-1991, the government changed the political landscape by banning all other political parties and introduced a one party type of governance. The party and government become inseparable and to an extent, the party reigned superior to government.
In 1991, the wind of change blew and the citizenry demanded for change and ushered in the third republic with was the re-introduction of multipartism. A new government by the Movement for Multiparty Democracy (MMD) was formed that was led by Mr. Fredrick .J.T. Chiluba. Chiluba served the constitutional two five year terms till 2001 when he handled over to Levy P. Mwanawasa, under the same Party. Mwanawasa ruled for seven years until his death in 2008. The then Vice President, Rupiah B. Banda took over the reign of power through elections in 2008. He ruled under the MMD until 2011 when he was defeated in Presidential elections by Mr. Michael Chilufya Sata, of the Patriotic Front (PF). Administratively, Zambia has 10 provinces, with Lusaka as the capital city. Each province has a provincial headquarters which acts as the administrative centre of the province.
illustration not visible in this excerpt
Figure 2.3 Provinces of Zambia
Source: http://www.zambian.com/zambia/directory/travel-tourism/maps-locations/assets/images/db_images/db_Map-of-zambia-provinces-022.jpg
2.1.4 Economy
At independence, Zambia was one of the most prosperous countries in sub-Sahara Africa. She had a rich endowment of arable land, water and mineral resource as a potential catalyst for sustainable development. It is estimated that 40% of inland fresh waters in SADC region are in Zambia.
Copper is Zambia's main economic stay and remains the largest foreign income earner although other minerals and non-mining industries such as electricity, tourism and agriculture are emerging as important non-traditional export (GRZ, CSO, 2003). The new government of UNIP inherited very poor or inadequate infrastructure, including human capital, from the colonial regime. The lack of sustained investment in the mining sector coupled with the declining metal prices on the international market eventually led to low levels of copper output.
Zambia had a liberal economy after independence. In the 1970's, the government, however, shifted policy and pursued the socialist ideologies and nationalist major industries. The state took control of the economy and most of the industries at the time did not perform well and production consequently declined.
After 1975, Zambia faced falling copper prices (initially thought by government as temporal), political turmoil in neighbouring countries and severe effects of the first oil shock. Anticipating a rise in copper prices, the government borrowed heavily to sustain the economy. By the early 1980s, however, it was clear that the 1970s reform had failed. Between 1983 and 1985, therefore, the government attempted an IMF/World Bank Structural Adjustment Programme (SAP) that had stringent conditions attached. This was abandoned in May 1987, after massive food riots on the Copperbelt. SAP was replaced by another local programme that re-imposed the controls of the 1970s. However, the economy continued declining, poverty levels rising and debt swelling to US$7.1 billion by 1991 (SARPN, 2000)11.
In October 1991 the people of Zambia, discontent with the performance of the reforms thus far, elected the Movement for Multi-party Democracy (MMD) government. The new government pushed liberal policies supported by the IMF and World Bank SAP, in anticipation of a more efficient private sector led economy. The state's role remained the creation of an enabling environment for private business. Trade, exchange rates and interest rates were liberalised, subsidies removed, agricultural marketing liberalised and most parastatals privatised (SARPN, 2000).
The performance of the Zambian economy considerably improved during the period of the implementation of the PRSP and TNDP from 2002 to 2005. Real GDP growth averaged 4.8 percent per year, up from an annual average of 2.2 percent in the preceding four years. Growth actually exceeded the 4 percent target identified in the PRSP/TNDP. The improvements in performance represented a marked reversal of the economic stagnation experienced during the 1990s. Per capita income grew at 2.3 percent annually (FNDP, 2006 – 2010)
The rising copper prices have led to a renewed interest in the Zambia's mining sector. Major investments by multinational corporations in the operations of mines have increased total copper production. The economy has been growing at a rate of 5% since 2009, with the year 2011 recording a rate of 6.2% (CSO, 2011).
illustration not visible in this excerpt
Figure 2.4 Gross domestic product, constant prices
Source: IMF, 2011
Despite the current world economic meltdown, the country has now attained macroeconomic stability characterised by: growth in the real GDP averaging 4.7% per annum, the reduction in inflation to a single digit, a stable exchange rate, declining interest rates, a stable financial system, the removal of external debt burden, and a substantial build-up in foreign reserves (GRZ, MFNP, 2006).
The World Bank recently reclassified Zambia and Ghana as lower middle income countries from low income countries following its' annual assessment of poor countries. The Bank's reassessment is based on the value of a country's Gross National Income (GNI).
This means that per capita income for the two countries is now above the low income countries' threshold of $1,005. Countries that are considered to be in the lower middle income category are those with GNI ranging from $1,006 to $3,975 per person per year while upper middle income countries have a per capita income ranging from $3,976 to $12,27512.
illustration not visible in this excerpt
Table 2.3 Selected African Countries GDP, Inflation and Current Account Positions, 2009
Source: IMF: World Economic Outlook, GRZ, CSO, 2011
2.1.5 Poverty
Poverty is one of the major crises that Zambia is experiencing and there are a lot of discrepancies among various actor groupings as to the actual magnitude of the scourge. Official figures and those from Civil Society Organisations differ as the official data is more often than not on the lower side as compared to the civil society. For the purposes of this research, the official data shall be take precedence.
It's difficult to define poverty in clear cut terms due to its multifaceted nature, but yet if seen, it can be easily recognised. Apart from being a multi-dimensional phenomenon, poverty is also not homogenous. Some people are poorer than others are. Zambia faces both high incidence and high severity and depth of poverty (Seshamani, 2000c).
The majority of the people suffer from weak purchasing power, homelessness, and insufficient access to basic necessities such as education, health, food, and clean water. Poverty can be defined in the Zambian context as lack of access to income, employment opportunities, and normal internal entitlements for the citizens to such things as freely determined consumption of goods and services, shelter and other basic needs of life (MFNP, ZPRSP, 2002-2004).
The Living Conditions Monitoring Surveys conducted from 1991 to 2006 have shown that the incidence of poverty has reduced over the years. The results show that the incidence of poverty declined from 70 percent in 1991 to 64 percent in 2006. The gains of this reduction can be noticed in rural areas, where the incidence of poverty reduced from 88 percent in 1991 to 78 percent in 2006. In contrast, the incidence of poverty in urban areas increased from 49 percent in 1991 to 53 percent in 2006 (CSO, 2006).
illustration not visible in this excerpt
Figure 2.5 National trends in incidences of Poverty (1996-2006)
Source: CSO, 2006
Diseases such as cholera, malaria, tuberculosis and HIV/AIDS are some of the major prevalent diseases that have further worsened the poverty situation in Zambia.
"Poverty is pain; it is like a disease. It attacks a person not only materially but also morally. It eats away one's dignity and drives one in total despair." (World Bank, 2000)
2.1.6 Employment
The employment statistics have been corresponding closely to the economic patterns and reforms of the country and the growth in population.
Zambia's population has continued to grow at rates the economy has been unable to sustain, resulting in high unemployment level (GRZ, MFNP, 2006).
In 2003, the number of persons in the labour force was estimated at 4, 055,169 out of which 597, 953 (14%), were employed in the formal sector while 2,919,418 (71%) were in the informal sector, and 13.3% were unemployed (GRZ, MFNP, 2004; GRZ, CSO, 2004).
According to the CSO the largest employer in the formal sector is the private sector. In 2009, the private sector accounted for the largest persons in the formal sector, raking over 60% of the total number of workers in formal employment which was estimated at 671,246. The Government accounted for 25.1%, the private sector at 65.9% and parastatals accounted for 9%.
Despite the largest number of workers being in the informal sector, the tax regime is such that only persons in the formal sector are captured by the taxman. This means only a small proportion of the labour force contribute meaningful taxes to the treasury. And as such, the funds available are not commensurate with the number of people to be served and quality of service delivery needless to say, suffers.
2.2 Urbanisation in Zambia
2.2.1. Historic Perspective and Pre independence era
Until the discovery of copper ore in the Katanga Region of the Congo and Copperbelt region of Zambia in the 1920's, housing was not problem. The inhabitants were able to build their houses in their homesteads in villages. The chiefs and other traditional rulers superintended over all the land matters. The discovery of the ore resulted into the development of the mines and subsequent construction of the railway line from Katanga to Cape, South Africa; to transport the ore to the sea on route to England. These necessitated the need for labour, Administration, food and other life necessities. Formal and organised settlements, therefore, emerged around mining areas and along the line of rail13.
The development of Zambia's urban centres can only be traced back as far as the annexation of the territory now called Zambia by the British South African Company (BSAC) between 1899 and 1900. Before that most of the territory was under the control of different African Kingdoms. The people throughout the territory, however, lived in fear of the so-called slave traders, who attacked communities, enslaved their captives and sent them to the east or west coasts through present day Tanzania, Mozambique and Angola respectively for onward shipment to the Middle East, Western Europe and South America as slaves. Thus, at the time when Zambia was brought under European colonial rule, there were no major urban centres, perhaps because activities of the slave raiders had destroyed stable communities and their economies. Zambian cities and towns thus date back only to the early 1930s, while the country's urbanisation has largely resulted from the copper mining industry, which transformed the economy from a stagnant one based on labour migration to the South African and Southern Rhodesian mines and farms in the early years of colonial rule to a vibrant economy based on a growing mining industry in the post second world war period. (Gann 1964; Hall 1965).
The houses for the African workers were made of grass and/or other temporary material as the employers at the time were not obliged to provide permanent housing to African workers. The Africans were considered as migrant workers or transitory and were only to work in "urban" areas for a specified period of time (usually 24 months) after which, had to return to their villages. The white workers were transferred from place to place in the colonies and upon retirement returned to Europe.14 As explained by Rakodi (1986), the housing was part of their benefits and this principle was also applied to the Africans. Rental housing was a way of tying housing to employment so as to avoid the creation of permanent African population. Apparently, the policy was industrialisation without urbanisation. This policy denied the growth of urbanism and housing development to correspond to the industrial boom.
illustration not visible in this excerpt
Figure 2.6 Colonial Low cost housing
Source: M. Wetter, 1990/M.K. Kwande, 2012
Contractors and Suppliers to the mines recruited labourers who were expected to fend houses for themselves. This gave birth to the squatter settlements or compounds. They made their houses using cheap building materials such as timber poles, sun baked and clay bricks; drew water from streams or shallow well and used pit latrines and the surrounding bush to answer to the call of nature.
illustration not visible in this excerpt
Figure 2.7 Colonial Mine Workers housing
Source: M. Wetter, 1990/R.K. Home, 2000
There were restrictions on the movement of the natives from the rural area into the now urban areas. They had to be issued with a special permit to travel into the urban areas. Their wives were supposed to remain in the village, do the farm work and raise the children. Others were the handicapped and the aged to tend to their land. In the process, agriculture output suffered tremendously, a phenomenon which has lasted until now (Willis, 1985; Mutale, 2004).15 The single women in town were, therefore, not seen as decent women put traders of the flesh and of weak morals.
2.2.2 Post Independence era
The new dawn of independence from the British in 1964, brought forth a number of benefits and challenges to the new Government. Of particular interest to this research, is the enshrining of the freedom of movement in the republican constitution. Freedom of movement became a fundamental right of every Zambian and on the same token; all restrictions of movement were abolished. People now had the right to move freely throughout Zambia and the right to reside in any part of Zambia without the need to acquire permits.16 As a result of the above, there was a rapid increase of people moving from the rural area into the urban area, a phenomenon which was referred to as the Rural-Urban migration. This migration of rural people to urban areas constituted a much greater part of urban population than the natural increase of population. The people primarily moved in search of better life, jobs and opportunities in the urban area. There was a great development disparity between the rural and urban areas, hence the pulling effect of the urban areas.17
There was an unprecedented rural-urban movement during the period immediately following the attainment of Independence, as families migrated to seek employment and join their working relatives in urban areas. During the 1993-1969, the urban population grew at 8.9% per annum, while the average population growth in rural areas was 0.5% per annum. Thus almost 90% of additional population growth in the country during this period took place in urban areas; Lusaka and Copperbelt accounted for 90% of the total population (GRZ, TNDP, 1979-1983).
illustration not visible in this excerpt
Figure 2.8 Post Independence Low-cost housing
Source: M.K Kwande, 2012
The local Authorities were overwhelmed and were unable to cope with the rapid influx of people to provide the required housing and other social facilities in the urban areas. Those that could not be housed in the formal housing sector turned to squatting in un-planned and unrecognised settlements. These settlements grew rapidly with the passage of time to very large settlements with very poor conditions and congestion. Epidemic diseases and much antisocial behaviour such as crime, prostitution, drug abuse and juvenile delinquency were rampant in the settlements. Attempts by the authorities to demolish the houses in a bid to discourage and control the rapid growth of the squatter settlements were embarked on. The results were not successful and the action was condemned by the residents and many other concerned stakeholders.
2.3 Land Tenure.
In 1928, the Northern Rhodesia (Crown Lands and Native Reserves) Orders-in-Council were passed giving legal effect to the categories under which land in the territory was to be administered. Crown land could be alienated to European settlers under English law. Native Reserves meant land set apart "for the sole and exclusive use of the natives of Northern Rhodesia". Non-natives could only acquire limited interests in land in these reserves. In 1947 this scheme was revisited and the Northern Rhodesia (Trust Land) Orders were passed giving effect to a third designation of land in the territory. Trust land referred to land set apart "for the sole use and benefit, direct or indirect, of the natives of Northern Rhodesia". Land under this category could be alienated to non-natives as long as they could show that the land would be used for the direct benefit of the native population. There was a feeling at this time that separate development was not beneficial for the "natives" and a separate category of land needed to be introduced within which non-natives could acquire rights of ownership, thus bringing them into direct contact with the natives. Within Trust land, non-natives could acquire interests up to 99 years. (UN.HABITAT, 2005:44).
Zambia's land tenure is categorised into Customary (Reserve and Tribal Trust land) and State (Crown) land. Customary land constitutes 94% of the total land area (70,748,238 Ha) and is administered by traditional rulers as customary land under the freehold tenure system (GRZ, MoL, 2004; Kangwa, 2005).18 State land constitutes only 6% of the total land area (4,518,953 Ha) and is administered by statute under the leasehold tenure system.
Under customary land, as explained by Kambenja (1997), there is no principle holder as the land is owned by the community as a whole in perpetuity, with the chief or village headman assuming the role of controller of its use and allocation on behalf of the community in accordance with respective customary laws. He further states that the perception of ownership by the community as a group gives rise to a number of issues: for one to belong to such a group and enjoy the right over land, it follows that such a one cannot sell land individually for value. The matter was further expounded by Mvunga (1980), that land per se is traditionally regarded as having no intrinsic value, but only value emanating from its ability to produce food. It therefore follows that 'if you cannot sell or otherwise transfer land except within your group, you cannot therefore, mortgage it. If you cannot mortgage it, you cannot raise long-term finance and can, therefore, hardly develop it beyond subsistence level.'
The land reforms of 1975 Land (Conversion of Title) Act abolished the operation of the land market and introduced the concept that "land has no value", thereby banning the sale of vacant, unused land. In fixing the maximum price, the value of the land was to be disregarded and only the "un-exhausted improvements"19 upon the land could be valued and sold.
The customary land under the 1995 Land Act recognises land as being eligible for state registration and thus one can get leasehold title on it provided the chief has issued written consent to the effect. In essence, the Act removed two obstacles to land markets; it allowed state land to be sold and customary land to be leased (GRZ, MoL, 1975; 1995).This situation provides a sense of security and places value on land for commercial transactions.
CHAPTER THREE
3.0 RESEARCH METHODOLOGY
The overall intention of the research is to help increase the 'official' housing stock by evaluating the various factors that adversely affect the majority of the urban population. The conversion of the housing stock from informal and/or illegal to formal/legal would automatically reduce the official housing deficit. In the same breath, these houses would attain a value that would be recognisable on the open market; and could be used as collateral to access finances from financial institutions to invest in income generation ventures. There are numerous factors that account for the majority of houses in Zambia and many other developing countries, to exclude certain houses from the official status. This research shall labour to identify and analyse these factors.
3.1 What is Research?
Research is the systematic investigation into the existing or new knowledge. It is used to establish or confirm facts, reaffirm the results of previous work, solve new or existing problems, support theorems, or develop new theories20. The word research is composed of two syllables, re and search. The dictionary defines the former as a prefix meaning again, anew or over again and the latter as a verb meaning to examine closely and carefully, to test and try, or to prove. Together, they form a noun describing a careful, systematic, patient study and investigation in some field of knowledge, undertaken to establish facts or principle (Grinnell, 1993:4)21. He further adds: 'research is a structured inquiry that utilises acceptable scientific methodology to solve problems and create new knowledge that is generally applicable'.
According to Kerlinger (1986:4)22 scientific research is a systematic, controlled empirical and critical investigation of propositions about the presumed relationship about various phenomena.
Conducting a research, therefore, calls for a systematic approach to the data collection, thoughtful analysis and eventual interpretation of such results. This process is what is referred to as the methodology.
3.2 Research Approach
There are broadly speaking two approaches to research design; quantitative research and qualitative research. Creswell (2003) observes that quantitative research involves data collection, analysis and interpretation. It is mainly a statistical analysis method to solve the research problem, because the data used in it, is mathematical and statistical form. Neill (2007)23 also attests that quantitative research employs instruments such as survey, sampling and census methods to collect the data. It, therefore, uses numbers and numerical values to summarise the whole study, and to look at the relationship between variable and participants of the research. Whereas the qualitative research is based on texts and images, pictures etc. It includes focus groups, in-depth interview and observation to collect data and then analysis the data for the study. He further argues that this approach is subjective in nature and describes the problem of research in depth in order to find out its solution; whereas quantitative research is objective and uses concepts, constructs, hypothesis which makes up a theory.24
The qualitative research is more flexible in comparison to the quantitative research, because it allows adaptation of interaction between researcher and its participants. It also includes case study to resolve the research problem. It describes the whole problem and it uses theories, concepts and case study. It is, therefore, a descriptive and analytical tool for the research because it describes the problem deeply and then analyses it.25 Johnson and Christensen (2008), note that in general, the qualitative research generates rich, detailed data that contribute to in-depth understanding of the context.
Due to the complexity nature of this research, both the qualitative research and data generated through quantitative approach shall be employed to complement each other.
3.3 The Research Process
It is imperative to note that research constitutes the collection, analyses and interpretation of information to provide answer(s) to questions. For an undertaking to qualify as research, certain parameters ought to be met. It must as much as possible, be controlled, rigorous, systematic, valid and verifiable, empirical and critical. In his book, Research Methodology, Kumar (2010) explains the various attribute as follows:
3.3.1 Controlled
The concept of control implies that, in exploring causality in relation to two variables, one ought to set up the study in such a way that minimises the effects of other factors affecting the relationship. In the study of cause-and –effect relationships, it is important to be able to link the effect(s) with the cause(s) and vice versa. He further observes that the establishment of this linkage is essential though extremely difficult to attain in practice.
3.3.2 Rigorous
He notes that one ought to be scrupulous in ensuring that the procedures followed to find answers to questions are relevant, appropriate and justified.
3.3.3 Systematic
This implies that the procedures adopted to undertake an investigation follows a certain logical sequence. The different steps cannot be taken in a haphazard manner. Some procedures must follow others.
3.3.4 Valid and verifiable
This concept implies that whatever is concluded on the basis of one's findings is correct and can be verified by others as well.
3.3.5 Empirical
This means that any conclusions drawn are based upon hard evidence gathered from information collected from real-life experiences or observations.
3.3.6 Critical
The process of investigation must be foolproof and free from any drawbacks. The process adopted and procedures used must be able to withstand critical scrutiny.
3.4 Data Sources and Collection
There are basically two types of data namely primary and secondary. The primary data are those that are collected afresh and for the first time and thus happen to be original in character. These can be obtained through observations or direct communication with respondents in one form or another or through personal interviews, questionnaires and surveys. Secondary data, on the other hand, are those which have already been collected by someone else and which have been passed through the statistical process (Kothari, 2006).
This research also draws from the personal experience and direct field observations of the author. Direct observation is one of the most highly recommended methods of data collect as subjectivity is eliminated. It is also independent of the respondents' willingness to respond and is relatively less demanding of the active cooperation on the part of the respondents as happens to be the case in the interview or questionnaire method (Ibid).
The author was involved in a project that was supported by individual initiatives of two technical officers under the auspices of the then British Council. The two, Mr. K. Murmar (Architect) and Mr. S. Craige (Quantity Survey) had established an internal resource centre at the Buildings Department Headquarters of the then Ministry of Works and Supply, in the mid 1990's. A project code named 'affordable housing' was commissioned with the aim of developing ways of reducing the cost of construction. From the analysis of the building elements, three elements where classified as fundamental; the foundations, the load bearing walls and the roof.
Another project of interest was in 2002, when the Government commissioned the rehabilitation of one of the High Court Buildings in Mongu26, Western province. The court building was constructed in the 1970's and was structurally very sound, without any evidence of failure. Among the works to be undertaken was the removal of parquet flooring and replacement with ceramic floor tiling. During the works execution, the contractor removed the parquet and started to carefully remove the sand/cement screed that acted as a base for the parquet, with the intention of reaching the concrete slab.
To everyone's surprise, the structurally sound building had no concrete slab. It only had a layer of burnt clay bricks on a compacted hardcore base. A thin layer of sand/cement screed was laid to act as base to receive the parquet flooring. This was undoubtedly a huge reduction on construction cost of the project.
Chalmer, also argues that "A common way in which observation is used by a range of philosophers is to see it as a passive, private affair. It is passive insofar as it is presumed that when seeing, for example, we simply open and direct our eyes, let the information flow in, and record what is there to be seen." 27
The secondary sources take a series of case studies conducted by various researchers through interviews, discussions and in-depth understanding of the daily lives of respondents and technocrats. Others are a selection of literature, Acts of parliament, professional journals, annual reports and data from a wide range of sources such as Central Statistical Office, other Government Departments and Institutions, the World Bank and International Monetary Fund.
3.5 Choice of Research Location
In order to make the research relevant to the current housing problem and draw lessons for future project implementation, location of such research is cardinal. The housing problem is predominately domiciled in the cities due to the pulling effects phenomenon. Lusaka, by virtue of its administrative function, advanced infrastructure and social services in comparison to other towns/cities has experienced the most desperate housing problem.
Some research on various aspects of housing has been conducted in Lusaka before. And a number of housing projects by various stakeholders including civil society organisations have been undertaken and documented. The availability of critical background and basic information on the subject is therefore accessible.
For this reason, the research will focus on the situation of Lusaka, though situations and cases may be cited from other cities as well. Research results and recommendations can, therefore, easily be rolled out to other cities and towns which have not yet attained the housing deficit as experienced in Lusaka.
3.6 Limitation of Research
Limitations of the research are those characteristics of the methodology that impact or influence the application or interpretation of the research.28 Housing as an area of study is broad and complex. This research shall not be able to tackle all the aspects of housing due to time constraints among others. The research shall delve into the impact of the 'high colonial' construction standards on the cost of construction of housing in Zambia. It is also important to note that housing matters are generally income related and that this study shall confine itself to the poor or low income earners.
Mention of other related spheres of housing will done but not investigate or discussed in detail. These include part not limited to rapid population growth, infrastructure provision, land delivery system, institutional and rural housing.
[...]
---
1 HABITAT INTERNATIONAL, Vol.20, No. 4, pp 607, 1996, Cost Modelling for Appropriate Building and Planning Standards in Kenya.
2 Edward V. K. Jaycox, Housing the Poor: The task ahead in Developing Countries, Urban Project Department, World Bank, Washington DC, pp 305, 1977.
3 http://en.wikipedia.org/wiki/Basic_needs
4 Rafael Tuts- Coordinator, Urban Planning and Design Branch, UN-HABITAT, Kenya, 1998
5 Jerome Binde, The City Summit, the lessons of Istanbul, Vol 29, No. 3,pp 216, Elsevier Science Ltd, 1997. He was Director of Analysis Unit (UAP), UNESCO, France.
6 Adapted by Ranjit Kumar, Research Methodology: A step-by-step guide for beginners, 2010
7 Ministry of Local Government and Housing, The National Housing Policy, 1996
8 Prof. Nkandu Lou, Minister of Local Government, housing and Early Childhood Education, Nov. 2011
9 MFNP, Central Statistical Office, 2011
10 Constitution of Zambia, Article 1, 1996
11 SARPN is a non Governmental Organisation which aims at contributing towards effective reduction of poverty in countries of SADC through the creation of platforms for effective pro-poor policy, strategy and practice.
12 JCTR is a research, consultancy, education and advocacy organisation that promotes study and action on issues linking Christian faith and social justice in Zambia and Malawi. It is part of the Catholic Society of Jesus of the Jesuit social centres around the world.
13 Kay George: A Social Geography of Zambia, London, University of London Press, pp. 76. 1969
14 Schlyter Ann: Privatisation of Council Housing in Lusaka, Zambia, pp 1-2, 2004, Goteborg University, Sweden
15 Adapted by Makasa P.L.K: In The 1996 Zambia National Housing Policy, Delft University Press, 2010.
16 Constitution of Zambia, Article 24, 1964
17 Robert H, Bates and Bruce W. Bennett: Determinants of the Rural exodus in Zambia: A Study of the inter censal migration, 1963-69, pp 548, 1976
18 Adapted from Makasa P.K. The 1996 Zambia National Housing Policy, 2010
19 Un-exhausted improvements refer to all activities undertaken with a view to improve the land by way of constructing buildings or other infrastructure upon the land
20 Wikipedia, en.wikipedia.org/wiki/Research
21 Adapted by Ranjit Kumar, Research Methodology, 2010
22 Ibid
23 Qualitative Vs Quantitative Research: Key points in a classic debate: http://wilderdom.com/research/QualitativeVsQuantitativeResearch.html
24 Qualitative Vs Quantitative Research (2011): http://www.snapsurveys.com/techadvqualquant.shtml
25 Ibid
26 Is the Provincial Headquarters about 500km from Lusaka
27 Adapted by Makoba Nichola D, PhD Dissertation, 2008
28 http://libguides.usc.edu/writingguide
Details
Seiten

115

Jahr

2012

ISBN (eBook)

9783656885818

ISBN (Buch)

9783656885825

Dateigröße

8.4 MB

Sprache

Englisch

Katalognummer

v288073

Institution / Hochschule

Katholieke Universiteit Leuven

Note

A+

Schlagworte