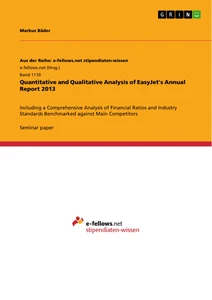 Quantitative and Qualitative Analysis of EasyJet's Annual Report 2013
Including a Comprehensive Analysis of Financial Ratios and Industry Standards Benchmarked against Main Competitors
Hausarbeit 2015 38 Seiten
Zusammenfassung
Luton-based EasyJet is UK's largest low-cost airline, employing 8,945 people and carrying 61m passengers annually. EasyJet follows Porter's low-cost strategy, effectively distinguishing itself from other LCCs by competing against established flag-carriers at primary European airports. The company streamlines its operations to cost-reduction, facilitated by a strong capital structure.
Europe's airline industry has experienced a structural change since the recession in 2009, with major legacy-carrier continuously reducing their short-haul-capacity. Simultaneously, a KPMG study revealed that the cost gap between traditional and budget airlines has recently shrunk by 30%.
EasyJet's business model distinctly differs from LCC-pioneer Ryanair as the Irish have strategically built a route network focused on serving secondary airports and thereby managed to keep the cost per seat 50% below EasyJet. However the Britons cost-control strategy resulted in a 48% favourable cost base compared to competing legacycarrier such as IAG.

Details
Seiten

38

Jahr

2015

ISBN (eBook)

9783656892229

ISBN (Buch)

9783656892236

Dateigröße

4.8 MB

Sprache

Englisch

Katalognummer

v288365

Institution / Hochschule

University of Newcastle

Note

1,0

Schlagworte