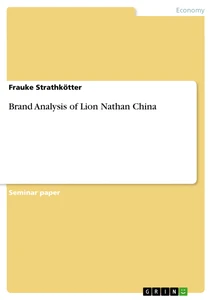 Brand Analysis of Lion Nathan China
Hausarbeit 2003 20 Seiten
Leseprobe
Table of Contents
Executive Summary
Problem Statement
Analysis
Decision Criteria
Alternatives
Recommended Solution
Implementation Plan
Short Term
Long Term
Future Outlook
Contingency Plan
Exhibits
Exhibit 1 – SWOT Analysis
Exhibit 2 – Consumer Analysis
Exhibit 3 – Product Analysis
Exhibit 4 – Production Capacity Analysis
Exhibit 5 – Competitive Analysis
Exhibit 6 – Three year forecast of alternatives
Exhibit 7 – Expected Revenue
Executive Summary
Lion Nathan China is experiencing losses in the Yangtze River Delta region as a result of economic downturn, declining expected growth rate, intense competition and an initial heavy investment strategy. These conditions are exasperated by a poor transportation infrastructure, multiple and various regional laws and regulations, and high import costs. Lion Nathan China must reverse their financial losses with a new strategy that will take into consideration these conditions. Building brand equity, reconfiguring profits and growth expectancy, recovering financial losses from the new brewery in Suzhou Industrial Park, and becoming the leading mainstream competitor in the YRD market are key objectives which must be considered in the new strategy. In order to achieve these objectives Lion Nathan must stabilize their current position in the Chinese market by slowing down overall growth and reducing expenditures. This can be achieved through focusing the promotion strategy on one premium brand: Steinlager and through licensing production capacity to other beer marketers. Also, a plan will be put into effect to reduce internal and external inefficiency costs. Lion Nathan is committed to stay within the Chinese market and YRD region due to their investments within the country and their limited growth potential in their home markets (New Zealand and Australia). It is a necessity for Lion Nathan to break even in a three year period, in order not to flounder or to fail within the Chinese market.
Problem Statement
Lion Nathan China is an international brewer who is currently experiencing a financial loss in their China unit. The financial loss that they are experiencing is a result of an economic down turn and instability within the beer market. LNC must create a business strategy that will allow them to produce profits in the long term, while surviving the poor present economic conditions.
Analysis
Lion Nathan China's current business strategy has not been successful and they are experiencing problematic financial losses. Contributing factors of this problem are the economic decline of the Chinese market, the volatile beer market, intense competition, the difficult distribution and regulations, their fluctuating position within different segments, and an unexpected decline in the growth rate.
LNC initially heavily invested in the Chinese market with a joint venture with Taihushui Brewery and an establishment of a 178 million dollars world class brewery in the Suzhou Industrial Park. This large initial invest has been difficult to recover due to the unexpected decline in the economy and a decline in beer market growth. In addition, this investment has caused LNC to be in a position of escalating commitment. This escalation of commitment is motivating LNC to stay in the market despite a large profit loss of 30.1 million annually.
In China there are more than 600 breweries, however, in the Yangtze River Delta (YRD) market there are 30. LNC must compete with very established brands in both the mainstream and premium markets. Compared to LNC's competitors, they have a distinct advantage in profit margins as a result of their possession of the only wholly foreign production facility. LNC's brand diversity and flexibility gives them another distinct advantage since no other competitors have such a diverse portfolio.
LNC's brand portfolio currently consists of two mainstream beers and three premium beers. However, only with the recent development of the Beck's brand has LNC been able to achieve the premium status. While Beck's has brought LNC into this premium status segment, there is still a need of their own brands to be established in this segment. The premium status segment in the Chinese market is one that offers the most profit potential. On the other hand, the mainstream market seems to offer greater stability, as a result of higher volume and a more predicable consumer. While the mainstream market may not be as profitable as the premium segment, it is one that requires a strong distribution channel in an area such as the YRD.
In China distribution can severely hamper any attempt to expand a brand beyond a particular region, due to poor transportation infrastructure and many different regional regulations. With this in mind, an area such as the YRD (which offers the highest potential for both growth and revenue) needs to be focused on with a local or close production facility and sales team. The only beer segment within China that is able to escape this issue is the premium market.
In a look at the Chinese consumer market, it is noted that there is a distinct difference in purchasing and consumption patterns between the mainstream and premium segments. In the mainstream segment consumers tend purchase less volume more frequently, whereas in the premium segment consumers purchase more volume, but only within certain setting such as a restaurant or bar. As a whole, per capita consumption levels in China are very low compared to other Asian markets, for instance per capita consumption in China is only 19 litres of beer per year compared to 24 litres in Hong Kong, 20 litres in Singapore, 41 litres in Japan, and 84 litres in the United States (Lion Nathan website).
*SEE EXHIBITS 1-5
Decision Criteria
- Maintain long-term presence within the Chinese market
- Continuation of building strong brand equity and awareness in our products
- Recover financial losses incurred after establishment of their new brewery in the Suzhou Industrial Park
- Reconfigure profits and growth expectancy to survive the current economic decline
- Leading mainstream beer competitor in the YRD market
- Increase presence in the premium status segment
Alternatives
Alternative No. 1
Geographically expand with current brands to other regions outside of the YRD, to increase market growth and volume. This solution is not recommended as China has a poor transportation infrastructure, as well as different regulations and laws in each region. To geographically expand, would be inure excessively high costs.
[...]