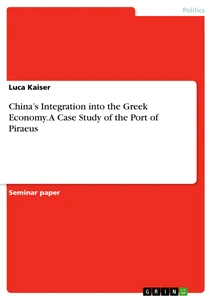 Leseprobe
Introduction
The port of Piraeus is the largest and most important port in Greece and one of largest ports in the Mediterranean. The port acts as a main gate for Greek imports and exports and plays a vital role in the national economy (Piraeus Port Authority SA [OLP], 2012). After the initial growth of the port, the transshipment volume decreased significantly from 2006 due to competing transshipment hubs in the eastern Mediterranean (Psaraftis & Pallis, 2012). In addition, the economic crisis has had a severe impact on seaports. Container traffic in Piraeus decreased by over 50% in 2008 (OLP, 2012).
Due to past economic policies, Greece has entered a severe economic crisis. High debt levels in combination with high budget deficits have contributed to Greece's current economic crisis. However, we have to consider that countries such as the USA and Japan are also deeply in debt and have large deficits, but do not face a crisis similar to that in Greece. Contrary to the widespread reports in the mass media, the underlying factor is not the wastefulness of Greece's public authorities, but the lack of competitiveness, intensified by the Euro and global crises and the resulting lack of confidence in Greece's capitalism (Sakellaropoulos, 2010, pp. 322-324).
While Greece has experienced negative annual GDP growth rates since 2009, China's average GDP has grown annually since 2009 at a rate of almost 10% (World Bank, 2012a). China's economic rise has led to a take-off in Foreign Direct Investments (FDI) in Europe by Chinese companies. According to Hanemann and Rosen (2012), the number of deals exceeding one million USD doubled from less than 50 in 2007 to almost 100 in 2011. They further show that Greece, together with Hungary, was the country with the highest increase in the share of total inward FDI from China in the European Union (EU) compared to the rest of the world from 2000 to 2011. The main reason for this increase was one large-scale deal.
In 2009, the state-controlled China Ocean Shipping Company (COSCO) committed to a long­term lease of half of the port of Piraeus (fully taking over the operation of Pier II in June 2010), which was tied to an immediate investment of over 700 million USD (Hanemann & Rosen, 2012, p. 38; Psaraftis & Pallis, 2012, p. 17). The other half of the port (Pier I) is still run by Greece, resulting in novel intra-port competition.
The privatization of half of the port and the Chinese involvement was controversial from the outset. Psaraftis and Pallis (2012, p. 17) explain that the contract was ratified several times and lawsuits were filed including with the Supreme Court. Concerns regarding legal provisions included various tax exemptions and other standard obligations which would be more favorable to COSCO than to the Piraeus Port Authority SA (OLP) or other Greek institution, raising questions in terms of the fairness of the upcoming competition between the two entities. In October 2009, several strikes by the port unions shut down the container terminal for two months (eased due to the fact that elections were coming up). Psaraftis and Pallis (2012, p. 17) state that the main concerns of Greece's powerful labor unions relate to the salaries and working rules of existing personnel and the hiring of new personnel under different conditions.
The case study of the port of Piraeus can be linked to numerous current development debates and provides an ideal base for examination of a much broader phenomenon: the new global order with an emerging China and a struggling Europe. Is China taking advantage of the economic crisis in Greece? If so, does it matter? There are two different views concerning China's integration in the port of Piraeus: Whilst the port unions accuse the Chinese of bringing third world labor standards to Europe, others state that China's investments create an economic opportunity for a country in crisis. Hence, this paper will explore China's integration in the port of Piraeus and aims to answer the question of whether it is a curse or blessing for the development of the port of Piraeus and in a broader sense for Greece. The paper will attempt to achieve this by analyzing the two different views and linking them with current debates and prevailing theories in development.
Global Integration or Penetration?
Besides the successful transition from a planned socialist economy to a market economy and several pragmatic and effective market-oriented reforms, China's growth has been based on resource-driven growth, namely, cheap labor and the connected rapid labor-force growth, with declining birth rates bringing down dependency rates (Naughton, 2007).
However, due to its rapidly aging population, China is facing a labor shortage in the future. The resulting change of labor supply and demand will lead to higher wages in China. To combat the upward pressure on wages brought on by a labor shortage, Chinese manufacturers need to move up the global value chain (Hamlin, 2011). To do so, Chinese companies need to go beyond China's borders. To move from low value manufacturing to the higher profit margins afforded by distribution and serve overseas customers directly, China needs to invest more in overseas markets (Hanemann & Rosen, 2012, p. 29). China's deal with the Greek government to run part of the port of Piraeus is part of a larger strategy with broader objectives and is in compliance with COSCO's goal to transform from a shipping carrier into 'a global logistic player' (Wei Jiafu, president of the COSCO Group, cited in Wang, 2005). Although the port of Piraeus is small compared to the top ten European ports by volume, it is closer for ships transporting goods from China to Europe through the Suez Canal than northern sea ports in Europe. Moreover, the port is closer to emerging markets such as Turkey, Russia, and the Balkan states. COSCO is promising to more than double container traffic in Piraeus to 3.7 million twenty-foot equivalent units (TEUs) by 2015 and both governments emphasize the mutual benefits (Mihalakas, 2011).
Despite the positive outlook, labor unions were against the deal ab initio. This creates the impression that FDI from China or any Chinese involvement in global politics brings criticism. It is widely held that countries should create perfect conditions for international investment and build a business-friendly environment in order to develop. Yet, it seems that some western media outlets, politicians, and the population at large are upset if the investor turns out to be Chinese. This raises the question of whether a new form of orientalism is emerging. Vukovich (2012) argues that Sino-orientalism shifted from 'being different' to 'being the same', pointing out the cultural logic of capitalism in the new interpretation of China. It is our own kind that we fear - being nothing but afraid of what the West created: global capitalism. Global competitiveness, promoted by capitalist economies to maintain and reproduce capitalist hegemony within the advanced capitalist countries themselves (Cammack, 2006), does not seem appropriate when applied by so-called less advanced or emerging economies. During the 2012 US presidential debate, China was mentioned a dozen times - all in a negative context. This negative attitude is also reflected with regard to Chinese "aid" in Africa, which is mainly associated with the exploitation of natural resources, but not to investments in infrastructure, the setting up of business ties, and so on (c.f. Bräutigam, 2009).
China's form of "aid", which is mainly a form of FDI, is no less questionable than "western aid". Taking Glennie's (2008, p. 104) approach towards aid, it is solely a cost-efficient way of buying economic advantage and political support. Pannell (2008, p. 708) states that the driving force behind China's interest in outflowing FDI is to attain foreign markets for Chinese goods in order to create jobs for Chinese citizens both at home and abroad to maintain social and political stability in China. Although Pannel (2008) is referring to Africa in his article, one could assume that his case is even more applicable to Europe because of the higher purchasing power. Nevertheless, besides a handful of Chinese managers, China did not import any workers in COSCO's case to Piraeus (Aiderman, 2012), negating the assumption that locals have to compete with Chinese workers. However, it seems that the Chinese government considers weak economies easier to deal with than stronger ones. Greece's current economic crisis has provided an excellent opportunity to enter the Greek economy and to create economic advantage to bring Chinese goods to Europe.
Labor Standards
There are two port unions in Greek: the Federation of Permanent Employees of Greek Ports (OMYLE) and the Federation of Cargo Handlers of Greece (OFE) (Psaraftis & Pallis, 2012, p. 9). All port personnel actively participate in the labor unions. The labor unions have found a common enemy in the terminal's privatization, mainly because they believe that labor rights are less secure under a private company.
Aiderman (2012) reports that the director of OLP, the port unions, and former workers accuse COSCO of lowering safety measures to save money, using employment subcontractors who hire temporary, unskilled, nonunion workers who are desperately seeking jobs, exploiting them by paying minimum wages, and giving minimal training despite the dangerous nature of the job. Furthermore, she gives the example of a COSCO dockworker who was fired because he raised concerns about safety violations and tried to organize a workers' committee. They also blame COSCO for 'bringing third world labor standards to Europe'.
However, whilst the Chinese side of the port is booming, the Greek run side of the port is struggling and its business lags far behind (Aiderman, 2012). To some extent, this can be traced back to the different labor rules on the two sides. Labor rules on the Greek side are less flexible and the workers enjoy much higher wages and protection (Aiderman, 2012). Referring to Aiderman (2012), the salaries of some workers reached $ 181,000 per year, whereas COSCO typically pays less than $ 23,200 per year. Psaraftis and Pallis (2012, p. 9) confirm the incredibly high salaries on Greek side and relate them to obsolete labor regulations. Aiderman (2012) further argues that while COSCO uses four workers to work a gantry crane, the labor union requires nine employees to be used on the Greek side.
Pallis (2007, p. 233) maintains that politicians have tended to exercise social policies at Greek ports. In 1997, the OLP was obliged to spend almost 20% of its annual income to retired port workers. In the 1980s the minimum wage in Greece was among the highest within OECD countries in Europe (Boumakis, 2009, p. 124). Boumakis (2009, pp. 124-148) cites the bargaining power of trade unions and the active role of the welfare state as the main reasons for the high minimum wages. He explains that the agreed minimum wage under the influence of powerful trade unions resulted in higher labor costs compared to competing countries, which led to a decline in productivity growth. He further states that, besides adjustments in the 1990s, trade unions have maintained their strong bargaining power, which has prevented structural reform implementation in favor of a more flexible labor market. He claims that the welfare state has negative effects on productivity growth and entrepreneurship because it prevents firms from aligning their work force quickly and effectively. Matsaganis (2011) confirms this and sees the welfare state in Greece as among the causes of the economic crisis.
"We came here and wanted to help the locals [with] fast developing. But the Europeans, they think they should be enjoying their life. So most of the people want to go on more holidays but from the other side they want to reduce the working time" (Fu, COSCO ChiefExecutive, Piraeus, 2012).
The Bank of Greece (2012) states that Greece's cost competitiveness has increased since 2010 and considers the lower labor costs as a main factor. According to the bank's annual report, average unit labor costs used to increase annually and were notably higher than the average increase in unit labor costs in the Euro area. In 2008, annual average unit labor costs increased by a tremendous 8.7% (compared to 3.7% in the Euro area). In 2010 and 2011, however, for the very first time, unit labor costs decreased by 3.8% and 2.6% respectively. The Bank of Greece further predicted that the unit labor costs would decrease by up to 6.8% in 2012, which seems in line with the bank's goal to increase competitiveness. Furthermore, the Bank of Greece (2012) has advised the government to create a business-friendly environment and speed up the privatization program to attract FDI and to increase competitiveness.
[...]