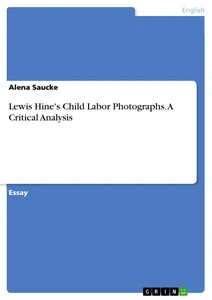 Lewis Hine's Child Labor Photographs. A Critical Analysis
Essay 2014 8 Seiten
Leseprobe
Much like the polarizing discussions around finding and displaying truth in photographic meaning, social documentarian Lewis Hine's child labor photographs have attracted their share of heterogeneous interpretations. While his original intention of pursuing social change and having his photographic work act as a "lever for social uplift" (Hine, 111) is not denied altogether, some scholars have questioned this work as actually supportive to an ideology reproducing the class system that it set out to alter. In the following I will look at a multitude of perspectives on Hine's work, specifically focusing on one representative image of his work for the National Child Labor Committee during the Progressive Era, comparing my own analysis with interpretations of Alan Trachtenberg, Maren Stange and James Guimond among others to reassess questions of aesthetic and moral value in a representative photograph of the NCLC period.
To start out with some critical reactions, Maren Stange for instance, asserts that much of the social photography of the beginning of the 20th century was used as publicity for social engineering, rendering the presence and status of the working class unchanged (Stange, 51-65). She calls Hine's style "flexible, yet identifiable" (55), aimed at an amelioration of reality, however ultimately only displaying and not dissolving the issues at hand, (65). Nonetheless she says that while possibly not providing closure to a reform ideology, Hine's and other social photographers' work can still act as a means "to connect with, to imagine and respond to, the actual processes of social change" (83). While I agree that these works in attempting to truthfully represent the pitiful condition of the working classes might not always claim the unalterable "truth", they still present a valuable tool of self-interrogation, spurring thinking and imagination around a topic that was mostly ignored by a public reaping the benefits of rising industrialism without giving much thought to the conditions of production.
John Tagg looks at social photography with an even less sympathetic eye. In TheBurden of Representation, he relates how governmental institutions exercise editorial control when presenting episodes of history through documentary photography. Tagg's critique of how photography is used by the government does not refer only the "power of the camera" as a possible technology used for surveillance but more to "the power of the apparatuses of the local state which deploy it and guarantee the authority of the images it constructs to stand as evidence or register as truth" (Tagg, 64). Peter Seixas argues, that we need to remember that the meaning in Hine's work over the decades of his life as well as after it has been subject to different interpretations. Analogous to Allan Sekula's claim that a photograph's meaning is never neutral or inherently fixed, but rather adapts to the cultural discourse that the viewer and author are embedded in (Sekula, 92), Seixas particularly questions the unity often claimed to be visible in the documentation of work and the working class. Even if Hine's themes remained similar, the instrumentalization changed according to economic needs and ideas of those institutions that were paying him. While he stuck to creating visions of work that always tried to ultimately convey a dignified human being at work, albeit in often highly degrading environments, the critical tones with regard to the work performed could change. While his NCLC pictures and similarly the Pittsburgh Survey work demonstrate a clear need to rise out of these unworthy conditions, his later photographs around work were intentionally and in his own words more "positive" (Kaplan, 19). Here workers don't seem at odds with their surroundings, but satisfied with the power of the machines, therefore indicating in Hine's later work a kind of compliance with stately authority as mentioned by John Tagg. Seixas reminds us that Hine's work was produced in a time of major reform, but also of increasing managerial and governmental influence on the public - an influence that aided the improvement of conditions, but always sharply supervised this process at the same time, ultimately hoping for an increase in productivity (385). Maren Stange, too, points to photography being an artistic medium exploited for national reform programs (Stange, 89).
While I don't deny the importance of considering the "changing relations of production that the workers he studied were enmeshed in" (Seixas, 405), I wouldn't discredit the work of the reformer entirely as part or mouthpiece of a larger capitalist agenda. It is certainly important to consider artistic production as a reaction to the environment the artist is born into, and not to see it above it or outside of it. I deliberately use the term artist, while aware of Hine's adamant distancing himself from thel'art pour l'artprinciple and his rejection of an excessive focus on expressive qualities, which in his opinion stood opposed to his (primarily) morally infused creations. He rejected the principles of Stieglitz's Photo Secession as too disinterested, aloof and focusing on middle-class subjects only, while his own interests lay in how working class people lived and how things got made, all the while hopeful of social betterment for those in need. While he favored social results over technical perfection, he was not altogether unaware of the power of the aesthetic. In his view art should not exist for its own sake, but first and foremost promote a "heightened awareness of the world". 1
Hine's subordinate economic position plays an influential role in the changing use and interpretation of his work. He eventually died in poverty, having been mostly dependent on corporations and governmental institutions as employers (Seixas, 390). Hine was able to react to, but not necessarily foresee or shape his environment with the camera. Nonetheless, whatever the use or interpretation has been over the time, the impact of his vision remains powerful until today.
illustration not visible in this excerpt
Fig. 1: One of the spinners in Whitnel Cotton, Mfg. Co. N.C. She was 51 inches high. Had been in mill 1 year. Some at night. Runs 4 sides, 48 cents a day. When asked how old, she hesitated, then said "I don't remember." Then confidentially, "I'm not old enough to work, but I do just the same." Out of 50 employees, ten children about her size. See 463. Location: Whitnel, North Carolina. Source in Bibliography.
[...]
---
1 Trachtenberg, Alan. "Ever- the Human Document."America & Lewis Hine: Photographs 1904-1940, p. 119-124.
Details
Seiten

8

Jahr

2014

ISBN (eBook)

9783668053229

ISBN (Buch)

9783668053236

Dateigröße

1 MB

Sprache

Englisch

Katalognummer

v307275

Institution / Hochschule

Freie Universität Berlin – John F. Kennedy Institue for North American Studies

Note

1,3

Schlagworte