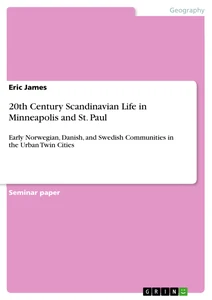 20th Century Scandinavian Life in Minneapolis and St. Paul
Early Norwegian, Danish, and Swedish Communities in the Urban Twin Cities
Seminararbeit 2006 14 Seiten
Leseprobe
20th Century Scandinavian Life in Minneapolis and St. Paul
On his radio show, "A Prairie Home Companion," Garrison Keillor's comedic portrayal of the typical Minnesotan as a Scandinavian with unique accents and customs in everyday life compared to the ordinary American is not entirely fiction. The dominance of Scandinavian influence in Minnesota continues to remain a solid belief. Legacies of Norwegian and Swedish immigrants still pervade the social, political, and physical landscape of this state leaving a "historian to conclude that outside the Nordic countries there is nowhere in the world where the social development of a State has been determined by Scandinavian activities and ambitions as in Minnesota"[1]. In the urban environment of Minneapolis and St. Paul, strong remnants of these influences are especially seen. By sole numbers of immigration, they created the early pockets of our urban places. Neighborhoods, streets, churches, homes and stores bearing their names, hard work, persistence, and craftsmanship still persist today. Today, with changing ethnic groups meeting crumbling infrastructure and schools, it may be important to understand how these first ground breakers of the city created their communities and rooted important institutions and buildings. We might draw lessons of knowing one of the first ethnic stories in the history of this area. How did the lives of early Scandinavian immigrants influence the residential urban villages, architecture, and commercial districts of the city and what does this information tell us about the struggles of new ethnic groups.
Immigration
Scandinavian immigrants in the late 19th and early 20th century included--from largest to smallest--Swedish, Norwegian, Danish, Finnish, and Icelandic. As many as 280,000 Swedish settlers came to Minnesota during this time and "a majority… settled in urban areas." Norwegians immigrated a few years earlier and numbered over 100,000 by 1905 throughout the state.[2] The initial draw of Minnesota was due to many factors such as letters to home encouraging settlement, the similar climate to Scandinavia and abundant farmland. However when land became scarce and labor jobs such as flour-milling and lumber became pinnacle industries in Minneapolis-St. Paul, these two major Scandinavian groups sought the city. Immigration to urban centers began in the "mid-1860s, influenced by the end of the Civil War and the worsening economic conditions in Norway and Sweden."[3] The "Swedish population peaked in 1905… of which 38,000 lived in the Twin Cities" and during the same time, "Minneapolis alone had 16,401 Norwegians."[4] During this time the cities incurred a large population of foreign-born.
Most of these people were unskilled and uneducated. Retaining strong ties and identity with the homeland, they sought to live closer to people and institutions which allowed them to transition to the ideal American.[5] The location of "railroads, lumber mills, flour mills, slaughter houses, construction firms, cabinet shops, garment factories, breweries"[6] and other industries in the Twin Cities made urbanization a logical choice for Scandinavians struggling to build a future. Infrastructure was also favorable with cheap and quickly expanding tracts of residential land near easily accessible commercial and industrial districts of a walking city. The strong railroad network from hinterland to the city during the milling era was also important for personal or family connections as groups moved from farm to industry. While the nexus and mesh of work, housing and transportation, scholars also suggest culturally, these groups kept to themselves. Geographically, the density of populating rural areas for Norwegians and Swedes also tends to support that statement even though few forces confined settlement (see Figure 1). Urban settlement thus followed similarly in neighborhoods.
Abbildung in dieser Leseprobe nicht enthalten
Figure 1. Ancestry. At left is Norwegian concentrations in the Red River Valley of Western Minnesota. and at right is Swedish concentrations just northeast of St. Paul in Chisago Lakes. Data from the 1990 census. © 1997 Brent Allison, John R. Borchert Map Library
Norwegians settled in dense concentrations throughout Minneapolis. The heaviest was along Washington Avenue moving south into the Cedar-Riverside area and was bolstered by nearby Augsburg Seminary. Another notable area was the Longfellow neighborhood where they walked to the flour mills along Hiawatha Avenue.[7] While overall Norwegians controlled Minneapolis, Swedes concentrated in St. Paul's East Side, today known as Payne-Phalen. Lanegran indicates the East Side was primarily chosen because of its railroad connection "on the way to the major cluster of Swedes in the Chisago Lakes area."[8] St. Paul's Swedish heritage was further dramatised by Swede Hollow, a ghetto in the lower part of the Phalen Creek Valley.
[...]
---
[1] Gjerde pg 48
[2] Lanegran pg. 14 , 23 / Gjerde pg. 1
[3] Minneapolis Library
[4] Lanegran pg. 27 / Gjerde pg. 48
[5] Lanegran and other scholars indicates an "overwhelming majority of the immigrants were of common origins with few skills to offer"
[6] Lanegran also states "Another very important form of employment was domestic service" which Gjerde also makes a reference to a prevalent image of young Swedish girl maids.
[7] Gjerde pg 30 – Norwegians also settled in St. Paul's East Side, in the Mount Airy section and "extended to areas near Lake Phalen, the Midway, and Roseville with the Swedes." Draxten reports settlement in Cedar-Riverside due to Augsburg and Near North (drawn from the Trondheim province in Norway).
[8] Lanegran
Details
Seiten

14

Jahr

2006

ISBN (eBook)

9783668100206

ISBN (Buch)

9783668100213

Dateigröße

965 KB

Sprache

Englisch

Katalognummer

v311247

Institution / Hochschule

University of Minnesota - Twin Cities

Note

Schlagworte