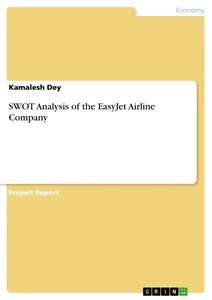 SWOT Analysis of the EasyJet Airline Company
Projektarbeit 2015 18 Seiten
Leseprobe
CONTENT
EXECUTIVE SUMMARY
CONTENT
INTRODUCTION
ABOUT EASYJET AIRLINE
OPERATION OF THE COMPANY
QUALITY MANAGEMENT
SERVICE DESIGN
CAPACITY DESIGN
SWOT ANALYSIS OF EASYJET AIRLINE COMPANY
STRENGTHS
WEAKNESS
OPPORTUNITIES
THREATS
CONCLUSION
RECOMMENDATIONS
REFERENCES
BIBLIOGRAPHY
EXECUTIVE SUMMARY
The report critically examined the strategic operation management (OM) decisions of EasyJet low cost Airline Company and how they operated their service successfully throughout the Europe. The report also briefly explored three key OM decisions for instances Quality Management, Service Design, and Capacity Design of EasyJet Airline Company. In addition, the report analysed the entire EasyJet Company based on SWOT analysis framework and also recommended to achieve their competitive advantages through the customer satisfaction with low air fares.
The EasyJet low cost airline company followed strategic OM decisions throughout their business cycles. The EasyJet was launched in 1995 with small capacity but within fifteen years they developed business very competitively. They introduced modern technology in their service. From 2014, they initiated paperless cockpit and started to use laptop as well as printed navigational map.
In addition, they got membership with European emissions trading scheme from the last ten years. They reduced CO2 gas emission and waste as well through waste recycling process. The airline company had many strong points to success their business, however they had some minimal drawbacks what might harm their business.
Overall, the EasyJet airline company recommended to follow principle OM decisions to promote their business. In addition, The EasyJet Company also suggested to follow the Southwest Airline (SA) strategic map to promote their continuous success and expand their service worldwide.
INTRODUCTION
The report will explore the EasyJet low cost airline company and their business success. The report will also highlight their key operation management decisions areas. In addition, the report will critically analyse their current operation management strategies and recommend some extensive approach to enhance their current performance.
Operation management is very crucial of any organisations (like EasyJet Airline Company) in the world. It is also closely associated with any types of business function. It helps to run the business smoothly through making more profit and boost the service performance to society (Heizer and Render, 2014). In addition, customer relationship management (CRM) process is the significant part of operation management to make business more profitable through proving good service. Wisner and Stanley (2008, p. 8) reported that " CRM is an interactive process for achieving the optimum balance between corporate investments and satisfaction of customer needs to generate maximum profit "
ABOUT EASYJET AIRLINE
EasyJet is one of the most successful low cost airline company based in Luton (United Kingdom) and serving their flight within the Europe. EasyJet airline was launched in 1995 and this company is serving their business with well reputation in the past fifteen years (EasyJet Airline Company Limited, 2015). In addition, Koenigsberg, Muller and Vilcassim (2008) reported that EasyJet is the low-cost airline in the Europe and they are operating their business very successfully like Southwest airline in USA.
This airline is the partner company of the easy group and this group is quite popular in the London Stock Exchange Market (LSEM).
The EasyJet airline company is currently operating about 250 aircrafts (shown in figure 1) (EasyJet Plc, 2015).The airline company mission statement is to provide best service more than 15 million passengers per year with low fares and company will show their best performance to mobilize air travelers throughout the world. However, currently company is operating their service within the Europe and United Kingdom (EasyJet Plc, 2015).
OPERATION OF THE COMPANY
Operation management decision is significant to improve the performance of the company. Heizer and Render (2014) indicated ten key operation management (OM) decisions for instances product or service design, quality management, location, layout design, supply chain management, inventory management, scheduling, maintenance, human resources, and capacity design. The report will explore and critically analyse on the following strategic OM decisions of EasyJet airline:
1. Quality Management
2. Service Design, and
3. Capacity Design
QUALITY MANAGEMENT
Quality management is vital to make long term profit for any company or organisation. According to figure 2, company make more profit through the improvement of the quality services or product. In addition, quality could be improved and profit might be maximised through huge number of sale with low price, high reputation and quick response (Heizer and Render, 2014).
Figure 1: The Ways Quality Improves Profitability (Heizer and Render, 2014)
Abbildung in dieser Leseprobe nicht enthalten
Likewise, EasyJet is serving huge number of air travellers with low air fares and ultimately making more profit (Koenigsberg, Muller and Vilcassim, 2008). In addition, Kang and James (2004) discovered five dimensions of service quality for instances reliability, assurance, tangible, empathy and responsiveness (shown in figure 3).
Figure 2: Service Quality Dimension Model (Kang and James, 2004)
Abbildung in dieser Leseprobe nicht enthalten
Moreover, Boddy (2009) stated that the system model of management (shown in figure 4), what could manage the entire quality of the business company. The following model of management is very simple and open system quality management model through the input, external environment, output and feedback, whereas input factors (people and finance) converted into output (customer service and reputation) through transformation process and this process might be forwarded by customer feedback
Figure 3: The System Model of Management (Boddy, 2009).
Abbildung in dieser Leseprobe nicht enthalten
Additionally, total quality management could be achieved through customer satisfaction, management by fact and respect to customer. Heizer and Render (2011) identified seven concepts for total quality management (TQM) for instances continuous improvement, six sigma, employment empowerment, benchmarking, just in time (JIT), Taguchi concepts, knowledge of TQM tools. These seven concepts are the key points for TQM, what will help to achieve competitive advantage of the company as well as proving highest customer satisfaction. Similarly, EasyJet airline follow this dimensions to maintain their quality. They always ensure passenger safety first and try to provide their good customer service with great passion to achieve customer satisfaction (EasyJet Plc, 2015).
Furthermore, risk management is an integral part of quality management. Service or product quality could be improved through risk analysis or management. EasyJet Airline Company normally follow the following risk management framework (shown in figure 5). The risk assessment team assess various types of risk of the company. They identify the significant following risk through the risk management workshop where executive management team and senior managers are invited to join this workshop. Afterward, step by step they assess numeral risk of several areas for instances operational risk, financial risk, reputational risk and so on.
Figure 4: Risk Management Framework of EasyJet (EasyJet Plc, 2015)
Abbildung in dieser Leseprobe nicht enthalten
Finally, all the possible risks are evaluated by risk evaluated group through feedback from the board (EasyJet Plc, 2015).
[...]