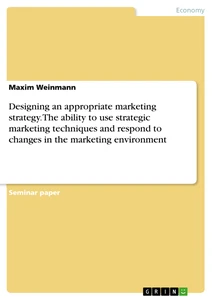 Designing an appropriate marketing strategy. The ability to use strategic marketing techniques and respond to changes in the marketing environment
Hausarbeit 2015 18 Seiten
Leseprobe
Contents
1 Introduction
2 Ability to use strategic marketing techniques
2.1 Use appropriate marketing techniques to ascertain growth opportunities in a market
2.1.1 Mass marketing or niche marketing
2.1.2 Brand extension or product line extension
2.1.3 Direct or indirect sales
2.2 Plan to use marketing strategic options in a market
2.3 Create appropriate strategic marketing objectives for a market
3 Be able to respond to changes in the marketing environment
3.1 Report on the impact of changes in the external environment on a marketing strategy
3.1.1 Political factors
3.1.2 Economic factors
3.1.3 Social factors
3.1.4 Technological factors
3.2 Conduct an internal analysis to identify current strengths and weaknesses in a marketing strategy
3.3 Propose strategic marketing responses to key emerging themes in a marketing strategy
3.3.1 Threat of competitors
3.3.2 Changes in political environment
4 Conclusion
References
List of abbreviations
illustration not visible in this excerpt
List of figures
Figure 1: Porter's generic strategies (Lamb et. al., 2009)
Figure 2: 7 P's Marketing Mix (Professionalacademy, 2014)
List of tables
Table 1: Market segmentation for LIGALOGISTICS
Table 2: Marketing Mix for LIGALOGISTIC (Dibb et. al., 2005 and CIM, 2009)
Table 3: Internal analysis of LIGALOGISTIC
1 Introduction
The LIGA-group, whose main companies are LIGANOVA and LIGAPRODUCTION, is a full-service provider that designs, plans, produces and distributes high-quality point-of-sale (POS) items such as shop-window campaigns, in-store elements, store-construction elements or event productions. For our national and international clients, we offer unique custom-made items and prototypes, as well as large series productions with worldwide logistics. The concentration of six different production workshops under one roof, ultra-modern infrastructure and integrated processes and information technology (IT) systems guarantees maximum flexibility and reduced transaction costs while ensuring efficient production for our clients. Throughout the project, our project management is in constant contact with our clients and supervises all production workshops as well as the logistics and installation unit. As a result of expanding fields and responsibilities of operation, as well as growth in both total and duty-incurring shipments, our internal logistics department is set to become an independent company within the LIGA-group.
LIGALOGISTIC will enter the market as a full-service logistics provider within the marketing and brand retail industry, focussing on premium brands. Its services will compromise the whole field of logistical campaign planning, including packaging planning as well as picking and packing, global shipping and, if required, montage of promotion elements.
Following CIM (2009), our strategic marketing identifies, anticipates and ensures the satisfaction of the target customer's requirements. Therefore, an appropriate marketing strategy is of utmost importance for the organisation to achieve successful market entry.
2 Ability to use strategic marketing techniques
2.1 Use appropriate marketing techniques to ascertain growth opportunities in a market
Organisations need their strategy and objectives to work in harmony to provide the best possible efficiency so as to become successful, according to Brassington and Pettitt (2006). Setting marketing strategy and objectives is a very delicate process which must be based on a comprehensive consideration of the organisation's environment (Dibb et. al, 2005).
Following Dibb et. al. (2005) and Cohan (2005), the first crucial step to ascertain growth opportunities is to find target markets. Target markets are groups of individuals on whom the organisation focuses as potential customers. These groups can be separated from the broader market by segmenting the market based on different attributes.
For LIGALOGISTIC, the logistics department of LIGAPRODUCTION and LIGANOVA, the market can be segmented as follows:
illustration not visible in this excerpt
Table 1: Market segmentation for LIGALOGISTICS
Following Cohan (2005), once target markets are established, these markets must be profiled to assess their potential revenue, market-share and profitability, and to evaluate the feasibility of reaching the organisation's objectives within this market. After evaluating the target markets, the positioning of the organisation within the different markets takes place. In each segment the organisation has to decide how to establish an image or brand of the product in the customer's mind. To gain the customer's attention, the organisation can pursue different methods of positioning in the target market.
2.1.1 Mass marketing or niche marketing
According to Lamb et. al (2009), in mass marketing the organisation covers several target markets at once, typically with a widespread marketing campaign in order to reach the maximum number of people – for example, radio or television spots. In niche marketing, on the other hand, organisations position themselves as specialists, focussing on the customer's requirements in a small market.
For LIGALOGISTIC, with regards to the organisation's size and the targeted market, the niche marketing strategy is appropriate. LIGALOGISTIC can exclusively concentrate on understanding the needs of organisations in premium retail marketing, which enables a highly competitive position against big players in the logistics industry.
2.1.2 Brand extension or product line extension
With brand extension, the organisation enters a market with a new product in a completely different category from those markets already served by the organisation. In contrast, in product line extension the organisation uses a well-established brand to launch new products in the same product category, according to Dibb et. al. (2005).
With LIGANOVA as the marketing agency and LIGAPRODUCTION as the production plant for window and in-store marketing tools, the independent market entry of LIGALOGISTIC as a logistic full-service provider is a brand extension.
2.1.3 Direct or indirect sales
Following Lamb et. al. (2009), as well as Dibb et. al. (2005), direct sales of products requires, as the name suggests, direct contact with the customer. This contact can range from personal visits, phone calls or mail-outs to exhibitions or websites. In contrast, indirect sales are performed by a third party for the organisation. This is typical for the retail industry, for example, with supermarkets which sell products of more than one brand.
Due to the high number of current clients in the premium retail area of LIGANOVA, LIGALOGISTIC will follow the indirect sales method in the first year. Thus, LIGANOVA will sell the products of LIGALOGISTIC to their customers as well.
2.2 Plan to use marketing strategic options in a market
Strategic marketing options can vary depending on the individual organisation and the selected target market. According to Lynch (2012), Michael Porter describes in his generic strategies three ways in which an organisation can achieve competitive advantage. This strategy centres on the dimensions of strategic scope and strength. Strategic scope is focused towards market penetration, while strategic strength is concerned with the firm's sustainable competitive advantage.
illustration not visible in this excerpt
Figure 1: Porter's generic strategies (Lamb et. al., 2009)
Following Lamb et. al. (2009) and Dibb et. al. (2005), organisations may gain competitive advantage by lowering their operational costs and thus the price of their products, a strategy known as "cost leadership". In this strategy, the organisation is highly concerned with winning market share by focusing on price-sensitive customers. In contrast, product differentiation is concerned with distinguishing a product from its competitors by higher quality or high value-added services. Both strategies are carried out over the whole market, thus according to a mass marketing strategy, as mentioned in the section above. However, a narrower strategy which is more focused on segmented markets is possible. As an addition to Porter's model, most authors extend the strategy of focus to a focus on differentiation or on cost leadership, according to Lynch (2012), Johnson et. al. (2005) and Lamb et. al. (2009).
Due to high low-cost competition in the logistics industry, LIGALOGISTIC can achieve competitive advantage with product differentiation. Therefore a high level of service to cover all the customer's requirements will be provided. Particularly in fields of industry with a high need for extra information and short-time changes, these are needs which big players like classical forwarding organisations cannot meet.
According to Wall et. al. (2010), another important option is the innovation strategy. The innovation strategy deals with the time of an organisation's market entry. The organisation has to choose whether to be the first ones to open a completely new market – so called market pioneers, the ones who enter a market very quickly – close followers, or late followers who join markets when they are well-established. The three approaches can be described as follows:
Pioneer: First in the market with the newest products to fascinate customers and develop requirements.
Close follower: Market entry shortly after pioneer with adopted but improved products.
Late follower: The organisation adopts well tested products with the highest customer satisfaction.
2.3 Create appropriate strategic marketing objectives for a market
Marketing Mix is a well-known and well-designed tool for the marketing planning process. According to Kotler (2007), the marketing mix is also known as the 4P's – or, for the service industry, extended to the 7P's of marketing.
illustration not visible in this excerpt
Figure 2: 7 P's Marketing Mix (Professionalacademy, 2014)
In order to create appropriate strategic marketing objectives, LIGALOGISTIC must develop a suitable marketing mix.
illustration not visible in this excerpt
Table 2: Marketing Mix for LIGALOGISTIC (Dibb et. al., 2005 and CIM, 2009)
[...]
Details
Seiten

18

Jahr

2015

ISBN (eBook)

9783668159969

ISBN (Buch)

9783668159976

Dateigröße

1.3 MB

Sprache

Englisch

Katalognummer

v315828

Institution / Hochschule

European College of Business and Management (ECBM) London

Note

76%

Schlagworte