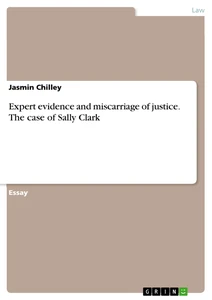 Expert evidence and miscarriage of justice. The case of Sally Clark
Essay 2015 12 Seiten
Leseprobe
A miscarriage of justice is an ambiguous phase that is capable of instigating many distinctive meanings, interpreted and influenced by life experiences. The widely considered definition is a failure to attain justice1. However this undermines The Criminal Justice System who robustly endeavours to convey justice for all, by convicting the guilty and protecting the innocent2. Unfortunately this ambition is belittled by the never-ending statistic that defendants are still being wrongfully imprisoned3 this is because some experts are culprits of fabricating and concealing evidence. Sally Clark's trial replicates similar characteristics.
The specifics from R v Clark4 involved Clark being convicted of murdering her two infant children Christopher and Harry. Christopher's death was initially diagnosed as sudden infant syndrome by pathologist Dr William's. However William's unexpectedly and biasedly reassessed his opinion, which suggests a degree of negligence and unprofessionalism, and considered murder by smothering following circumstances that were striking comparable to those surrounding the death of Harry. Clark pleaded her innocence. Fortunately following various appeal attempts Clark finally walked free from The Court of Appeal in 2003, after Lord Bingham of Cornhill ruled in her favour declaring "…the conviction must be thought to be unsafe"5 once new medical evidence was established, revealing Harry conclusively suffered and died from staphylococcus aureus. This was acknowledged and kept undisclosed by Williams for the reason that he did not believe it to be relevant 6 , although this should have been a matter for the jury to decide.
Williams concluded Harry's death was caused by shaking. However conflicting experts, disputed Williams's judgement on the basis that it remained guesswork identifying the specific mechanism that caused Harry's trauma7, it was unascertained according to Professor Berry, therefore possibly pronouncing confusion amongst the jury. A similar "systems failure"8 also transpired in relation to R v Harris9 in which a collective of highly reputable experts, based on hypothesis10 and old, possibly discredited theories from the universally accepted Journal of John Caffey11, misdiagnosed infant Patricks cause of death as being shaking baby syndrome without sufficient scientific evidence. For the reason that the classic triad head symptoms were named during Patrick's post-mortem and so essentially the inexperienced juror's judgment was influenced by expert opinion believing it to be factual, rather than mere views. Fortunately Harris' ordeal changed the attitudes towards shaking baby syndrome, declaring the standard triad symptoms would no longer "automatically or necessarily" be enough to conclude death by shaking, and so as a result the Attorney General Lord Goldsmith reviewed 88 cases of shaking baby syndrome12 declaring three to be unsafe and referred them to The Court of Appeal.
In addition R v Dallagher13 further suggests the adversarial system to be fundamentally flawed in relation to unreliable expert evidence. Following immense social pressures from the public, Dallagher was victimised by the police who character profiled him to be the suspect because of his previous burglar convictions, a similar example being that of the Birmingham six14 and Guildford four15 who were character profiled and forced to give false confessions. This persecution ultimately resulted in Dallagher being found guilty of smothering Dorothy Woods to death, on the primarily basis that the prosecution expert was "absolutely convinced"16 of the comparison between the latent ear-print found on the window and that of the Dallagher, while a second expert asserted it to be a "remote possibility". A DNA test subsequently revealed the fallibility of the test, demonstrating how untrustworthy such conclusions can be and how juries can be easily manipulated by new methods and previous conviction guilt. However a jury cannot be expected to make accurate decisions if unreliable expert evidence, particularly scientific, distorts their understanding of the facts, therefore forensic techniques should be scrutinised and questioned more deeply. In addition the jury should have been directed more efficiently by the judge and informed of the controversy felt amongst scientists about the ear-printing technique.
In the same way as Dallagher, Clark and Cannings were also presumed to be the guilty before being proved innocent; this was because once the police decided upon their suspect they systematically attempted to gather information to confirm with their suspicions. Clark and Cannings downfall was merely being present at all their children's deaths, which seems ridiculous considering mothers are the primary carers therefore always with their children. In addition Clark was further scrutinised by the prosecution for changing her police questioning technique from being cooperative to 'no comment' which should have been made irrelevant considering Clark was advised to do so by her defence lawyer, as well as grieving the death of her second child, therefore testifying unreliable and misrepresented evidence. Many legal issues also arose during R v Clark in relation to the first judge being ignorant for combining both incidences together when they should have been considered separately17. As well as, again like Dallagher, not directing the jury sufficiently enough on how to interpret the evidence surrounding Clark's discrepancy.
Consequently this created implications of overlapping evidence hence creating a stronger, more formidable case against Clark, similar example serial killer Peter Sutton. Particularly made worse by Professor Meadow who grossly gave the jury misleading assumptions that the chances of two cot deaths in a family like the Clark's was 1 in 73 million18. Meadow was naively convinced that recurrent cot deaths were so rare that a second occurrence in a family was not just a cause for suspicion but probable guilt, thus manipulating the jury who according to Professor Ray Hill fell into the trap of Prosecutors Fallacy19 when deciding between natural double-deaths or double murders. A potential improvement to prevent such things, would be for the advocator to efficiently cross-examine expert Professor Meadows, accordingly, to reveal potential flaws within his methodology. Similarly The Court took the view that Meadows charisma and the way he presented his evidence with a graphic reference of "backing long odds winners on the Grand National year after year", would have had a major effect on the jury's deliberations20.
[...]
---
1 2015, available at http://www.oxforddictionaries.com/definition/english/miscarriage-of-justice (last visited 14 February 2015).
2 Criminal Justice System, Justice for All (The Stationery Office, Norwich 2002) 16
3 MOJ (2013) Triennial Review - Criminal Cases Review Commission, March 2015, MOJ, London, 6-7
4 R v Clark (Sally) (No 2)[2003] EWCA Crim 1020
5 R v Clark (Sally) (No 2)[2003] EWCA Crim 1020, At Para 126
6 D Dwyer The Judicial Assessment of Expert Evidence (Cambridge University Press, Oxford 2008) 18
7 R v Clark (Sally) (No 2)[2003] EWCA Crim 1020, At Para 83
8 House of Commons Science and Technology Committee, Forensic Science on Trial (The Stationery Office, London 2005) 78
9 R v Harris, Rock, Cherry & Faulder[2005] EWCA Crim 1980
10 Law Commission, Expert Evidence in Criminal Proceedings in England and Wales para 1.7
11 John Caffey, 'On the Theory and Practice of Shaking Infants'[1972]
12 The Rt Hon The Lord Goldsmith QC, The Review of Infant Death Cases
13 R v Dallagher[2002] EWCA Crim 1903- D's conviction was quashed; see The Guardian, 23 January 2004
14 R v McIlkenny, Hunter, Walker, Callaghan, Hill and Power (1991) 93 Crim. App. R. 287 [The Birmingham Six]
15 R v Richardson, Conlon, Armstrong and Hill EWCA Crim (1989) [Guildford four]
16 Law Commission, Expert Evidence in Criminal Proceedings in England and Wales para 1.4
17 Clark's earlier appeal was unsuccessful; see Clark (Sally) (No 1) (2000) para 78
18 R v Clark (Sally) (No 2)[2003] EWCA Crim 1020, para 96
19 Professor R Hill, 'Why Sally Clark is, probably, innocent' [2002] 10
20 R v Clark (Sally) (No 2)[2003] EWCA Crim 1020, paras 178 to 180
Details
Seiten

12

Jahr

2015

ISBN (eBook)

9783668168343

ISBN (Buch)

9783668168350

Dateigröße

977 KB

Sprache

Englisch

Katalognummer

v316602

Institution / Hochschule

University of the West of England, Bristol

Note

81

Schlagworte