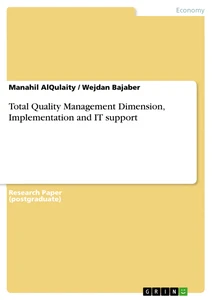 Total Quality Management Dimension, Implementation and IT support
Forschungsarbeit 2016 27 Seiten
Leseprobe
Abstract
This paper is examining the relationship between total quality management and information technology and how both can affect the organization management. An overview about the subject was provided in the literature review section. TQM dimension and IT impact on organization were examined through life examples of McDonald's case study that spotlight TQM dimensions and the implementation tool applied, and Microsoft case study that shows the role played by information technology to support the TQM methodology and technique of implementation.
Introduction
An organization needs to be competitive in today's challenging market by several ways such as enhancing their quality and productivity; this can be done by producing more in less time and reducing the cost which is called optimization. Information technology is an important factor to help an organization to achieve its goals and mission. Total quality management (TQM) is a way of managing an organization that uses all potential capabilities to improve quality and productivity in which all companies are aiming for. TQM is customer based philosophy where all resources, business processes, culture, behavior, and organization of a company are managed and well integrated to ensure customer satisfaction (Mare fat & Faridfathi, 2015). TQM as defined by many writers has commonly eight dimensions which are top management support, workforce management, employees' attitudes and behavior, customer relationship, supplier relationship, product design process and process flow management (A.Martínez, F.Dewhurst, and B.Dale, 2004).
Information technology has become a need for all organization to adopt and implement in order to compete with nowadays faster growth, abroad market, and competitive marketplace. Information technology is the technology used to store, manipulate, distribute or create information. It's having knowledge, and knowledge comes from having information (Ramey, 2012). One approach or methodology cannot be successful by its own to fulfil an organization goals. This paper will explore how IT can support TQM, the relationship between them, and the role of both in an organization.
Research Methodology and Objective
This research aims at presenting IT support to TQM and generally stating the impact of IT on TQM dimensions; a literature review will be conducted to explore the TQM main concept, definition, and the role of IT in implementing TQM. Study cases will be provided to investigate TQM implementation and tools. Attention will be brought also to critical success factors for implementation.
Literature review
A research paper title is "The Role of Information Technology in Total Quality Management: A Literature Review" written by S.Khanam, J.Siddiqui, and F.Talib. Khanam, Siddiqui, and Talib aimed to improve the understanding of how TQM moved over time and to find the trends of the research in this area. This paper conducted a survey of literature about the role of information technology for total quality management which led to improve the organizational performance. There were 50 papers which were suitable with detailed literature review, authors classified these papers on the basis of tools and techniques used, publication time, region and methodology.
According to Khanam, Siddiqui, and Talib, IT clearly implemented in TQM on most organizations which allow them to provide higher quality in their services and product which in order improve the competitive advantages of each of them and that leads to long-term survival globally (Khanam, Siddiqui, and Talib, 2013). TQM principles can be implemented over all types of organization`s functions such as information system, marketing, finance and research and development. There are many studies which indicated that management involvement such as TQM depend on IT, it is also mentioned that IS has to be effective and the customer can also improve and assess the quality of an organization's system by evaluating the system services level required. According to Khanam, Siddiqui, and Talib, the main roles of IT in quality improvement are increasing quality awareness and online information about the quality level reducing quality costs
Also, there are nine main key dimensions which are:
1. Total employee involvement
2. Continuous improvement
3. Continuous training
4. Teamwork
5. Empowerment
6. Top-management commitment and support
7. Culture change
8. Democratic management style
9. Customer satisfaction
Khanam, Siddiqui, and Talib provided information in how organizational management can improve the quality of IS and IT implementation and the impact on the quality maintenance, it provided a review of literature on role of IT and IS in TQM.
TQM considered as a management philosophy that put the use of specific principles, practices and techniques and the goal of this is to expand the business and the profits that provide a side road for productivity enhancement and this can exist by avoiding rework, rejects, waste, customer complaints and high cost. It is also considered as a philosophy or as an approach to manage which characterized by principles, practices, and techniques that emphasize an organizations total commitment to the customer and to the continuous improvement of all processes of data driven, problem solving approaches based on top management commitment and empowerment of employee groups. TQM is composed of three terms; Total: meaning that every person is involved including customer and suppliers. Quality: implying that customer requirements are met exactly. Management: indicating that senior executives are committed (Khanam, Siddiqui, and Talib, 2013). Another concept of TQM considered it as the changing process of the organization culture fundamental and redirecting it towards higher product or service quality. TQM can focus on the organizational and social behavioral aspects to improve quality that can be added to the existing research on systems quality management. It can improve the customer satisfaction by fulfill their needs, also it enforces employees to hold the full responsibility of the quality improvement, and it affects the manager's perceptions on several aspects of their day to day activities in the company which make them familiar with TQM concepts which in order enable them to hold a positive view of TQM (Khanam, Siddiqui, and Talib, 2013). This paper identified 11 constructs of TQM such as top management support, customer focus, employee involvement, employee training, employee empowerment, supplier quality management, process improvement, and service design. Khanam, Siddiqui, and Talib conducted a comprehensive review of TQM literature and identified 17 TQM practices such as top management commitment, customer focus, training and education, continuous improvement and innovation, supplier management, employee involvement, information and analysis, and process management.
This paper also discussed the review of total quality management and information technology. They mentioned that "IT can be defined as computer and telecommunications hardware and software that aid in processing, collection, and transmission of text, voice, and pictorial information" (Khanam, Siddiqui, and Talib, 2013). The applications of IT include quality management is growing and continually expands, they also found out that one of the reasons for this growth rate is the dramatic increase in the cost ratio of all types of computer technology. Khanam, Siddiqui, and Talib argued that to allow competitive advantage, the organization should contribute to positive performance and this considered as a value of IT to support quality management capabilities. The authors examined key practices which enable the organization to explicit quality policies which include specific goals of quality, comprehensiveness of the processes to set goal, and the importance to attach the quality to goals and the expansion to which quality goals are reviewed and their attachment emphasized, but all of these practices need information and analysis and that is the main reason that we need IT. Data analysis will identify the deviations from expected standards and the reason for these deviations. IT is responsiveness to the needs of TQM which considered as a critical success factor in the implementation of such an information intensive management system. In general, the impact of IT on quality management plays a big role in the enhancement of quality awareness of product quality improvement and in the reduction of quality costs, so IT by the end improve performance. The authors' analysis showed that high technology organization and high technology TQM organization perform significantly better than their low technology peers (Khanam, Siddiqui, and Talib, 2013).
The authors of this paper surveyed a total number of 50 publications to evaluate the growth and development of TQM-IT concept, most of the publications are research paper and the rest are empirical and case studies. For the authors who examined tools and techniques such as SPSS, SEM, EDI and Questionnaire survey, some of them recommended to avoid using EDI because of the errors possibility, and they mentioned that SPSS conduct a statistical analysis, manipulating data with summarized data in tables and graphs. Another classification of literature based on the publication region, it is suggested that the largest volume of dense research on IT/IS for TQM is from Asia, and then from Europe. Third part of classification was on the basis of publication time where the number of publications has increased from less than 10 before 2000 period to more than 20 in the time of 2000 to 2007 and 2008 to 2012. Most of the study were using questionnaire based survey techniques and some used the descriptive statistics method and literature review to conduct research on TQM, and the rest used hypothesis and theoretical framework, qualitative and comparative case studies.
Rais Nasir al Din Srour a researcher from King Saud University in his article about "Impact of information technology on total quality management", stated eight aspects of TQM and the impact of Information Technology are as the following table:
illustration not visible in this excerpt
As a result, we stated that the use of information technology for total quality management leads to an improvement of relationship of both customers and suppliers. The use of information technology also improves some of the organization`s functions and processes such as increasing the process control, simplify teamwork, simplifying information flow between different units, improve the design process, improving the decision process in the quality assurance unit. In general, the development of information technology has affected various aspects of TQM. The use of information technology in total quality management leads to increased productivity (Rais Nasir al Din Srour, 2014).
An Examination Research conducted by A.Martínez, F.Dewhurst, and B.Dale was also focusing on the dimension of TQM and IT impact of each aspect. Martínez, Dewhurst, and DaleMost tried to define the dimension of TQM in which to map the role of IT on it. Two more dimensions were presented on their articles; the role of the quality department and benchmarking. IT can assist the quality department with other departments in facilitating role, technologies assist in the collection and analysis of data and transferring information between the organization`s department. The quality department along with senior management are responsible to answer any arise questions from the implementation of IT in a TQM environment. IT can aid the benchmarking process in several ways; communication with partners and identifying best class companies is made easier, availability of performance measurement and gap analysis and faster data collection. The authors concluded that IT plays a major role in the implementation of TQM within an organization and it positively affects all the ten dimensions of TQM (A.Martínez, F.Dewhurst, and B.Dale, 2004).
Another research published by A.Siam, K.Alkhateeb, and S.Al-Waqqad, they aimed to clarify how information technology support TQM in order to find out all the roles IT plays in implementing TQM. In this paper Martínez, Dewhurst, and Dale specify the search in sohar industrial city in Oman, the second goal of this research is to focus on the IT when it support the TQM processes, the last goal is to enhance the IT roles in TQM different aspects. As it known, companies started to develop new strategies to get competitive advantage which will help to produce low cost products with variety of high quality products and service which enable them to reach part of the strategic planning (Siam, Alkhateeb, and Al-Waqqa, 2012). TQM tools used to compete in two ways which include the following:
-Competing to gain customers loyalty.
-Compete to attract new customers.
Siam, Alkhateeb, and Al-Waqqa mentioned that TQM derived from management practice over the organization and improvement processes, and also they mentioned that to keep the strategy of TQM, some companies keep meeting the customers' expectation by many ways such as surveys, so they keep updating the customers` needs according to their expectation. They mentioned that TQM constitute a new management method and new system values, new decision marketing priorities, new ways of HR, new problem solving approach which all leads for performance improvement for both technical and behavioral sides (Siam, Alkhateeb, and Al- Waqqa, 2012). Data were collected from survey of 110 public organizations, it found out that the success of QMSIT (Quality Management System Information Technology) can be enhanced from the relationship of QM-IT, as mentioned that IT supports 9 dimensions of QMS which includes:
- Leadership
- Strategic planning process
-Output quality assurance
-Supplier quality assurance
-Important innovations
-Information and analysis
-Human resources utilization
-Customer satisfaction
-Quality results.
The following table shows the mentioned dimensions:
illustration not visible in this excerpt
Siam, Alkhateeb, and Al-Waqqa drew the hypothesis that proved to be true, it includes the following:
- Different dimensions of TQM supported by Information technology.
- 9 dimensions discussed above were tested to approve the previous hypothesis. The methodology followed was basically categorized as the following:
- The study population: authors aimed to study 42 managers of operations departments in different companies at Sohar Industrial Estate, the result was that out of the 42 questionnaires sent through mail, most of them answered and returned.
-Data and statistical analysis: The survey questions were related to the dimension the already discussed, the authors put scale of 7 scores where a score of 1 means no use, and 7 means extensive use, to analyze data authors use SPSS program, they used the internal consistency method to measure reliability and mean and standard deviation measures was employed in the statistical analysis.
The conducted survey result shows positive theme toward the role played by IT in implementing TQM in the following points:
- The respondent companies confirm their using of IT in all of the TQM 9 dimensions.
- The mean for the use of IT was calculated for all the 9 dimension were all of them score 4.5 on seven -point scale except supplier quality assurance and the quality results that were between 4 and 4.5.
- All companies mentioned that they used an average to a maximum feasible amount of IT to support the information and analysis.
- High rate of the companies mentioned that they used an average to a maximum feasible amount of IT to support the output quality assurance, the importance innovation, the leadership, the strategic planning process and the customer satisfaction.
-Most of the companies found out that they have used less than the moderate level of IT to support the quality results and almost the same percentage used less than the moderate level of IT to support the supplier quality assurance.
- information and analysis dimension has the highest level of IT use the result of mean was equal to 5.83, followed by the output quality assurance which was equal to 5.28, while the supplier quality assurance has the lowest mean of IT use which was equal to 4.08.
-The overall mean of use of IT to support TQM was equal to 4.87.
Table of Attributes:
illustration not visible in this excerpt
The conducted literature review shows exactly how information technology support TQM in all of its dimensions. Previously conducted work shows positive relationship between TQM and IT and how both are important toward an organization success. TQM has many tools and ways to be implemented, the following section will illustrate TQM implementation through the analysis of two case study, one is in the world's largest chain of fast food restaurants McDonalds, and the other in the the worldwide leader in software, services, devices and solutions; Microsoft company.
McDonald's TQM Dimension Implementation
McDonald is one of the largest fast food restaurants, it's being recognized as a premier franchising company all over the world which serve the World Famous Fries, Hamburgers, Chicken McNuggets, Egg McMuffin and as well as the Famous Big Mac (hamburgers). In 1940, McDonald's was open with the name McDonald's Bar-B-Que restaurant by Richard and Maurice McDonald's. They started with a car-hop service restaurant for drive-thru menu. However, McDonald's developed as an internationally recognized company ever since Ray Kroc who was fascinated by the operation of the two McDonald's brothers and acquired the franchising right from them to run McDonald's restaurant in 1955. Now McDonalds have more than 36,000 restaurants in more than 100 countries.
TQM is a customer based approach in continual improvement that involves all employees of all aspects of the organization. Employee involvement as mentioned before that it considered as one of the TQM dimensions that focus on the customer, benchmarking, and continuous improvement, and it is the most significant elements of TQM. Besides, there are some management techniques which involve in the implementation of TQM, such as quality circles, Six Sigma, reduced cycle time and continuous improvement, some of these techniques include the following:
- First, one of the dimension that was mentioned in the literature review previously is employee involvement which considered as a milestone in any organization as a place cannot run without empowerment which increase their performance and productivity. Employees first should concern about their appearance with friendly and faster service. Some other aspect should be involved to guarantee their performance. Senior management should be committed toward employee involvement in problem solving and decision making by giving them power, information, knowledge, and rewards that are relevant to business performance. McDonald's designed benefit program for employee such as health insurance, pay and rewards, paid holidays and vacation, which increase the employee commitment and retention. Also, McDonald's manages ten international training centers to ensure that employees are trained on how to be kind, fast, precise and effective.
-Second, benchmarking which is the process of comparing one's business processes and performance to industry as to investigate and gain knowledge for achieving the best performance and distinguished from the others. It's a continuous process for measuring products, services, and performance against competitors. Companies use benchmarking for several reasons like increase productivity and save cost. Benchmarking has four types, internal benchmarking that occur within the organization, it aims for enabling information sharing. Competitive benchmarking is used with direct competitors, it occurs externally to compare with company within the same market and similar provided services. Industry benchmarking is external benchmarking against the leader industry. Finally, Process or generic benchmarking that focuses on the best work processes.
- Third, Continuous improvement is a continuous process established to provide TQM that improve quality standards such as trained employees, improve product quality and improve performance. McDonald has developed a 'Supplier Quality Index' (SQI) by which all suppliers are measured which allows companies to monitor performance of suppliers. Also a sophisticated system was introduced for monitoring the performance of the meet suppliers. Based on a number of key performance Indicator KPI'S the system benchmarks quality performance against other suppliers and past performance that is operates in real-time.
-Fourth, Quality Circle which is basically a small group of employees doing similar work and they share skills, experience, and improvement in their respective work areas using proven techniques for analyzing and solving problems. The main concept of quality circle is based on recognition of the value of the workers as a human being and as an important part of the organization. McDonald developed a virtual learning community of guidance and resources to support and develop employee leadership and talent, thus it improved the organizational culture, emphasized the teamwork and positive working environment. Reduced Cycle Time which refers to reducing the steps needed to complete a process, eliminating worthless steps enable TQM to succeed. McDelivery enables faster order process, and Drive-Thru where customer order while staying in car. Thus, they can process more order in less time. Hence, can reduce the cycle time efficiently and effectively (Hadji J Tejuco, 2015).
Six Sigma Tool Implementation
A field samples collected from two McDonalds busiest branches in the region. The data was collected based on the time when the customer orders the food until the time the customer get the food on hands. The waiting time in the queue before ordering the food was not considered because of its wide variability. Sixty customers were measured by one operator to eliminate the Gage variability. Six Sigma tools were used as one of the project methodology followed that inspired by Deming's steps which include Plan, do, check and act Cycle, it comprising five phases, bear the acronyms DMAIC that used for projects aimed at improving an existing business process.
The DMAIC project methodology has five phases:
- Define the current process and the high level project goals, define quality function deployment.
- Measure the current process key aspects and collect relevant data.
- Analyze the collected data to identify cause-and-effect relationships and to clarify what the relationships are to ensure that all factors have been considered.
- Improve the process based on data analysis using many techniques.
- Control to ensure that any deviations from target are corrected before they result in defects.
Quality Management Tools and Methods used in Six Sigma:
According to the phases of a DMAIC, Six Sigma improves the tools of qualitymanagement which also used outside of Six Sigma, some of them are in the following:
-Analysis of variance
- Business Process Mapping
- Catapult exercise on variability
-Cause & effects diagram
-Control Chart
- Correlation
- Cost-benefit analysis
- General linear model
- Quality Function Deployment (QFD)
-Process capability
- Regression analysis
-Root cause analysis
-Run charts
- Stratification
This case study also used cause and effect diagram which shows the causes of specific event. The main reasons to use it are the product design, quality defect prevention, and to identify potential factors causing an overall effect. Causes are the source of variation and they grouped into major categories to identify these sources of variation. This diagram usually used to understand the relationship between the key process input variable (KPIV) and key process output variable (KPOV) which also can help to start experimental investigations. The KPIV considered as input to vary and record, while the KPOV considered as is a response to measure. Cause and effect diagram also can provide the initial input to the process failure mode and effect analysis (FMEA). Also, cause and effect diagram used initially to prioritize all the issues to focus on (Touir, Fahd, & Guienguere, 2009).
According to Pareto issues about businesses they indicated that 20% of effort will give 80% of the gain. This is a Strategic Planning adaptation of the cause and effect diagram in helping organizations to identify their plan aspects which lead to business effectiveness. This was used to compare customer requirements with process steps, and identify if the process aligned with customer requirements. Cause and effect diagram output moved into a process failure mode and effective analysis (FMEA) which help to assess mistakes of the planned critical aspects. This case study put down FMEA table which contains all the customer activities with all possible service failure and the result of McDonald's visitor shown that the strongest point of the process is first when the Meal is ready because it took more than 5 minutes for waiting, second when the order contains special items, third when waiting time to place the order and finally the employee taking too much time preparing special order. Also, to guarantee customer satisfaction by the service and the products quality, it shown that special items require extra work and should be made fresh by special employee for such orders.
According to Pareto Chart the following recommendation has been set:
- Put more attention on resolving the issue of higher number of order per customer such as family order and also the existing of special items.
- Find out where human error can cause mistakes or slowness especially in processes that depend on the worker's attention, skill or experience.
- Initiate standard for the special drink preparation, storage, and employee speed and quality of order which as a result will reduce the risk of have customer waiting too long for their order.
Microsoft TQM implementation and IT support
Many organizations are taking advantage of Quality Management methodologies like Six Sigma to improve productivity, efficiency, and customer satisfaction. Integrated IT tools can streamline Quality Management tasks and reduce user resistance, enabling organizations to get the maximum benefit from Quality Management techniques at lower risk. Information Technology plays a key role in any Quality Management initiative through all the deployment stages. The table below give few examples on how IT tools can support the process of implementing quality management in different project stages
illustration not visible in this excerpt
Microsoft's Quality Management approach addresses organizations' main points such as resistance to organizational change, data aggregation challenges, inflexible tools and poor communication" through a combination of learning and training tools, collaboration tools, and metrics tracking tools for project managers, team members, and management involved in Quality Management activities. Microsoft Office Solution Accelerator for Six Sigma is a solution built on top of Microsoft Office Project that aids the management, control and reporting of Six Sigma project programs. Microsoft solution is differentiating among the other competitors' solution in which they provide a Simplified process, Ease and speed of adoption and Better communication by integrating powerful communication and collaboration technologies. Deploying the Accelerator for Six Sigma requires the following steps:
- Granting access rights to individuals
- Ensuring that the correct set of users have Microsoft Project Professional installed on their systems
- Ensuring users know how to connect to the Six Sigma project.
- The deployment of the Six Sigma accelerator helps dismiss the difficulties and cost associated with Six Sigma rollouts by:
- Precisely reflecting the financial impact of projects
- Optimizing Six Sigma resources
- Integrating Microsoft Office and other collaboration tools with Six Sigma methodologies
- Leveraging knowledge and data gathered across the enterprise.
Six Sigma at Microsoft
Microsoft operations and technology Group (OTG) operates the company's internal networks, telecommunication systems, corporate servers, and line of business applications. They aim to discover and test advanced project management methods to improve Microsoft performance, efficiency, and critical information toward the development of new project management software. OTG implemented the Microsoft Office Solution Accelerator for Six Sigma. Microsoft engaged Immediate, a Microsoft Gold Certified Solution Provider. Including a library of Six Sigma tools and powerful enhancements designed to the specific needs of OTG.
This accelerator enabled Immediate to deploy the solution in a timely and effectual manner with minimal risk. Adopting the Microsoft Office Solution Accelerator for Six Sigma has enabled the OTG staff to improve working productivity, bring greater value to internal customers, and gain better understanding into the financial impact of OTG Six Sigma programs (Microsoft, 2004)
Conclusion
Adopting quality management practices can help organizations dramatically improve their performance, customer satisfaction levels, and overall competitiveness. IT plays a major role in the process of applying TQM in an organization and can affect most of the TQM dimensions identified in this research paper. The relationship between IT and TQM take a positive direction since IT can support the implementation process most of the TQM dimension which include senior management support, customer/supplier relationship, human resource management, characteristics and behaviors of employees, product design process, management production process, and unit quality assurance. TQM has many methodology, the attention was brought to Six Sigma technique. Two case studies was provided for Six Sigma implementation on both aspects TQM dimension and IT deployment. To answer the question in how IT improve the efficiency and the effectiveness of many processes within the business or the organization, it improves their performance, productivity which in conclusion leads to meet their requirements and goals which state the importance of TQM to an organization success and the role of IT in supporting of the implementation.
References:
- Khanam, S., Siddiqui, J., and Talib, F., The Role of Information Technology in Total Quality Management: A Literature Review.
In-text references: (Khanam, Siddiqui, and Talib, 2013).
- Srour, N., Impact of Information Technology On Total Quality Management.
In-text references: (Rais Nasir al Din Srour, 2014).
- Martínez, A., Dewhurst, F., and Dale, B., The Effect of Information Technologies On TQM: An Initial Analysis
In-text references: (A.Martínez, F.Dewhurst, and B.Dale, 2004).
- Siam, A., Alkhateeb, K., and Al-Waqqad, S., The Roles of IS in Implementing TQM.
In-text references: (Siam, Alkhateeb, and Al-Waqqa, 2012).
- Marefat, D., and Faridfathi, A., Relationship between Information Technology and Total Quality Management in Sport Federations
In-text references: (Marefat & Faridfathi, 2015).
- Ramey, K., The Impact of Technology On Our Lives Today.
In-text references: (Ramey, 2012).
- Hadji, J. Tejuco, Study into Total Quality Management of McDonalds
In-text references: (Hadji J Tejuco, 2015).
- Touir, M., Fahd, G., Guienguere, S. McDonald`s Si6 Sigma Project. In-text reference: (Touir, Fahd, & Guienguere, 2009)
- Microsoft. Adopting Quality Management for Business Success. In-text reference: (Microsoft,2004)
Details
Seiten

27

Jahr

2016

ISBN (Buch)

9783668228269

Dateigröße

434 KB

Sprache

Englisch

Katalognummer

v323533

Note

Schlagworte