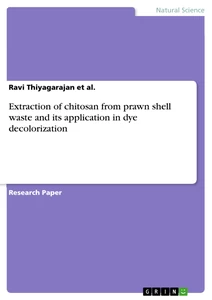 Extraction of chitosan from prawn shell waste and its application in dye decolorization
Forschungsarbeit 2015 9 Seiten
Zusammenfassung
This paper presents an approach to remove the dye using chitosan coated glass beads at various pH, temperature
and contact time. Dye decolorization using biopolymers are recent method of interest to remove the dyes from the
waste water. In this initial attempt, the chitosan was extracted from prawn shell wastes and applied in bio sorption
of azo dyes. This polymer was encapsulated over glass beads. The encapsulated glass beads were packed in a glass
column and azo dye decolorization was carried out and determined calorimetrically using UV-Visible
spectrophotometer and different isotherms were calculated. The isotherms such as Langmuir, Freundlich and
Temkin were examined and the appropriate model was identified. The interaction of the dye with chitosan was
studied using SEM and FTIR.
Details
Seiten

9

Jahr

2015

Dateigröße

2.4 MB

Sprache

Englisch

Katalognummer

v334712

Note

Schlagworte