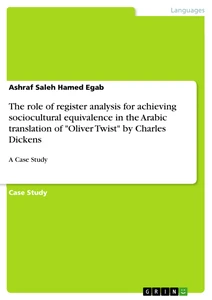 The role of register analysis for achieving sociocultural equivalence in the Arabic translation of "Oliver Twist" by Charles Dickens
A Case Study
Forschungsarbeit 2016 8 Seiten
Zusammenfassung
According to the systemic functional linguistic approach, sociocultural context leads to different meanings that a text can convey. Therefore, meaning is a very important part that should be transferred from the source text to the target text. Since no identical context exists between ST and TT, different translation strategies should be made.

This paper analytically and critically investigates the importance of sociocultural context translation and it takes register analysis as a model that leads to achieve an equivalent translation. In addition, it examines how register analysis could be a sufficient way to reconstruct or modify the sociocultual aspect of SL and TL.

This study investigates the register analysis that come into play in the translation of Charles Dickens's famous novels, OliverTwist. the novel was written in 1839, and it has been translated to more than ten languages.

Details
Seiten

8

Jahr

2016

ISBN (Buch)

9783656989004

Dateigröße

483 KB

Sprache

Englisch

Katalognummer

v334807

Note

B+

Schlagworte