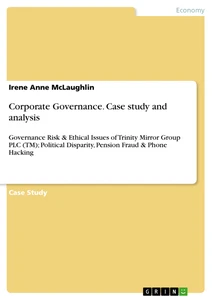 Corporate Governance. Case study and analysis
Governance Risk & Ethical Issues of Trinity Mirror Group PLC (TM); Political Disparity, Pension Fraud & Phone Hacking
Hausarbeit 2016 40 Seiten
Leseprobe
Contents
Case Study
Introduction
Company Profile
Description of Events
Conclusion
Case Study Analysis
1. Main Corporate Governance Issues
2. The Theoretical, Academic, Professional or Legal Literature/Regulation on TM Issues
3. Were Events/Features of the Case Consistent or in Contrast with the Theoretical, Academic, Professional or Legal Literature/Regulation
4. Response to the Issues
5. Could Similar Events Happen in UK Today and Why
6. Lessons Learnt from a business and personal perspective
7. Investment Criteria into TM
8. Conclusions
Bibliography
Appendix 1
Appendix 2
Appendix 3
Appendix 4
Appendix 5
Case Study
Introduction
Purpose of Study
Corporate governance has been quoted as the exercise of power over corporate entities (Clarke, 2007). Trinity Mirror (TM, known today as the "Daily Mirror Newspaper") launched in 1903 as a pro-women newspaper (see Appendix 1 Chronology) which has a long history of corporate governance, risk and ethics swaying from diversity to insolvency, unethical trade, treason, audit abuse, and unethical reporting/management.
Importance of the Case
This study will analyse governance, risk & ethics with the example of TM, whom has struggled in nearly every area; and discuss whether it is possible to act in the interests of all stakeholders in an industry that has a primary role as the seller of "brash reporting of show business stars" (Curran & Seaton, 2009, p51).
Structure of Case Study
This analysis will consider the corporate governance issues; theories, academic, professional or legal literature/regulations; and whether the events of Trinity Mirror & their responses are consistent or in contrast with those theories. This study further ponders if their responses were suitable, and if similar events occurred whether the current system of governance and accountability is sufficient. It concludes with the lessons learnt and an investment decision criterion for TM.
Company Profile
TM describes the Daily Mirror Newspaper as:
"…a unique balance of real news, real entertainment and sport" and claims that its core values are "compassion, conviction and courage" (Leveson, 2012).
Numerous cabinet interventions and financial crises have littered the newspaper's operation with last minute reprieves through interventions. The paper has been left-wing and supported the Labour Party at every general election. In the 1930s, it was developed for the working classes. Its growth and popularity continued and by the 1960s it was the most popular national newspaper.
Abbildung in dieser Leseprobe nicht enthalten
Table 1 (Press Gazette, 2015)
In 1963, the Mirror Group together with several magazines formed the International Publishing Corporation (IPC). In 1970, IPC was bought by Reed International Limited and in 1984, Pergamon Holdings (Robert Maxwell's company) acquired the Daily Mirror. The company was listed on the London Stock Exchange in 1991 and TM as we know it today was formed in 1985 through the acquisition/addition of regional newspapers.
Governance Structure
TM, although listed on the London Stock Exchange, is not one of the FTSE350 (the largest 350 companies by capitalisation listed on theLondon Stock Exchange). However, they espouse to observe the UK Corporate Governance Code (Trinity Mirror PLC, 2014).
The main board consists of eight members, of whom the Chair and five members are non-executives. The Executive Directors comprise the Chief Executive, and Group Finance Director/Company Secretary. There are 3 Chartered Accountants none of whom have prior experience within the newspaper industry.
The Board of Directors:
Abbildung in dieser Leseprobe nicht enthalten
Table 2 (Trinity Mirror PLC, 2014)
The governance framework consists of 4 Boards:
Abbildung in dieser Leseprobe nicht enthalten
Table 3 (Trinity Mirror PLC, 2014)
Additional Processes and Frameworks:
Abbildung in dieser Leseprobe nicht enthalten
Table 4 (Trinity Mirror PLC, 2014)
Editorial Independence
The editors of TM are employees appointed by the Board, which has the power to remove them. The editors have a veto over any content without the influence of the Board or shareholders.
Financial Governance
TM espouses a strict policy against all manifestations of fraud and dishonesty. The Fraud Policy states that "TM will seek to recover all associated costs from the individual responsible for fraud and could lead to police involvement." TM policies make clear that the expenses system should not be used for payment for editorial content, which is instead registered as payments for contributions (editorial news pieces). Expenses are approved by someone other than the editor/writer with the appropriate authority.
TM has 68,000 contribution accounts of which 19,000 have had at least one transaction processed since 2005. Contribution payments must therefore be authorised due to the vast quantities. Cash payments are available (over a certain limit, with approval by an editor/deputy editor) with further approval by a senior in-house legal advisor.
Policies and Procedures
Codes and Charters:
Abbildung in dieser Leseprobe nicht enthalten
Table 5 (Trinity Mirror, 2014)
The Press Complaints Commission code (PCC) is incorporated into staff contracts (PCC, 2012). TM has previously used private investigators but claims this ceased in 2011. The editor is ultimately responsible for the content and is granted full editorial independence by the Board. Journalists are expected to know and understand the National Union of Journalists (NUJ) Editors' Code of Practice (NUJ, 2013); ethics is deemed as not something that should require frequent reminders but instead be inherently embedded into the culture according to TM.
Trinity Mirror incentives
Editors at TM receive no financial benefits for printing exclusive stories. TM operates an annual bonus scheme linked to the financial performance of the company and individual performance.
Risk
Risks are littered throughout TM's history and reported by the Risk Committee. A major unreported/unnoticed risk is the lack of newspaper experience within the board. Another risk TM takes is the non-transparency of future plans to either achieve or maintain share prices, due to a large proportion of shares/options held by the directors.
Description of Events
Ethics, CSR, Board Leadership & Stakeholder Engagement: Political Disparity, Pensions & Phone Hacking
Political Disparity
Rothermere was the first Board Director, who took advantage of his position selling shares (through insider trading) when the paper was facing insolvency in 1934, which led to the paper being re-launched to appeal to the working class. In the late 1930s a series of misleading advertising led to cabinet investigation into the ownership. In 1942, the Cabinet demanded that the paper was banned due to supporting Hitler. However, a last-minute reprieve came from a storm of protest by the public.
In 1958, IPC took over, and during the 1960s a series of takeovers raised questions about the paper's creative accounting. In 1968, the editor, Cecil King, was sacked by the board of directors due to publishing calls to remove the Prime Minister at the time, Harold Wilson.
Pension Fraud
Maxwell was seen as the saviour of the newspaper when he took over in 1984 due to appearing to act in the interests of "good corporate governance" (despite his history/scandals, see Appendix 1), and even received accolades from his political opponent, Margret Thatcher. Many case studies are incorrect stating that Maxwell did not inform his independent directors of decisions (which he did do) but instead dismissed their advice if he perceived it as wrong. Such was evident when he ignored his Senior Independent Director (SID) regarding the appointment of the first female editor to the Mirror on Sunday. The SID stated that women were unfit for the job (Maxwell, 1994). Maxwell ended restrictive labour practices, implemented modern technology and the paper became highly profitable. Maxwell's death and financial scandal hit headlines in 1991, ensuing crisis that led to the introduction of a series of codes on corporate governance, which in turn acted as a driver for risk management (Drennan et al., 2014). The investigations into TM uncovered accountancy issues/abuse, pension fraud, and lack of audit independence.
Phone Hacking
The paper was floated in 1991, with Piers Morgan taking over in 1995. A series of ethical issues followed which led to Morgan being fired in 2004 following the publication of fake photographs and financial misdealing.
In 2011, Paul Marsden claimed that the newspaper had hacked his phone when he was an MP in 2003 (BBC, 2011). The merger of other titles into TM occurred in 2012, and both editors of the Daily Mirror/Sunday Mirror were immediately dismissed. At the end of 2014 Graham Johnson, a TM journalist, voluntarily admitted to police matters regarding phone hacking (BBC, 2014). The paper at that time had already admitted to phone hacking and publicly agreed after High Court action to pay compensation to the celebrities involved (BBC, 2015). In 2015, they retracted their offer with an appeal which is ongoing (Jackson, 2015).
Conclusion
TM had a history of corporate governance abuse and the issues analysed regarding whether this industry can operate in a socially responsible manner. The readers' lust for salacious material and the organisations need for ever-increased readership created the unattainability of a social value organisation.
Case Study Analysis
1. Main Corporate Governance Issues
Good corporate governance is hard to define, hard to recognise and poses a fundamental problem for stakeholders despite corporate governance being in practice for years but only recently defined (IOD, 2015). Public Sector corporate governance, particularly within the areas of Ethics, CSR and Risk, has been in existence, long before Cadbury's publication of the UK Corporate Governance Codes. Ethics, CSR and Risk have all been areas audited within a framework set by National Audit Office, formed in 1983. Business Risk Audit was quoted as an institutional event (Burchell et al., 1985).
Many academics believe that Cadbury was the father of corporate governance however Bob Tricker, a Chartered Accountant, was quoted by Sir Adrian Cadbury:
"I have always regarded Bob Tricker as the Father of Corporate Governance since his 1984 book introduced me to the words Corporate Governance" (Tricker, 2014).
In this analysis, the issues of Ethics & CSR, Risk management and Board Leadership & Stakeholder Philosophy will be undertaken.
i. Ethics & CSR
Rothermere, Maxwell, and Morgan were all purported Machiavellians and acted unethically while leading the newspaper. However, even today TM views corporate responsibility as reputational rather than social giving. It is stated that it is a tool to be used in attracting and retaining staff. There are no more than a few lines on CSR (see Appendix 2) within the 2014 accounts with the statement:
"We believe that there are obvious commercial advantages from being seen as a socially responsible organisation" (Trinity Mirror, 2014).
This year TM won the Royal Society for the Prevention of Accidents (RoSPA) & the President's Award for Occupational Health and Safety; which is ironic given that the number of sick days listed in their accounts rose from 157 to 516 due to Health and Safety accidents. In respect of environmental impact, TM was re-certified for the Carbon Trust Standard and all major print sites maintained ISO 14001 (Environmental Management) status. This appears more rhetoric than reality as they state in the accounts that they contract out much of their print business. Most alarming is their claim that rather than giving any cash that their social contribution is best served towards running their campaigns and gaining contributions from readers. TM states that their CSR contribution is payment of their HMRC liabilities. This is the law and not a social contribution. Therefore TM contributes zero to society in cash terms.
ii. Risk Management
An essential element of every organisation is risk, but it is an element that must be managed if an enterprise is to succeed Francis and Armstrong argue that a good risk management strategy has to be concerned with both directives that guide ethical business practices, and incentives to promote such conduct, within the organisation (Francis & Armstrong, 2003).
Strategic Risks
Abbildung in dieser Leseprobe nicht enthalten
Table 6
Operational Risks
Abbildung in dieser Leseprobe nicht enthalten
Table 7
Within the financial accounts of TM, there are historical operational issues reported as major risks to the organisation:
[...]
Details
Seiten

40

Jahr

2016

ISBN (eBook)

9783668259775

ISBN (Buch)

9783668259782

Dateigröße

1.2 MB

Sprache

Englisch

Katalognummer

v336022

Institution / Hochschule

University of Ulster

Note

77%

Schlagworte